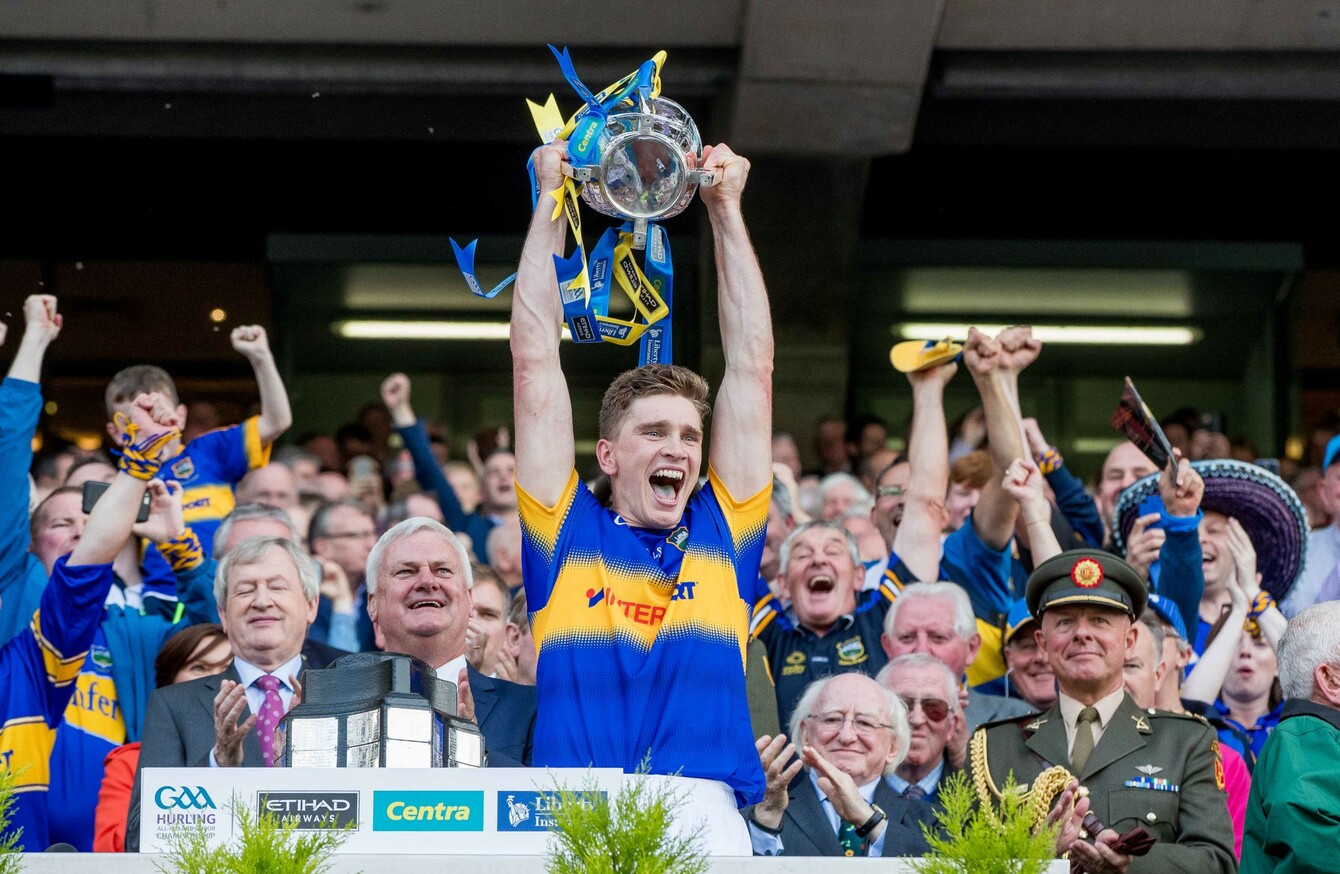 Brendan Maher celebrates lifting Tipperary's first Liam MacCarthy Cup since 2010.
Image: Morgan Treacy/INPHO
Brendan Maher celebrates lifting Tipperary's first Liam MacCarthy Cup since 2010.
Image: Morgan Treacy/INPHO
TWO MONTHS AFTER securing the exclusive Irish rights to the 2019 Rugby World Cup, eir Sport have their eye on capturing a selection of GAA championship matches when the new television deal becomes available from next season.
"We are very keen on GAA, we would love to show more of it. It's hugely important to us," Brian Quinn, eir Sport's Operations Director tells the42.
Eir, which acquired Setanta Sports at the end of 2015 for a reported €20 million and rebranded the station earlier this year to eir Sport, will now be a contender for most, if not all, of the major sports rights that come up for grabs for the foreseeable future, including the All-Ireland championship.
Ireland's largest telecommunications company may have a couple of factors in their favour heading into the negotiations at Croke Park. Eir has been a sponsor of the football championship since 2011 while Setanta Sports had a long-standing relationship broadcasting National League games (that contract will continue on eir Sport for at least one more season).
Although Quinn is hopeful, he remains realistic about securing a deal in what is a rights seller's market, acknowledging TV3's recent cash-injection and the interest of British broadcasters in the Irish rights to sporting events.
TV3 are now financially backed by their new owner, the American media conglomerate Liberty Media, who last week demonstrated their commercial capability by buying Formula 1 for an estimated $4.4 billion.
Sky Sports, whose three-year deal with the GAA comes to an end this season, are also rumoured to be keen to grow their coverage of football and hurling. The GAA are also thought to be interested in keeping some championship games on a pay TV channel.
For many, it would be unthinkable for RTÉ to lose the broadcast rights, with the GAA having a historically established relationship with the national broadcaster. However, in the current market, nothing can be taken for granted.
"We'd love to show more GAA, whether it is in the league or beyond the league," Quinn says. "We want to show more hours of GAA and if it's the championship that would be great, but it's up to the GAA."
Just like rivals Sky and Virgin Media, the latter of which is owned by TV3's owner Liberty Media, eir believes content in particular, and sport specifically, is the key to grow their share in the broadband market, with the acquisition of Setanta Sports becoming eir's biggest purchase since they bought Meteor over a decade ago.
"We've seen in the UK, that sport does influence the behaviour of consumers when deciding on their broadband provider.
"BT is a really good example. Before, it was typically large incumbent telecoms company. It has changed how people perceive the BT brand thanks to their sports channels in the UK; it's a lot sexier than it used to be. We're hoping for a similar effect here."
As part of the Setanta deal, eir took over their distribution rights to BT's four sport channels in Ireland, as the British multinational has no current presence in the country, and will remain part of the eir Sport pack to at least 2019.
The two companies, although competing at very different levels, share a similar outlook to the objective of their stations.
BT spent almost £2 billion in the past couple of years to secure deals to broadcast the Premier League and FA Cup as well exclusive British rights for the Champions League and Europa League in order to compete with their biggest competitor, Sky.
Sports ratings or subscriptions will not be of paramount importance to BT or eir but instead, they will utilise their channels to retain and attract customers to the broadband business.
Eir are currently offering their sports channels for free to their customers, a proposition that is unlikely to change in the near future.
"We want to ensure as many people want to stay with eir broadband, and as many people want to switch to eir broadband as possible, and sport is one way to do that," said Quinn, who has transferred over to eir from Setanta.
"People have a desire to watch sport the whole year round and we want to meet those desires as much as we can."
Currently though, Virgin Media customers are unable to access eir's channels. The provider dropped the eir Sport pack's six stations from the platform in August as the tension between the rivals intensifies.
Bill Blake, head of media content with Virgin Media, told The Irish Times in July, that a drop in subscriptions to the pack as well as Sky gaining more Premier League matches was the reason behind the decision.
That is not an opinion shared by Quinn.
"It was more about the financial side. We have fantastic content. There's a demand to watch these channels. I have zero doubt about that.
"We couldn't agree commercial terms with them. There's a value for a product like this, there is a cost to create all this content and produce that. There's a gap there. It may be resolved in the future, but there are sports fans missing out, and that's unfortunate."
Currently the eir sport pack is available on every other platform, including Sky, and although negotiations are no closer to being resolved, eir claim they are "keen" to be on the Virgin platform.
Their absence will be compounded in the coming weeks as the football and rugby seasons progress, while eir also have exclusive rights to the Europa League in Ireland, with Dundalk set to feature in the group stages.
Dundalk's games will be available to all eir customers, including those who don't subscribe to a sports pack, but Quinn says the decision was "definitely not" taken to highlight their absence from Virgin.
"The objective was for as many people to see the games as possible and hopefully more people will get to see the sport we have, and decide they wouldn't mind having this all of the time, and not just Dundalk games.
"We don't want people to miss out. A League of Ireland side competing at the group stages in Europe doesn't happen too often."
The station will also be looking to grow its football portfolio after earning many plaudits for the decision to show three of Dundalk's Champions League qualifiers and both legs of Cork City's Europa League encounter against Genk.
"We love the League of Ireland, we show just over 10 league games and the EA Sports Cup final every year, but we'd like to do more.
"Setanta was originally set up by sports fans. It's absolutely a business, but there are times we believe that certain games must be shown, and fans should be able to see it.
"For example, the Shamrock Rovers away leg to Partizan Belgrade in 2011 (when they became the first Irish club side to qualify for the group stages of a European competition), wasn't due to be televised, but we were able to get systems in place to show the game and we are so glad we did.
Source: eir Sport/YouTube
"It was the same with Dundalk, it would have been a shame if football fans didn't get to see that journey.
"We were determined to do it. There were costs involved in doing so, but we thought it was an investment worth making."
Although the 2019 Rugby World Cup has been eir's main acquisition since its launch, they have also won the rights to show other marquee rugby events including the U20 Championship from 2017, the 2018 Rugby Sevens World Cup and the Women's Rugby World Cup, that will be held in Ireland next year.
"We need to focus on the Women's World Cup first, and put more production values in to it with the tournament being in Ireland, and then use that as a springboard.
"There will be 30 live games during the Women's Rugby World Cup, it is something we are very excited about. It will be a good chance to get more women's sport on the channel and opportunity to engage with rugby fans.
"The eyes of the nation will be on eir for the Rugby World Cup in 2019. We would like to put our best foot forward."
As it stands however, eir will not be able to broadcast all of the tournament's matches exclusively on the channel, as they are not a free-to-air station. Therefore 13 of the 48 games, including all of Ireland's matches must be sub-licensed to a rival broadcaster.
Quinn says no plans are in place for the station to become free-to-air but that is also too far out to consider if they will sub-licence the games.
The free-to-air list, which is presently under review, already includes major sporting events like the All-Ireland finals and football's European Championships and World Cup. Quinn believes the respective sporting bodies are in the best position to decide if their sport should be made free to the television public.
"My view is that it is up to the individual sports federations to decide what is best for their sport.
"The people who know their sport best is their federation. If they think it's in their best interest to be listed, that's fine. But if they don't want to be listed, which can take away their opportunity to monetise their product, then I absolutely respect that.
"They need to be able to maximise the revenue that's available to them.
"In the short-term, sports fans and politicians may think it is a good thing for an event to be listed, but if it stifles the revenue that can go into that confederation and grow that sport, then you may see the knock-on effect in three or four years.
"You may have more people able to enjoy the sport on a free-to-air basis, but maybe those teams will not be performing as well a bit further down the line."
Matches involving Ireland's provinces in European rugby competition are not currently protected — the live rights are shared by Sky and BT — although Quinn is confident an Irish perspective is being covered by the British broadcasters.
"BT Sport have some heavy-hitting Irish pundits such as Brian O'Driscoll, so he is on the majority of Irish province game. We are comfortable they are covering the Irish angle in that respect."
"It's nice when we have the rights to a sport on eir and get to put an Irish stamp on things.
"For example, the Dundalk matches in the Europa League will have our own presentation team. BT Sport will cover the game as well, but in this instance I think it is important we are on the ground and we have an Irish view of an Irish team."
The UFC completes eir's four pillar offering, on top of their football, rugby and GAA coverage, with BT Sport recently signing a new two-year deal to show their events live on the station.
Although all of eir's focus is to optimise their sports channels, the possibility to start other television stations remains a possibility in the future.
The recruitment of the former RTÉ Managing Director Glen Killane to a similar role with eir epitomises this point. Before taking that role at Montrose, Killane also served as the national broadcaster's Head of Sport for six years.
Unlike a certain UFC fighter, eir Sport may not be ready to take over, but they are putting the building blocks in place to make sure they will be part of the new landscape for sports rights in this country for many years to come.
The42 is on Snapchat! Tap the button below on your phone to add!