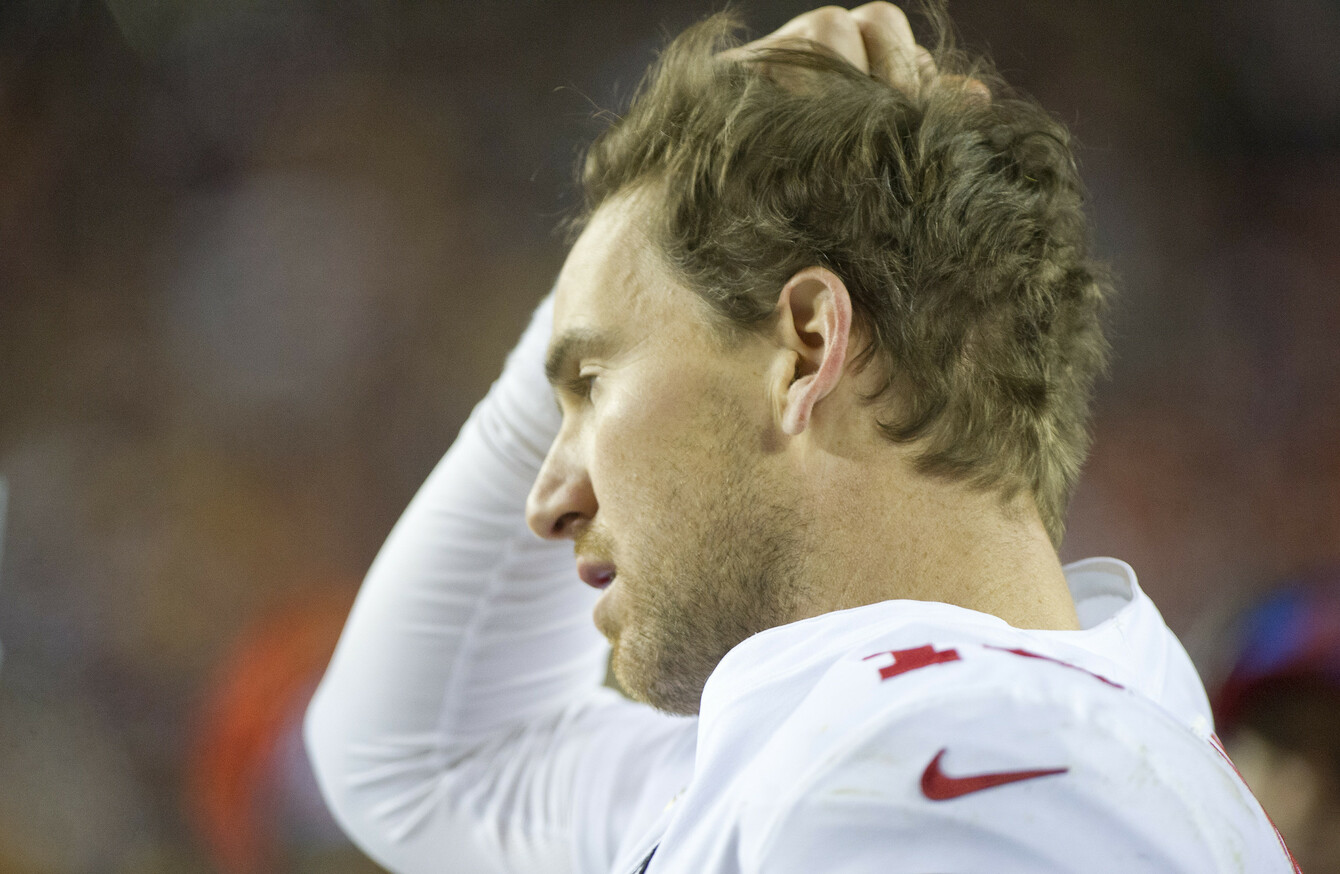 For the first time in 13 years, Eli Manning won't be the starting quarterback for the Giants.
Image: SIPA USA/PA Images
For the first time in 13 years, Eli Manning won't be the starting quarterback for the Giants.
Image: SIPA USA/PA Images
LIFE COMES AT you fast.
Just two weeks after surpassing his brother Peyton to move into second place on the list of all-time consecutive regular season starts, Eli Manning has been benched as the quarterback of the New York Giants.
The streak began in 2004, when he took over from Hall of Fame quarterback Kurt Warner.
Even though Manning has spent much of his career in the shadows of players like Tom Brady, Aaron Rodgers and even his own brother, he has two Vince Lombardis to his name, as well as a pair of Super Bowl MVP awards.
No one who watches football will forget Manning escaping a surefire sack against the undefeated Patriots before putting the ball on David Tyree's helmet to help the Giants win Super Bowl XLII.
Arguably, his rainbow pass along the sideline to Marion Manningham against the same opposition at Super Bowl XLVI was even better.
That version of Manning was very different one from the guy who, despite leading his team to the postseason, was amongst the worst quarterbacks in the league last year.
And while he's been better this year, despite losing three of his top wide receivers to injury — including Odell Beckham Jr — and a dodgy offensive line, the Giants record of 2-9 is not what anyone expected coming into this season.
There does appear to be a bigger game at play in New York, and maybe Manning is the unfortunate baby who happened to be in the bath when the water turned cold.
Head coach Ben McAdoo is almost certainly not going to hold that role next season, while his boss — general manager Jerry Reese — also looks in trouble.
Of course, all players live on borrowed time, but unlike political careers, the life of a quarterback doesn't have to end in ignominy.
With nothing on the line, the Giants could easily have let Manning see out the season. At worst, they could have dropped him for Davis Webb.
But to be benched for Geno Smith — a player better than his time with the Jets would have you believe but who is not the future of the franchise — must be hard to stomach for Giants fans.
The player himself, though holding back tears in the dressing room, was gracious when nobody would have blamed him for laying waste to all around him:
"My feeling is that if you are going to play the other guys, play them," Manning said.
Starting just to keep the streak going and knowing you won't finish the game and have a chance to win it is pointless to me, and it tarnishes the streak.
"Like I always have, I will be ready to play if and when I am needed. I will help Geno and Davis prepare to play as well as they possibly can."
Nice words, but the transition to whoever the next Giants quarterback is going to be could and should have been handled better.
The42 has just published its first book, Behind The Lines, a collection of some of the year's best sports stories. Pick up your copy in Eason's, or order it here today (€10):