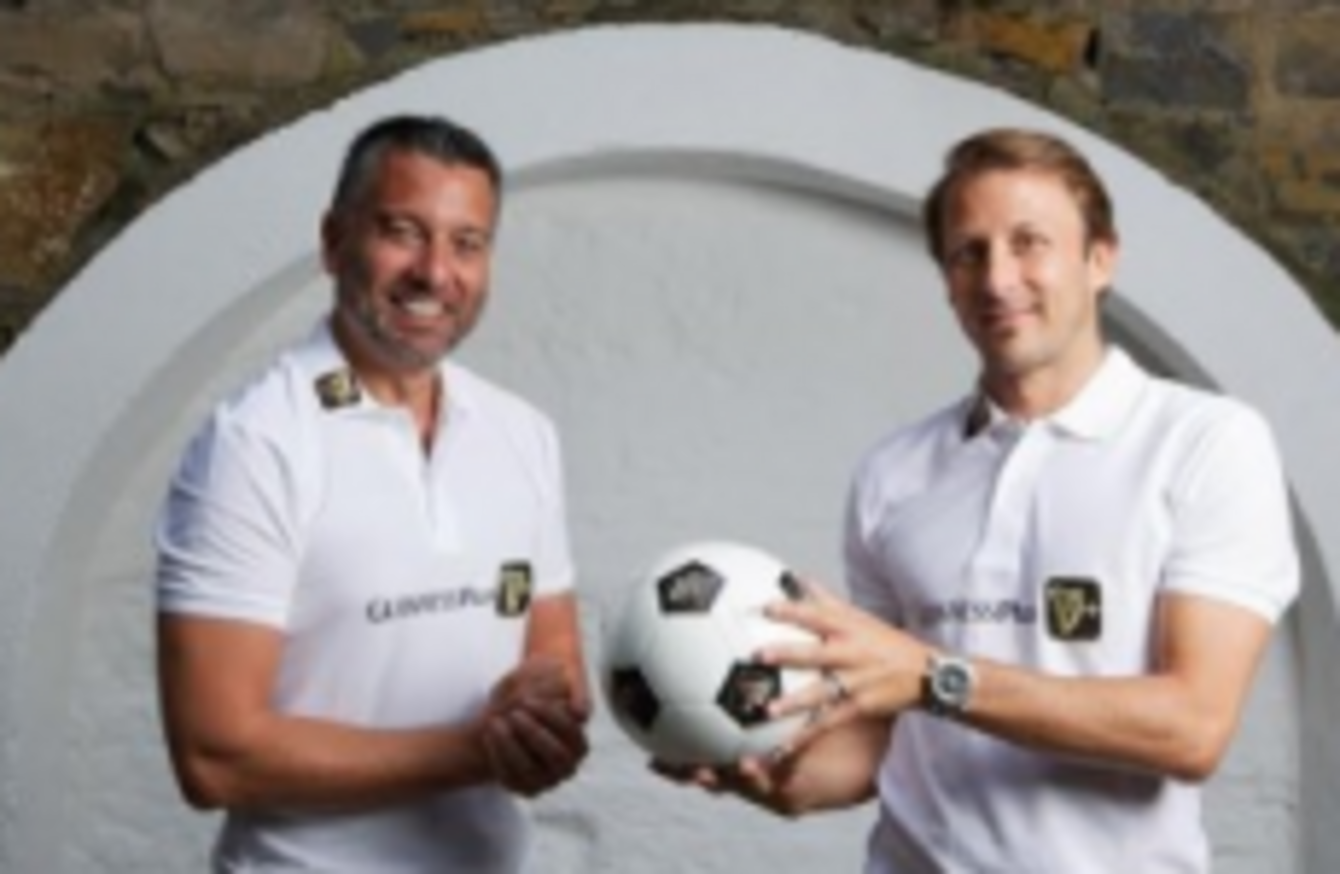 Guinness Plus brings football legends to Dublin: Sky Sports La Liga pundits Gaizka Mendieta and Guillem Balague visit the Manor Inn, Swords.
Image: Patrick Bolger
Guinness Plus brings football legends to Dublin: Sky Sports La Liga pundits Gaizka Mendieta and Guillem Balague visit the Manor Inn, Swords.
Image: Patrick Bolger
BY THEIR HIGH standards, it was a disastrous World Cup for the Spanish team.
Not only did they failed to retain the trophy they won in 2010, they tanked, getting well beaten by both the Netherlands and Chile, prompting the early exit from the competition that no one expected.
Even before they began to dominate world football in the mid-to-late 00s, when they were routinely derided as 'bottlers' owing to their tendency to promise much but deliver little at big tournaments, Spain invariably performed to a relatively high level on the world stage.
Having qualified for every World Cup since 1978, prior to this year, they had only twice previously failed to get past the group stages — in 1978 and 1998.
Just over a month after this collapse, we ask two of Spanish football's most respected critics what went wrong?
Sky Sports La Liga pundit Guillem Balague feels lessons from their past successes at major tournaments were not taken heed of.
"The little details were ignored," he tells TheScore.ie. "The things that took Spain to the top were ignored. When you win a lot, sometimes you have to lose to win again, to realise what you're missing.
"Things that the coach had identified — do you want to give the guys that won the World Cup a chance or do you want to mix those guys with young guys. But then if it goes wrong, those young guys will be punished. So the decision was — let's bring something new in [Diego] Costa, but let's keep the whole system. And I think everyone was disappointed and nobody realised it was going to be so bad, but we've seen in front of our very eyes the death of that generation."
Meanwhile, two-time Champions League finalist, and former Spanish international, Gaizka Mendieta, believes the team were exhausted, given that many of their players, particularly, representatives of Barcelona, Real Madrid and Atletico Madrid were playing in all-or-nothing club games up until the very last moments of the season.
"It's down to a lot of different things. Tiredness — players from Atletico, Barca and Real Madrid playing [to an intense level] until the very end of the season, all in the Champions League and the title race. It was mental and physical tiredness."
(Spain goalkeeper Iker Casillas appears dejected during the World Cup)
The former Valencia player, who scored eight goals in 40 appearances for the Spanish side, also blames human error — something that was previously seldom prominent in Spain's play — on their disappointing summer.
"Maybe Vicente del Bosque by trying to find different options with Costa didn't quite make it work either. We saw a lot of silly mistakes from professionals that you wouldn't expect, especially in the first game, where you're meant to make your statement.
"And in this tournament, when you make mistakes you get punished, and it was hard to come back and a lot of the Spanish way was damaged and it is difficult. And also, it was the end of an era for a lot of the guys. We saw this in a harsh way, but that's football. When you don't perform, you get punished."
In addition, many critics have suggested that 2014 has been among the best World Cups ever. Did the non-performance of the Spanish team ruin it somewhat for Mendieta, or is this widely held assertion one he would subscribe to.
What are they
really like?
Rare insights on sport's biggest names from the writers who know them best. Listen to Behind the Lines podcast.
Become a Member
"I think it's been a great World Cup. There were lots of goals, although the record has not been broken, it was levelled. There was a lot of attacking football — I think that was why goalkeepers stood out probably more than in other World Cups.
"In terms of the standard of football, as much as I can remember, it's probably been one of the best ones. A lot of the small teams were not afraid to play against the big ones anymore.
Balague, meanwhile, disagrees to an extent with his colleague.
"I thought it was the overrated. I was there and I saw a lot of excitement during certain games and I saw a lot of goals in the first round, but when teams had to play to win, I saw a lot of conservative coaching, a lot of mediocre decisions, a lot of goalkeepers being stars.
"I only really saw, in terms of exciting teams, Chile, who took the word 'collective' to a different level, I saw Germany, who as well as organised defence, they proposed organised attack. People think that all attacks are organised and yes, they are, but that was in a positional way by which, when you lost the ball, you could recover it early. It's a little bit based on the Guardiola model, which was exciting for a national team to do.
"But the final was so so, the semi-finals apart from the crazy Germany-Brazil goals [weren't good]… Deep down it was disappointing, but it was such a party atmosphere that perhaps people took into account both — the atmosphere with the football that was being played."
What do you think? Where did it all go wrong for the Spanish team? Was it one of the best World Cups ever? Let us know in the comments section below.
Former Spanish International footballer, Gaizka Mendieta and his fellow La Liga pundit Guillem Balague, visited Dublin with thanks to the Guinness Plus app for a special preview of the Guinness International Champions Cup pre-season tournament, which takes place in the United States until August 4th and is live on Sky Sports featuring eight of the world's top clubs including Manchester United, Liverpool and Real Madrid. More extraordinary rewards including unrivalled access to other Guinness events and festivals throughout 2014 will be announced in the coming weeks.  The Guinness Plus App is available to download for iPhone and Android Smartphones from the iTunes App Store and Google Play Store now.