NOT SINCE FRANCIE Grehan and 2001, has a Roscommon man got off his seat to make his way to a stage to accept a GAA-GPA All Star.
Yet when the RTÉ host Marty Morrissey said, "You'll hear the roars all the way from Roscommon…" it came as a medium-sized shock for Enda Smith to make up a half-forward line alongside Paudie Clifford and Sean O'Shea.
"Obviously, people were saying and I knew I was in with a shout," he tells The 42.ie.
"But you just don't know until it is announced. It was a shock. Especially after the two Kerry lads are pulled out at the start, there is big competition there with Paul Mannion and a few more looking to get in.
"But it was a lovely surprise now. A bit shocked. I didn't know at all, so it made it nicer."
He might be the 12th Roscommon man to win an All Star, but it's the first for his club, Boyle.
After the successful outcome on Friday night, Smith had already committed to doing co-commentary for RTÉ in their live broadcast from the Connacht semi-final between Corofin and Ballina. Once duties concluded there, it was straight on for a night in Boyle.
As well as the kids seeking autographs and selfies, there were a fair amount of old hands present, each taking pride in their own small role, be it coaching or managing Smith, or keeping the club afloat by an administrative role.
"There was a lot of good club stalwarts on Friday, Tony Conboy there who would be a Boyle man through and through. He would be a GAA historian there in Roscommon and does a lot of work in terms of the Roscommon GAA history so it was great to have him up there," says Smith.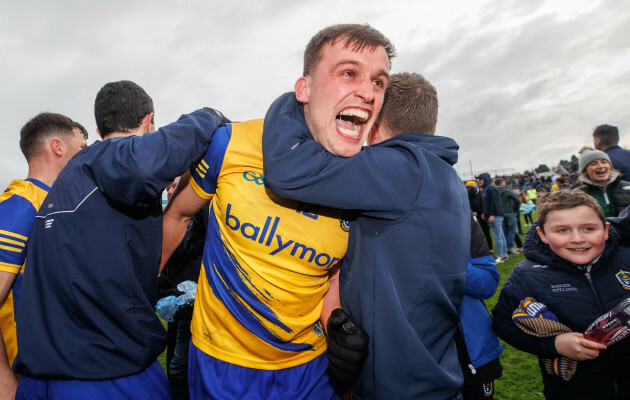 James Crombie / INPHO After the victory over Mayo in the Connacht championship. James Crombie / INPHO / INPHO
"And then Aidan Lavin and his wife Trudy it was great to have Aidan up there. There are loads to thank, but they are two standouts, for sure."
What Smith's inclusion shows is that with the new format of the All-Ireland football championship and the in-built round-robin of games, you no longer need to have featured in the All-Ireland final or semi-final to be in with a realistic chance of winning.
In that regard, the award scheme makes a welcome return towards its' roots, when an impressive league campaign carries worth, but it also shows that Smith had enough games at the height of the summer in which to sufficiently impress.
"I said at the weekend that the new structure definitely lends itself and fell within my favour this year," he explains.
"We played six championship games, and the likes of Kerry and Dublin who got to the final played eight. So there's not a lot of whole pile of difference how much was played.
"Whereas in the past if you got knocked out you might only have played one or two, maybe three if you were lucky.
"So it worked out well in my favour this year. It gave me the opportunity to be in with a shout. It gives us hope. I am delighted, obviously and it is a nice one to be awarded with, among the top players in the country."
After the good work of 2023, Roscommon will be faced with some fresh challenges.
Already, team coach Mark McHugh has said he is unavailable due to the travelling involved.
Conor Daly and Smith's Boyle clubmate Cian McKeon have confirmed they are travelling to Australia and will not be part of Davy Burke's plans for the year ahead.
For Smith, such losses are inevitable he feels, and they just have to drive on without them.
"I have to be honest, no more than any other team, we probably lose lads every single year. Last year it was Ultan Harney and Ronan Daly (who are reportedly coming home to resume their intercounty careers). They are two huge losses," says Smith.
"And obviously this year it is Conor and Cian who are two more huge losses and played in a lot of our games this year.
"To be honest, it's disappointing initially. But once you are back training, you have one or two lads who have been on the panel for a couple of years and they will be pushing hard to be in contention and stepping up."
He continues, "I always find there are lads willing to step up and have the ability to step up and fill the gaps that have been left.
"It is only natural. You see it with teams all around the country with every county team with lads just taking a year to go travelling or whatever it is.
"In an ideal world, you want everyone to stay around but you can't stop lads travelling and doing what they want to do. Ultimately, you can't dwell too long on it as a team either. It's disappointing, but you move on. Whoever is the next man in, he steps in.
"There have been lads gone in the past and we keep on with it, no matter how disappointing it is to lose players of that calibre."