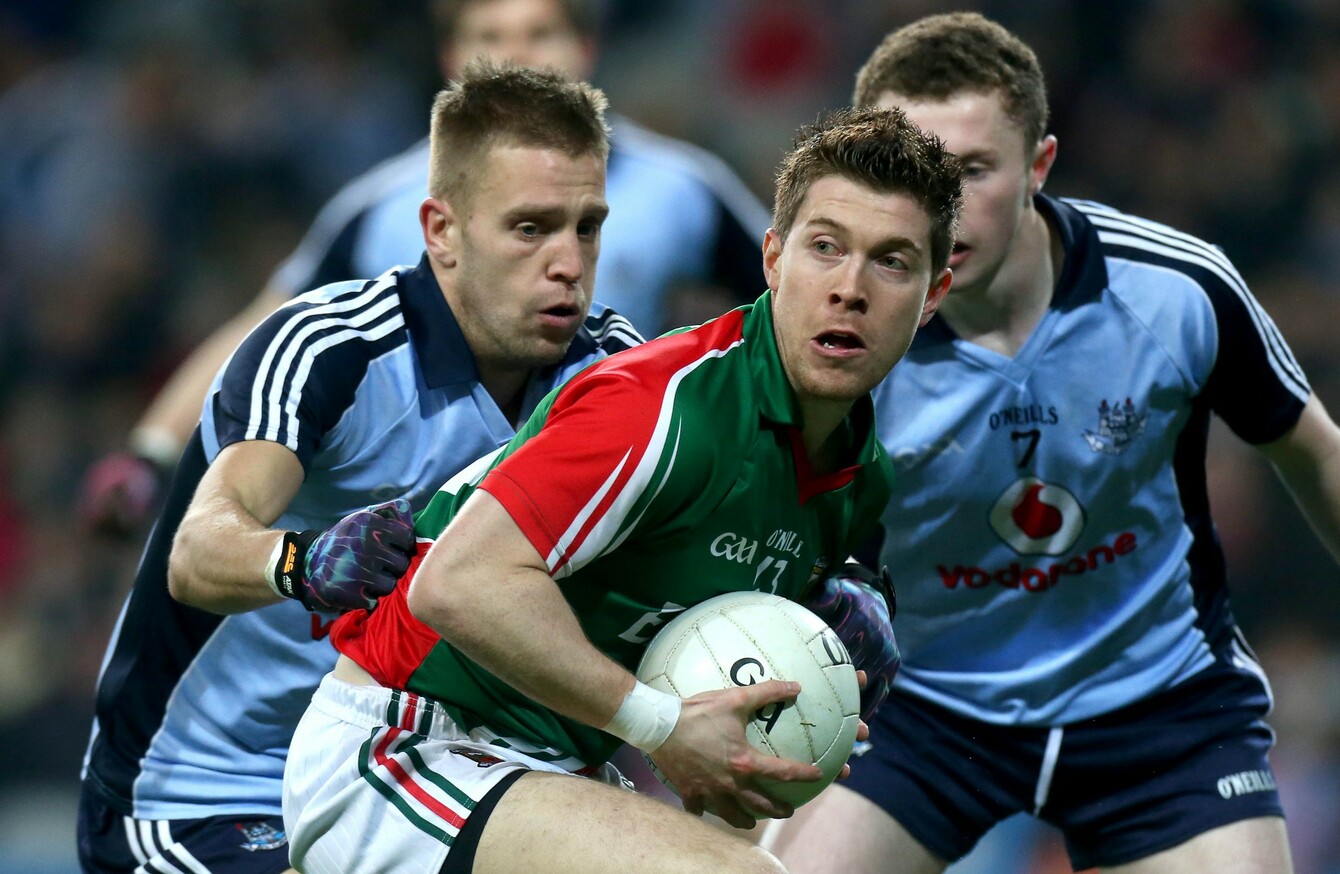 Enda Varley in action against Dublin defenders Johnny Cooper and Jack McCaffrey in 2013.
Image: Ryan Byrne/INPHO
Enda Varley in action against Dublin defenders Johnny Cooper and Jack McCaffrey in 2013.
Image: Ryan Byrne/INPHO
THREE YEARS AGO Enda Varley witnessed first-hand the heat of a Dublin Mayo All-Ireland final battle.
He was pitched into the action with 15 minutes to go in Croke Park but felt that sinking feeling at the final whistle as Mayo's wait to lift Sam was prolonged after an intense and physical battle in that 2013 decider.
"I can remember shifting a heavy tackle from Rory O'Carroll. It nearly concussed me as well!
"I actually watched that game back first time on Tuesday night. It was frenetic. It was very open, lot of goal chances for both side.
"Interestingly enough it was again one of Dublin's deep runners coming in for the Bernard Brogan fisted goal, so again, if we can shore up them deep runners from Dublin Mayo will have a better chance."
Varley's spell with the Mayo senior squad drew to a halt last year.
He had a different vantage point then ten days ago as Dublin and Mayo renewed acquaintances in a September showpiece.
"It was worse watching at this stage. I think it was a fair result in the end. I think Mayo did very well to come back from five points down at half-time, three points down going into injury-time.
"Dublin will be disappointed with their own performance as well. With everything taken into account, I think a draw was probably the fairest result."
He'll be there to watch the second instalment on Saturday. Varley has a different perspective from most Mayo followers as he now plays his club football in Dublin with St Vincent's.
"I've been travelling up and down. I'm up here now six years. It was a very difficult decision.
"I didn't take it lightly. Look it, I found it very hard getting into the car, three hours, on the body. Coming into my late 20′s, my body was telling me one thing.
"I am enjoying football a lot more now. You nearly resent the fact you have to travel three hours to play a game. I have a life know, do you know what I mean? It is a lot, lot easier for myself."
Amongst his club teammates is Dublin's gifted attacker Diarmuid Connolly.
"A good guy. Obviously, on the pitch he's going to be competitive. Lee (Keegan) is going to be competitive too. They're not going to give each other an inch. Pound for pound, they are the two best footballers in the country.
"I just can't wait for the battle again on Saturday. Whoever comes out on top will have a major say in the game. Diarmuid, off the pitch whatever dealings I've had with him, he's been an extremely nice guy."
He's well placed to compare the standards of club football in the two counties.
"It's definitely dryer up here, pitches are dryer," laughs Varley.
"How does it match up? Good question. I wouldn't say there is a lot in it.
"Dublin would be a slightly higher standard because you've more people joining clubs like myself up here.
"You've massive catchment areas, a lot of competition. It's not an excuse but it's wetter down in Mayo.
"The pitches aren't as good. Obviously the standard of football won't be as good because of that."

The theory that Mayo missed their chance in the drawn game is not one Varley subscribes to.
"I don't buy into that. Mayo didn't lead for the whole game apart from the first minute. Dublin had a three-point lead going into injury-time so I don't buy into that.
"Mayo won't be happy with their performance either. They will want to up their game. Dublin didn't play to their strengths either so they will want to up their game as well."
Varley may be living in Dublin but is still well aware of the feverish interest at home in Saturday's game and can wonder about the levels of hysteria were Mayo to finally win.
"Look, the Mayo people are fanatical about football. My father said there is a 26 page spread in the local newspaper the last day on the final.
"It's very intense down there and Mayo people absolutely love their football. Mayhem, it'd be (if Mayo won), I can only imagine.
"Mayo were probably in a similar situation as Dublin 2011, in terms of they are trying to bridge that gap.
"It would be fantastic to see for the county and the people if the team could get over the line."
The42 is on Snapchat! Tap the button below on your phone to add!