SEAN BUCKLEY WATCHED, last year, as his father battled bravely but, ultimately, in vain against cancer.
A plan to mark his memory and raise vital funds for cancer research was not hatched for a couple of months after John Buckley's passing. When it was, however, the Midleton native tackled it in earnest. He was not alone. James Colbert vowed to join Buckley on a triathlon around Ireland that will take in every county, over 22 days, and stretch 2,068 kilometres.
Buckley and Colbert will set off on the Endurance Challenge on 3 August, with a fund-raising ambition of €500,000 for Breakthrough Cancer Research. The challenge involves cycling 1,780km through each of the 32 counties, a 120km swin of the River Shannon and four consecutive marathons [Monaghan, Mayo, Dublin and Cork].
Each of the four marathons will be open for public participation, with options of full, half marathon, 10km and 5km events. The goal is to get 1,000 runners and walkers to take part each day.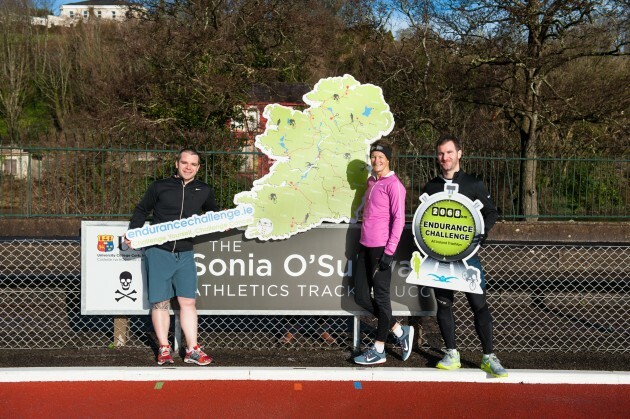 Rob Lamb Sonia O'Sullivan got behind the duo's training efforts earlier this year. Rob Lamb
Buckley commented, "To have witnessed personally the pain and suffering that a cancer patient endures during treatment made me realise that any pain I would endure during the Endurance Challenge would pale in comparison.  We are pleading to everyone to come out and take part in a run or cycle or to sponsor our efforts."
Breakthrough Cancer Research focuses on funding research for new treatment opportunities into poor prognosis and incurable cancers. They work to significantly impact the number of people who can survive the disease. Eoghan O'Sullivan from BCR said:
Anyone can participate in Endurance Challenge, whether you are a professional cyclist, a marathon runner, or would simply like to run 5km.
"Sean and James have committed the last 18 months of their lives to train every day to raise an incredible amount of money, but they can't do it alone, so we hope others will be inspired by them."
Endurance2068 / YouTube
Anyone thinking of getting involved is invited to check out the Endurance Challenge website. One can also sponsor either of the men at their Just Giving page.