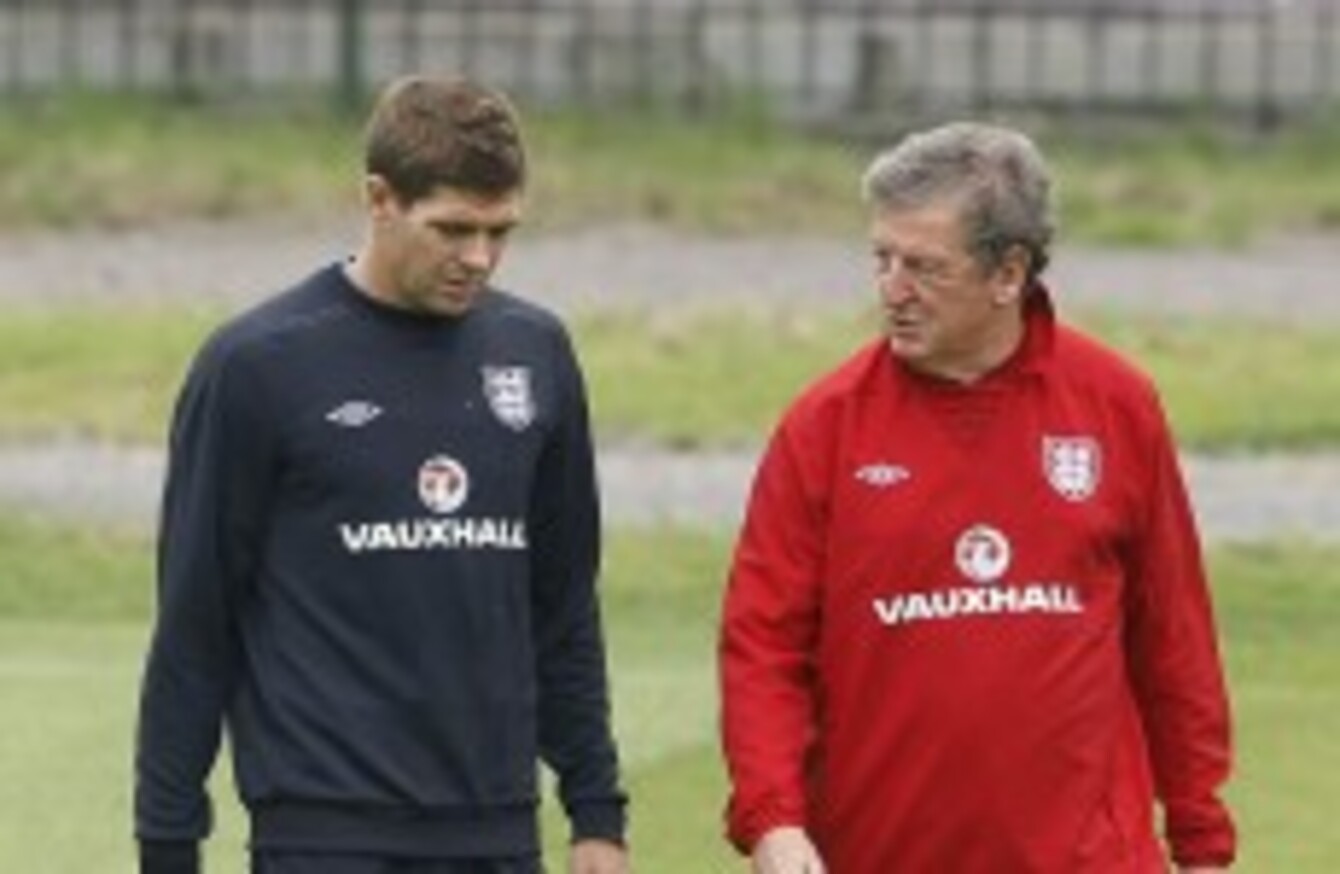 Gerrard may be tasked with stopping Andrea Pirlo tonight.
Image: Kirsty Wigglesworth/AP/Press Association Images
Gerrard may be tasked with stopping Andrea Pirlo tonight.
Image: Kirsty Wigglesworth/AP/Press Association Images
IN MANY WAYS, tonight's quarter-final – which should well prove the most even and, potentially, engaging match of the four – is a reversal of history.
For one, as has been well documented, England have taken on a stereotypically Italian caution; Italy have adapted the Spanish possession game.
The wonder, however, is whether that will be enough to cause a reversal of history in terms of results: can England get past the quarter-final stage of a tournament for the first time in 16 years and for only the fourth time in their entire history?
At the moment, the evidence is slightly in favour of the Italians.
Because, so far, that new caution hasn't exactly created security.
In virtually every game they've played so far, there have been extended periods of panic among the English backline that hardly illustrates defensive assurance.
Indeed, the manner in which they have played on the edge was reminiscent of Ireland's miraculous 0-0 draw in Moscow back in September. Far from proving a defining performance for Giovanni Trapattoni's side, it ended up only forecasting the extreme difficulty Ireland would face once they played superior sides.
The suspicion is the same may happen to England. After all, their group ended up proving the poorest in the tournament, with France's insipid performance against Spain in stark contrast to how Italy stepped up against the world champions.
A further parallel, of course, is that Ireland repeatedly invited pressure because they simply couldn't keep possession. Not unsurprisingly since the players came up through the same flawed infrastructure, England are exactly the same. They have to have over 50% of possession in any game and often play well below it.
Of course, this is nothing. Indeed, it's arguably the principal reason for England's repeated failures.
Tonight, though, it's going to be further illustrated by the fact they're arguably playing the best passers of the ball in the world after Spain.
The pattern of this game isn't difficult to see: Italy dominating the ball and the space, England looking to congest around their own area while hitting on the break.
England's potential solution to this, however, isn't difficult to see either: quite simply, they must stop Andrea Pirlo. He is the source of everything Italy do, from maintaining that possession to forcing their main attacks through his range-finding balls.
The only thing about that, though, is that it may well take something from England's counters: essentially, as Slaven Bilic successfully did with Luka Modric in Croatia's game, Roy Hodgson is going to have to charge one of his attacking players – most likely Steven Gerrard – to pick up Pirlo all the time.
For Bilic, though, it worked.
And, for all the flaws in England's make-up, they do have a couple of other aspects in their favour.
For one, they arguably have the greatest range of forwards in the competition, if not exactly the greatest forwards. There's the physique of Andy Carroll, the pace of Theo Walcott, the trickery of Danny Welbeck and the all-round ability of Wayne Rooney.
What's more, offsetting the openness at the other end, those forwards have been quite clinical. England have scored five goals from only 10 on target.
Italy, meanwhile, have only hit four from 18. As Gigi Buffon said in the past week, Italy's greatest strength – being able to keep games close against good sides – is also they're greatest weakness. Despite their own fine range of forwards, they don't exactly take their chances.
See Sport
Differently
Get closer to the stories that matter with exclusive analysis, insight and debate in The42 Membership
Become a Member
And, in tournaments, that's what good runs can be built on: a strong enough of a base and a few bounces of a ball going your way.
If all goes to form, Italy should make proper use of their possession to progress to the semi-finals. The fact is, though, that the game is even enough for a bit of momentum or fortune to send England through instead.
Key battle: whichever of England's forwards is charged with sacrificing his attacking play to pick up Andrea Pirlo
Key question: is Hodgson's defensive base dependable enough against Italy's more proactive possession?
Recent scoring form: England 1.7 goals a game; Italy 1.4 goals a game
Recent defensive form: England 0.6 goals a game; England 1 goal a game
History lesson: There aren't too many here in terms of tournaments given that Italy and England have only met once in a competitive match at a summer event: that was the group stage of the 1980 European Championships in Italy, with Marco Tardelli giving the host nation a 1-0 win. Interestingly, it was on the same soil that they next met in a tournament, the 1990 third-place play-off. In all, the Italians have won four of their last six competitive meetings, with this the first time the two sides have played in 10 years.
Pointers
England are looking to reach only the fourth semi-final in their history and the first in 16 years
Italy are looking to reach the semi-finals of the European Championships for the first time since 2000, with that also representing the last occasion they got past the group stage.
Prediction: England 1-2 Italy