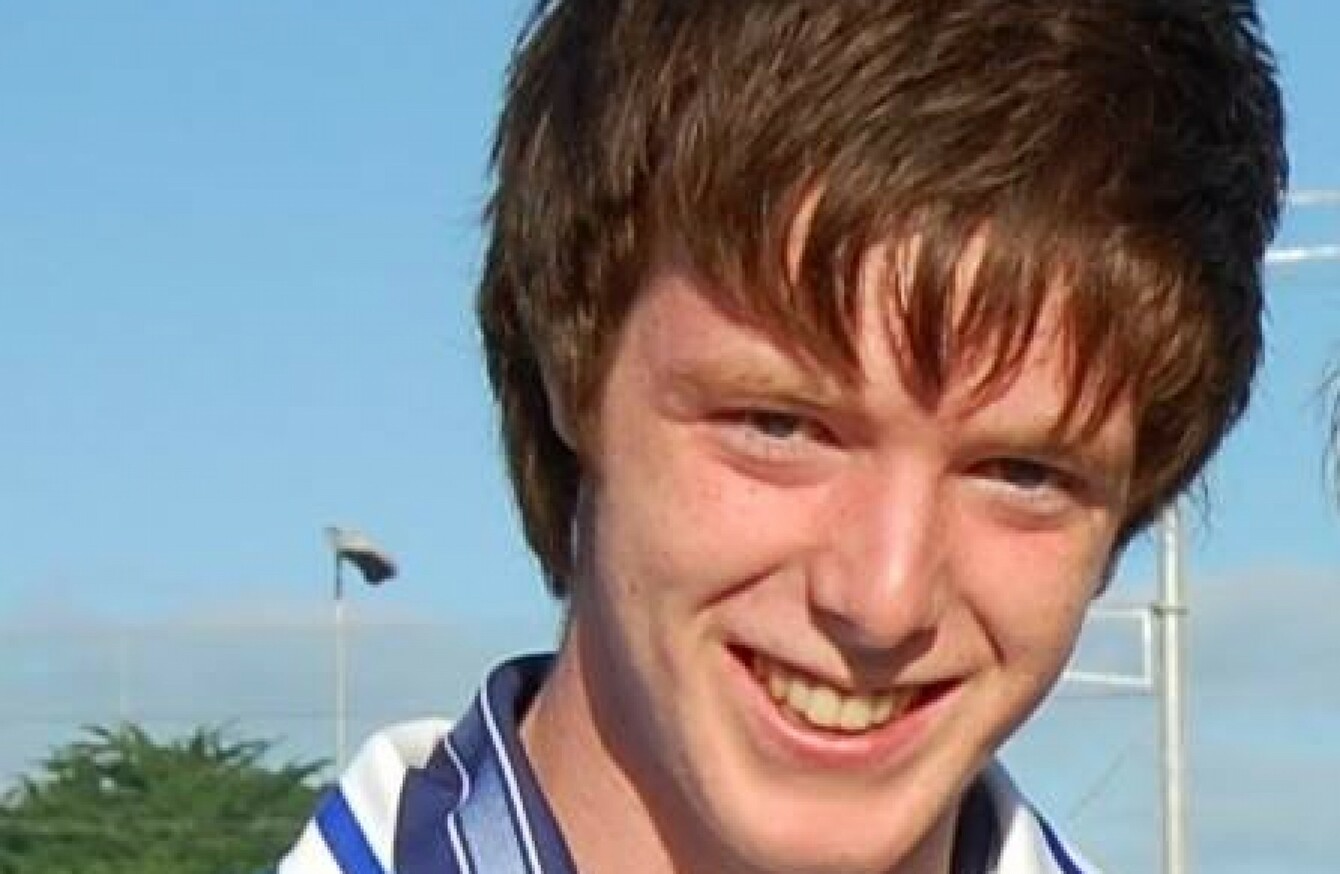 Eoghan Culligan was part of a Ballyboden St-Enda's team that reached the 2011 Dublin minor football final.
Eoghan Culligan was part of a Ballyboden St-Enda's team that reached the 2011 Dublin minor football final.
EOGHAN CULLIGAN WAS one of six young Irish people who tragically lost their lives in Berkeley, California last summer.
His former GAA club Ballyboden St-Enda's tomorrow contest the All-Ireland senior club football final in Croke Park for the first time. 
With the kind permission of Ballyboden and the Culligan family, we reproduce here an article written by Denis Molony for the club newsletter 'Boden News', as he remembers Eoghan's GAA days with Ballyboden
**************************
I FIRST MET Eoghan Culligan in 2005 when my son, Carl, introduced him to me as 'Cully', his friend from school.
Both were 12 years of age and in 6th class in St Mary's College, Rathmines. At that first meeting I could not put a handle on him and wondered what they had in common. He seemed a little different to the other friends of Carl and I wondered if it would last.
Well 10 years later, the two of them were still thick as thieves. Eoghan spent a significant amount of time in Carl's home and vice versa and even holidayed together with their respective families. Over the years I got to know Cully well and what I identified as a little odd initially turned out (to) be his quirky sense of humour……a trait which he never missed a chance to exercise to the maximum.
Mentor
In 2006 I was involved as a mentor along with Pat Drohan (manager), Conor Farrelly, Joe Johnston, Sean O'Connor and Seamus O'Flaherty with a then amalgamated under 13 B & C football team. They say a team reflects its management and with that eclectic group in charge it certainly did.
In truth we were all over the place…from the weakest who had but the basic skills to the few who were accomplished and all shades in between. Mickey Kehoe was our one and only midfielder. It was evident that we needed to find him a partner.
I asked Carl if he thought his new pal, Cully, might be interested in playing, not knowing if he even knew how to play Gaelic football. I had seen him play rugby at first year college and he looked mobile enough and lanky enough to play in midfield.
Standout
Cully agreed to turn up and his first game for Boden was in the Hermitage against Naomh Fionbarra. A perfect baptism! Could he play? Well, in what transpired to be a tetchy game, Cully turned out to be our standout performer.
We used to rotate the captaincy from game to game among the players, however it soon became clear that when Cully was missing or even late arriving there was palpable unease within the squad. By the time we had progressed to U14 grade, Cully had become the permanent captain.
The team was gradually beginning to improve and this was in no small way due to his leadership. He was not the prettiest of footballers, in fact for a tall lad he could not jump and catch the ball from a running start.
This was a legacy, I think, from his lineout play in rugby whereby the balls were thrown to static lines and generally the ball was won by the tallest player who only occasionally had to execute a two legged jump from a stationary position.
However what he lacked in aerial ability he more than made up with his ball winning and turnover skills, ball handling, work rate and fearlessness.
He also had the vision to play the ball early, whether it was through his range of kick passes or his offloads. He understood from his rugby exposure that you needed to recover possession as soon as possible and once won there was always someone next in line to progress the play. As Sean O'Connor recently commented…he was the gel that held it together.
Great Year
2006 turned out to be a great year for the team. Captained by Cully the team won their divisional Dublin Féile. On the Saturday we were based in John Paul Park, the home of Naomh Fionbarra. In scorching conditions the squad had narrow victories over Scoil Uí Chonnail and Crumlin in the first two games but with tiredness setting in suffered a heavy defeat to the hosts in the final round robin game.
We had however qualified for the semi-final and after being well looked after by Naomh Fionbarra in the community centre with food and refreshments, we headed for St Margaret's where we faced Lucan Sarsfields later that evening.
In what was an enthralling contest of exceptionally high quality Boden advanced to the final the next afternoon in Parnell Park. Before that the player recuperated that Saturday evening in Templeogue swimming pool. The day of the final produced a heavy wind blowing from the golf course end of Parnell Park into the Church End.
Naomh Fionbarra were again our opposition. Boden played with the wind in the first half and went in at half time 1-2 to 0-0 down. We managed one wide in that half but defended from every area of the pitch with intelligence and commitment.
'Garryowen'
On the restart Mickey Keogh knocked the ball back to Cully. From almost on our own '65, Cully launched a massive 'garryowen' which landed on the edge of the square and John O'Flaherty got a deft touch to see the ball to the net. (Cully has always maintained that there was no touch and that he had scored a goal from the longest distance ever in GAA history) Game on! Boden went on to score a further 3-6 to run out comfortable winners.
Cully continued to captain the team through U15 and U16 winning championship shields at our division level. At first year, the team reached the divisional championship final only to be defeated by Robert Emmets after extra-time. It is not widely but during the first period of extra time Cully collapsed from exhaustion as a result of the effort he had put in and was later hospitalised that evening.
In 2011 Cully was part of the Boden minor A team which won the league and finished runners up to Castleknock in the championship final. During that year he had played against many players who represented the county at minor and subsequently Dublin U21 and senior level, acquitting himself with distinction.
Memorable
He played at midfield in the run of league matches that year and had memorable battles most notably against Paddy Higgins of Raheny and Stephen Cunningham (Scoobie) of St Sylvester's.
In the championship final Ciaran Kilkenny was his direct opponent. In the league against St Vincent's, his direct opponent had been totally outplayed to such an extent by Cully that he was substituted with about 15 minutes still to play. It was noted by Conor Doolan that as he left the field of play he threw his gloves to the ground in sheer frustration.
During the year the team played a number of friendly games against Celbridge and a good rapport was developed between both clubs at minor and subsequently U21 level. In one of the games played on a Friday evening of an 'Oxygen' weekend, Cully's gear for the game consisted of boots, shorts, socks, a tent, sleeping bag, and a backpack with enough provisions to keep a small army in the field on training manoeuvres.
What are they
really like?
Rare insights on sport's biggest names from the writers who know them best. Listen to Behind the Lines podcast.
Become a Member
Admirable
While many of the players on both sides who had tickets for the event were 'unavailable' on the night, Cully's commitment to play first and then party was admirable. Cully had the ability to live in the moment. Once one project was concluded he was quickly planning for his next one.
After minor he continued to play on occasion at U21, junior and intermediate grades. While not many within the club knew him…he was well known and respected within the peer group he played both with and against, and by the mentors he played under including Shane Brooks, Neil Buckingham and Conor Doolan.
Cully's quirky sense of fun kept the dressing room in balance and contributed to keeping everything in perspective. He could be light hearted and jovial both before and immediately after a match, but once he crossed the white line he was totally focused on the game in hind.
Accomplished
As well as playing for Boden he was an accomplished schools rugby player, played soccer with Bushy Park Rangers and was known to have dabbled in racket sports as well. When one event finished he was immediately looking forward to the next.
The last game he played for Boden was in summer 2013. It was an intermediate friendly against Kilcock who had qualified for the Kildare final. Boden were preparing for the Dublin quarter final against St Patrick's Donabate. Being tight on numbers Cully was persuaded to travel as back up.
He came on at left half forward just before half time as an injury substitution. What I remember specifically was not the 1-1 he scored from play in the second half but the multiple high catches he made at full stretch each over three foot in the air…from running jumps…he had finally mastered the one skill that had eluded him in his earlier years.
Satisfaction
One of the things that give mentors great satisfaction is in seeing players develop and I have to say that I left the game that day with a smile on my face. College and family commitments meant that this time was subsequently taken up for the rest of 2013 and although he indicated a number of times during 2014 that the would return to play, he never did.
On 16 June 2015 Eoghan Culligan died tragically along with five other students as a consequence of injuries sustained in the Berkeley balcony collapse in California. Seven other students sustained life changing injuries in the same incident. Those of us who knew him share in the loss that his parents Marie and Gerry, brothers Andrew and Stephen, and girlfriend Sarah feel.
On December 6th 2015 Boden played Portlaoise in the Leinster senior football final. After the game a group of us were in conversation with Sam Molony. In the programme there was a comment from each of the players about their favourite football moment.
Sam had written 'playing with Carl Molony and Eoghan Culligan'. I commented that it was good of him to remember Cully and mention him in the programme. He replied: 'But Dad, they were the best times!'. Those of us present who knew Eoghan would not disagree with that.
Cully
Sam then continued: 'When Portlaoise were awarded that free kick at the end I looked to the sky and said: 'Cully, if there is anything that you can do…well now would be a good time!'.
The rest is history. Maybe that day in June 2013 was not the last contribution Cully made to Boden. Regardless it is a measure of the man that his peers still look to him for inspiration and support.