WHAT'S THE EASIEST job in world football? If you'd asked me up till last week, I'd have said D-list comedian on one of those Sky One World Cup's Craziest Moments-type clip shows.
You know, the guy they cut to after showing a clip of a goalkeeper making a mistake, who mugs to camera and says "Mate, what was the keeper thinking?"
But, last Saturday, a new candidate emerged. In the aftermath of England's 2-0 World Cup victory over Sweden, one of the Russian camera operators in Samara was clearly directed to find shots of attractive blonde-haired Swedish women looking disconsolate in the crowd. To put it mildly, this person did not have their work cut out for them.
Christ, it was like shooting fish in a barrel.
The soundtrack that accompanied this visual smorgasbord of crestfallen Kirstens, and forlorn Fridas, depended on which channel you were tuned into. On the BBC, Gary Lineker, Rio Ferdinand and Alan Shearer were all, understandably, basking in the glory of seeing their country qualify for a World Cup semi-final and talking up the possibility that they might actually go on and win the whole competition.
Over on RTÉ, meanwhile, the pundits in Montrose must have a known a significant portion of their audience were tuned in precisely because they couldn't stomach hearing England's World Cup chances overstated in such nauseating fashion. Here Eamon Dunphy's contrarian instincts kicked into overdrive. He didn't just match the BBC's ardour for Gareth Southgate's team. He actually surpassed it.
He called England's victory over a decidedly average Swedish side whose strikers, in Russia, often appeared to be competing for maximum screen time in Sky One's forthcoming World Cup's Most Ludicrous Misses blooper reel ("Mate, what was Marcus Berg thinking there?") a "really, really great achievement."
He called England "a serious outfit." He enthused "I don't think either Russia or Croatia will live with them. I think the only team left that could beat them is Belgium. And I'm not even convinced of that. They [England] can certainly beat France." Hell, he did everything short of break into a chorus of Rule Britannia
Punditry may not be the hardest job in the world football. But it sure as shit isn't the easiest one. There's a reason why Eamon has been sat in that top chair at RTE for thirty-something years. The man knows how to troll an audience.
It was left to Liam Brady to be the boring voice of reason. "I don't think they're that good, to be honest," he said, flatly, of Gareth Southgate's side.
"They haven't beaten anyone of any significance. I think Croatia will win tonight and they'll have too much quality for England in the semi-final. This is not a great England team. It's nothing to write home about."
Over on social media, the real action was kicking off. No matter what one's national persuasion, the Harry Maguire memes were genuinely amusing.
As were the Three Lions (It's Coming Home) mashup videos: The Del Boy one, the Marcel the monkey one, the Putin one. On Twitter, Sir Andrew Lloyd Webber, the millionaire Tory peer who (fun fact) once flew home from New York to vote to cut tax credits for the poor, played It's Coming Home on piano. The band of the Guards Division played it outside Buckingham Palace.
In Russia, a Gareth Southgate lookalike was being pursued by the press. Back in Blighty, Geoff Hurst likened Southgate to Sir Alf Ramsey, saying the former Aston Villa centre half''s stewardship of the national side has "engendered a good team spirit."
(Granted, England's 1966 World Cup winning goal-scorer had previously offered pretty much word-for-word that exact same endorsement to Bobby Robson, Terry Venables, Glenn Hoddle, Sven-Goren Eriksson, Fabio Capello and Roy Hodgson. But this time he really meant it.)
There were thinkpieces hailing Southgate as a symbol of positive masculinity and hailing the formerly chubby Harry Kane as an inspiration to fat kids everywhere.
And, look, more power to all of these people. I'm a Mayo football supporter. I understand irrational exuberance. I've painted far too many sheep, barn doors and Ford Fiestas red and green for me to stand in judgement over anyone else's delusional optimism. The only one of these memes that bothered me just a little bit was the one of Tommy Tiernan on the bus in Father Ted.
Exclusive Six
Nations Analysis
Get Murray Kinsella's exclusive analysis of Ireland's Six Nations campaign this spring
Become a Member
What stuck in my craw about that one was simply the notion that, rather than indulging England in its moment of irrational national exuberance, the rest of the world was actually bracing itself for the inevitability of Harry Kane & co actually taking home the World Cup trophy this weekend. Nothing could be further from the truth.
I speak here only with the authority of a lay person who's sat at home and bothered to watch the games. But my objective analysis would strongly suggest that England are, by some distance, the weakest of the four teams left in the competition. Moreover, in my capacity as World Cup soothsayer (which I claim with the same authority as Gareth Southgate can the title of "nicest man in sport") here's how I foresee tomorrow's semi-final going.
Five minutes in, Jordan Pickford concedes a Karius-esque howler. All further talk of Pickford helping old ladies across the road, and rescuing kittens from trees, immediately ceases. Past insecurities about his height and ordinariness as a player come back to haunt him. He concedes five more goals in rapid succession and, for the rest of his life, the Everton goalie can't so much as to walk past a red and white checkered tablecloth without breaking into cold sweats.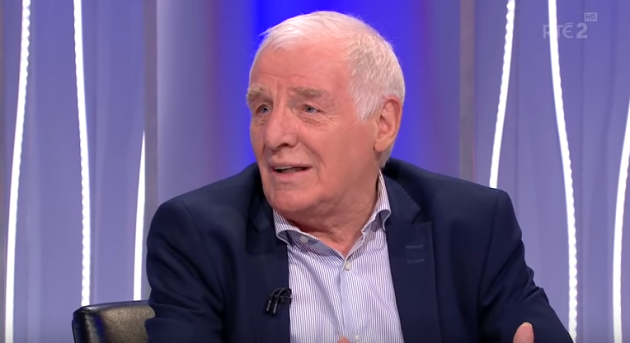 Eamon Dunphy: full of praise for England and their manager Gareth Southgate.
As Kieran Trippier lines up a corner, the England players do that stupid thing where they line up in the box like it's a Beach Boys album cover, and all they're missing is the surfboard. Suddenly, they notice they're a Wilson brother short. It's their captain fantastic Harry Kane. He's been lured away to a Chocolate River, fallen in and been sucked up some pipes, Augustus Gloop-style, never to be heard from again.
As things continue to unravel for England, Southgate suffers a chronic waistcoat malfunction on the sideline and names himself as England's designated penalty taker in Kane's absence. In the ensuing chaos, he is photographed interacting with some inanimate object the tabloids later use to castigate his leadership.
If Steve McClaren was the Wally With the Brolly, there's no reason Southgate shouldn't be the Fool With the Stool, the Twit with the Baseball Mitt or the Blockhead With the Airbed etc. Really, there's a lot of ways we can go with this one.
Too harsh? Too far-fetched? Oh, come on. If they're allowed to dream, why can't I?