ON SATURDAY, THE Irish rugby team recorded a heroic 26-21 test victory over Australia in Melbourne.
Next morning, the Sunday Independent's Neil Francis hailed "a great day for the nation's game."
He didn't stop there.
"Once again," he wrote, "our rugby team shows us the way. Our soccer team are not at the big show and the GAA just cannot compensate for the amount of poor-quality sides that manage to get to provincial finals."
By contrast, he noted "The rugby team have done it the hard way."
Now, I'm not an especial rugby fan. So I'm not normally an avid reader of Francis' column. The friend who brought this one to my attention cautioned that I should take it with a pinch of salt. The former Ireland lock, he advised, is basically a wind-up merchant.
Indeed, a quick look at Francis' record confirms he's been hawking this line about rugby as 'the nation's game' going back to March. The case he makes is not entirely without merit. When I was a kid in Mayo, I doubt a boy in my class could have named a single rugby international, even if you'd put a gun to our heads. Now there are almost as many rugby shirts as Premier League or Gaelic football jerseys worn in Ballyhaunis pubs on a Saturday night.
Rugby's rising popularity is not exclusively a rural phenomenon either. I was driving by Fatima Luas stop in Dublin's inner-city the other day. In an area that was once Ground Zero for heroin addiction in the capital, I was surprised to see young boys and girls in rugby shirts and shorts emerge from a training session with Liberties Saints RFC, a neighbourhood rugby club that has popped up at a site by St James' Hospital.
All of this is positive. All of this is good news. When anyone, anywhere, engages with sport, for any reason, that's always something to be celebrated. What puzzled me though was why, in his own sport's moment of triumph, Neil Francis somehow saw an opportunity to to take a swipe at other, friendly codes? Especially when the point he was making was so obviously unfounded.
Yes, this year's Gaelic football championship games have been anemic. But it's only mid-June. The real drama is in the post. The hurling championships, meanwhile, have been a revelation. Francis neglected to mention that. Also, while it's undoubtedly a shame that our soccer team didn't qualify for the World Cup in Russia, it's worth noting the Republic of Ireland were one of 54 highly competitive European national sides chasing just 13 World Cup berths.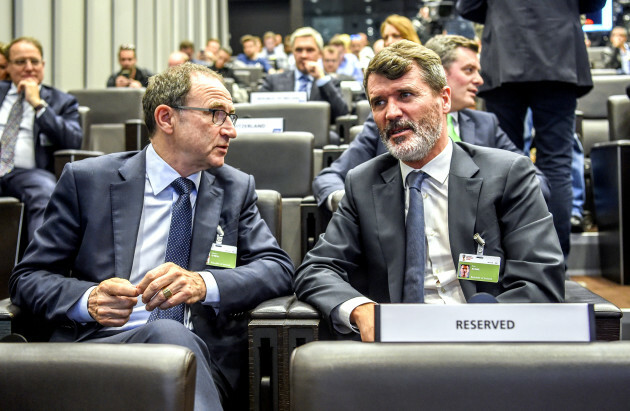 Andy Mueller / INPHO Martin O'Neill and Roy Keane saw Ireland's football team lose to Denmark in the playoffs. Andy Mueller / INPHO / INPHO
By contrast, the Irish rugby team qualifies for the World Cup every four years automatically. Yet somehow they've never made it past the quarter finals, despite the fact that only eight nations seriously contest that competition. I mean, look at World Rugby's official international rankings below the top eight. The full list, I think, reads: Fiji, Tonga, Easter Island, Treasure Island and Love Island. Then it tapers off a bit.
Indeed the International Test Series Francis was extolling finds Ireland locked in battle with… one other nation. Yet he derides other sporting championships for being uncompetitive?
So what's to explain this attitude? Well, Neil Francis is a graduate of Blackrock College. What those of us not fortunate enough to have attended private schools probably fail to take into account is the extent to which, every day, in every way, pupils at fee-paying institutions are emboldened with the notion that they are the elite. They are the cream of the crop. They are the best their country has to offer.
This sort of indoctrination performs a useful social function. Twenty or 30 years later, when that same small coterie of privileged men hold the levers of power in their respective fields (whether that's finance, industry or writing shit rugby columns for the Sunday Independent) it won't seem like a nefarious old boy's network is working to their advantage. It will seem like the natural order of creation simply asserting itself.
There's only small one problem with this ethos. It's transparent bullshit. Kids who are privately educated aren't inherently better or worse than any of the rest of us. They're the same. So how to maintain an illusion of their superiority? Well, by ensuring they're never forced to compete on a level playing field with kids from less privileged backgrounds. That's why schools like Blackrock or Clongowes don't stake their reputations on the fortunes of their soccer, or Gaelic football or hurling teams.
Exclusive Six
Nations Analysis
Get Murray Kinsella's exclusive analysis of Ireland's Six Nations campaign this spring
Become a Member
They stake their reputations on their performance in the Leinster School's Rugby Senior Cup, an elite competition in which only a very small handful of private school have the resources to compete.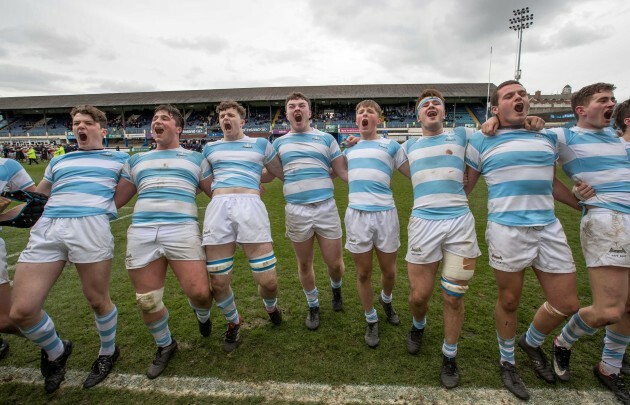 Morgan Treacy / INPHO Blackrock players celebrate winning the Leinster Schools Senior Cup Final in March. Morgan Treacy / INPHO / INPHO
Again, none of this is venturing even slightly into tin foil hat territory. Read the factual record of rugby union's split from rugby league. Elitism isn't a facet of rugby. It was the sport's entire founding principle. And it remains more or less it's raison d'etre to this day. The IRFU has done commendable work in striving to change this.
And rare exceptions, like Sean "The Tullow Tank" O'Brien, can do a lot to foster a perception of diversity.
But the fact remains that a lower percentage of players on Ireland's rugby team received free state education than did members of the UK's House of Lords.
Right now, rugby's surging popularity in Ireland is based on the on-field success of our provincial and national sides. Should the fortunes of these sides ebb, which they are bound to do eventually, will all of this newfound goodwill remain? The loyalty of people like Neil Francis and his like is probably guaranteed. Rugby is their code and they're accustomed to operating in systems that are jury-rigged to help them and people like them succeed.
But what about young rugby enthusiasts in places like Fatima or Ballyhaunis?
Sooner or later, they are bound to realise they are competing in a sport in which the deck is stacked against them ever progressing to play at the highest level. Will they remain loyal to the sport long term? Somehow I seriously doubt it…