IT'S FUNNY THE way things never turn out the way you had 'em planned.
In the minds of most Liverpool supporters, Saturday night's Champions League final in Kiev was destined to go down as the Mo Salah Final.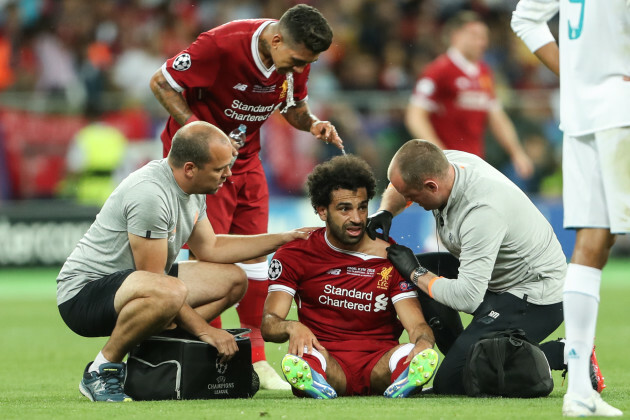 Xinhua News Agency / PA Images Xinhua News Agency / PA Images / PA Images
Win or lose, it would be the night on which the Egyptian superstar announced his genius on the biggest stage.
My friend David and I, both massive Salah fans, made plans to watch the game in the courtyard behind Murray's Bar on O'Connell Street in Dublin, where Liverpool's most fervent Irish supporters would gather and the atmosphere was bound to be electric.
Salah, as if you didn't already know, is the hirsute winger-turned-striker who had underperformed for a string of European clubs before arriving at Liverpool last summer and scoring a staggering 44 goals in his very first season. Such is his popularity on Merseyside that, in a Channel 4 documentary aired last week, some Scousers even vowed to convert to Islam should he guide their team to victory.
In any other sport, so sudden and dramatic an upturn in an athlete's professional fortunes might prompt dark rumours to circulate. But in football, fan theories tend to be a little less pharmaceutical and a lot more hairbrained.
The most creative explanation I heard for Salah's astounding form at Liverpool, in the lead up to Saturday's game, concerned the colour of the various team strips at each club he has represented.
An eagle-eyed Reddit user spotted a correlation between Salah's goals per game ratio and the predominance of the colour red in the team kit he'd worn in that particular season. At Basel, Salah's kit was 16.4% red and his goals per game ratio was 0.18. At Chelsea, the kit was 15.2% red and his goal per game ratio was 0.15. (Since when is Chelsea's kit 15.2% red?', you may ask. Shhh… A crazy person is talking here. Don't interrupt.)
Ultimately, this Redditor decided, if Liverpool eliminated the white-coloured trim from their shirts and shorts entirely and played in an all-red strip for the Champions League final, pretty much, every time the Egyptian touched the ball on Saturday night it would rocket into the Madrid net.
I ran this theory by the Turkish barber who cuts my hair on Saturday morning. He laughed but then identified a central flaw it. Liverpool often line out in their second choice white, or third choice orange, strips, he pointed out.
And Salah scores just as many goals in those colours as he does in red. No, he told me, Salah's secret weapon is his hair. "Trust me man, the more Mo Salah lets his 'fro grow out, the more he scores on the field."
I, in turn, identified a central flaw in the barber's theory. "If you keep telling your customers they can develop super powers by growing their hair," I warned him. "You're going to put yourself out of business." The barber cradled my bald slaphead in his hands for a moment. "That's why I only tell you this secret," he laughed.
We've drifted away from the point, admittedly.
The point is that in a divided and troubled world, this mop-headed footballer, with his contagious smile, and knack for hoofing a leather ball into a net, has been a chink of light, a ray of sunshine in millions of people's lives. In Egypt, he is reputed to command more authority than the president.
And given the track record of recent Egyptian presidents, that might just be no bad thing. But in Kiev, Salah was denied his well deserved shot a Champions League glory – and very possibly his chance at play in the World Cup – by an act of breath-taking cynicism and skullduggery by the villain of this piece, one Sergio Ramos.
Actually, the entire evening was a bust. I was at a barbecue in Raheny and couldn't get a taxi into town for love nor money. My friend David, for his part, made it to Murray's Bar in time for kick off but couldn't get in because the place was packed out. So in his infinite wisdom, he decided that Toddy's, that staid little tearoom in the Gresham Hotel next door, was an appropriate alternative venue for us to watch this extremely important football game.
There was a screen down the back of the tearoom with the volume turned down. Besides ourselves, the other patrons were mostly elderly ladies sipping tea and eating cake. The clinking of cutlery and the din of quiet conversation were the only noise to be heard. Not quite the carnival of colour and sound and I had been anticipating all week.
Considering the drama we were watching unfold, David and I did manage to conduct ourselves with a reasonable amount of decorum right up until the 25th minute when the Real Madrid captain cynically and surreptitiously dragged Salah to the ground, apparently dislocating the Egyptian's shoulder and ending his involvement in the contest.
At which point, David jumped to his feet and screams "F*** YOU RAMOS, YOU CHEATING BASTARD!" at the top of his voice.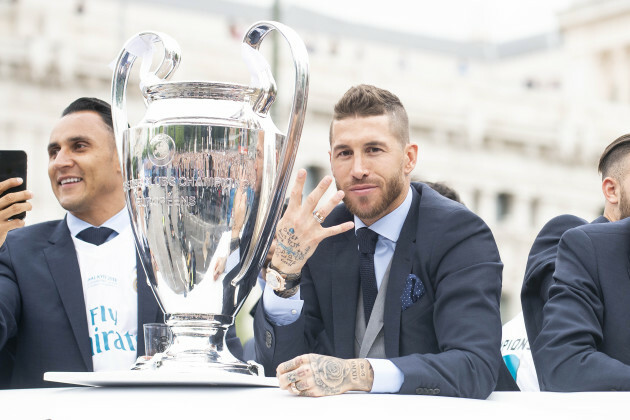 SIPA USA / PA Images Sergio Ramos with the European Cup in Madrid on Sunday. SIPA USA / PA Images / PA Images
A roomful of blue rinse old ladies sat staring at us in silent horror. I don't think they even realised there was a football match on. I think they thought I was Ramos and David was accusing me of infidelity. Well, obviously the night could only go downhill from there.
Don't get me wrong, there have been lots of dirty players down through the years: Pepe, Nigel de Jong, Marco Materazzi, even going back as far as Vinny Jones or Nobby Stiles. But the thing about most of these players is that (with respect to them) they were generally rat-faced characters who were less talented than their opponents. For them it was asymmetric warfare. They were doing the best they could for their teams with the limited tools at their disposal.
But Sergio Ramos has film-star looks, talent to burn and tens of millions of euros in the bank. He's won every major honour the game has to bestow, some of them several times over. He's got everything, including – I should add – plausible deniability on the issue of whether he specifically set out to injure Salah in Kiev on Saturday night. But he still saw fit to sniff out another player's dreams, to unfairly deny a worthy opponent his shot at the kind of success Ramos himself had already tasted.
His supporters will say that's what makes Ramos a winner; maybe they're right. But it also makes him kind of an asshole.