THERE'S NO DENYING the fact that Eoin Cadogan is happy to be back hurling for Cork.
Just before Christmas, word got out that the Douglas man would switch codes at inter-county level for the 2018 season as he linked up with John Meyler's hurling panel.
Years ago, he played dual for the Rebels but his last inter-county hurling outing came in 2014. Then his focus switched solely to the Cork senior footballers. Until now.
"I said from day one that it was a bit of a risk going back having been out of hurling for so long," the 31-year-old said at the launch of the John West National Féile competitions 2018.
"It was difficult," he admits, of the decision. "The reality is at 31 it's great to have options and the opportunity to have an option between hurling and football.
"I suppose when a door opens up, there was different factors involved that I had to take into consideration before taking the chance. Look, I'm glad and I'm comfortable in my decision. I'm happy where I'm at.
"I back myself in the sense that I know that I've a lot of work put in and that if I wasn't capable, I wouldn't be asked back and if I didn't think I was capable, I wouldn't put myself in the situation to go back there and contribute.
"I'm not just here to come back and fill a spot in the squad. I'm back to be able to contribute in whatever shape or form that is, whether that's playing a part, starting, it doesn't really matter to me."
Last year's provincial hurling success wasn't a factor for the switch though, he insists. The past is in the past. It's done and dusted.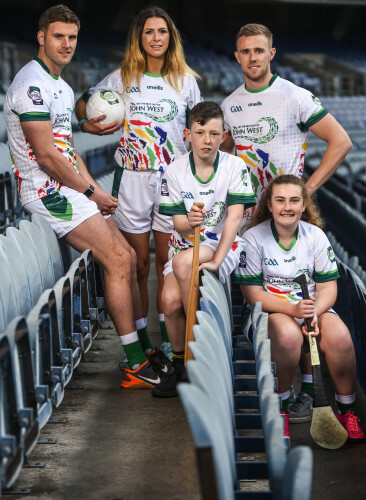 David Fitzgerald / SPORTSFILE David Fitzgerald / SPORTSFILE / SPORTSFILE
The risk appears to have paid off to date and it's been a fairly seamless transition back to the top of the hurling scene. Talent never dies, they say, but hitting those heights once again is a completely different story.
There has been a fair amount of readjustment and plenty of individual training. He's been working hard down at the ball alley with his brother, Alan, also his teammate with Cork.
"I've done a bit with him," he smiles.
"I've been hanging out with a lot of forwards because they tend to feel that their skill level is a bit higher than most of the defenders.
"In hurling your fitness will only carry you so far. Ultimately it's a skill-oriented sport. It's up to yourself, you can't go back and expect miracles, you have to work a lot on your touch, on your catching and so on.
"It's not a case of coming back and thinking everything was going to be rosy. I've been putting a lot of work in and continue to do that. If you keep putting the work in then hopefully it'll start to reward you."
Coming into the set-up, Cadogan was no stranger to a lot of the younger players and the management team, having worked alongside Meyler and the Cork U21 side as strength and conditioning coach last year.
"I'd have a good enough relationship with them all both on the field and off the field as well from last year. It's been seamless enough.
"At the end of the day, I'm not their S&C coach now, I'm their team-mate, another player.
"We'll just try to improve each other and there's plenty of things that I can learn from those guys. Those young guys have come in and they hurl off the cuff. Their skill level is incredible. If anything, I can be learning a small bit from them."
Every day is a learning day and the 31-year-old is thoroughly enjoying the experience.
After beating September's All-Ireland finalists Waterford in the relegation play-off, Cork have maintained their Division 1A status for 2019.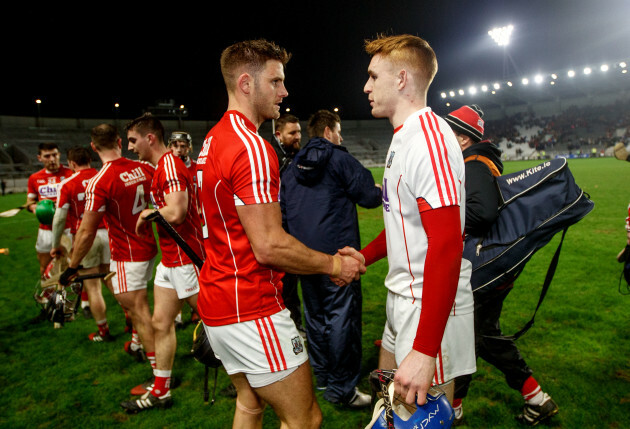 James Crombie / INPHO James Crombie / INPHO / INPHO
Their attention now turns to championship and while retaining the Munster title and succeeding further afield is obviously high up on the list of aims, Cadogan is just enjoying the journey.
"I just think it's important to embrace each training session, each game rather than looking too far ahead," he concludes.
"You can talk about Munster Championship, you can talk about All-Irelands, but ultimately this week, we have club championship which is extremely important in the sense that you can go out and show that you can still deliver with your club, express yourself with your club, and then you can park that and just go again.
"I thoroughly enjoy being an inter-county player. I thoroughly enjoy playing with my club. The reality is that window is only there for a short period of time. I'm actually really enjoying this year so far.
"I've learned a lot from previous years in terms of how to prepare a bit better, how to enjoy things a bit better, and so far it's been really good.
"I can't wait now for the Munster championship to get going."
Cork hurler Eoin Cadogan was at the launch of the John West National Féile competitions 2018 today. 
This is the third year that John West will sponsor the underage sports tournament which is one of the biggest events of its kind. Throughout their sponsorship of the Féile, a focus for John West has been to encourage children to take part and participate in GAA during school and beyond.
The42 Podcasts / SoundCloud