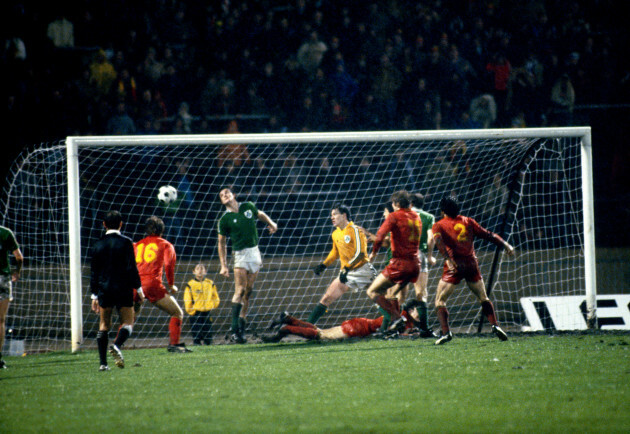 EMPICS Sport Belgium's Jan Ceulemans (second r) heads the ball over Ireland's Kevin Moran (second l) to score the winning goal in a vital 1982 World Cup qualifier. EMPICS Sport
Success is not final. Failure is not fatal: it is the courage to continue that counts"
– Winston Churchill.
1. A life well lived
IN THE HISTORY of Irish football, there have been better players than Eoin Hand and more successful managers, but not many have led as interesting a career as the Dubliner.
Ever hear about the time he was managing Amazulu in post-Apartheid South Africa, when he was forced to quit his job two months into a two-year contract, after locals who didn't like the idea of a white coach threatened to kill him if he didn't leave?
Or how about the time he spent as manager in Saudi Arabia, where he had to deal with issues such as the club's centre back having an affair with the winger, and the perpetually exhausted-looking striker who had a tendency to go out and masturbate all night in the desert.
There was also the incredibly fortunate series of events that saw him become the youngest international manager in Europe when he took charge of Ireland aged 34, and the incredibly unfortunate circumstances that saw his team miss out on qualification for the 1982 World Cup, after more than one baffling officiating decision in a crucial qualifier away to Belgium.
Hand's career led him to some interesting places, while both playing alongside and coming up against legends of the game including George Best, John Giles and Franz Beckenbauer.
People tend to remember him best for that infamous Belgium game and perhaps that is the reason why he has been thought of as an 'unlucky' manager by some. In truth, however, his career has oscillated wildly between moments of good and bad fortune.
If nothing else, though, he can reflect on a life well lived, and almost every experience seems to come with at least one colourful anecdote from a man who is a natural raconteur.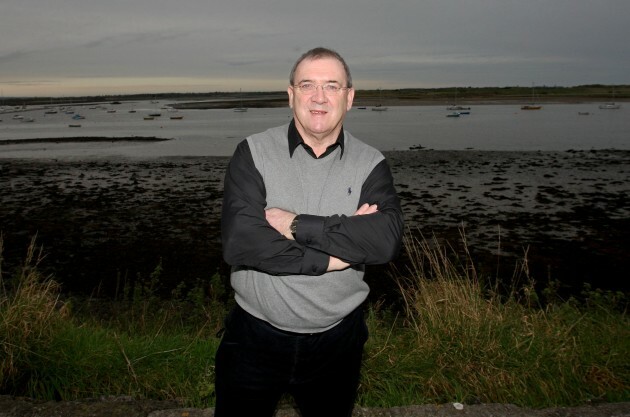 Donall Farmer / INPHO Now aged 71, Hand lives in Kerry with his wife Pauline and has spent the past three years working on a book about his career in football. Donall Farmer / INPHO / INPHO
Given all he has experienced, it's no surprise to learn that Hand has spent the last three years of his life working on a book that has just been released. Now 71, he has seen it all since his days playing as a young schoolboy footballer with renowned Dublin side Stella Maris.
2. Mixed fortunes
Even in those early times back in the 1960s, instances of incredible good and bad luck came often within a couple of months of each other.
Hand had the good fortune to be spotted by a Swindon scout while playing for Ireland youths during a game in which he happened to scored four goals.
In 1964, aged 18, the promising starlet accepted an offer of a one-year contract and made the move from Drumcondra to English football. Yet if the young Hand had any thoughts that he had made it to the big time, the talented teen was swiftly brought back down to earth.
Swindon's relegation prompted a change in management and Hand, along with several other inexperienced players, was let go. Like many Irish youngsters before and since, he returned to his native country without having made a first-team appearance after a chastening, morale-sapping 12 months.
Hand didn't enjoy much luck in the immediate aftermath of the Swindon debacle either. Between 1965 and '66, he barely got a look-in amid short stints with Dundalk and Shelbourne, while a hamstring injury during this period did not help matters.
3. A case for the defence
There was better fortune to come, however. Hand feared he would have to get what he jokingly describes as a "real job" before a number of favourable developments enabled the rookie to excel after returning for a second spell at Drumcondra.
Having started out as a winger, the combination of a growth spurt and an injury crisis meant Hand was forced to deputise at centre-half. From there, against the odds, everything seemed to click and his career really took off.
I had pace, which was a great help and I was fairly comfortable on the ball," he tells The42.
"I had certain techniques that defenders wouldn't necessarily have. It was a combination of everything and of course, reading the game as well.
"Playing as a winger, you're depending (to a degree) on the service that you get.
"Whereas centre-back, you could contribute a lot by going forward, which I did. I loved coming out of the defence with the ball, releasing it and maybe finishing up in the opponents' penalty area."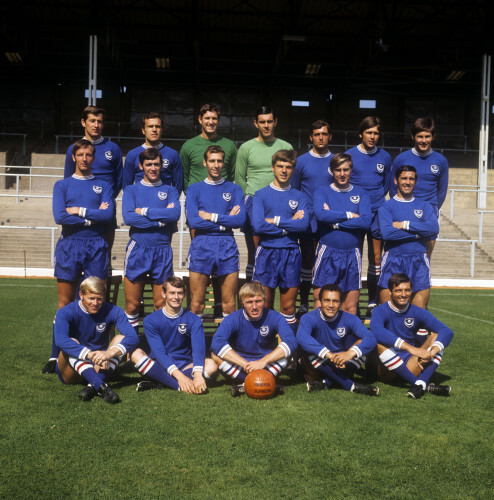 PA Archive / PA Images Hand pictured middle row second left in the team photo for the 1969-70 Portsmouth side. PA Archive / PA Images / PA Images
In two years with the Dublin side, Hand impressed enough to earn an £8,000 move to Portsmouth in October 1968, as he was rewarded with something not too many Irish players get — a second crack at English football.
This time, however, Hand was more experienced and determined to succeed. After a difficult first stint abroad, he quickly felt at ease in his new surroundings on this occasion.
"My debut was against Fulham at Craven Cottage. One simple incident in that game suggested I'd be comfortable at that level.
"There was a ball over the top and my position was a little bit wrong. The centre forward was about a yard in front of me, but I just totally passed him out. That was a great confidence-booster."
Hand made 260 appearances for Portsmouth between 1968 and 1976, all in Division 2 (or the Championship as it is now known).
"In those days, you were married to that club and that was it. It wasn't like today… There was no freedom of contract.
"I basically just loved the fact that I was doing something I loved and being paid for it. I started with Portsmouth on 45 quid a week and 11 years later, finished on 120. It was good money, but nothing outrageous.
If somebody came in for you, if Portsmouth said the price wasn't right or whatever (you weren't going anywhere). But you only find out anecdotally. I did hear that Newcastle were supposed to be very interested in me in a particular season, but I didn't give it much thought, because it didn't happen and I was quite happy at Portsmouth.
"I made a lot of friends there, I had two kids then, it was a lovely part of England to live in. I was just 10 miles outside of Portsmouth — Waterlooville was the name of the town. I enjoyed it."
S&G and Barratts / EMPICS Sport Portsmouth's Eoin Hand (second r) clears from Arsenal's Ray Kennedy. S&G and Barratts / EMPICS Sport / EMPICS Sport
4. The good, the bad and the blazers
Despite never getting the chance to play in the English top-flight, Hand was deemed good enough to win 20 caps for Ireland. Again, his versatility came in handy, as he was invariably picked alongside John Giles in midfield, with the duo starring in a 2-1 win over France during a 1974 World Cup qualifier at Dalymount Park, among other memorable occasions.
I was good at playing what they call 'the holding midfield' role now. I'd win the ball and give it to Giles. He had the ability, he was world-class. So you'd give it to him and he'd always be in space. He would then make the appropriate lovely pass, whether it was left or right foot… Of course, I'd also get forward at times, certainly for set pieces and that.
"So I enjoyed my time with Ireland, there was a great camaraderie with the players. The organisation behind it was pretty dire, to be honest. The travel arrangements and the accommodation we used to get at times (was poor). As you know, Roy Keane made a big stand on it.
"I remember we played Poland in Poznan and were beaten 2-1 (in May 1970). But then we went to the Olympic Stadium to play West Germany. We were in the baggage compartment of the trains on the journey. That summed it all up — while the officials were in the ordinary carriages, we were sitting with the baggage.
"We used to play on a Sunday after playing in England (with our clubs) on a Saturday. That didn't give you much hope. You'd have played 24 hours before and you were playing against teams that were fresh, and you had travelled Saturday night to get to Dublin.
"So Liam Tuohy was the first to shift the games to Wednesday and he did a lot of work in that department. That gave us a chance.
"But then Liam resigned, I think the pressure of the job got to him, and John Giles took over. John was ultra-professional. So he brought a great belief and we thought, hold on a second, we can hold our own against any team if we're organised and the preparation was the best it could be. But on the football side of things, we all knew our jobs.
"We gave it our best, so the results started to improve a lot under John."
5. Travelling man
Hand's Ireland career was effectively ended at the age of 30 in 1976. Prior to that, he would play regular seasons at Portsmouth in tandem with loan spells in South Africa as a 'guest player' every summer.
But having fallen out with Liverpool legend and then-Pompey manager Ian St John, he decided to move to South Africa and join Arcadia Shepherds on a permanent deal — a decision he knew would jeopardise any hope of continuing an international career.
EMPICS Sport A falling out with Liverpool legend and then-Portsmouth boss Ian St John led to Hand's departure from British football. EMPICS Sport
While other stars such as Francis Lee and Johnny Haynes had also travelled out as guest players, the overall standard was not at the level Hand had been used to, though the offer itself was the best he received at the time.
It was part-time football with training three days a week, though Hand made sure to maintain peak fitness.
But having enjoyed a relatively brief permanent spell in South Africa, Dublin and his old friend John Giles came calling once more. The Leeds legend was attempting to introduce a new concept of full-time training after taking charge at Shamrock Rovers and Hand agreed to be part of this exciting project.
Yet more upheaval would quickly ensue. Hand was promptly offered a surprise chance to return to Portsmouth, and Giles — in a move that seems unthinkable in the current era of ruthless managers like Jose Mourinho — was more than happy for the player to do what was best for his career, even if it came at the Irish club's expense.
"My house was still in Portsmouth and I was living with my mother in Drumcondra. [The move to Portsmouth] was coincidental — I went back over to buy a car in Portsmouth. A friend of mine had a garage over there.
And while I was there I met up with Jimmy Dickinson, who was then the manager. He asked: 'Would I come back?' I said 'yeah'. He said you would have done 11 years (between the two spells). I'd have a testimonial game at the end of it. I went back to John Giles, explained the situation, and he was great. He said 'you've got to go back, I won't stand in your way'. He could have (blocked the move), but he didn't.
"In fact, John put together the team that Portsmouth played against [for the testimonial]."
Yet after two more years and with the club by then struggling in Division Four, there was little room for sentiment as Hand was cast aside by Pompey for the final time at the end of the 1978-79 campaign.
6. Glory days
At that point, Hand's playing career appeared to be coming to an anti-climactic end, but there was still time for one final, improbable flourish.
Despite interest from clubs in Greece and Cyprus, the veteran star made the bold move to become player-manager of Limerick. His subsequent four years there could hardly have gone much better.
Hand guided the club to a League of Ireland title in 1980 (a feat they had achieved just once before and never since) and an FAI Cup triumph two years later, with a famous European Cup tie against Real Madrid in between. Not unlike Stephen Kenny at Dundalk many years later, Hand had taken a struggling side to heights that were scarcely imaginable beforehand.
"What we wanted to do was pretty hard for the players," he recalls. "They never trained as hard in their lives, but they saw that I was doing it too. They responded in great fashion. I've nothing but admiration for the part they played in winning the league that first year. As we went along, we could see that 'hey, there's something good here'. Dave Mahedy, who's now the Director of Sport at the University of Limerick, he was my assistant and a trainer who was really into fitness.
"We trained out in UL. We possibly had the best facilities in Ireland out there and we used them. We did weight training and all sorts of different training in the day. We were incredibly fit, which was proven by the amount of games we won late on. We finished winning the league with a draw in Athlone. It was fairytale stuff. The momentum was building and the crowds were getting bigger."
killianM2 / YouTube
Of all the moments during this period, however, the two-legged European Cup tie against Real Madrid in September 1980 arguably stands out more than anything else.
Thomond Park was talked up as a potential venue for the home tie. Instead, it was switched to Lansdowne Road in Dublin — a move Hand opposed at the time and describes to this day as "a big mistake". A crowd of 30,000 had been expected, but the then-Limerick chairman Michael Webb seemingly underestimated his side's supporters' reluctance to travel the 125 miles to Dublin, with just 6,500 fans showing up — an attendance said to be the lowest ever to watch Real Madrid in a European Cup tie.
As they are now, Real were a powerhouse of European football back then, with a side full of internationals and world-class players. The team that started in Dublin that day included legendary West Germany star Uli Stielike and Laurie Cunningham, the English international winger who had recently signed from West Brom.
But despite the underwhelming atmosphere, a Limerick team with Hand in the starting XI rose to the occasion and came close to pulling off a stunning upset. After Johnny Matthews had what looked like a legitimate goal disallowed for offside midway through the opening period, Des Kennedy put the Irish side ahead six minutes into the second half. The striker's seemingly mis-hit shot from Ger Duggan's flick-on found its way past the onrushing Madrid goalkeeper Miguel Ángel, sending the home fans into ecstasy in the process.
With 20 minutes remaining, however, the dream was deferred, as Juanito slotted home from the penalty spot, after Limerick stopper Kevin Fitzpatrick was controversially adjudged to have brought down substitute Pineda inside the area.
In the 85th minute, the Spaniards took further advantage of a tiring Limerick side. Pineda was integral again, scoring the decisive goal to break the home team's hearts, as he got on the end of a Juanito free kick and slotted home at the second attempt, after Fitzpatrick saved the initial effort.
The second leg was less closely fought, as Limerick were comprehensively beaten 5-1 in front of a crowd of 60,000 at the Bernabeu against a Madrid side that would go on to the final of the competition, before losing 1-0, as Alan Kennedy's goal enabled Liverpool to become champions of Europe.
"I'll never forget it," Hand says, in specific reference to that first leg in Dublin.
"Afterwards, people thought that we were bloody Real Madrid. We were playing really well. All I wanted to do was to convey to the lads, 'don't be overawed, you won a league, so just keep to what you're doing and do it to the best of your ability'. Just go out and try your hearts out, and that's what we did.
"We were a footballing side, we had good players. Johnny Walsh, like John Giles, was a great creative player. We had a good blend with the likes of Des Kennedy up front and good defenders, Joe O'Mahony, and people like that — sound guys who were at the peak of their careers.  That was such a great experience for them.
Then to go and play in the Bernabeu — their class was (apparent). But we didn't feel in any way humiliated. In fact, it was a boost for us to try to win the league again.
"I get together (nowadays) with those lads twice a year. We play golf and meet up for Christmas still. Some have passed on — poor Joe O'Mahony and Tony Meaney.
They're now my friends. My attitude towards management was you behave like men, you get treated like men. If you behave like boys and do naughty things, then you get punished.
"It was all practical stuff. If a fella got out of line, I fined them. They'd take it on the chin and say: 'Right, I won't do it again.'"
killianM2 / YouTube
7. Opportunity knocks
Rather remarkably, Hand's stint in charge at Limerick actually overlapped with his time managing Ireland.
After John Giles stepped down as manager in 1980 after seven years at the helm, Alan Kelly Sr took charge of the team. The legendary goalkeeper initially appointed Hand as an assistant, predominantly for his in-depth knowledge of players in the League of Ireland.
Yet after just one game — a 2-0 friendly victory over Switzerland at Lansdowne Road — Kelly stepped down from the role. He was combining the job with coaching at Preston and running a sports business there. The Bray native was put under pressure to choose one or the other, and given that the money for managing the Boys in Green "wasn't good" as Hand puts it, Kelly unsurprisingly opted against abandoning his livelihood and prematurely called it quits with the national side. At the very least, the late Preston legend holds the notable distinction of being the only Ireland permanent manager with a 100% win ratio.
In his stead, Hand was appointed as caretaker initially. Despite losing 1-0 against Argentina in a Lansdowne Road friendly during his first game in charge — a match that featured an exceptional teenager by the name of Diego Maradona — the Dubliner did enough to persuade the FAI that he was worthy of a permanent role after a successful interview, securing the job roughly a year after agreeing to take charge of Limerick.
I put everything into that (first game), I really did," he says. "I got reports on Argentina. They were playing England before, I had contacts there. And I got all the info about them. So we were pretty aware about all the stuff we were going to be facing up to when they came to Lansdowne Road."
Despite finding themselves in a tough group that included Belgium, France and Holland in the qualification stages for the 1982 World Cup, Hand and his team were "quietly confident" that they could progress.
1986soccerman / YouTube
It started promisingly. The new manager's first competitive match in charge was a 2-1 home win over a Netherlands side that had reached the World Cup final two years previously.
Ireland appeared well placed to reach their first-ever World Cup until one infamous night in Brussels. The Boys in Green's hopes of qualification were left in jeopardy after a 1-0 loss. But the bigger story was the performance of the Portuguese referee Raul Nazare, who Hand subsequently branded a "cheat".
During the match, Frank Stapleton had a perfectly good goal disallowed, while Jan Ceulemans' late winner should never have stood, owing to an inexplicable free kick awarded in the build-up to it.
"It was a scandal! It was revealed afterwards that there was skullduggery going on in the background.
"We still had France to play at home. There was a huge crowd in Dublin of 54,000. We beat the French 3-2 — that was a great win.
"We needed to win against France and for France to drop two points in their two games left in Paris. One was against Holland, one against Cyprus. We knew they were going to win one. We were hoping Holland would beat the French in Paris, but they didn't. Basically, we lost out on goal difference. But really, it was Belgium that shouldn't have gone to the World Cup.
"If points were taken against them (when we played Belgium away), ourselves and France would have qualified. So that was a huge blow. We were so sick about the whole blooming thing because we put so much effort in, we played well and had scored a lot of goals in the campaign. Everybody had been on a high. It was very disappointing not to qualify for Spain in '82 — that would have been great."
MICHKA KAN / YouTube
8. "Lambs to the bloody slaughter"
The Irish squad's inescapable sense of disappointment was not helped by the ill-advised summer tour of South America that followed, with games against Brazil, Argentina and Chile originally scheduled.
The Falklands War was on. Playing against Argentina was crazy. Argentina were at war with England at the time. We couldn't get a team together. We couldn't get players from English clubs, they wouldn't release them. The FAI basically said to me 'you are not a politician, you're a football manager'. In other words, your job is to get a team.
"I went over to Ron Atkinson, who was manager of Manchester United and Keith Burkinshaw (at Tottenham) and explained we were going on a summer tour. I knew the response was going to be totally negative. But then they shelved the Argentina match and then the third match was (arranged to be played against) Trinidad and Tobago.
I then went back to the managers in England and said 'we're not playing in Argentina,' but it was too late. So we went there with a very weak side and were beaten 7-0 (against Brazil). It was crazy. And that was demoralising.
"The likes of Liam Brady, who was always so committed to travelling to play for Ireland, to be on the end of a 7-0 against the Brazilians, that was a real downer. But it was nearly inevitable… I had to bring in players who weren't regular internationals. So it was against a top-class Brazil side, their last game before they went to the World Cup. We were like lambs to the bloody slaughter."
Fabio Q / YouTube
The Irish team ultimately did not come close to qualifying for a major tournament again during that era. Realising his contract would not be renewed, Hand's last match in charge saw him field an experimental sweeper-system with disastrous consequences, as Ireland were beaten 4-1 in a dead rubber 1986 World Cup qualifier in Dublin against a Danish outfit who were vastly superior on the day.
Exclusive Six
Nations Analysis
Get Murray Kinsella's exclusive analysis of Ireland's Six Nations campaign this spring
Become a Member
With hindsight, Hand admits he was a little too respectful to some of Ireland's stars, but dismisses suggestions that big-name players such as Liam Brady and Frank Stapleton were effectively running the show and perennially doing as they pleased.
9. Passing the baton
One notable aspect of the Hand years was the Irish team's insistence on playing attractive, passing football, in stark contrast with the regimented long-ball game that was to follow under Jack Charlton.
Yet while Hand was ideologically different from Charlton in a footballing sense, he had the utmost respect for the Englishman's subsequent unprecedented achievements of taking the Irish side to two World Cups and one European Championships.
After Charlton was appointed, Hand met with his successor in The Westbury hotel and spent hours imparting his knowledge of the Irish footballing scene onto the legendary World Cup winner.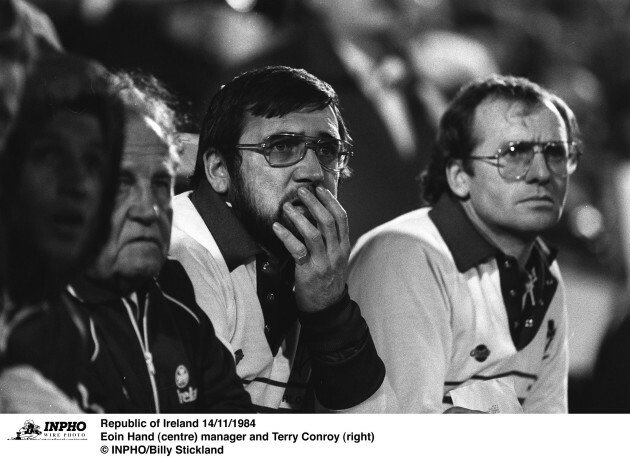 Billy Stickland / INPHO Eoin Hand (centre) pictured with his assistant Terry Conroy (right) in 1984 during his time as Ireland manager. Billy Stickland / INPHO / INPHO
It was Hand who tipped off Charlton about promising Oxford pair Ray Houghton and John Aldridge, though Irish international Davy Langan had previously notified the Dubliner of the British-born duo's eligibility.
"When I met with Jack, I gave him all my help so he could have a much stronger demand on the FAI with travel arrangements and not having the farce of playing a team like on that South American tour.
"I was going out to Saudi Arabia and there was a lot of negative talk about Jack's style, but it was effective. I didn't have any thoughts on it (one way or another) other than being genuinely delighted when Ireland qualified, albeit from that great Scottish result against Bulgaria, which was a strange way to get it.
But it was great to see the likes of Mark Lawrenson, David O'Leary, Liam Brady and these fellas that I had, for them to finally qualify for a major tournament, the 1988 Euros. And then of course,

to beat England in Stuttgart

was a fantastic achievement.
"I had no regrets (about the Ireland job). There's always the temptation to say my chance was lost with the Belgium thing.
"People say I'm the unluckiest manager ever. I take a different view. The sequence of results that put me where I was with Limerick, with me being appointed Ireland manager, I thought it was a fantastic honour and still do. So there's absolutely no jealousy or anything about Jack or his achievements.
"Certainly, I wouldn't be a fan of his style of football. But it doesn't matter a damn if you finish up being successful."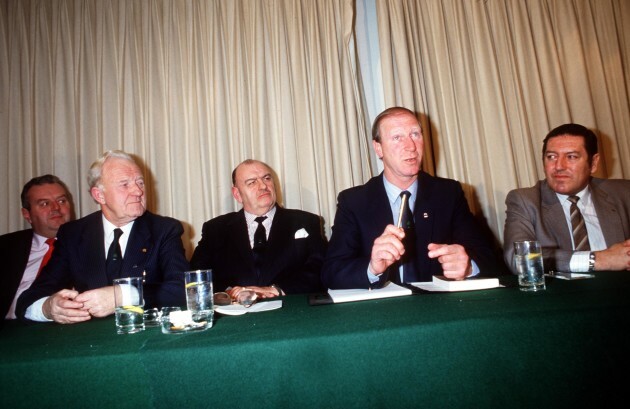 INPHO Hand had a lengthy sit-down chat with Jack Charlton after the Englishman succeeded him as Ireland boss in 1986. INPHO
There is a tendency among some casual football fans to assume Ireland's late '80s and early '90s success on the international stage was purely down to Charlton, but in reality, it was the culmination of gradual progress, with Hand, John Giles, Liam Tuohy and Mick Meagan all making important contributions along the way.
"That does piss me off," Hand says. "When ignorant people say it all started with Jack. They haven't a clue.
"Okay, Jack was the one that got the breaks, like Gary Mackay scoring the goal for Scotland to beat Bulgaria.
"But that's what happens in sport. You take a 42-game league campaign — people moan about this and that, but over a season, it levels out. And Jack was the one that happened to be in charge (of Ireland) when it levelled out."
In the end, for Hand, there was a sense of relief about leaving the Ireland job behind, despite enjoying his time in charge overall. He describes living in the country when the team weren't getting good results as a "testing" experience. At the height of his unpopularity, the embattled manager was vilified by sections of the press and his family suffered more than anyone else — the tyres on his son's bike were slashed among other despicable forms of abuse.
10. Arabian nights
Perhaps unsurprisingly, Hand subsequently sought solace in another far-flung place — a stint in Saudi Arabia beckoned, as he was appointed manager of Al-Taawon FC in 1987.
"It was totally different," he remembers. "Managing and coaching part-time players and of course, there was the language problem, it was always through an interpreter. So you had to really start from scratch.
"We did get organised. I remember saying to one player, I think he was six-foot one, he was a midfield player and a skillful midfield player, but he didn't understand corner kicks. I said: 'I want you standing there for corner kicks.' He asked: 'Why would I stand here, because the ball comes in there and you can head it?'
"He'd say: 'I'm not heading the ball, I'm a midfield player.' You had to convince him that 'hold on a second, no, you must'. So there were things like that.
Another lad scored a great goal after 15 minutes, a volley, and he came over. He was talking to the interpreter. I said 'great goal'. He said 'he wants to leave the pitch'. I said: 'Oh, did he pull a muscle?' His attitude was 'no, he couldn't do any better'. I said 'no, he's still on'. But I had to take him off, because after that, he didn't try a leg. He could have scored another goal, but that was a different culture type of thing, it was totally different to what I had been doing.
"But it was financially rewarding. I did the job and got on with it. I stayed close on two years and that was plenty.
"It was pretty lonely, because I was in an expats' compound, the family came out to visit me twice. My kids were in their teens then.
"You were on your own so much there. There was also the very nature of it all. Training was obviously at night-time because of the heat. And they were playing on plastic surfaces all the time too, which was different in that era."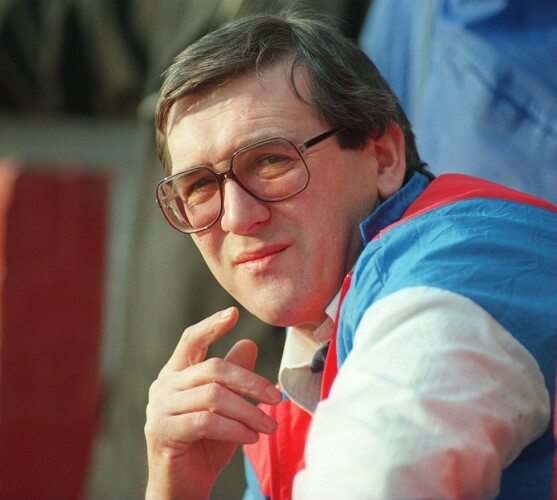 EMPICS Sport Hand pictured in 1991 during his time as Huddersfield Town manager. EMPICS Sport
11. Fall and rise
In 1988, Hand moved closer to home, agreeing to take charge of Huddersfield Town — a struggling team who had just been relegated to Division Three. While there was no real budget to buy players, the opportunity appealed to the ex-Ireland boss, given that it was the first time in his career he got the chance to work full-time as a manager with full-time players.
Under the new manager's guidance, Huddersfield's players steadied the ship, with 14th, 8th and 11th-place finishes in his first three seasons there. Nevertheless, he was harshly dismissed towards the end of the 1991-92 campaign, even though the club ultimately finished third and only missed out on promotion via the play-offs under his former assistant Ian Ross.
Results were relatively okay," he recalls. "The big thing was the players I signed for buttons, they were all sold on for big money. So I was a financial success without being a success (in terms of getting spectacular results)."
After Huddersfield and a brief stint with Shelbourne between 1993 and 1994, Hand stepped away from football management for good.
Like many former pros who suddenly are left with excess time on their hands and a sudden lack of the routine that football provides, Hand found the transition difficult at times initially. Being out of a job led to tension and the eventual break-up of his marriage.
Hand soon returned to South Africa to run a sports bar with a friend in Johannesburg. One day, though, these plans were put paid to as he was the victim of an unprovoked attack in which a broken bottle left the former Ireland star close to losing an eye.
Shaken by this experience, Hand returned to Dublin depressed and with no clear idea of where the future would lead him. After all the bad luck he had endured in football, he was due a slice of good fortune and he certainly got more than he bargained for in August 1997. His drinking had gotten out of control, leading to a near-death experience and an ultimately life-saving operation after being diagnosed with pancreatitis.
Since then, Hand has become a new man, adopting a more relaxed lifestyle and settling down in a house that the former manager built in the village of Moyvane, North Kerry and in which he currently lives with his second wife Pauline.
Donall Farmer / INPHO Hand worked as a career guidance officer for the FAI between 1999 and 2012. Donall Farmer / INPHO / INPHO
12. A helping hand
In 1999, he also secured another job in football as a career guidance officer with the FAI, giving advice and support to young Irish players on a variety of subjects. The newly created position also saw him play an instrumental role in securing pay-outs to Irish schoolboy clubs who helped bring through future stars. Such hard work was key in earning substantial pay-outs for sides such as Lourdes Celtic and Crumlin United, for their part in helping to bring through the likes of Damien Duff and Robbie Keane.
The experience ended badly, however. Hand was dismissed from his FAI role in 2012, taking an initially successful unfair dismissal case against the association. But after a two-year court battle, the organisation appealed the decision and the Labour Court overturned the first ruling.
"It was an awful shame that it finished up (with the FAI) in such a horrible way for me personally," he says.
"But then that's down to one man and the stance he took about not renewing a contract. I couldn't understand why — the fact is that I was bringing in a lot of money, being proactive about the whole compensation structures. I brought over €2 million into schoolboy football.
I know there isn't anybody especially delegated (to look after compensation for schoolboy clubs), because I was doing that as well as the career guidance. So it was disappointing to be let go."
Setbacks, however, are nothing new to Hand. As we chat for just under an hour, he sounds content with his lot and enthusiastic about the prospect of an upcoming book launch following countless days of endeavour and reminiscing about a career in football that was seldom boring.
Hand's life both inside and outside of sport has been filled with highs and lows, but he has not let success or failure define him. Instead, he continues to embrace whatever is next around the corner, be it good or bad. It's no wonder the former Ireland manager balks at anyone with the temerity to call him 'unlucky'.
First Hand: My Life and Irish Football by Eoin Hand with Jared Browne is published by Collins Press. More info here.
The42 is on Instagram! Tap the button below on your phone to follow us!