IRELAND'S PREPARATIONS for the 1982 tour of South America were "minimal" but according to then-manager Eoin Hand, "the team that prepares the best will do the best" in this year's competition.
Back in '82, Ireland travelled without a large number of their regular squad as the English clubs refused to release their players during the ongoing Falklands War.
"It was a joke, an absolute circus. They cancelled the Argentina game, which should never have happened anyway, only days before the trip started."
Ireland suffered their biggest ever international defeat losing 7-0 to Brazil but according to Hand, "we should have never went on that trip because of the Falklands War. We were a laughing stock really.
"It was great to play against Brazil but we were just shoved from airport to airport, looking for the cheapest way to travel at the time."
Ireland's tour that year included three games, and despite what the record books might tell you, Hand is adamant Ireland did win one.
"We played Chile, Brazil and then Trinidad. We actually won against Trinidad but the strange thing is it wasn't reported that way.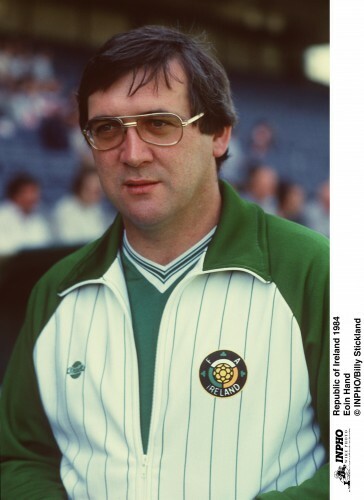 Billy Stickland / INPHO Eoin Hand played against Brazil himself in 74' losing 2-1. Billy Stickland / INPHO / INPHO
"We played a warm up game on the Saturday after shocking travelling arrangements and we lost the warm up one 2-1, and then a few days later we beat Trinidad 3-0. But there were no press people there and the Trinidadians, they just reversed the result.
I said it when I came back but I couldn't be saying too much. After a 7-0 drubbing by Brazil, it would look like me trying to make excuses. We did win that game but the record books say no.
Not only were Ireland's depleted squad up against one of the greatest teams of all time, but they were also up against the elements.
"Our preparation was absolutely minimal in terms of trying to adjust to the heat as we were kind of put in and out, but basically my experience of going to countries like that is the team that prepares the best will do the best, especially the European teams.
"It's all about acclimatising. The humidity and the heat is the big problem in Brazil more so than other countries where you'd have altitude problems and that.
Brazil had some great players Sócrates and Zico; they say it was the strongest team not to win a World Cup, and they threw it away in that World Cup in '82.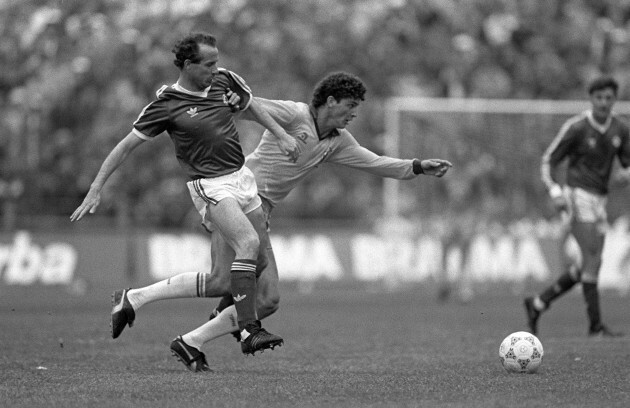 INPHO Liam Brady led Ireland to a subsequent win over Brazil in 87'. INPHO
While Hand was robbed of the opportunity to prepare for that encounter, his well-earned advice for the European teams competing this summer is to keep the ball.
"No matter what belief or game plan you have i.t doesn't matter if you don't have enough possession. You can't be chasing shadows — you'll just give up, first individually and then collectively.
"The big difference is the humidity. You wouldn't have had it so much in South Africa. The medical staff and nutritionist have a huge role to play in terms of dehydration as you just lose so much water even walking.
"We went over with a weak team, but still it was the second half against Brazil when they just took over completely and the lads' spirits just went completely, and they wrapped in the seven goals… well, most of the goals were in the second half.
"We were going out at the end of the season. For a lot of the lads who obviously didn't get capped much afterwards, it was a great trip for them never mind the result. For the few who were established like Liam Brady it was very disappointing.
At the end of a nearly successful qualification campaign for the '82 World Cup this was supposed to be a reward, going out to play Brazil, but it turned into a nightmare.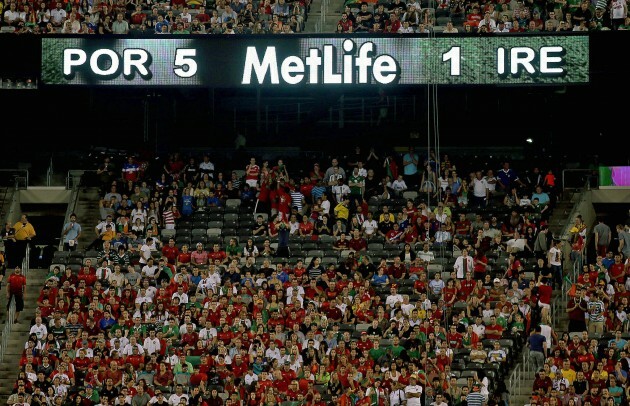 Donall Farmer / INPHO Donall Farmer / INPHO / INPHO
Last weekend a depleted Irish team were similarly thrashed 5-1 by Portugal in America, but Hand says the situations are incomparable.
"It's totally different circumstances. I think O'Neill actually gave lads time off and maximized the opportunity to get as much knowledge on the strengths and weaknesses of certain players. I wouldn't pay any notice of any of the results, I think he'll get great benefit from that trip.
"That can't happen again [the 1982 tour preparation]. It was ridiculous but the blazers of the FAI were just in it for the trip. They didn't even bother travelling with the team.
It changed when Jack got the success. I spent about three hours telling him what he'd have to put up with but he got the success and then he could go in with a strong hand and say none of this nonsense will ever happen again.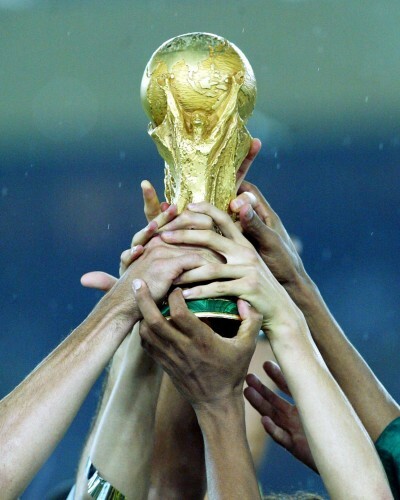 INPHO INPHO
Looking ahead to this summer's World Cup, the former Ireland gaffer says he still expects the European teams to struggle in Europe.
"I think England have done a fair bit of preparation but I'm not sure they'll come out of the group. You can be sure the Germans will have done their preparations as they're always thorough over any tournament.
"Look at France going to South Africa in 2010, they didn't prepare properly and they were disgraceful.
"My last four bet is Brazil, Uruguay, Argentina and Germany. I'm going to have a Brazil-Uruguay final and Brazil will win it. Argentina will win the third place play off.
Fabio Q / YouTube