HE MAY BE an adopted Englishman but Eoin Morgan's love for Gaelic games remains undiminished after the batsman admitted he would love to play in an All-Ireland final at Croke Park.
Since making his England debut five years ago, Morgan has become one of the most destructive one-day batsman in the game and has seen his reputation around the world spiral.
The left-hander's reputation has been built upon an unparalleled ability to innovate and manoeuvre the ball around the field with unconventional shots. Morgan has made the reverse sweep shot his own and many believe his propensity to bat in such a manner stems from his bygone hurling days.
However, the 28-year-old claims the skills he picked up playing hurling don't have as much influence on his batting than what is made out.
"It gets asked all the time," the Dubliner said when the subject was brought up in an interview on GiveMeSport. "I played hurling as much as anybody up until I was about 12 because we played it everyday in primary school.
"But, apart from that I didn't play it a lot. Everybody asks whether it contributes to what I do in cricket and maybe it does a little on my reverse sweep but that is it. It gets blown out of proportion all the time."
Morgan has become an integral part of England's one-day set-up in recent years and having being appointed as vice-captain last year, he is widely considered as England's next one-day skipper.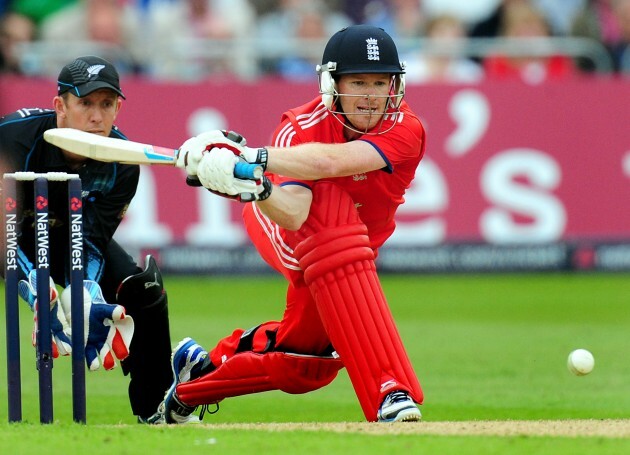 Rui Vieira Morgan's innovation is often put down to his hurling days Rui Vieira
His decision to swap the shamrock for the red apparel of England, even to this day, divides opinion but few can blame him. Morgan has not only played Test cricket and won a Twenty20 World Cup but earned lucrative contracts in Australia and at the Indian Premier League.
Regardless, he remains true to his roots and an Irishman at heart.
"It's [hurling] a fantastic sport that I love watching," he continued. "I'd prefer to play football rather than hurling if I'm being honest as we were a football household when I was growing up, we still are."
"My Dad goes to all the matches but we don't mention last year in the Morgan house because Dublin lost in the semi-final to Donegal, which was hard to take."
"I would love to play in an All-Ireland final. I'd give plenty to do that."