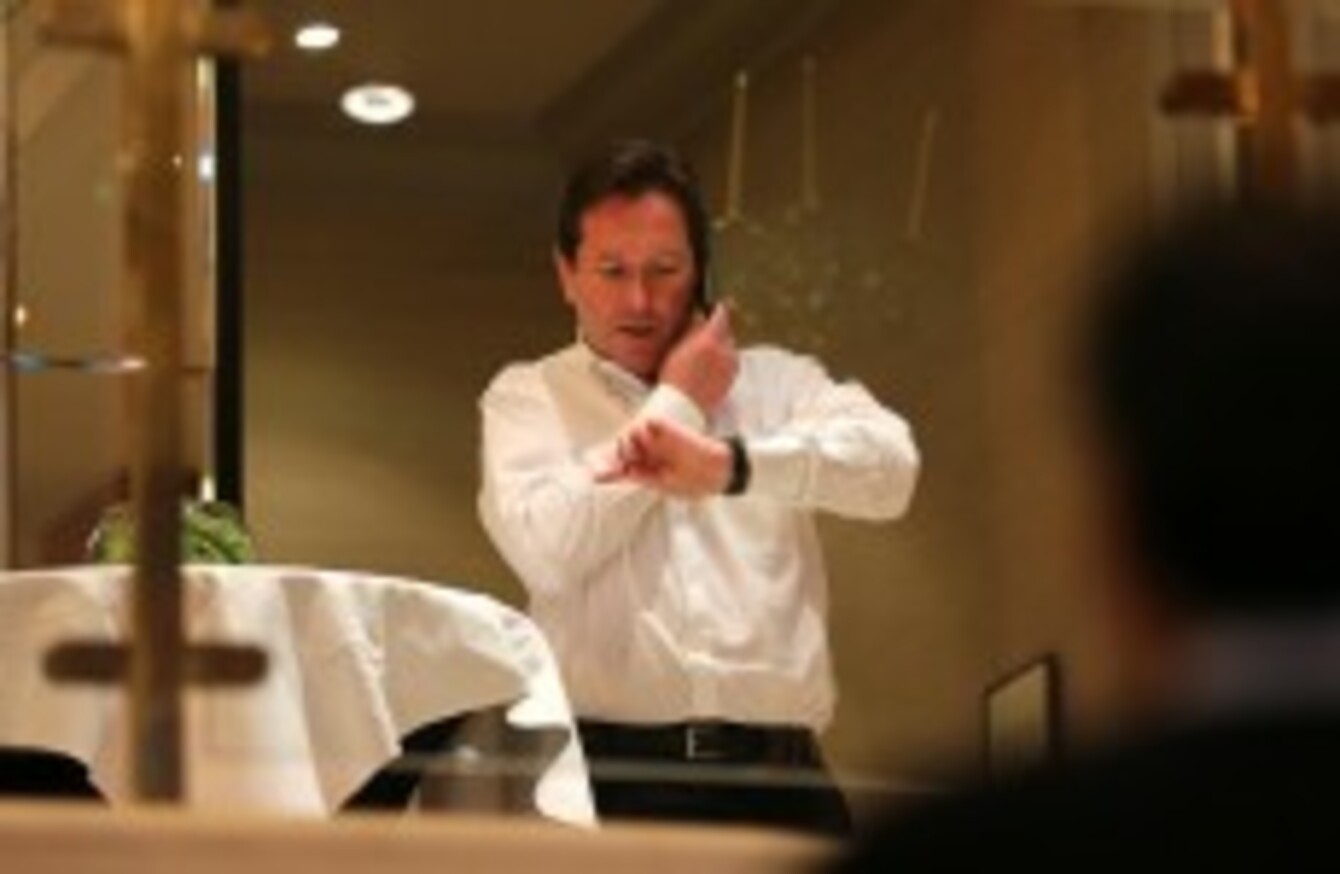 McCafferty at the ERC meeting 51 weeks ago.
Image: ©INPHO/Billy Stickland
McCafferty at the ERC meeting 51 weeks ago.
Image: ©INPHO/Billy Stickland
AS ERC STAKEHOLDERS sit down for talks in Dublin's Westbury hotel, the alarm bells of yesterday's statement from Premiership Rugby ring loud and clear.
It was a statement worded in strong and threatening tones, borne out of frustration of what they see as inertia on the part of the ERC 12 months on from the beginning of the two-year notice period before the end of the Accord between unions.
"We've run out of road," Premiership Rugby chief executive Mark McCafferty told the Daily Mail. "The last meeting relating to the  European negotiations took place in May. That's been one of our frustrations — an absence of any urgency over the summer."
'It has to be approved'
With McCafferty setting out a maximum of two months for clubs to opt in to a breakaway tournament hosted by BT Sport, there are no current written agreements in place with between any interested party, just statements of solidarity from the French LNR. With that footing, McCafferty's pokerface in Dublin today now says that a withdrawal from the Heineken Cup is now the preferred option.
"It has to be approved by the unions but the context in which that request is going to be made is that there is nothing else next season.
"If people say we can't go ahead, there need to be very good reasons as to why that is and clarity about what the alternative is, because 12 months have been spent failing to identify an alternative. We've said for a long time that one of our options, if there wasn't a  European agreement, was to play an Anglo-French competition.
'What we are saying to the RFU now is that that is becoming our preference; to use that as a basis for creating a new tournament.'
The words which bode most poorly for fans of the Heineken Cup in its current structure, was McCafferty's apparent apathy over whether the Pro12 clubs decide to opt in. Interviewed by Chris Foy, McCafferty was asked if he would prefer Celtic League involvement  in the new setup or was none too concerned.
"The latter, really," he said. "We would prefer them to join, but we can't sit forever waiting for it to happen. Certainly, an Anglo-French competition — which would take place over nine weekends — would be a very strong competition commercially.
"Financially, it would be stronger for the English and French clubs than having European competition, but that's something we have always put to one side in the interests of trying to find a European solution."
The first half of that final sentence is likely the most sincere. All eyes on Balfe Street.