10) Aston Villa, 19 December 1993
Cantona had so much to his game but this goal stands out because of his balance. The ball over the top sets him free but Paul McGrath is desperately trying to cover. The centre-back makes a valiant attempt to challenge & it seems he's done enough as Cantona stumbles and almost falls over.
Instead, he's able to use his left arm to stay on his feet and has the composure to beat Mark Bosnich (who should've been much quicker off his line).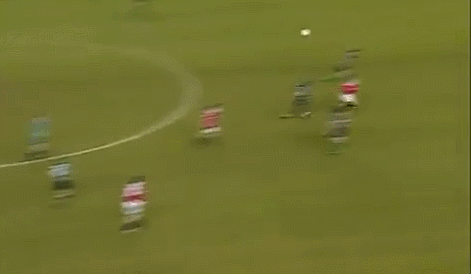 9) Queens Park Rangers, 30 October 1993
There doesn't seem to be much on when Cantona races onto Paul Ince's header on the halfway line but a quick flick around a QPR defender changes everything. As he approaches the penalty area, he has support on his right side from Ryan Giggs while Mark Hughes is alongside him too.
But Cantona has the awareness to see how the QPR defence doesn't know whether to stick or twist and arrows a low shot to the net via the inside of the upright.
Classic Manchester United / YouTube
8) Sheffield United, 7 December 1993
Cantona was never known for his pace. In fact, he rarely broke into a sprint in any game. But this clash with the Blades was different.
United had the game tied up but were still hungry for more. From the hosts' in-swinging corner, Cantona neatly headed a pass to Lee Sharpe (not just a clearing, defensive header) who instantly found Ryan Giggs on the half-way line. He controlled, looked inside and there was Cantona charging forward.
He outpaced the back-tracking Sheffield defence, raced towards the penalty area and sent his left-footed strike to the net via the post.
Classic Manchester United / YouTube
7) Arsenal, 20 March 1996
Cantona's 1995/96 season is best remembered for the run of match-winning goals he scored throughout March, as United stormed towards another league title, despite Newcastle having blazed a trail earlier in the campaign.
He had already grabbed the winner against the Magpies in a crucial game at St. James' Park and then scored an injury-time equaliser at QPR before he faced Arsenal and conjured another incredible individual moment, sending an audacious drive crashing to the net via the underside of the crossbar.
CRWR710 / YouTube
6) Sheffield United, 9 January 1995
Cantona enjoyed playing against the two Sheffield clubs – maybe it had something to do with him being on trial with Wednesday in the early 90s and the club subsequently deciding against signing him.
He faced the Blades again in the FA Cup third round at Bramall Lane in 1995 and the goal he scored was very similar to the one he grabbed there the season before.
It came from a cleared corner but pay special attention to the touch and pass to Ryan Giggs in the build-up.
Classic Manchester United / YouTube
5) Blackburn, 22 January 1995
A criticism often leveled at Cantona was that he never 'did it' in big games. That's more than a little ignorant, especially considering the role he played in the 1994 and 1996 double-winning campaigns and the decisive goals he scored across both seasons.
1995 was a dark time for Cantona, owing to the kung-fu attack at Selhurst Park. But just before that, he scored the winner in a crucial battle with Blackburn at Old Trafford.
After Ryan Giggs brilliantly won back possession from Henning Berg, he flung in a superb cross towards the far post. It was just a little long but Cantona followed it all the way and expertly stretched to meet it, powering the header to the roof of the net.
4) Southampton, 28 August 1993
It seems a throwaway moment. But the ease in which Cantona scores this is quite remarkable.
When Ince intercepts, he has so little time to think of taking on a deft chip. More to the point, he has to re-align his body to attempt the shot. More to the point, he has a fraction of a second to spot that Tim Flowers is off his line. More to the point, the execution is flawless.
So simple, so effortless, so magnificent.
Classic Manchester United / YouTube
3) Liverpool, 11 May 1996
When David Beckham's corner is whipped into the area, Cantona hangs back, either hoping or expecting the break will fall his way.
It does, kind of. David James' weak punch is about to drop perfectly for him until it deflects off Ian Rush and changes direction, ruining Cantona's setup for the shot. It bounces close to him but instead of taking a touch, he contorts his body, smacks it first time and somehow arrows the shot goal-wards. Watching the video back, it's still puzzling trying to figure out just how he managed it.
Richard Hitchcock / YouTube
2) Wimbledon, 20 February 1994
When it came to first touches, Cantona's was impeccable. It made him space, it gave him time and it created so many of his goals.
The way he tees up this spectacular volley is superb. Though maybe one of those rare occasions when his second touch is better.
crak316 / YouTube
1) Sunderland, 21 December 1996
In his final season, Cantona put on weight and generally lacked the same spark that defined his previous campaign.
Still, he could conjure some awe-inspiring moments, like the first touch against Derby that was quickly followed by a thumping finish. Or the near-post strike that nearly took the net off against Wimbledon. Or this, perhaps the moment that defines his Manchester United career.
It begins with something rare enough – him beating two players in a tight area. But he doesn't really do it with skill but with smarts, out-thinking them before driving towards the area, exchanging passes with Brian McClair and then the impudent finish.
And then that celebration.
But over to you. What are your favorites?  
GardenGoals / YouTube