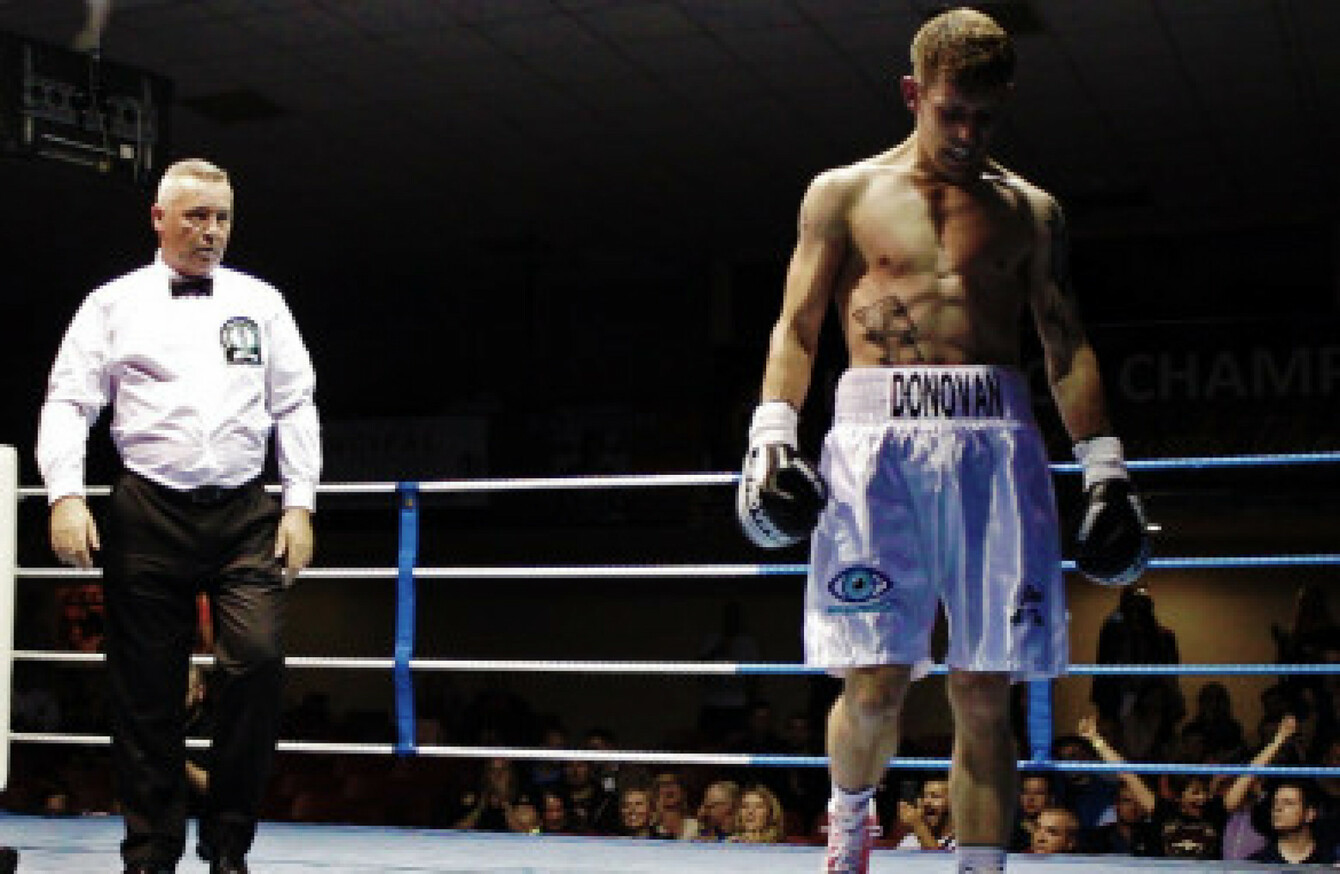 PRIOR TO ERIC Donovan's BUI Celtic featherweight title scrap with Welsh champion Dai Davies, his mother, Mena, greeted several pintmen at the Ringside Club out the back of the National Stadium.
"Jesus, I could do with one myself," she said, before heading back to her ringside perch.
Her son will be the toast of Athy tonight.
The 32-year-old Donovan had stated throughout his 15-month, four-fight professional career to this point that he didn't fear losing; it was instead a venture built upon a curiosity as to how good he truly was, and how far he could make it in boxing's treacherous professional ranks utilising and building upon a stellar bedrock of amateur pedigree.
This was an acid test versus an opponent who, in spite of his aesthetically displeasing record, had previously taken the undefeated records of five fighters, including Belfast's Marco McCullough. Donovan passed it with flying colours.
The opening stanza was, for the most part, a range-finder, with Davies landing a couple of sharp counters but Donovan the aggressor. The Irishman finished the round the stronger with two neat flurries – one to the head, one to the body.
Indeed, it was a pattern which continued somewhat in the second, with Davies effective in spurts but Donovan controlling proceedings, marching the Merthyr Tydfil resident around his home ring, his left hand zoning in on Davies' lower ribcage and keeping him honest.
There were gaps in the third as a cut emerged over Donovan's right eye following a clash of heads, crucially of a sufficient distance away from his eye for the seeping blood not to affect his vision. Seemingly spurred by the audible concern of the home crowd, Donovan bit down and attacked with spite and doing enough to take the round.
He emerged for the fourth like a juggernaut, asserting his dominance with an onslaught of body-head combinations, gradually penetrating Davies' tight guard with his straight left hand. In the final minute of the fourth, we were on the brink of war; Donovan attacked with ferocity, troubling Davies until the bell with a number of six-punch flurries. Each seemed more effective than the last as Davies wilted just a touch.
The fifth continued in a similar vein. On the occasion in which Davies dared commit to more than one shot, his exposed body was ripped by the former Irish amateur champion, whose fleet footwork was creating openings. The 32-year-old southpaw was scarcely cruising, but certainly in control. His cut, too, had been dealt with expertly in the corner, and was no longer leaking blood.
Davies would assert himself more in the sixth – Donovan's first taste of such a distance, having fought a career-most five as an amateur in the World Series of Boxing. The latter wasn't so much tired as economical, and again finished strongly with a series of left hands.
He upped the tempo to begin the seventh, flicking the jab to limited effect, before dropping his hands by his side – gunslinger style – and walking Davies a half-lap of the squared circle. It was daring, certainly, but the sign of a comfortable fighter. Two swift left hands thrown at opposing axes were followed by a couple of thumping rights from the Welsh visitor.
And so it was into the final round, Donovan at this stage bossing proceedings, just three minutes away from his first professional title. An entertaining instalment was rubber-stamped by a thudding right hook from Donovan which brought the crowd to its feet. They were back standing a couple of minutes later, as Eric Donovan was crowned the Celtic featherweight champion on the referee's scoreline of 80-72, or eight rounds to zip.
Credit veteran Davies too for playing his part in a highly entertaining scrap at the Stadium, as Eric Donovan's career enters its next stage as planned.