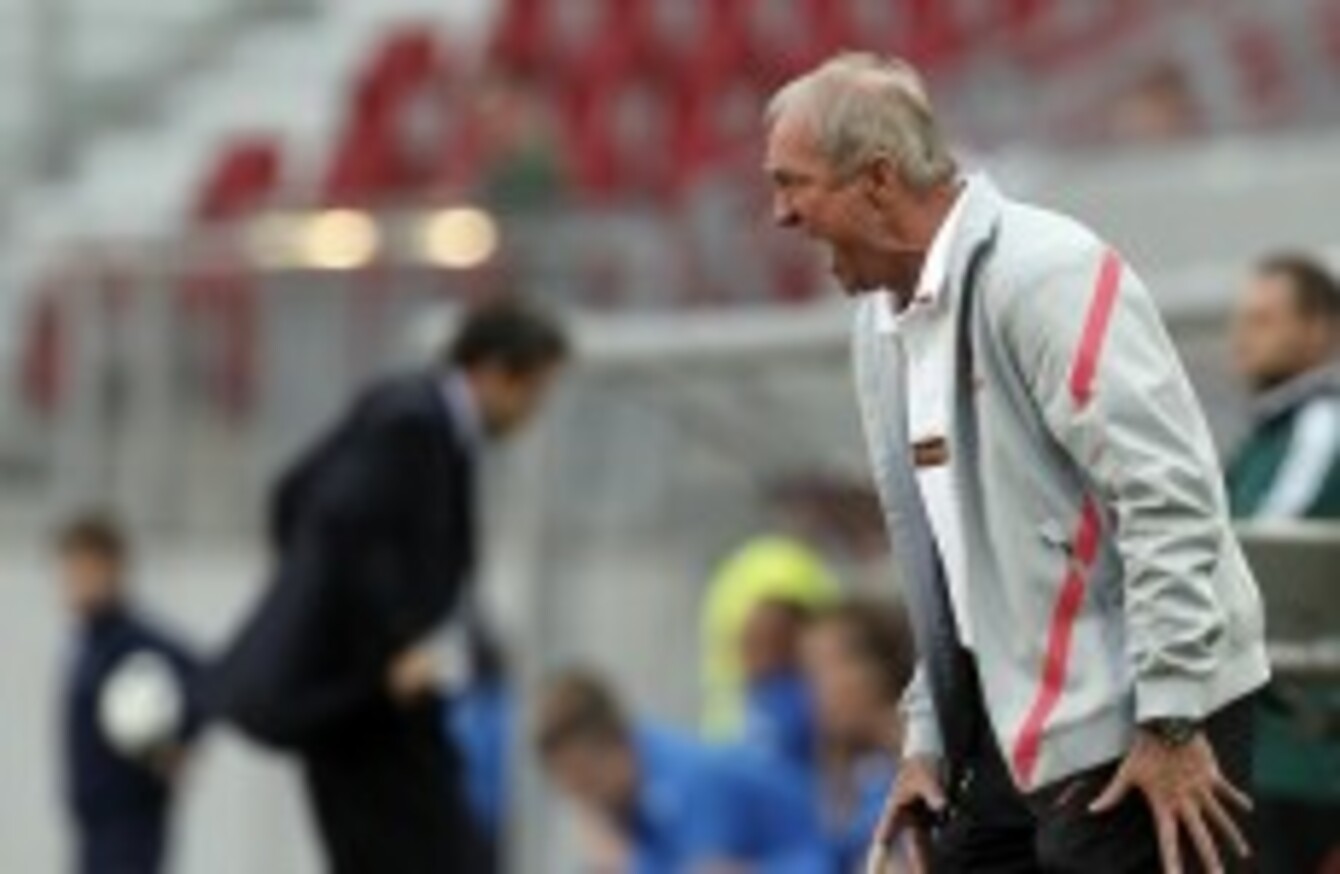 'Oi, Sheila! Back in your cell.'
Image: Darko Bandic/AP/Press Association Images
'Oi, Sheila! Back in your cell.'
Image: Darko Bandic/AP/Press Association Images
Franciszek Smuda, Poland
Age: 63
Track record: A manager since 1983, Smuda's finest hours came in the 1996 and 1997 when he won the title with Widzew Łódź. He's knocked around the league of eastern Europe a bit and had two stints with first division Zagłębie Lubin. In the intervening years he spent with Lech Poznan, Lubin were embroiled in a match-fixing scandal.
You'll recognise him because: He looks like a cross between Tony Pulis and Lawrence Dallaglio.
His trademark: Smudek takes a hard line on players 'having a few'. Artur Boruc is one of a number of players who can attest to that after being dropped for allowing the amber nectar pass his lips.
If he was a TV character he would be... Joan 'the freak' Ferguson (Prisoner, Cell Block H). An uncompromising and imposing authoritarian.
Fernando Santos, Greece
Age: 57
Track record: The Portuguese's only trophies have come in his three year stint with FC Porto over a decade ago. He has had three jobs in the Greek league since then, twice with AEK Athens and once each with Panathinaikos and PAOK.
You'll recognise him because: He's the man who doesn't look happy to be at Euro 2012.
His trademark: Confusing Cantona-esque pearls of wisdom, including (The Mirror says): "Should we keep fooling ourselves, mistaking sardines for lobsters? I think it's time to change the plate". Whatever he's at, it's working, Greece are unbeaten in Santos' 17 games in charge.
If he was a TV character he would be... Hugh Tazmanian Devil (Taz-Mania). He'll wander around appearing to be easy-going, without a care in the world as he throws out peculiar phrases – yakkety schmakkety – he is capable of going into a spin, though.
Dick Advocaat, Russia
Age: 64
Track record: Advocaat is one of those names that anyone with a passing knowledge of European football will recognise, but most are unsure as to why. He has coached in Scotland, Germany Belgium, the UAE, South Korea, Russia and (obviously) the Netherlands.
You'll recognise him because: He's the one with a chip on his shoulder about not being Guus Hiddink.
His trademark: Following Guus Hiddink into a job. Unfortunately for him, however, Chelsea have not come calling.
If he was a TV character he would be... Butters Stotch (South Park) Forced upon the boys when their real best friend left for good.
Michal Bilek, Czech Republic
Age: 47
Track record: The peak of Bilek's career were his two years in charge of Sparta Prague where he won a title.
You'll recognise him because: He's the baldy lad with the beard.
His trademark: The Czech's have been dogged by inconsistency and (a little like Hodgson with England) his countrymen fear he is unable to motivate a team at the highest level.
If he was a TV character he would be… It can only be Kojak, really.
Joachim Loew, Germany
Age: 52
Track record: Before 'Jogi' rose to prominence as the assistant coach in Germany's brilliant 2006 team, Loew had a successful spell coaching Stuttgart, but Fenerbahçe and Austria Wien ended in tears.
You'll recognise him because: A weird haircut, snugly fitting shirts.
His trademark: Jürgen Klinsmann was praised for revolutionising German football from methodical to magnificent, but since he left we realised it was little Jogi all along.
If he was a TV character he would be... Don Draper (Mad Men). So cool. Men want to be him, women want to be on him and he always has a freshly pressed shirt in his drawer. All he has to do is fix that mop of his.
Jogi, Betty and Peggy / Chris Pizzello/AP/Press Association Image
Paulo Bento, Portugal
Age: 42
Track record: Probably the least experienced gaffer in the tournament, Bento began his career where he finished his playing days, Sporting Lisbon. He had success there, winning five trophies, but not a league medal in sight. He took up the reigns of the Seleção after Carlos Queiroz was removed.
You'll recognise him because: He's cool, he's tanned, he's the youngest boss at the Euros.
His trademark: A no nonsense approach to attacking football. Portuguese football writer Ben Shave reported that after banishing defenders Ricardo Carvalho and Jose Boswinga, he wryly said there was still hope for them of being in his squad, before adding the zinger; 'in the stands.'
If he was a TV character he would be… Coach Eric Taylor (Friday Night Lights). He's got it all: tactical acumen, man management skills and firm discipline.
Bert van Marwijk, Netherlands
Age: 59
Track record: What? Losing to the 'best team ever' in the World Cup final isn't good enough? Sheesh.
You'll recognise him because: He'll be keeping a close eye on Mark Van Bommel.
His trademark: Making a defensive team from some of the most talented play-makers in the world.
If he was a TV character he would be… Tony Soprano, (The Sopranos). Vilified for his family ties and his manner of doing business, Tony and Bert both just get want to get the job done. Both also have plenty of attacking talent at their disposal.
Morten Olsen, Denmark
Age: 62
Track record: Olsen is the longest-serving coach at the tournament having taken over the national side in 2000.
Before the Danes could even dream of Euro '92 success Olsen was winning the league with Peter Schmeichel and Brondby. Since taking over, this is the fourth major tournament he has taken Denmark to.
You'll recognise him because: He's got that kooky 'mad scientist' look going on.
His trademark: Like Arsene Wenger, Olsen makes up his own words when his lexicon of Danish and English is not enough. The Mirror report that "automatichanic" and "polyvalent" are common terms he uses in post-match analysis.
If he was a TV character he would be… Proposition Joe (The Wire), Bags of experience, but ultimately the west-side crew are on the charge. Joe will have to cede  ground, but he will endure.
Giovanni Trapattoni, Republic of Ireland
Age: 73
Track record: You name it, Trap's done it. Except at international level when (what turned out to be a drug-smuggling referee) denied Italy in the World Cup quarter finals in 2002.
You'll recognise him because: He's Giovanni bleedin' Trapattoni
His trademark: Complicating simple football, and his lovely translating assistant, Manuela.
If he was a TV character he would be... Ra's al Ghul (Batman: the animated series). He's incredibly old, but a fitter man you could hardly meet. Capable of holding a grudge through the ages, but also controls much more than he appears to.
Vicente Del Bosque, Spain
Age: 61
Track record: It can't be a coincidence that VdB keeps turning up in charge of fantastic teams. He has two La Liga medals, four with Copa Del Rey written on it and two from Champions league successes in 2000 and 2002.
You'll recognise him because: He's got a fantastic grey moustache, he'll also be the calmest coach in eastern Europe.
His trademark: Allowing brilliance to take its course. He will be short of some stalwarts, but won't stray too far from the tried and trusted.
If he was a TV character he would be… Bert Cooper (Mad Men). He seems to take a lax approach, but in fact he has exerted control over a long period of time and is excellent at letting the talent get on with the business in hand.
Slaven Bilic, Croatia
Age: 43
Track record: The former West Ham favourite became flavour-of-the-month after his first successes with Croatia. Most notably he led the team to Wembley and to knock out Schteve McLaren's England from qualification for Euro 2008. There they topped the group with a flawless nine points from wins over Germany, Poland and Austria. Four missed penalties in the quarter-final shootout meant they could not advanace past Turkey.
You'll recognise him because: Jogi Loew, he is not. Bilic has a face to show all the troubles of the world, full of wrinkles and lines… and he has a suit to match.
His trademark: It used to be his earring, but that seems to have disappeared in the shower.
If he was a TV character he would be… Detective Frank Columbo (Columbo). He looks like he woke up on the street, but he has his wits about him.
Cesare Prandelli, Italy
Age: 54
Track record: Prandelli has collected plenty of experience around Serie A, but he has no top-level silverware. A couple of promotions from Serie B and he guided Fiorentina to a Champions League place… until Calcioppoli stripped it from them.
You'll recognise him because: Well, if you thought Roberto Mancini was an icon of style and Italian chic, wait'll you get a load of Prandelli. Slicked back hair, winning smile, nice shirts. A class act.
His trademark: Prandelli is able to rise above the pressures of football and put them into context of life and death. He is the closest thing to unflappable football can bring.
If he was a TV character he would be… Ned Flanders (The Simpsons). Maybe Prandelli is just, well, too nice.
An artsy French photograph / Laurent Cipriani/AP/Press Association Images
Roy Hodgson, England
Age: 64
Track record: He's been around has Roy. This is his fourth time coaching an international side and he has taken charge of 15 clubs including such luminaries as Bristol City, Neuchâtel Xamax, Viking Stavanger and Liverpool.
You'll recognise him because: He has a minor speech impediment and he looks like an owl.
His trademark: A quite hilarious angry face and tactics that will confuse and anger the English media.
If he was a TV character he would be… Eddard Stack (Game of Thrones). Inherently, he's a good guy, but when it comes to the cut-throat life at the top he gets the chop early on (*spoiler alert).
Laurent Blanc, France
Age: 46
Track record: He has been a top class manager for the past five years, but we'll always remember him as the man who kisses Fabien Barthez' head for luck.
You'll recognise him because: Eh, because he'll probably be kissing his Barthez (now the goalkeeping coach) on the head.
His trademark: In charge of Bordeaux, Blanc introduced some magical football and guided them to a league title in 2009 before taking over the national side a year later. As yet, he has not pulled up any trees at international level. A racism scandal has overshadowed much of his reign, but they're here and they're French.
If he was a TV character he would be... Dr. Gregory House (House). He may say the wrong thing from time to time, but in the end, his methods get results… and the English will beg to have him back on their shores.
Oleh Blokhin, Ukraine
Age: 59
Track record: An icon as a player, this is Blokhin's second stint in charge of his country. His previous reign was the succesful march to the World Cup quarter finals in 2006. There they were knocked out on penalties by Italy, who went on to win the tournament. He left the role for a brief stint in charge lowly FC Moscow, his only club job outside of Greece.
You'll recognise him because: He has that, 'I have a secret and I'm not telling' look on his face.
His trademark: Beautifully combed hair.
If he was a TV character he would be... Paulie Gualtieri (The Sopranos). Annoyingly calm on the surface, we're just waiting for him to blow his top.
Erik Hamren, Sweden
Age: 54
Track record: Hamren has taken his wacky road show all over Scandinavia, most recently with Rosenborg where he won two Norwegian titles to add to his league medal from Denmark and two cup successes in his homeland.
You'll recognise him because: Glasses, curly once-blonde hair, slightly unnerving smile? Yep, that's him.
His trademark: Apparently he conveys tactical information to his players through the medium of Winnie the Pooh. Now, we know footballers aren't exactly rocket surgeons, but come on.
If he was a TV character he would be... Not Winnie the Pooh, Tigger or even the much maligned Eeyore. Risteard Cooper (Apres Match). Just looks a bit like him.