FRENCH AUTHORITIES ARE agonizing over how to ward off potential terrorist attacks on hundreds of thousands of fans expected for the European Championships which start 100 days from Wednesday.
Fan zones in the 10 host cities are feared to be a special target and millions of dollars are being spent on security precautions for the 24-nation football spectacular which runs from June 10 to July 10.
Up to 80,000 fans have been predicted for the Prado beach venue in Marseille, 60,000 at the Place des Quinconces in Bordeaux and 10,000 in a park next to Nice's landmark Promenade des Anglais. All could be a target.
France has been on high alert since the November 13 attacks by Islamist militants in Paris which left 130 dead. With seven million people predicted to visit France during Euro 2016, security is a big worry.
"Given the terrorist context, these fan zones are a sensitive topic," Gerard Gavory, the government's security prefect for the Rhone region, told AFP. The Rhone includes Lyon which will host six games including a semi-final.
Michel Euler / AP/Press Association Images Paris' Stade de France was at the centre of the November terrorist attacks. Michel Euler / AP/Press Association Images / AP/Press Association Images
Matches are also being held in Paris, Bordeaux, Lens, Lille, Marseille, Nice, Saint Etienne and Toulouse.
Key matches, including the opening game and final, will be at the Stade de France in Saint Denis, just outside Paris, which was one of the targets of the murderous November 13 attacks.
Toulouse and Saint Etienne council's had both wanted to cancel the fan zones after the attacks, but have since softened their stance.
Security will be easier to organise in the fan zones, said Fabienne Soulas, the Saint Denis town official in charge of Euro 2016 organisation.
"Otherwise there will be gatherings all over the place, in cafes, and it will not be easy for the police."
In the post-attack organisation, the fan zones will be sealed off with body searches at entrances, video surveillance, no bags and private guards patrolling inside.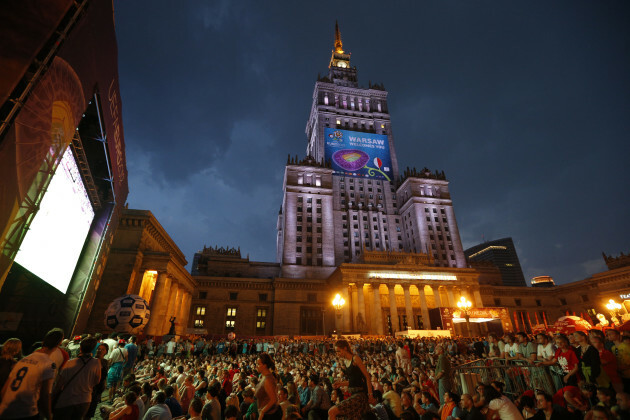 Czarek Sokolowski / AP/Press Association Images Fan zones, like this one in Warsaw during Euro 2012, have been a key part of major tournaments in recent years. Czarek Sokolowski / AP/Press Association Images / AP/Press Association Images
Saint Denis had planned to set up a fan zone opposite its 872-year-old basilica where most of France's kings are buried. But Islamic State has forced a brutal rethink.
"As it had to be sealed off, it would have meant blocking off the whole town centre. The police wanted to check the residents of local buildings to make sure there were no suspects," said Soulas.
Toulouse has also had to change its fan zone site away from its central Place du Capitole.
Saint Etienne is still demanding UEFA pay the cost of all the security, But Europe's governing body, the main organisers, is only paying to guard stadiums, team camps and official hotels.
Bordeaux's mayor Alain Juppe has estimated that his city will pay four million euros ($4.3 million) for the fan zone and a quarter will go on security.
Toulouse estimates it will pay 500,000 euros on security and is looking for sponsors to help pay the cost.
A joint UEFA, French government and host cities committee is to agree the share of the cost at a meeting on March 22. Cities are looking to put the pressure on the French state and UEFA.
There will be a tense atmosphere in the country owing to the atrocities that occurred in Paris and contingencies are being drawn up, including playing games at different venues and behind closed doors should another terror threat emerge.
Speaking to Press Association, a Uefa spokesperson said:
 We are working on contingency plans even though we are not aware of any specific threat. And we work on multiple scenarios, including the possibility to have matches postponed, moved to other venues or played without spectators."
Additional reporting by Eoin O'Callaghan.
The42 is on Snapchat! Tap the button below on your phone to add!