IT'S FIVE PAST three in an Irish bar in the Balearics and a pharmacist from Kildare is about to enjoy the second happiest moment of her life.
As a looping Irish header nestles into Peter Shilton's net she jumps around the rapturous Irish throng and into the arms of the complete stranger next to her.
A few years later she was enjoying the happiest moment of her life as she stood at the altar with that very same stranger.
In a far-flung corner of Ireland meanwhile, two of the men who could well have been responsible for that moment — Steve Staunton and Mark Kelly — are whooping and hollering in delight. Since the youngsters just missed out on the 20-man squad that made its way to West Germany, Jack Charlton lent them his car to tour their home country as a consolation.
Apart from everything that was going in that very nation at the time, the moment was so joyous was because it was also so unexpected. Travelling to Euro '88 Ireland were 50-1 outsiders while many disparaging comments were made about the 'Anglos' in the squad. Anyone looking deeper knew otherwise, certainly the only bona fide Englishman involved, Jack Charlton. "They've written us off already… I think that's a mistake."
It was that kind of month…
The interviewees:
Fergus Cassidy was 29 and a typesetter in Dublin who got a flight to Cologne and took it from there.
George Hamilton was RTE's soccer correspondent and, at 38, had been with the broadcaster for two years.
Ray Houghton was 26 and the squad's right-winger.
Chris Morris was 24 and the squad's right-back.
Francis Mollen was 24 and was working with Sherwood Medical in Tullamore. He had been travelling to Irish away games since 1981.
Charlie O'Leary was 64 and the squad's equipment manager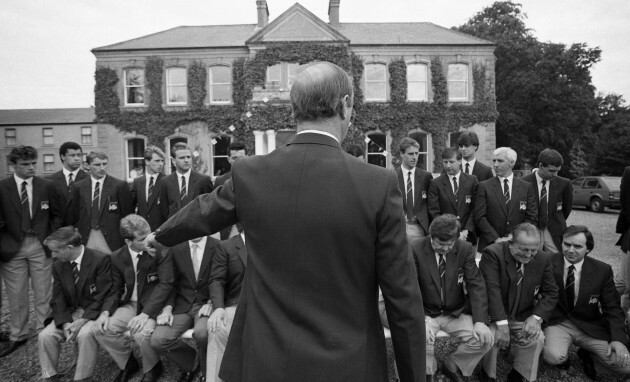 The build-up
George Hamilton: Irish fans had done summer sport, your colours, your county, but no further than the East Wall. They were never able to put their shirts on and go somewhere else. So there was a great sense this was going to be a big Irish carnival. A lot of people went maybe less expecting anything good to happen, but more to have a good time and say 'yeah, we're at this party too'.
Chris Morris: It was unknown territory. I don't think anybody knew what to expect.
Francis Mollen: We had been watching World Cups and European Championships all those times and never seen Ireland there so we had to go.
Fergus Cassidy: The minute we qualified I decided I was going. I got onto my mate George who didn't know whether he could afford it, but I just said 'come on, this is what we've been waiting so long for. This is it!'
Ray Houghton: To be honest I don't think it had really sank in that we'd qualified. It was the first time, the big thing was we didn't want to embarrass ourselves.
Chris Morris: We might have been underdogs but we certainly felt we could play. We weren't going there as cannon fodder.
Charlie O'Leary: First of all, Jack brought us out to Finnstown House in Lucan to train for two weeks.
Chris Morris: It was a fantastic location, idyllic really. It did help relax everyone.
Ray Houghton: We hadn't a clue what we let ourselves in for. We were just winging it.
Charlie O'Leary: They were locked up there though so one night the players were planning an escape committee, gasping for a drink. But Jack must have heard…
Ray Houghton: He just picked up the paper, saw the racing was on at Phoenix Park and brought us down.
Chris Morris: Jack being Jack, we did something perhaps a little unusual. We had a great day. Jack picked something like seven out of eight winners and still only won about a tenner! On the way back then we were singing the usual 'we love you Jackie, we do' to get him to stop and we went to the Hill 16. Of course Jack paid by cheque, it went on the wall and we didn't pay.
Charlie O'Leary: Barely anybody bothered us there or at Finnstown House. I can't say there were queues out the place.
Chris Morris: The momentum wasn't building yet. We played Poland in a warm-up and beat them 3-1 and it was low-key, not many there.
Fergus Cassidy: Jack had publicly invited fans to send the team off. We went with our nieces and nephews and all, but there weren't actually many fans there.
John Anderson, Frank Stapleton, Paul McGrath and team kit man Charlie O'Leary. Pic: INPHO/Billy Stickland
Germany
George Hamilton: We went about a week before the team. Even for us it was huge. We took a camera crew to a tournament which we'd never normally do. It was exciting.
Francis Mollen: We went through a travel agent, about 14 of us. It was £550, a lot of money and a big commitment. A good few had to take loans out of the Credit Union.
Fergus Cassidy: We just flew to Cologne so it didn't cost that much. We planned to use that as a base and rely on friends, friends of friends, and friends of friends of friends.
Francis Mollen: We watched the opening game Italy v Germany and then drove up to Dublin. It was two in the morning, we flew to Cologne and then got buses to a place called Boppard.
Fergus Cassidy: The 'Joxer' stories were no exaggeration. We met plenty of lads just with rolled-up sleeping bags and the clothes they stood in. They had thumbed their way across Europe, must have been travelling a week. Another group from Dublin were going in an old banged-up Renault Four and had to be taken of the Autobahn by police escort for going too slow.
Charlie O'Leary: We got to Stuttgart a few days before the first game and we weren't staying in any big hotel, more like an army barracks.
George Hamilton: In the build-up we were doing interviews and then England training. The Irish squad were great with us though, all very relaxed.
Charlie O'Leary: Jack was very methodical. People always talk about this long ball. I never heard him say that. His thing was to put them under pressure and always make defenders turn. He maintained the European player hated that. That was the main thing we worked on.
Francis Mollen: That night was a great night, hundreds in the pubs singing. There were a few England fans there and a bit of slagging. Nothing untoward, just a bit of craic.
Ray Houghton: It was only when the game was getting closer it started to hit home. As players, 48 hours before, that's when you start concentrating. We'd go for a coffee and couldn't help talking about it.
Charlie O'Leary: I wouldn't think there were nerves. Ronnie Whelan rang his Liverpool mate Steve McMahon and said 'how's it going? My head's falling off. We were out on the piss last night.' And McMahon responds 'what!?' He had them steaming.
Chris Morris: The English press really tried to get into me personally. It wound me up to fever pitch. I felt quietly like a coiled spring, waiting to get in there and compete.
Charlie O'Leary: The night before I'm sitting on me bed and Jack came in and said 'move over there'. It was only a tiny little camp bed. But he goes 'what's wrong with you?' and I said 'just thinking about tomorrow'. 'What about tomorrow?' and I said 'if we get beaten, you know?' And he goes 'why? Who's going to beat us? England? Don't be daft.'
The day of the game
Francis Mollen: We got up early with brutal hangovers for a two-and-a-half-hour bus journey to Stuttgart. Got there about midday, it was hot.
Fergus Cassidy: Once we got off the night train, you began to realise the extent of what this was. It wasn't just football fans or day-trippers for the England game, but Irish people working all over Europe.
Francis Mollen: To be honest we were all praying because we were very worried. England had a brilliant run-up and a very strong team. We didn't really know what to expect. Were we going to perform or flop on the day?
Charlie O'Leary: Jack told the players the team in the hotel. I would give the players their jerseys and they would wear them going to the match.
Francis Mollen: There were up to 13,000 Irish fans there. Everyone was up for it. Definitely more Irish than English.
George Hamilton: The big story of course was crowd trouble and how the police were going to handle it. But they were blanking everybody. The thing was though the commissioner had no English and no-one offered the interview in German except us, so we got a scoop. He said there was no problem because there was no history of crowd trouble between Ireland and England.
Fergus Cassidy: The police had done their homework. One thing we noticed was there were so many female policewomen. And that was deliberate because they calmed things down.
Francis Mollen: They were fierce cocky the English. Thought they only had to turn up.
Fergus Cassidy: Before the game, word had got to us that Jimmy Hill had said Ireland were only there to make up the numbers. He was also making noises about our 'English' players. We'd remember that…
Francis Mollen: We went in early, two hours beforehand, to take in the atmosphere. We were right behind the goal. There were seats, but everyone stood.
Fergus Cassidy: The first time you realised, yeah, something special was going on here was when a bottle of coke was being passed through lines of fans in the heat. There was a communal thing.
Charlie O'Leary: We were in the ground two hours beforehand because of Uefa instructions. Jack hated that, he thought an hour was enough.
Ray Houghton: That's when the nerves started, you realise all the world's TV cameras are there and suddenly you've got to perform. Jack's attitude though was very much 'go out and enjoy yourselves'.
Chris Morris: By the time we got to the team talk I probably hadn't blinked for two hours. For me, you go into your own little zone of focus before really big matches. I remember nothing about what Jack said.
Ray Houghton: Packie got sent these presents to give out to the lads, pieces of soil and religious things you put in your bag. It was surprising!
George Hamilton: I was interviewed on German TV beforehand and asked what I wanted. I said I fancy a scoreless draw, 1-1 would be nice but 1-0 even better.
Charlie O'Leary: When it was time to go out, you walked down the stadium from a height and came out of the lovely cold air-conditioning from the pavilion into this intense heat.
Chris Morris: It was like a warm curtain. Your mouth immediately went dry and drawing every breath was tough.
Charlie O'Leary: Jack always stood, but he had to sit down on the bench here to get out of the heat.
Ray Houghton: Aw, the heat was incredible.
Charlie O'Leary: The colour green did show up better in it than the white though so it looked like everybody from Ireland was there.
Francis Mollen: We were on a high by now. Couldn't wait. Playing England, the enemy, ha!
Ray Houghton: The big thing was the crowd. Often in these occasions you don't notice, here you couldn't but.
Chris Morris: If it was low-key beforehand, it certainly wasn't now. They were outsinging the English and that definitely helps.
Charlie O'Leary: When the anthem played for the first time at a big tournament it was unreal. A very proud moment and it's very hard to control yourself. You'd nearly break down.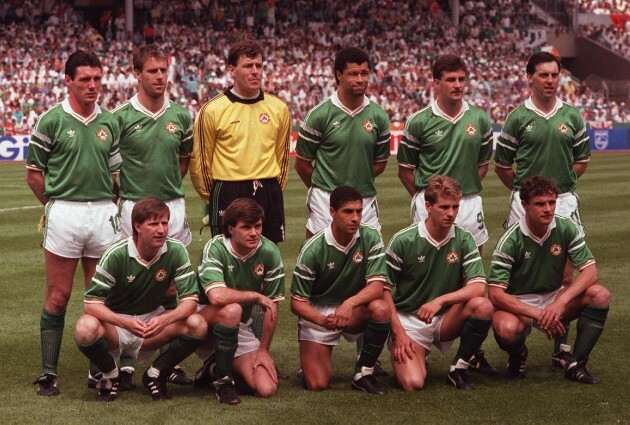 Ireland v England
George Hamilton: Ireland started off the way Jack Charlton teams would start off – briskly, in their faces, making them turn. They had been doing that for the opening few minutes.
Chris Morris: We certainly started energetically.
George Hamilton: Five minutes in, we got a free-kick in our own half, which Moran took.
Francis Mollen: I just saw a big hoof nodded down and then a head on it.
George Hamilton: The ball came in from the wing and Sansom tried to clear, but that didn't quite work out.
Ray Houghton: I gambled and made a run into the area.
Charlie O'Leary: I could see it from where I was standing that the way Ray was positioned, all he needed was to judge it right to beat Shilton.
George Hamilton: Ray was right underneath the looping ball. The only thing he could do with was put it back up into the air. Everything fell into place.
Ray Houghton: Shilton was out a bit so there was a lot of goal to aim at. It sat up and I was under no real pressure. It was just a case of picking your spot…
Francis Mollen: I was just thinking 'this could go in, this could go in'
Ray Houghton: … and I hit that spot. Then it was pandemonium.
Francis Mollen: Mayhem.
Chris Morris: I could just see Ronnie Whelan and John Aldridge jumping on top of him and totally jubilant. But then I was 60 yards away reeling away into the other corner in total delight.
Ray Houghton: There was just this pile on top of me.
Chris Morris: I got a bit carried away.
Charlie O'Leary: When we scored, Jack jumped up and nearly tore the top off his head by banging it off the metal frame we were sitting under. He was trying to hold it and dance around in joy and, other than the excitement of the goal, I'd say he would have needed medical attention.
Francis Mollen: I said straight away, I wish he'd blow the whistle now. We were in for a long wait.
Chris Morris: As soon as I turned, still celebrating, Mick McCarthy was shouting and organising the next job, Kevin Moran was doing the other side and Packie was shouting away. Good professionals who got everybody focused and knuckling down quickly.
Francis Mollen: The atmosphere was good for the next five or 10 minutes but after that it wasn't a case of jumping up and down. It was very tense. You couldn't enjoy it.
Ray Houghton: I can tell you the heat gets even worse when you're working to protect a 1-0 lead. You've got to concentrate so intently.
Chris Morris: We were playing decently, working well.
Ray Houghton: It was tough… but we felt reasonably comfortable. We had one or two chances and I had a shot I thought I'd scored that just went wide. It wasn't all England. In the first half they didn't even do that much.
Chris Morris: They created virtually nothing of substance in the first half.
Fergus Cassidy: I remember one young bloke, any time John Barnes got the ball, he'd start with the racist chants. After a while, this old fella stretched out and slapped him on the head roaring 'what colour do you think Paul McGrath is?' Everyone cheered and the guy shut his mouth.
Chris Morris: Half-time we came in, okay we'd probably pulled the tale of the tiger but we were comfortable and in a good position.
Charlie O'Leary: The heat was sapping energy. That and dehydration. I have to give credit to the lads not playing. They worked like Trojans with towels soaked in ice-cold water, suffocating all our players.
Chris Morris: Ice towels and fluids. Lots and lots of fluid.
Francis Mollen: They had big screens. All I remember at half-time is Robert Plant on singing.
Ray Houghton: You get back out and feel the heat, blisters even, but the adrenaline kicks in. You're absolutely in the moment.
Chris Morris: A short talk-through and we were ready to compete again.
Ray Houghton: Everything England tried, it was defended or Packie made a save. We began to get the feeling it was our day.
Charlie O'Leary: You're sitting on the bench, but not easily. You're kicking every ball, screaming.
Francis Mollen: We had our fingernails bitten to the bone. It was chronic.
Chris Morris: In the last 20 minutes you almost inevitably psychologically concede the ground and try hold on to what you've got. England piled on the pressure.
Charlie O'Leary: We were hanging on and hanging on.
Fergus Cassidy: We were right behind the goal and the sight of Lineker bearing down on goal… he had time to pick his spot…
Chris Morris: Little bit of luck, our day.
Fiesta
Ray Houghton: Aw, when the final whistle went!
Charlie O'Leary: I was nearest to Ray and he threw his arms around me, nearly squeezed the head off me. I've never seen him show emotion like it.
Francis Mollen: It was mad. Total relief. Brilliant. Everyone hugging, couldn't believe it.
Chris Morris: I can't remember what I did. I probably just collapsed and I think everybody was going ballistic, everyone coming on and racing to the players.
Francis Mollen: There were fellas crying, everything. Hugging and crying. With the history, 800 years, beating them at their own game, beating them in a major championship. People found it difficult to take in. It was England!
George Hamilton: This was the defining moment. This was why I joined up.
Chris Morris: I remember I did change shirts with Tony Adams.
Charlie O'Leary: When we did get back in, the lads were all mad to get fluid of some sort.
Ray Houghton: The only thing was we could barely celebrate, we were too tired.
Chris Morris: The amount of politicians, dignitaries, officials there… they were all overcome with emotion. With the impact of that result people were pouring out.
Charlie O'Leary: I saw grown men crying with excitement and pride.
Fergus Cassidy: After the game thousands of fans started pointing to the TV cameras and chanting 'are you watching Jimmy Hill?' Brilliant craic.
Francis Mollen: Walking out there were a line of buses and trees and loads of German fans started coming up and congratulating us, cheering from the windows.
Fergus Cassidy: About a hundred of us hung around after and all of a sudden the English bus appeared beside us. Most of the players looked away, understandably, but Bryan Robson made a thumbs-up sign. Suddenly this applause swelled up out of us and more of the England squad gave the thumbs-up.
George Hamilton: That night the little, peaceful team hotel was overrun with fans, it was crazy. And the players enjoyed it.
Chris Morris: The fans were all welcome and able to get close. Somebody would strike up and we would all be up for it… within reason!
Ray Houghton: We had a bit of a sing-song, a do. It was a great night.
Charlie O'Leary: Kevin Moran, Frank Stapleton and Liam Brady – who came and was a great help despite his injury – were talking and I remember hearing them saying 'I'd love to be in Dublin tonight.'
Francis Mollen: We were thinking it would be great to be transported back. A couple had rang home and they were saying it was brilliant.
Charlie O'Leary: I was the only one who couldn't drink because I had to pack away all the gear to go to Hanover at 8.00am the next day!
Francis Mollen: Going back to Boppard it was like your county winning an All Ireland. There were so many Germans with flags, waving and beeping. They were nearly more delighted than us.
Fergus Cassidy: We didn't get to bed, it was an almighty session.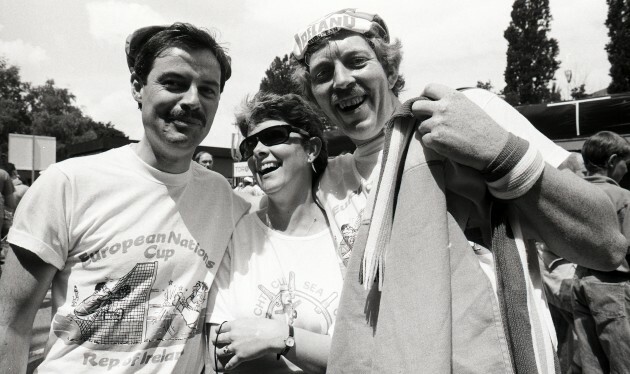 Brave new world
George Hamilton: Vere Wynne-Jones had a wonderful line on Morning Ireland: "this morning, thousands of Irish hangovers are on their way to Hanover".
Francis Mollen: We went down the Rhine that day on a boat, about 40 of us drank it dry. Great singing, harmless fun. The Germans were really taking to Ireland.
Fergus Cassidy: We were told if we wanted a late drink in Stuttgart we should go to an amateur soccer club. We walked in and they all started clapping. We didn't put our hands in our pockets all night. Beating England meant we were 'heroes'. We found we didn't have to pay for anything when we had our green gear on. We'd get up in the morning, turn to each other and ask 'uniforms?'
George Hamilton: Things calmed down considerably in Hanover because it was more like a sports school, not suited to public access. The players didn't like it.
Charlie O'Leary: Part of my equipment was several dozen packs of cards and other board games while the lads would also have question-time or pool competitions. Niall Quinn would be good at question-time, and Kevin Moran. Tony Cascarino – especially – and John Sheridan were the men for pool.
Chris Morris: Perhaps a bit of boredom sets in but only because you really want to get stuck in again.
Charlie O'Leary: One thing, I can't recall one bad word or one players falling out with another.
Chris Morris: There was definitely a special bond, a camaraderie.
George Hamilton: They were mates. It was like a school team, that strong.
Charlie O'Leary: The training was more relaxed by then, playing it safe with injuries. It was just recuperation and organisation.
George Hamilton: I was interviewing Packie Bonner and we got to the bit about his record – he had it for the most number of consecutive shut-outs of an Irish goalkeeper — and he didn't want to talk about it. That was as fraught as it got with them!
Fergus Cassidy: We realised after Stuttgart you really had to be where the game was. And you quickly knew where to go – public squares, fountains, open-air cafes. You only had to open your ears.
Francis Mollen: We had a four-hour journey to Hanover. Because the traffic, we got delayed – and you could drink on the buses – and we couldn't afford to stop so there were lads putting bottles out the window for wees.
Fergus Cassidy: We began the day with an almighty session, watching Holland beat England. So a win and we were through.
George Hamilton: we were making our way to the grandstand and there were a lot of people in Irish shirts and painted faces. And they were all German!
Ireland v USSR
Ray Houghton: We had the momentum so right from the start we played some wonderful football.
Francis Mollen: I remember a Mexican wave was going when I went, come on guys, we've got a throw here…
George Hamilton: … a terrific long throw and a brilliant volley.
Charlie O'Leary: Ronnie Whelan's goal was super, and against one of the best goalkeepers in the world at the time.
George Hamilton: It was only with the replay we saw where Whelan actually hit the ball – his shinguard!
Francis Mollen: I swear to God, half the stadium missed that goal with the Mexican wave.
Chris Morris: That was a lot of players' best game for Ireland and that goal summed it up.
Francis Mollen: While we were tense against England, this was a real party.
Fergus Cassidy: We noticed all sorts of fans had started to latch onto us. I remember a group of Norwegians demanding 'sing the songs!' and aimlessly banging a bodhran. We just cracked up and made up songs in bad Irish. It kept them happy.
Chris Morris: The way we were playing I think we were almost proving how good we were to ourselves as much as anyone.
Charlie O'Leary: All the chances though it could have been 3-0 or 4-0 and I don't know how a penalty wasn't given for a foul on Tony Galvin.
Francis Mollen: Dessaev saved everything. It hit off his leg, his arse.
Ray Houghton: We were in total control… then gave away that stupid goal.
George Hamilton: The whole build-up, I mean the ball was in the Russian half and Ireland just went asleep. Four passes and it's up the other hand. The 'danger here' line came from Bonner's record. Then Protasov was shooting and scoring.
Chris Morris: A sucker punch.
Charlie O'Leary: That came nearly because of tired legs. If we hadn't given so much in the first match we'd have cut it out.
Francis Mollen: We had the luck against England but how we drew that game I'll never know.
Charlie O'Leary: We outplayed them, had it been boxing we'd have won easy.
Francis Mollen: We were so frustrated. We would have qualified and they missed so many chances it was unnatural.
Chris Morris: As magnificent as we played that game probably was one of the great regrets of Irish soccer history. There was real disappointment.
Francis Mollen: We had played great though and still only needed a draw.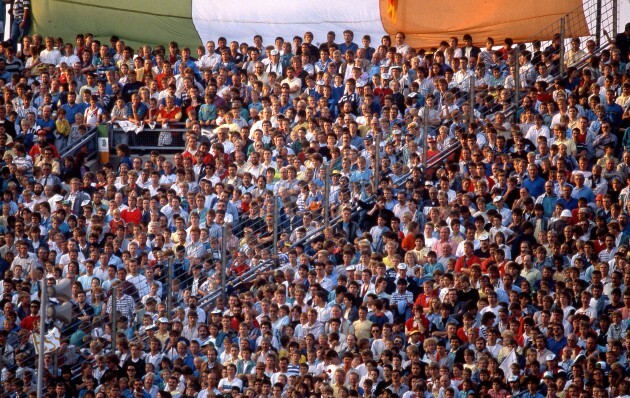 Orange march
George Hamilton: For the final game, the hotel was in a place called Narl. But what hadn't been clear was that this was where the locals liked to spend their summer doing what Germans do when they go swimming — take all their clothes off. So the team were in this effective nudist resort. It was comical because Jack's biggest concern was that the tabloids were going to get pictures of players sunbathing by these women in the nip! Only the FAI at the time!
Chris Morris: I don't remember that! We must have been shielded from it!
George Hamilton: There were all manner of permutations of what was going to happen next, where we would swing to. There was very much confidence we'd do the job.
Charlie O'Leary: You had to make plans to stay on. You had to bring enough gear for the final.
Francis Mollen: We had already half-planned. To change the flights back was going to cost me a fortune, I would have had to ring the missus.
Fergus Cassidy: The night before the Dutch game we used a contact we got. Well everyone must have been invited to stay because when we got to this house in Gelsenkirchen it was standing room only. We stayed for the session though.
Francis Mollen: We got there two and a half hours beforehand the next morning and Jesus it was the hottest yet.
Fergus Cassidy: For the first time we were outnumbered, well outnumbered. But it was a great occasion. The Dutch fans were on a different level, they had been at these for a while and had co-ordinated singing.
Charlie O'Leary: The two crowds were absolutely brilliant and there was massive colour.
Francis Mollen: Three quarters of the stadium had no cover and it was roasting. Guys were using ice cubes and everything, dehydrated from drink just trying to keep themselves cool. It was dire. Suncream? Ha!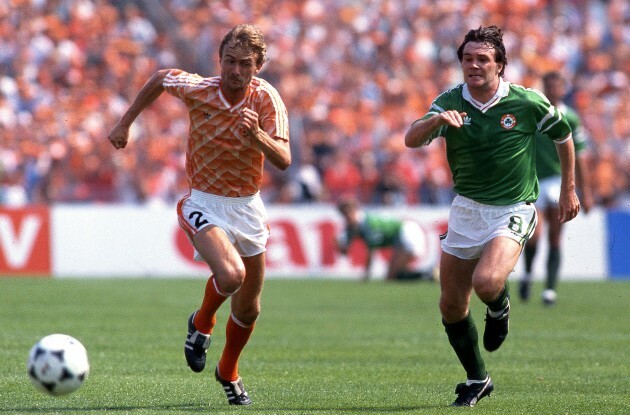 Holland v Ireland
Chris Morris: Again we started well. They were good, you really noticed it in their touches, but we were solid.
Francis Mollen: There was pressure but we were thinking to ourselves if we sneak one here… and then McGrath had that chance.
Ray Houghton: Big Paul hit the post, rebounded to Aldo and hit the lad on the line.
Chris Morris: I think that was the moment in which our tournament was decided.
Ray Houghton: We tired in that game. The third in eight days and the high-tempo way we played it was hard. But I thought we looked comfortable. They hardly had a shot.
Chris Morris: I banged my head and my eye swelled up and closed over so I had to be taken off.
Ray Houghton: The fact they brought on Bosman and Kieft, with Gullit, Van Basten, a lot of big lads, showed they were really panicking. They didn't know how to break us down. Trying everything, hoping something would happen.
Chris Morris: Watching from the bench it was torture.
Francis Mollen: Seven minutes… we were seven minutes from qualification.
Ray Houghton: Tired as we were I never felt they were going to score. But then Wim Kieft gets that header. It's going 10 yards wide…
Francis Mollen: I've never seen such a spin on a ball. With the glare of the sun, we thought it deflected off someone, couldn't understand how it made a 90-degree turn into the net. Couldn't believe it.
Chris Morris: Replay it 100 times and that wouldn't happen.
Charlie O'Leary: As an ex-referee it was offside too.
Francis Mollen: The noise the Dutch made though. It was huge. We just had our head in our hands.
Ray Houghton: Once we'd gone a goal behind I think we'd put so much into defending it's very hard to change to an attacking team.
Chris Morris: After the goal, there was a sense that was that.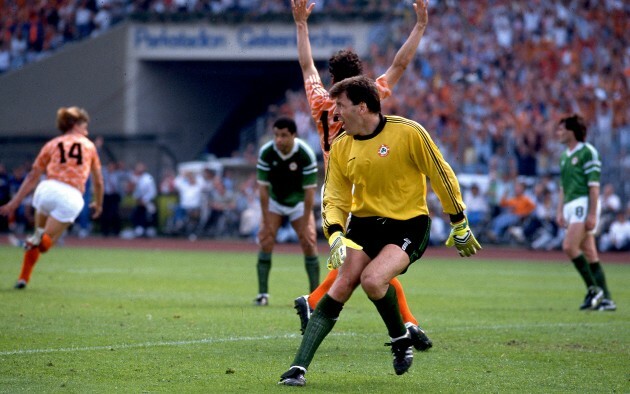 Morale victory
Francis Mollen: We stayed behind and the team came out. They had given it their best shot.
Fergus Cassidy: Thousands were on the terraces chanting 'we want Jack'. He came out after about half an hour and we went mad.
Ray Houghton: It was great with the fans, we just hoped we'd done them proud.
Fergus Cassidy: After the game George realised we could get down onto the pitch so we strolled around. Suddenly we heard this thick Scouse accent. We looked and John Aldridge was holding two bottles of beer and gesturing us down. 'Sorry to have disappointed you'. We couldn't believe it! Niall Quinn was next down with two more. We couldn't have wished for a better ending.
Francis Mollen: Walking down the Dutch were going mad but we were shaking hands and swapping scarves. You could lose to worse fans.
Fergus Cassidy: There was great respect. The Dutch were hugging us, singing with us and they liked to party too.
Ray Houghton: We went out on the town that night but there wasn't much there, the fans were probably all in Gelsenkirchen. We just went to the pub, had a few drinks.
Homecoming
George Hamilton: My filming with the team ended at Dusseldorf airport when they got on the plane to go home. I stayed for the semi-finals and final… with the two teams from our group of course. Which just shows you.
Ray Houghton: We came back on the Sunday, the next day, and had a few drinks on the plane.
Charlie O'Leary: We were all in blazers and some of the lads had scissors so if you went asleep at all you found your tie cut off or part of your jacket. There was a lot of messing but they were all in great spirits.
Chris Morris: Hi-jinx to say the least! We did all have a few drinks, then had to get ourselves together…
Ray Houghton: All of a sudden Jack turns around and says 'what are you lot doing!? You've got fans and dignitaries greeting you!' We had no idea there was going to be anyone. The Taoiseach!? Fans?
Charlie O'Leary: The welcome home was something I'll never forget. We went down O'Connell Street, down Parnell Square, to the Municipal Gallery. Then of course the song, 'Who put the ball in the English net?' and Ray started singing 'I did, I did!'
Ray Houghton: That was my bloody brother's fault!
Charlie O'Leary: Then we came back to the airport hotel and the lads got themselves dressed up. I went back to the house but the rest I wouldn't know. I wouldn't be into the nightlife like the lads.
George Hamilton: There was that famous line about the tournament. We won the game we should have lost, drew the game we should have won and lost the game we should have drawn.
Ray Houghton: I think as you get older you feel a bit of resentment because of how close we were. We could have made a real name for ourselves, for Ireland. When we speak to the lads now we always think maybe we could have gone the extra yard. There was bit of naivety from our point of view with it being the first time.
Chris Morris: There definitely is regret now we could have maybe taken it the next step.
'I would liken Euro '88 to seeing Thin Lizzy on Top of the Pops'
Francis Mollen: The support thing changed. It was different then. Definitely more working-class, real football fans. Ireland's changed since.
Chris Morris: Tt was, for me, the highlight of my career. You take that with you forever. Even now, the hair stands up on the back of your neck.
Fergus Cassidy: I would liken Euro '88 to seeing Thin Lizzy on Top of the Pops, proud Irishness on an international level. As a lifelong soccer supporter it was great to see the game break away from its Cinderella image. It was the trip of a lifetime and a wonderful experience to have been there.
Charlie O'Leary: after Euro '88 everything changed.
What are your memories of Euro '88