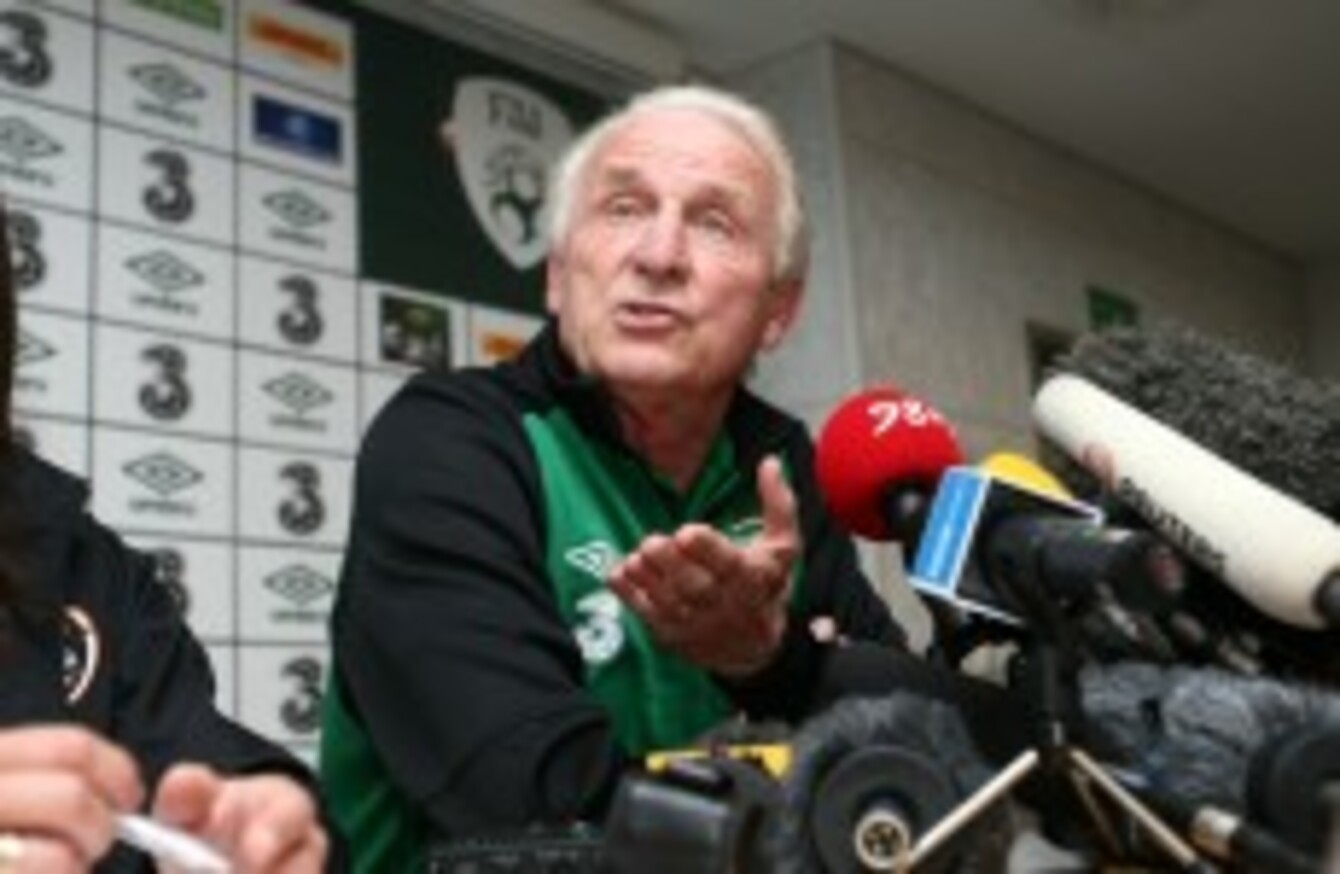 Giovanni Trapattoni facing the press yesterday.
Image: INPHO/Donall Farmer
Giovanni Trapattoni facing the press yesterday.
Image: INPHO/Donall Farmer
ON THE EVE of Euro 2012, Glenn Whelan said Ireland wanted to be in the tournament "right to the end".
Richard Dunne said only today that the team's very definite aim was to win the trophy.
And, even as far as back as November and the night of qualification, Giovanni Trapattoni at least made those aspirations appear somewhat realistic by namechecking Greece 2004.
Reality itself, however, has worked out very differently. Ireland won't last until the end. Indeed, they had to start planning on how to get home before anyone else.
And, on the surface, there is no shame in that given the quality of the group and the gap in reaching major tournaments Ireland had to endure to get here.
But, when you look a little deeper, there are justifiable reasons for disappointment. Because it wasn't just those defeats, in hindsight, appear natural. It's their own very nature.
Here, while still accepting that Trapattoni was a qualified success in guiding us here, we attempt to explain the reasons for that disappointment…
Simple maths…
Ireland was the smallest country at Euro 2012 (our census figures have them as slightly smaller than Croatia). As such, it's little wonder Giovanni Trapattoni's team are also likely to finish 16th in terms of tournament ranking too. Weight of numbers give teams like Spain superior players.
Poor infrastructure
As small as Ireland is and as much competition as football has from Gaelic Games and rugby in terms of talent, the FAI still doesn't help itself as regards its infrastructure. Or, rather, it's lack of one. Whereas successful football countries such as Spain, Germany and the Netherlands have long implemented clear pyramids so there are clear coaching pathways for young players from schoolboy to senior professional with none falling through the gap, it's almost impossible to even describe the shape of Irish football.
We have a situation where the FAI has no real control over the grassroots and clubs can be formed wherever they feel like; schoolboy clubs pettily squabble with senior clubs for signatures but only in the hope of making sales later on; and, in the middle of all that, so many players fall through the gaps.
When the FAI made a half-hearted attempt to start sorting the structure around the same time as Trapattoni was appointed in 2008, one of the key quotes at the initial meeting was "why bother? It's a political nightmare." Worse, there's the overall philosophy. As one respected foreign coach said when watching an Irish under-21 match, "watch… This guy will just get it, put his head down and run with it." Against players with control and composure, we saw the ultimate effects of that on Thursday.
Until the FAI fix what's underneath, Ireland will only produce good players by coincidence and force of numbers rather than design.
Questionable tactics
Despite the very shaky platform the Irish squad stands on, the manner in which so many of them go through the British system — which is itself flawed — has at least given Ireland a good base at the minute. If the squad no longer has any world-class players like Roy Keane or Paul McGrath, it does have more top-division players than ever before — including the Charlton era. Since Trapattoni took over, there have always been questions over whether he used them correctly. He may well have in qualifying. He didn't in this tournament. For one, it remains absolutely astonishing that he continued to play a rigid two-man midfield against modern three-man set-ups in the build-up to Euro 2012 and then finally at the competition itself.
Inevitably, this was best illustrated against Spain.
What's more it lamentably illustrated the manager's absence of logic in this tournament. Since the Spanish won Euro 2008, every single opposition side has realised that the only way to play them is to accept you're going to have try and edge it, sit back very deep, congest all space and try and hit them on the counter. Ireland did all of that except the middle one… and that was the crucial one. Within two minutes, Andres Iniesta was allowed pick a through ball for Xavi just yards outside the Irish box. It's at least four years since he's been allowed to do that in an international game. All other sides have realised to allow it is to surrender the match to Spain.
See Sport
Differently
Get closer to the stories that matter with exclusive analysis, insight and debate in The42 Membership
Become a Member
They completely clog the area. Ireland didn't and, as such, gave the world champions their biggest tournament win since the 2006 World Cup. That doesn't come down to numbers of infrastructure. It comes down to poor planning.
Basing a team on a solidity that isn't actually there
In truth, Ireland's much-praised defensive record in the build-up to this tournament was always something of a mirage. Look, after all, at the teams they played and the context of the games they played them in while running up that record. Then look at the panic and on-the-edge heroics required any time they played anyone half-decent. In that, it wasn't the Miracle in Moscow that best illustrated the team's defensive level. It was the other game against Russia, when they were cut open three times. As such, there was a certain inevitability to the seven goals conceded against superior opposition in this tournament. Even more gallingly, six of those seven came from individual errors.
The real problem here, though, is that Trapattoni brought everything back to protection rather than possession. The sheer rigidity that was designed to block out opposition teams actually ensured that Ireland didn't have sufficient movement or innovation to keep the ball, meaning possession was constantly squandered. That, inevitably, put the backline even under more pressure. Had Trapattoni even had 5% more faith in his team's ability to play, they mightn't have been under such duress in defence.
Refusing to innovate
Despite perceptions, the real quality of Greece 2004 was that they innovated and adjusted their formation in every game to suit the opposition. In essence, for six games, they became impossible to read. Despite occasional statements, though, Trapattoni never once deviated from formula. And, as Slaven Bilic said on the eve of the Croatia game, this made Ireland simple to analyse and impossible to be surprised by. In effect, he had an easily accessible blueprint on how to beat them.
Refusing to make the changes that add a greater edge to the squad
Robbie Keane is undoubtedly Ireland's greatest ever striker. Trapattoni has repeatedly inferred that, despite the individuality that compromises any system, the forward will always be in the team because of the goal record that brought him that status. In short, he always seemed the likeliest to score. But, at 31, he's now gone six games without a goal – his longest drought since 2000.
What's more, Trapattoni's refusal to even drop him for tactical reasons meant a small player who is no longer so mobile was playing as a lone front man in a long-ball approach. It was an illogical decision that encapsulated Trapattoni's refusal to make changes that may have added an intensity or greater edge to the team.