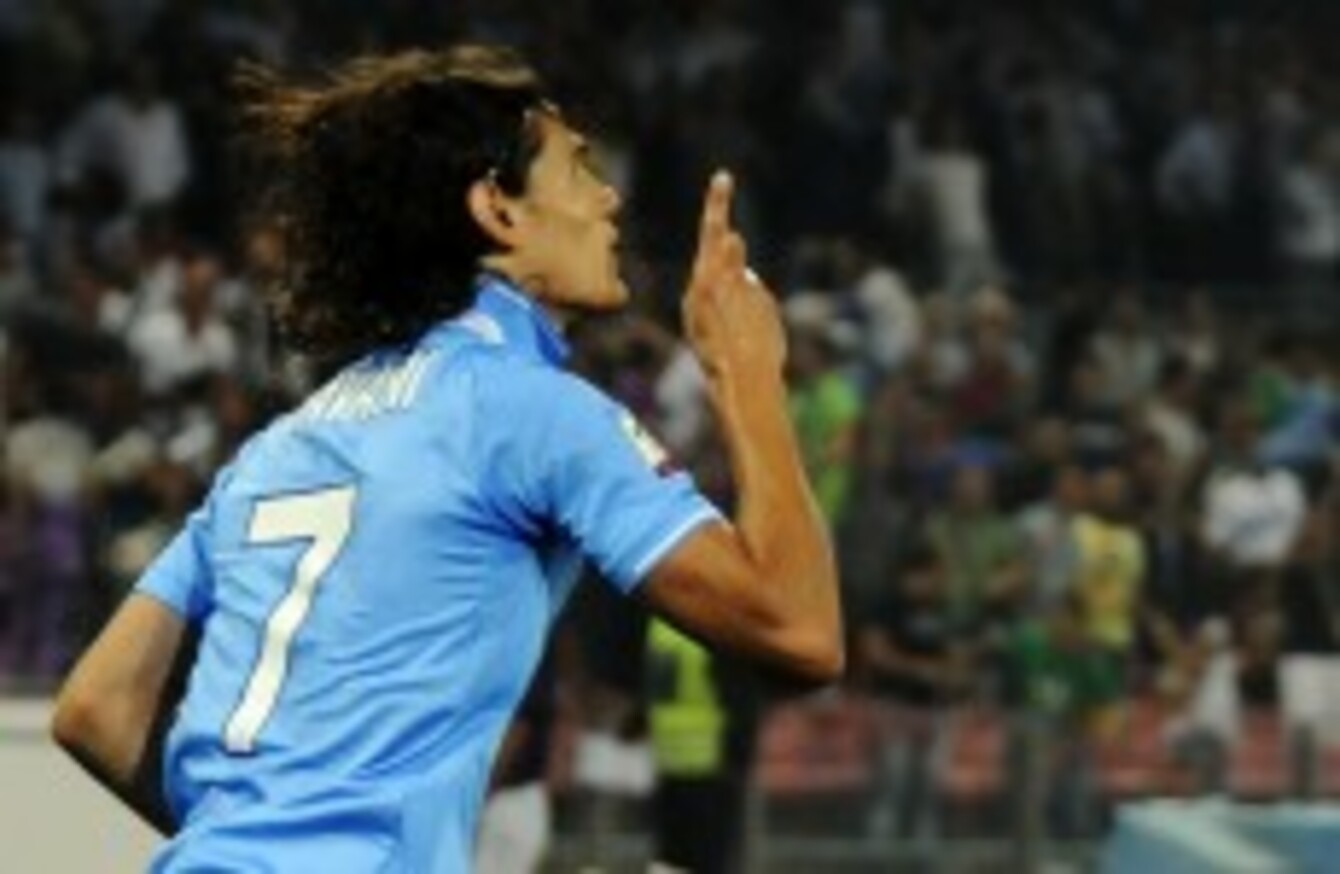 Napoli's Edison Cavani celebrates scoring against Milan.
Image: Salvatore Laporta/AP/Press Association Images
Napoli's Edison Cavani celebrates scoring against Milan.
Image: Salvatore Laporta/AP/Press Association Images
Serie A
NAPOLI WINNING AGAINST AC Milan isn't much of a surprise anymore.
The Naples club have emerged as a real force in Italy in recent seasons and demonstrated their prowess to the wider European audience last week when they lived comfortably with Manchester City.
What is surprising is an Alberto Aqualani goal.
Hell, Liverpool fans might say that an appearance from Alberto is shocking but the new AC Milan midfielder started and headed the champions into the lead before Edison Cavani hit a hat trick to seal a 3-1 Napoli win.
Inter and Roma played out a dull 0-0 draw which helped nobody. Everyone is still questioning Piero Gasperini's tactics in Milan while Luis Enrique seemed happy to emerge with a point.
Juventus continued their perfect start with a 1-0 away to Siena. If everyone else continues to drop points then the Turin club may be in with a shout this year.
The Goal
Take your pick from Napoli/Milan. Aqualani's header is fantastic while Cavani's second is a wonderful counter attack.

The Headline
La Gazzetta dello sport was suitably poetic about Cavani's hat-trick. "The Matador's miracle, Cavani pre-empts San Gennaro" Sunday was the day of the patron saint of Naples, San Gennaro.
Nobody is saying Cavani's a saint but a hat-trick is a hat-trick.
The Table
Bundesliga
Life should be sweet for Manuel Neuer. The undisputed German number one. Unquestionably one of the finest goalkeepers in the world and a big-money move to Germany's biggest club Bayern Munich sealed in the summer.
Yet nobody seems to like Manuel. He immediately had problems with Bayern's fans having once mocked former hero Oliver Kahn and on Sunday he was constantly jeered as he visited his old stomping ground at Schalke.
Bayern won 2-0 and continue to steamroll the opposition. That's five straight wins.
Champions Borussia Dortmund are finding life tough at the top. They went down 2-1 away to Hanover to record their second defeat in-a-row.
They were comforted by Bayer Leverkusen's shock 4-1 defeat to Cologne.
The Goal
Roberto Firmino has a name that would suggest he is quite good at football and it turns out he is. Good persistence and a cheeky lob.

The Headline
Bild had a fun time with pictures of Neuer in the traditional Lederhosen costume. The keeper is serving beer to his teammates and according to the daily the toast is a predictable "Here's to the victory at Schalke".
That is exactly how a bunch of footballers would talk over beers.
The Table
Eredivisie
No doubt what the game of the week was in Holland as the age-old rivalry between Ajax and PSV resumed. You knew it was big when ESPN had it on live.
PSV will be disappointed with the 2-2 draw. They had most of the possession and created the better chances. Tim Matavz, making his home debut for PSV opened the scoring and produced an excellent performance.
Ajax were persistent in levelling matters twice but we saw none of the flowing football that has been a staple since Frank de Boer took over. Cristian Erikson was quiet while the highly rated Gregory Van der Wiel had a nightmare at left-back.
The Goal
Tim Matavz's first is not a Goalzo in the strictest sense. But it's a smart finish and you should remember the name.

The Headline
De Telegraaf's is short and simple but important; "Tyton goes home" referring to the PSV goalkeeper Przemyslav Tyton who suffered a concussion in a sickening clash during Sunday's game.
Thankfully, it appears he has suffered no other injury from the incident.
The Table
Ligue 1
Didier Deschamps is staring into the abyss at Marseille. A 2-0 loss to Lyon leaves his side rooted to the bottom of the league.
Champions Lille were held to a 2-2 draw at home to Sochaux. Eden Hazard scored one and set up the other. Moneybags PSG came back twice to force a 2-2 draw with Evian. But Toulouse took the best comeback award, recovering from 2-0 down to win 3-2 at home to Bordeaux.
The Goal
Javier Pastore with a quality turn and finish.

The Headline
L'equipe said "Lyon sink Marseille" and then expanded to say that Marseille are "red lantern". Cycling fans will know what that means.
The Table
The Happy Camper: time to cool our jets