JAMIE CARRAGHER DEDICATED a chunk of a recent edition of Monday Night Football to a dissection of Brighton's playing style under Roberto de Zerbi. 
It wasn't exactly an Evan Ferguson love-in: it might have had some of the thirstier fan Twitter accounts sharpening their pitchforks when Carragher marvelled at how Brighton play "without a striker." Did Carragher not know about the teenage number nine now carrying a nation's hope on his shoulders? 
In truth, it was a compliment to Ferguson that Carragher didn't identify him as a striker, because De Zerbi is coaching Ferguson to be more than just a number nine. 
"With my staff we are working to improve him, to become not only a number nine, but to understand the play, to receive the ball or to attack the space — to complete the player. His quality is to score goals. But in the Premier League, and at the level he can reach, it's not enough to score goals. You have to play like a midfielder when you are far from goal and like a striker in the last 20 metres. We need Ferguson — and [Danny] Welbeck — to work like a No. 10, not only a number nine." 
Playing for Brighton, Ferguson doesn't stand on the shoulder of the last defender, waiting to run in behind. Instead, he drops deep looking for possession. 
Brighton's formation under De Zerbi would be best written on paper as a 4-2-3-1, but when they are in possession and building from the back, it is a 4-2-4. The midfield two drop off to take the ball off the backline, and Ferguson and the No.10 (often Alexis McAllister) drop into the centre circle to link play so that the two now-prolific wide players – Solly March and Karou Mitoma -  push high and wide, ready to run in behind. 
That Ferguson is already this tactically accomplished at 18 is impressive, and a compliment to both his intelligence and his club's coaching.  
He has always shown good spatial awareness: here he is at the age of just 14, cleverly dummying the ball for Eric Molloy to equalise in a friendly against Chelsea. 
"I haven't seen anyone coach that system before, the way that Brighton play. That's new to me", says Stephen Kenny of Brighton's approach.
"Other teams haven't worked it out at all, it's a genuinely new way of playing and it makes it so simple for Evan, he knows what he's got to do: get to the right or left side of the six [opposition's holding midfielder]. He gets it in space, lays it off and gets himself in the box; or he finds himself in midfield turning with an acre of space because the centre halves have dropped off because of Mitoma and March are running a mile in behind." 
But Ireland don't play like Brighton as Kenny explained after the win against Latvia. 
"Now, all of a sudden I'm asking [Ferguson] to play with Michael Obafemi in a traditional front two where, 'you go long and you go short and it's switch, switch, switch'; come short, link with each other, come around the face. And he's learning that. Michael is as well because he's been playing up front for Swansea on his own, running the last line. We were a bit flawed here in the first half against Norway because our strikers, Callum Robinson and Michael Obafemi, were too far apart I felt."  
While Ferguson scored against Latvia, it was his tactical awareness that stood out. It was impressive from his point of view and encouraging from Ireland's, as they need him to work as effectively as a false nine as they do a traditional number nine. 
Kenny often speaks about the importance of "penetration" in Ireland's passing and too often they have lacked it, with the ball shuffled about between defenders and midfielders with little attacking intent. 
What greatly helps add that penetration is a striker who can hold the ball up and bring others into play. 
Adam Idah has shown flashes of being able to do it but hasn't played for Ireland in 16 months because of injury, while the player who did it best before him, David McGoldrick, retired early in Kenny's reign. 
Ferguson, however, has the qualities to be exactly the outlet Ireland need. 
"For an 18-year old his hold-up play is very good", says his Ireland team-mate Chiedozie Ogbene. "He is physically strong. As a number nine, if your hold-up play is good, it allows your wingers and No.10 to make runs or hold a run, and that is something he does very well. It does help the team massively, especially when we need an out.
"My attributes are to stretch the pitch and his are to manage it and get the midfielders up the pitch. That's what I notice when I am around him and it allows me to calculate my runs a bit more." 
One of the better stats to measure a team's penetration is titled – no sniggering down the back, please – 'Deep Completions', defined as a pass that is completed within 20 metres of the opponent's goal. (Crosses don't count.) 
Okay, make some allowances for the quality of the opposition, but Ireland had 10 successful 'Deep Completions' in the midweek game against Latvia, twice what they normally average in a game, the second-highest total they have ever completed under Kenny, and the joint-highest since McGoldrick retired. 
Ferguson was on the pitch for seven of these penetrative passes: he played one of them and received two of them. 
One of them was his goal – Obafemi's pop-back pass from the endline was very good – and another was when he ran off the back of a defender and took Doherty's pass facing the opposition goal, taking a shot that was blocked behind for a corner. 
Kenny spoke of the need of his strikers to play closer together, which Obafemi and Ferguson did reasonably well. Another of Ireland's 'Deep completions' was this Doherty pass over the top for Obafemi – Ferguson dropping off is enough to occupy one of the centre backs and leave the other isolated against Obafemi.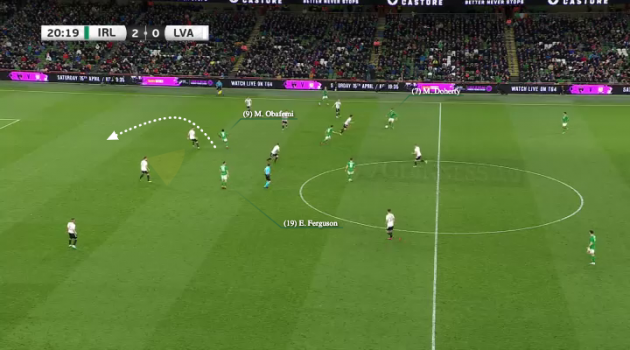 As Ogbene says, Ferguson also offers a good out-ball for moments Ireland find themselves under pressure. There were plenty of examples against Latvia, but there's one, as Callum O'Dowda finds himself boxed in by the touchline, so aims the ball in Ferguson's direction.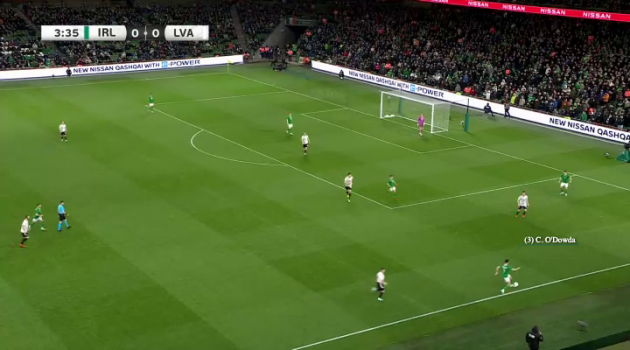 Ferguson muscles his way in front of the defender, takes another touch and then lays the ball back to O'Dowda.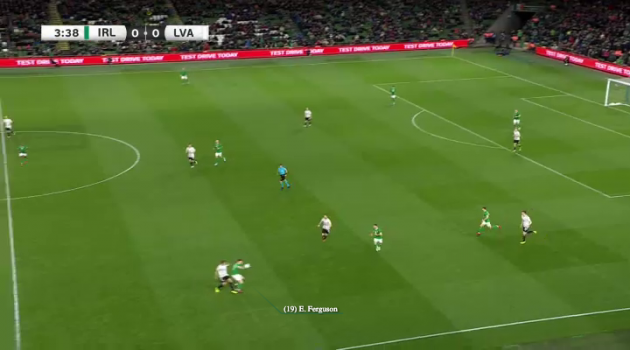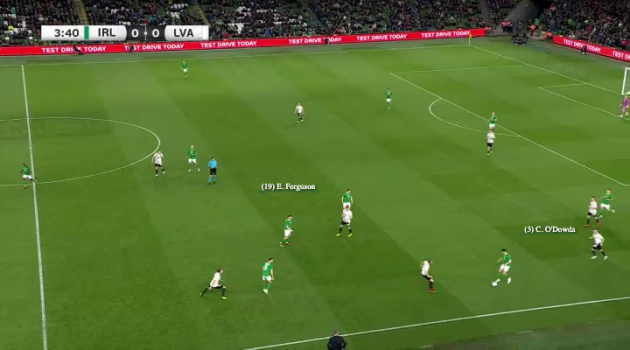 It is unglamorous but effective stuff from Ferguson, and with Idah injured, Ireland didn't have anyone who could do this kind of work for all of last year. The Latvian manager spoke after the game that their game-plan was to push up and press Ireland's wing-backs, as they did in this instance with O'Dowda. Ferguson offered a tool to counter that plan. 
Ogbene says Ferguson's presence can work in other ways too.
"He has an eye for goal. You can see he is in the box every time and that physical presence will attract defenders towards him and maybe leave space for me at the back post."