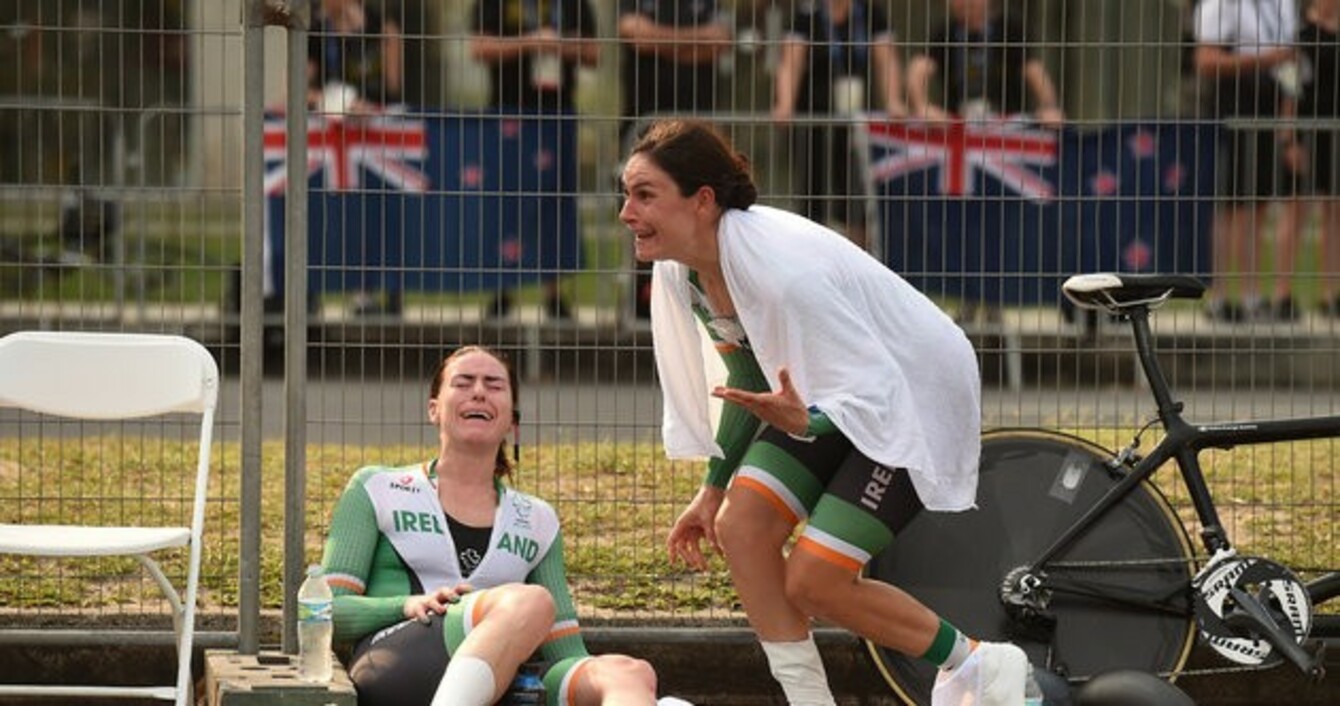 Eve McCrystal (left) and Katie-George Dunlevy (right) react to their success at the Paralympics.
Eve McCrystal (left) and Katie-George Dunlevy (right) react to their success at the Paralympics.
IT IS ROUGHLY three years since Katie-George Dunlevy and pilot Eve McCrystal were introduced to one another.
At that stage, Dunlevy had already gained considerable renown in the sports world. Born in Crawley, she won two world titles representing Britain in rowing in 2004 and 2005.
Yet with funding for the sport scarce and her passion for it diminishing, Dunlevy opted to make a bold move.
Despite feeling a degree of apprehension and having little experience in the sport, the talented and versatile athlete made the switch to para-cycling and accepted an offer to represent Ireland at the 2011 Road World Championships, qualifying for the country through her Donegal-born father.
It didn't take long before Dunlevy's passion for the sport became apparent. She ultimately went so far as to represent Ireland at the 2012 Paralympics along with pilot Sandra Fitzgerald.
The pair made significant progress during their short time together, even winning the World Cup Road Race in the lead up to London 2012.
The subsequent performance at the Paralympics confirmed Dunlevy's natural talent for the sport. With Fitzgerald as her pilot, she secured personal bests in the Track Pursuit and Track TT events, but ultimately narrowly missed out on a medal, with the pair coming seventh once and fifth three times in the respective para-cycling events.
Yet despite an encouraging Games, Dunlevy and Fitzgerald amicably parted ways thereafter. The latter, however, had a recommendation for her replacement. A fellow member of An Garda Síochána, Eve McCrystal, had been a talented triathlete up to that point.
Sport had taken a backseat in McCrystal's life for a number of years, however, as she sought to focus on work and raising her two children, but the time was now right to get seriously involved again.
I was aware that Sandra was finished with Katie, she was just moving on," McCrystal tells The42. "She just said to me in a room one evening (at a triathlon event): 'Do you know what, you'd be perfect for that.' I didn't hear much more about it, I just did more races and I went home."
The 38-year-old Dundalk native later received a call from Neill Delahaye, the National Performance Coach, who made a more formal offer for her to team up alongside Dunlevy with an eye on the Paralympics three years later.
He said: 'look, it's there for you if you want to have a go at it'. I did and I got on really well with Katie from the start, we just gelled."
McCrystal comes from a sporting family — she took part in swimming, athletics and football while growing up and her brother Bryan is a former professional footballer who was once on the books at Leeds United and became the Irish Ironman record holder at an event in Barcelona in October 2015.
Once they paired up, it didn't take McCrystal long to realise she had something special going with Dunlevy.
Katie's very easy to get on with. We've very different personalities off the bike. We always said if we didn't have sport, we might never be friends.
"We're very different people, but on the bike, we're very close. Katie would always say she was very lucky to get a pilot who wanted the gold medal as much as she did.
We never veered from that and the two of us are old enough to realise you never win anything from pulling against each other and you have to come together and work together and that's what a team is. I love being part of a team more than being out on the bike on your own. She's always there, you can chat together, you can train together."
And how specifically are the two different?
"Off the bike, I'd be more the outspoken one. I'd sometimes have to check myself that I wouldn't be speaking for Katie.
But when we're on the bike, she never shuts up. I think because of my role, I would take a lot more pressure on. Katie would talk me through it. Katie's very vocal on the bike and her personality really comes out on the bike. When she's off the bike, she's quieter. We kind of reverse our roles on and off the bike. But we get on very well, even if we are chalk and cheese."
For those unfamiliar with how the sport works, McCrystal as the pilot is responsible for steering the bike and controlling the gears.
35-year-old Dunlevy — who was at the age of 11 diagnosed with retinitis pigmentosa, a condition that that causes severe vision impairment — remains acutely aware of everything that's going on in the race despite her limited sight, thanks to the efforts of her partner.
We do communicate all of the time," McCrystal explains. "I'll tell her if we're in a road race that 'the British girls are after attacking,' and she's aware of what's going on at every point in the race. She's never just sitting on the back of the bike pedalling."
McCrystal, who feels she has become a "better athlete" since growing older and having kids, says that it was about six months before Rio when they started to seriously believe they could win a gold medal.
We got great results in the World Cup going into Rio and thought 'we can do this,'" she recalls. "We just kept going."
Preparations intensified as the dream grew closer. McCrystal took a year-long leave of absence from her work with An Garda Síochána. A team that included nutritionists and sports psychologists were assembled. Pre-Paralympics training camps in Portugal and Spain were especially tough going, as they prepared for the possibility of competing in scorching heat during the Games.
But eventually, the countless hours they had dedicated towards their pursuit paid off handsomely.
Dunlevy and McCrystal returned from Rio with two medals — a gold (time trial B) and a silver (road race B).
Dunlevy attributes trust and self-belief — as well as the efforts of their backroom team in ensuring they were fully prepared for the event — as the three key ingredients of their success.
I think the two of us just believed in each other. I knew that on the day, she would never let me down, and I didn't want to let her down.
"I couldn't breathe after that time trial (in which they won gold), I couldn't even see. I knew that she was behind me giving exactly the same — 110%. I was never going to take my foot off the gas to let her down.
Our maximum speed was 90 kilometres an hour coming down a hill in Rio. She has to trust me, she's no choice," McCrystal laughs.
The duo's triumphant moment was captured brilliantly by Diarmuid Greene of Sportsfile (it's the main image for this article).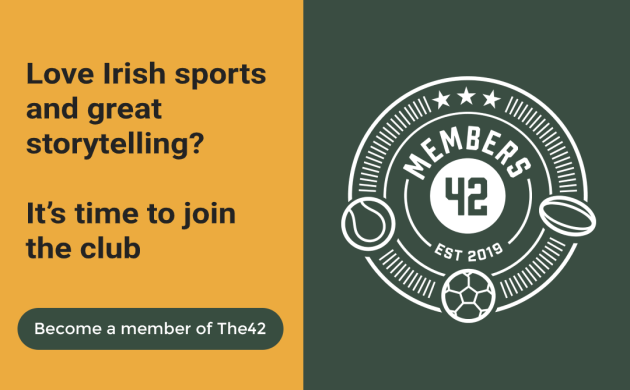 Greene's photograph shows a tearful McCrystal and Dunlevy after winning their gold medal at the time trial, in equal parts exhausted and ecstatic as they bask in their hard-earned success.
Unsurprisingly, Greene's evocative pic was voted Image of the Games at the OCS Irish Paralympic Awards earlier this month.
McCrystal says she was feeling "just pure relief" at the time of the iconic snapshot.
There was a lot of pressure on me as the pilot because ultimately, the decisions fell with me throughout the time trial, so when I heard we won, it was just 'thank god for that'.
"Everything went well at the right time. You don't always get that in sport, so it was just a really good day for both of us."
Now back in her day job with An Garda Síochána, McCrystal's main sporting aim for 2017 is to go one better than the silver medal herself and Dunlevy achieved at the UCI Para-cycling Road World Championships in 2014.
Beyond that event in Pietermaritzburg, South Africa at the end of August, McCrystal insists she doesn't know where her sporting future lies, though the 38-year-old is not ruling out another stab at a gold medal for the Tokyo 2020 Games.
McCrysyal's two young girls, however, remain very much the priority, and it was their reaction that meant the most to her after the Paralympic triumph.
I'm extremely proud of both (Katie and myself). When you're part of a team, you're confidently talking and hoping and wishing that you're going to get out of it what you can after the hard work put in.
"When you're in the bubble of Rio and the Paralympic Village, you're not really aware of (the hype back home), you're just there to do a job ultimately. To do it and come back with a gold and silver medal and come back to the homecoming we came home to is just amazing.
For me, to see the children (Ava and Nessa), who were just over the moon, made it all worthwhile, the sacrifices I've been through. I've been away from them for a while, for the 12 months leading up to Rio. To see the wee smiles on their faces and the medals and taking them in to school the next day was the highlight for me.
"They're only small — seven and eight — but I could genuinely see how proud they were of me."
The42 is on Instagram! Tap the button below on your phone to follow us!