BY AND LARGE, football is a game watched by fans who feel an inextricable sense of dissatisfaction with whatever team they have the misfortune to support.
Yet irrationally, most fans hope, usually in vain, that the situation will change and that their side's constant search for perfection will somehow eventually be sated.
This sense of perfection or near-perfection almost never arrives, except in very rare instances, which is what makes the Arsenal 2003-04 team so special.
This week marks the anniversary of the onset of the bad times, where their 49-game unbeaten run finally came to an end, with a number of barren, trophyless years ahead of them (even if they did subsequently win the FA Cup in 2005).
Yet for that one league campaign, Thierry Henry and co were literally unbeatable, and not only did they show plenty of grit and determination to achieve this feat, they also consistently played with a distinctive sense of panache and style, thereby epitomising coach Arsene Wenger's idealistic vision of how football should be played.
For the Gunners' fans, it was a season of sheer nirvana, and one in particular carefully absorbed every detail of this miraculous campaign.
Amy Lawrence first attended an Arsenal match at Highbury at the age of six and now works as a journalist, covering the team mostly for The Guardian and The Observer. She has just released a book, Invincible: Inside Arsenal's Unbeaten 2003-04 season, which includes interviews with many of those involved in the club's unprecedented success.
"Writing a regular article is sort of like dipping your toe into the water, whereas book writing is being thrown into the sea and trying to stay afloat and find a way back to shore," she tells TheScore.ie. "But it was massively rewarding, because it gave me the opportunity to track down people who were not just very good players, but interesting characters as well."
One of those featured is Arsene Wenger, the coach who masterminded the triumph. Wenger, like almost all Premier Leagues managers, comes across as quite evasive during his regular post-match interviews and press conferences. Yet Lawrence manages to draw an unusual level of honesty from the 65-year-old French boss, such as when Wenger admits he should have effectively conceded the FA Cup semi-final against Manchester United and played a second-string team, given that his side had a pivotal and ultimately unsuccessful Champions League quarter-final game against Claudio Ranieri's Chelsea later the same week.
So what was the secret behind Lawrence's success in encouraging Wenger to open up?
"I see Arsene Wenger a lot on a regular basis. Daily newspapers get between five and seven minutes to talk to him, so sometimes you're lucky to get one question in. And the chance to develop a train of thought is almost impossible. People have different agendas. So it's not a circumstance that lends itself to being very relaxed. And most managers are on the defensive during press conferences.
"I was very lucky that he was willing to grant me a proper one-on-one interview. And I went down to see him after the FA Cup final. The season had finished. He was obviously in a good mood because they'd won something after a long period. So he sat down and we talked for an hour and a half.
"He's in a completely different mindset, and once you see him in that sort of mindset, you see the real Arsene Wenger. You can get him to expand on his ideas and what he really thinks of people, so that was brilliant."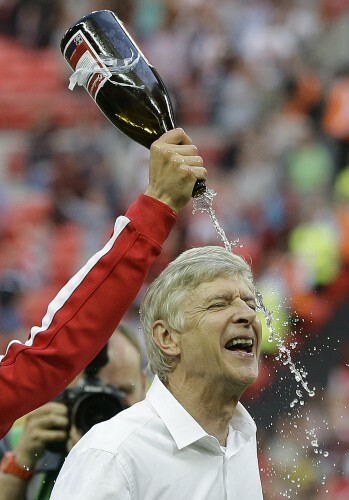 Kirsty Wigglesworth Kirsty Wigglesworth
(Lawrence interviewed Wenger shortly after the club's FA Cup triumph last season)
The players that feature in the book (including Sol Campbell, Dennis Bergkamp and Thierry Henry) are likewise more candid perhaps than modern fans have come to expect, and Lawrence says they also needed little encouragement in speaking their mind, that is, once she accomplished the unenviable task of arranging these interviews.
"The biggest difficulty is fixing up the interview… I'm old enough that when I started off, you would just rock up at the training ground, and you could basically just hang about and players would come out and you could talk to them, and if you passed them in the corridor, you'd say 'hi' and have some small talk, but that's gone now. That's ancient history.
"I did know a few of the guys, so I wasn't a total stranger, but you've got to go through agents, press officers, and it's still a bit of a complex process. But once I'd set up meetings with everybody, it came across how they all wanted to talk about that era.
"There's quite a lot of nostalgia from the players themselves. I think they enjoyed what they experienced so much. It came across very strongly. So you got the feeling they would get caught for speeding if somebody had been standing outside the training ground seeing their cars arriving, because they seemed to want to go to work so much."
And while the team's skill and technical ability is so often lauded, on a physical and psychological level — so often traits the Gunners are accused of lacking under Wenger — they were similarly formidable. One especially memorable and infamous moment saw a 10-man Arsenal team display admirable resolve to grind out a 0-0 draw at Old Trafford against Manchester United.
The game in question ended dramatically, with star United striker Ruud van Nistelrooy missing a penalty, and a number of Arsenal players — most notably Martin Keown — aggressively goading the Dutch striker following his failure (see video below).
The incident was typically blown out of proportion by some critics and created a media furore, with a number of players being hit with bans and suspensions as a result. Did this ostensible media overreaction consequently serve to strengthen Arsenal and create a sense of 'us v them' in their minds?
"In terms of the creation of a siege mentality, it definitely had an effect. But I got the feeling that the group was very strong anyway and I don't think it necessarily needed that moment to bring them closer together.
"The predominant emotion was that it was just them against Manchester United and how they didn't want to lose against them. It was almost as simple as that. It boils down to the very strong rivalry these two teams had at the time, and I think both sets of players were conscious that if you got beaten by the other one, that might be decisive come the end of the season.
"It was also to do with the fact that they didn't like Van Nistelrooy, who they felt provoked a situation where Vieira got sent off. They didn't care about being not beaten in the season at that point, they just cared about being unbeaten against Manchester United."
BestFightsInSport / YouTube
Yet for all that great team achieved, there will inevitably also always be a sense of regret that they underperformed in the Champions League. The Gunners were beaten by Chelsea thanks to a last-minute Wayne Bridge goal in the quarter-finals of the competition. Had they overcome their London rivals, only Monaco and Porto — two accomplished but beatable teams — would have stood between them and further glory.
"All of them look back with regret about not winning the Champions League that season. They would have faced Monaco and then Porto in the final, which would have been no cake walk. But I think Arsenal felt that they were better than all of those teams at that time."
The season was also one of their last at Highbury, the stadium in which the team had regularly played home matches since 1913. Now playing their games at the Emirates Stadium, Lawrence opens the book with an impassioned prologue, which expertly captures the aura that their historic former ground emitted.
"Personally, I think they lost something forever when they left Highbury. I don't think it's something that just takes a couple of years to get used to. I think at Highbury, they felt at home in a way that it's difficult to feel in a modern stadium, no matter how much you try to decorate it to make it have artefacts or things on the wall that remind you of the club.
"I'm a hopeless nostalgic about all football grounds. I loved going to Roker Park or the Baseball Ground — any of the undeveloped stadiums where I spent my youth travelling around the country. I would rather go to them even if the toilets were rubbish, or the police didn't treat you very well. In modern stadiums, you don't have to queue to use the loos, you can get edible food at half-time, so it's a completely different experience.
"But Highbury had history in its walls. You could sense grandeur. That idea in the value of Arsenal that they've always tried to hold onto. The history of the place — when you walked in there you could smell it, you could feel it. Even guys who came from abroad, they felt that history as well. You can't replicate it in modern stadiums.
"They were also so close to one another in that tunnel. It was a real squeeze to go down, with 22 gigantic athletes standing next to each other. That physical closeness, that intensity was a big part of the experience. The Arsenal team from that era used to love being in that tunnel. Feeling that sensation when they were standing next to one another. They were big and physically very powerful. Sometimes they'd know that the opposition looked scared — Roy Keane might have been the exception to that though [see below]."
wazzatheking / YouTube
Nowadays of course, the Gunners have a new stadium and a new team, and Lawrence echoes the general opinion that the current side lack the power, consistency and defensive solidity to launch a sustained challenge for the Premier League title. Nevertheless, she points out that Wenger's much-discussed supposed defensive 'blind spot' comes with a few caveats.
"You can slag off Arsene Wenger's notions of defending all you like, and people will point out that when he arrived, he had that very famous back four of Lee Dixon, Nigel Winterburn, Steve Bould and Tony Adams, who were still going very strong — that was an amazing foundation for him to come into. But he completely rebuilt the defence that went 49 games unbeaten, which is no mean feat, and it was completely put together by him.
"There seems to be a credibility to the idea that it's the weak spot. He certainly seems to enjoy playing with attacking players more. The style of football that he believes in is based on this almost free-form, flowing football that's quite natural. He likes players that can get the ball and make decisions for themselves.
"In some ways, it's the complete opposite of the spectrum from someone like Mourinho, who organises his team in detail. You get the feeling that the players know exactly where they should be standing, who gets the ball next and where it comes from, absolutely every minute of every game whatever the circumstances. Whereas Wenger's teams are sent out with this kind of ideal and when it finishes up, it can be exposed and particularly, the defence can be exposed."
And given the club's subsequent status, does she feel many, if any, of the current players would be good enough to get a place in the 'Invincibles' team?
"The 2003-04 team was a collective, and you probably could, for example, take out Freddie Ljungberg and put in Alexis Sanchez, and I don't think you'd think that's a big step back. Could you take out Kolo Toure and put in Laurent Koscielny? Maybe you wouldn't see the difference.
"Certainly, some of the squad players — Kanu, Wiltord, Pascal Cygan — who were very good players in their day, but not necessarily absolute world beaters on the level of an Henry or a Vieira, could be replaced. But the balance and the mix and the togetherness was what made that group. It was like every jigsaw piece fit perfectly. You could possibly swap some individuals, but not too many."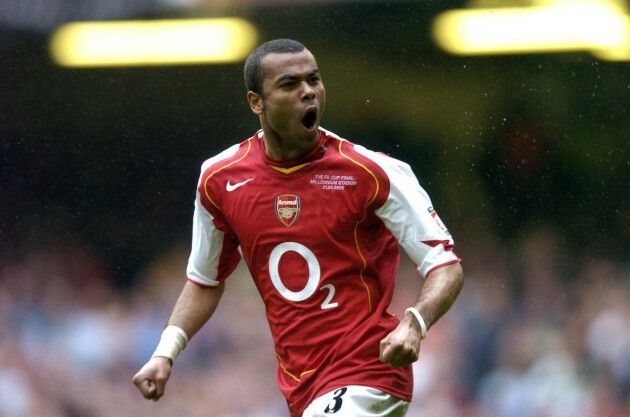 PA Archive / Press Association Images PA Archive / Press Association Images / Press Association Images
Yet as strong as this collective was, there was one player in particular who ended up leaving the club in an acrimonious manner. Ashley Cole is the only star from that era who would likely provoke a torrent of abuse rather than warm applause were he to appear at the Emirates Stadium anytime in the near future.
"When he left and went to Chelsea, there was a lot of bad feeling on Arsenal's part and on his part. I don't think he feels like he was treated well, and obviously Arsenal don't feel as if they were treated well. It was like a very messy divorce.
"You'd like to think with a bit of time, he could look back on that period and be proud of it. I'm not sure he's ready to do that yet — he certainly wasn't ready while he was a Chelsea player.
"Perhaps in a few years' time when his career is over and he has a bit more distance, maybe he can recognise what he achieved. I wouldn't be convinced it'll happen, but certainly the players spoke fondly of him and had a lot of affection for him as a person as well as a player. But there's obviously still a bit of a problem there.
"Arsene sees it as a bit of a father-son relationship with his players. He does feel very warmly and wants them to do well — to the point where he often recognises that it is time for someone to move on, either if they're not playing enough, or in certain cases when players might have an opportunity to go to a Barcelona and he might not like it, but he understands not to stand in the way of a human being finding their happiness.
"I think he's very regretful of the whole Ashley Cole situation. It was Patrick Vieira who said he felt Ashley Cole was going to be the next Arsenal captain after him, and that he should have had his whole career at the club and should have been captain. That's quite a big accolade to put on him, which is why it hurt so much when he left."
For more details on Invincible: Inside Arsenal's Unbeaten 2003-2004 season, click here.