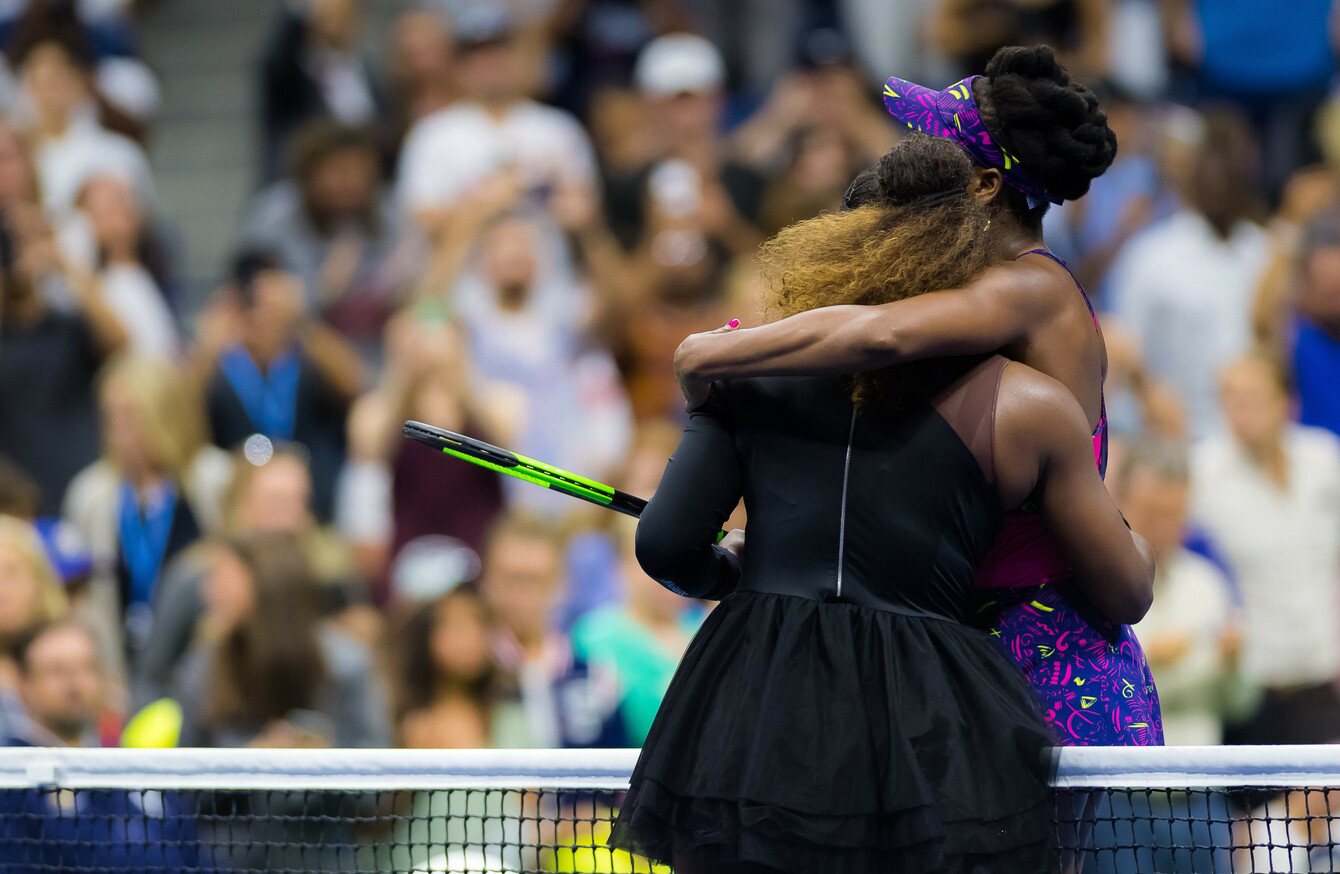 Serena and Venus Williams embrace at the US Open.
Image: AFP7
Serena and Venus Williams embrace at the US Open.
Image: AFP7
SERENA WILLIAMS MAY have triumphed over her older sister Venus Williams at the US Open on Friday evening, but it's not a win she takes lightly.
"It's not easy. She's my best friend," said Serena during an on-court interview with ESPN after the match when asked what it's like beating her sister. "She means the world to me and is so supportive of my career. Every time she loses I feel like I do. It's a tournament and we all know there's more to life than playing each other and just playing tennis."
Friday's match was the 30th time the sisters have gone head-to-head professionally. Going into the match, history leaned in Serena's favour. Serena has won 17 of the previous times the sisters have played one another.
Serena swiftly won the siblings' latest matchup Friday evening in Arthur Ashe stadium in two consecutive sets (6-1, 6-2) despite suffering from an ankle roll early in the match.
"I love her will all my heart and she's the reason I'm here," Serena added after the match. "She's [Venus] the only reason I'm still out here so I owe everything to her."
As noted by the commentators, Serena didn't pump her fist or jump for joy after beating Venus. The two sisters gave each other a simple hug afterward and Serena waved to the crowd.
Serena could have easily said something playful about beating her older sis, but it's her heartfelt message towards her sister that has fans melting.
In 2018, it's amazing to see the Williams sisters playing a match again.
Seven years ago in 2011, Venus was diagnosed with autoimmune disease Sjögren's syndrome, which causes joint pain and fatigue. The disease caused Venus to withdraw from tournaments. At one point, her ranking dropped to 137. It wasn't until 2015 that Venus was ranked among the top 10 in the world again.
Serena Williams will be moving onto the fourth round of the US Open where she will play 33-year-old Kaia Kanepi. Serena has won the US Open six times. The last time she won the tournament was in 2014.
Serena Williams on beating sister Venus in their 30th professional match: "It's not easy. She's my best friend. She means the world to me ... Every time she loses, I feel like I do." #USOpen pic.twitter.com/ATzbTzRemG

— Kirsten (@KirstenAcuna) September 1, 2018