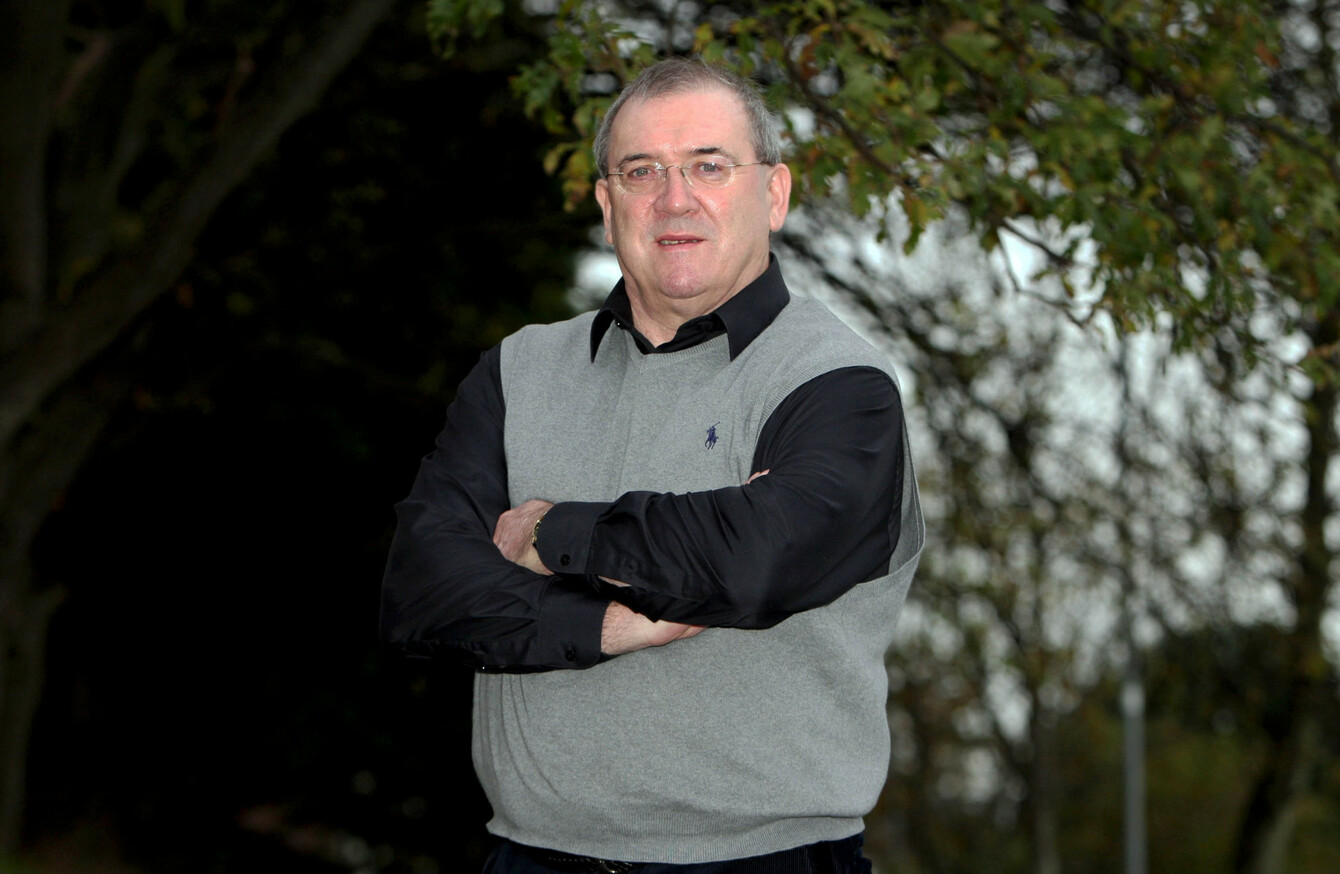 Eoin Hand (file pic).
Image: Donall Farmer/INPHO
Eoin Hand (file pic).
Image: Donall Farmer/INPHO
EX-IRELAND MANAGER Eoin Hand feels problems with player development and some of the decision-making from the Football Association of Ireland are big reasons for the national team's current problems.
A poor series of results, encompassing just one win in nine matches over the course of 2018, led to Martin O'Neill's departure as Irish manager on Wednesday. 
Hand, a 72-year-old Dubliner who managed Ireland between 1980 and 1985, and came desperately close to guiding the Boys in Green to the '82 World Cup, feels changes are also needed at boardroom level in order to increase the team's chances of success going forward, joining other big names in Irish soccer.
"I think we're standing still," he tells The42. "I don't think there's any forward-thinking. There might be talk of it, but it doesn't happen. I still think that is the case.
"Brian Kerr made a great contribution to Irish football, but [he does] nothing now other than punditry. [Ex-Ireland and Arsenal player] John Devine is a fella that had to go abroad to America. He was doing some great work at underage level with all the kids. He had great ideas and great plans and actually put them down in videos. But he was shunned by the FAI to the point where he had to leave. That shouldn't happen."
Hand, meanwhile, is also on bad terms with the FAI. He is currently, he thinks, persona-non grata at the Aviva Stadium after a falling out with the powers that be.
In 1999, the former manager started work as a career guidance officer for the association, giving advice and support to young players, while securing substantial pay-outs to the schoolboy clubs who helped develop future stars, including Damien Duff and Robbie Keane. 
The former Shelbourne and Huddersfield boss was subsequently dismissed from his FAI role in 2012, taking an initially successful unfair dismissal case against the association. But after a two-year court battle, the organisation appealed the decision and the Labour Court overturned the first ruling. 
Hand feels it has long been evident that there are problems with the current system for young players in Ireland.
"I don't think there has to be an awful lot of thought gone into the development of our game here," he says.
One of the big things that was mooted when I was involved — this is going back to 2003-2005 — there was supposed to be a national academy. The view there was that players could go into that national academy and they could get top coaching by top coaches, but that's never happened.
"There's no reason why that should not have happened. We have all the facilities out in Abbotstown. It was talked about and it was supposed to be happening way back then. But that was shelved for no apparent reason.
"I was involved myself in getting top men in England coming across to give their views and a consultancy they would offer to set up a national academy, but that hasn't happened. All these things are very wrong. We stood still basically and are depending on the supply line from England."
As a result, Hand believes, Irish football has suffered as a whole. The management are increasingly reliant on players from the Championship, with some in the current squad even struggling to get regular game time at that level.
"You've got to keep on trying to improve your own situation. We've gone the other way entirely.
"The recruitment of Irish players to top clubs is at a minimum now. Therefore, you've got to change the whole thing about it. Going way back, Norway were similar to ourselves. They had their own academies. They kept their players in Norway until they were sure of being able to handle going abroad.
"Consequently, you had players who were sold to Manchester United and the top clubs, which was bringing in huge money, because they were far-seeing. They had no academy, they needed one. They wanted their players to be educated as well as learning the football. That's where the national academies would have been, so a player wouldn't have had to go to England when he was 15 or 16. They could stay until they finished their education here, and plus they're getting the top coaching.
"They would be arguably then sold to English clubs as more mature players rather than youngsters, and there would be transfer fees involved. What I was doing — the Fifa compensation for any club that trained a player from the age of 12 — that's still there. Although I believe that's non-operational, because I was doing that work. But that's another story.
"So I do think the whole structure needs to be looked at."
With the obvious problems that exist, Hand says Martin O'Neill's successor, whoever that may be, faces an arduous task.
I think the new manager should assess the whole situation about how we can organise even before they get to [senior football] and that would mean liaising with all the underage people. All the managers, it's all separate units, the technical guy Ruud Dokter, liaising with all those people. He is now the flagship, whoever is in charge of the national team, because the national team is the most important [aspect] in every way — financially, that now becomes a huge worry unless the supporters see some progress. We're not looking to be a winning team all the time — we know that we're always going to strive to punch above our weight, but we've always done that. 
"The great example is our rugby team. It's outstanding. How much of it is down to Joe Schmidt and the whole structures of rugby? The way they kept the players in Ireland and organised to do it. It's not a fluke that Ireland are up at the top now in world rugby. There's a reason. There were plans. And of course, the man to execute them is brilliant — the coach. You have totally the reverse going on with the FAI. To me, the commitment was lacking and the attention to detail, things where you think: 'Oh my gosh, what's supposed to happen there?' But it didn't happen and didn't look likely to happen. All those things, they all show, they manifest themselves in the performance. The national team obviously is very important. The supporters, if they lose faith, then that's it. It's time to change."
Hand is not the only significant figure in Irish soccer to have suggested that major changes are required. Fellow ex-Ireland boss Kerr has been similarly critical of the FAI, while former player and assistant boss Liam Brady said recently on The Stand podcast: "We've had 15 years of John [Delaney] and I think the only progress is that John's career has gone up and up."
Subscribe to our new podcast, Heineken Rugby Weekly on The42, here: