1. Can Ireland pick up from where they left off against Argentina, or is it back to a hard slog?
Donnacha Ryan spoke about this during the week – he feels the Argentina win was a good way to finish the November series but there's been  so much provincial rugby played since, and the 6 Nations has such an intense build-up, that really, this Wales game is a clean slate for all involved.
On Off the Ball we tried to logically analyse that Argentina result in the context of Ireland's jagged form graph over the previous three season, and the conclusion was we need more evidence.
Anyone suggesting we have turned a new leaf because of Heaslip's captaincy, a few new faces on the wings, and some nice tries against Fiji, is working off incomplete information.
2. What do you see as the biggest weakness in this Irish team or game-plan?
Lack of variety in the game-plan.
Against South Africa last year we box-kicked incessantly, as we did in the 6 Nations for long periods. Against Wales in the RWC quarter final we kept shipping ball to Sean O'Brien in narrow channels with three or four defenders waiting for him. Against Wales in Dublin last season we persisted with a passive defensive system. Then there are days when we seem intent on running it all day with no chip kicks, no switch moves, no mauls, or even plain old kicking to the corners.
We don't adapt when things aren't working.
Leinster, even at their lowest ebb this season, always probed and looked for space. The best ball-carriers will still be destroyed if a defender has his feet planted and knows what he's facing. That's the essence of losing the physical battle.
What Leinster, Harlequins, and a few others try to do is always keep the defender guessing until the very last second, so that even when the tackle is made, the runner is at least making two or three yards. That requires smart players, but it also requires smart coaches.
Ireland normally play this restricted game-plan where the opposition defenders don't have to engage their brains, they just tackle, get up, and tackle again. Half of Geordan Murphy's book focuses on how Ireland prepared for RWC 2011. He couldn't get over the lack of complexity and lack of variety, compared to what he does at Leicester, and he made his views known to Kidney and Les Kiss. International coaches have less time with players, but there is a happy medium there.
3. The switch in captaincy — the right decision, the right man?
Of all the things that have gone wrong for Ireland since 2009, captaincy isn't one of them. Why change one of the reliable components of this squad?
O'Driscoll has been loyal to Kidney through some shaky periods for the coach, this is the first time in O'Driscoll's career he has been vulnerable (because of injury and age) and Kidney lets him go as captain.
Heaslip has been heavily criticised, particularly by the print media. He has at times tried too hard to be perceived as laid back, and a casual approach doesn't suit captaincy. The reality though is anyone that's worked that hard to get to where he is must be focused, efficient and a real workhorse.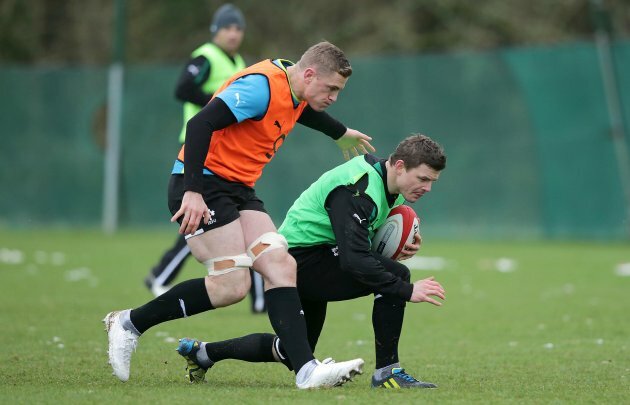 ©INPHO/Morgan Treacy
There is, however, a concern that Kidney, much like Trap, is trying to prove to outsiders that he can embrace change and bring through the next generation, and that this wasn't a gut move but one designed to sell himself to those looking at his next contract.
There is no way to tell yet if Heaslip will be a success as captain, but I suspect it will improve his game. He seems energised by it.
4. Big selection calls at wing and 6/7. Who would you have picked?
I would have gone for Luke Fitzgerald over Craig Gilroy; because he has the footwork, pace and hands of Gilroy, plus he is a great defender (even when form was poor this never left him) and decent in the air.
Exclusive Six
Nations Analysis
Get Murray Kinsella's exclusive analysis of Ireland's Six Nations campaign this spring
Become a Member
Mark Anscombe knows more than us, there may be a reason Trimble keeps his place at Ulster. You can't argue though with picking a man who got one chance, and took it.
Peter O'Mahony was a form pick, and is more of an all-rounder than Chris Henry. O'Mahony's main flaw at the moment is a tendency to run away from support, but he can run, tackle, take lineout ball, and his offloading game is improving all the time. Plus, he seems to have the same attitude as Paul O'Connell – relentless energy and huge self belief.
5. Outside of Ireland, one player everyone should watch out for.
France should pick Freddie Michalak, tell him to back his instincts, and they'll stroll to the championship. He is a different man and a different player to the one that first broke through with Toulouse. Still has pace and awareness, now has a cheeky little kicking game and a bit of steel about him. Louis Picamoles is a good bet to be player of the championship.
6. In general, what do you hope to see in this year's tournament?
The team that wins the championship should be one that could also win a World Cup, playing a style that uses skill and imagination. France could possibly bulldoze their way through, without using their brilliant backline, but there's no point being a big fish in a small pond. We don't want France or England stumbling over the line, just because the rest weren't up to scratch.
And finally…
7. If we gave you a tenner, who would you bet on to win the tournament?
I think France can lose to England and still win the championship. Saint-Andre isn't a genius but he's good enough. They finally have a coach who at least selects the best players on offer.
Simon Hick is rugby correspondent for Newstalk's flagship sports programme, Off The Ball. Follow Simon on Twitter here, and the show (@SecondCaptains)  here.