THE BELL WILL ring at 1pm (Irish time) on Friday, 11 May at the women's boxing world championships in China.
Irish sports fans will be closely following the fortunes of three-time world champ Katie Taylor over the next week as she attempts to qualify for the London Olympics.
Two other Irish boxers are part of the squad and hopes are high that the country can take at least two competitors to London 2012.
We will attempt to answer all of your questions ahead of this pivotal event.
What does Katie need to do to win?
The Bray boxer will be placed in a draw with at least 60 other lightweight hopefuls. The record number of participants has led to the competition being extended by 24 hours.
As Taylor is the top-ranked fighter in her section, she can expect a bye for the opening round. She will have to win five bouts if she is to capture her fourth consecutive world championship.
How can Katie guarantee qualification?
A win in the final is not the only way for Taylor to get to London 2012. As this is the only Olympic qualifier, 24 spots are up for grabs.
Taylor needs only to finish in the top three European boxers to guarantee a place on the plane to London later this summer.
The only thing that would complicate issues would be four European boxers reaching the semi-finals. If Taylor were to lose out in the last four she may be depending on the victor of her bout winning the final.
Who is Katie's biggest challenge/threat?
The qualifiers will prove to be Taylor's toughest challenge to date as boxers in the 57kg and 64kg categories have been included in the wider lightweight section (Taylor is 60kg).
Taylor comfortably tops the world rankings but many of the boxers that she will potentially fight have missed out on ranking events in the last year.
Two of those include Sofya Ochigava of Russia and Britain's Natasha Jones, who beat Taylor at an Olympic test event in London late last year.
The biggest challenge is expected to come from Turkish boxer Gulsum Tatar, who has beaten Taylor twice over the years (albeit in Turkey on both occasions).
Who are the other Irish boxers competing?
Ceire Smith from Cavan will fight in the flyweight division and Sinead Kavanagh, who fights out of the Drimnagh Boxing Club, will feature in the middleweight division.
Smith and Kavanagh have boxed for Ireland a previous world championships. In November of last year, Smith lost out to Sandra Drabik of Poland in the quarter finals of the European Championships.
Kavanagh trains with Tony Davitt in Drimnagh and credits Taylor's medal-winning achievements as a motivation for her career.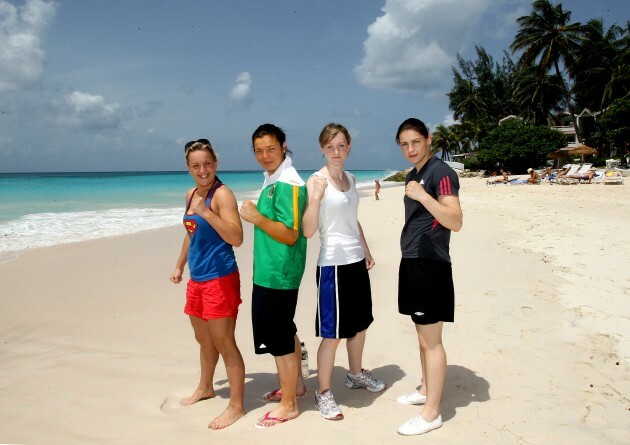 Allana Murphy, Sinead Kavanagh, Katie Taylor and Ceire Smith. (©INPHO/James Crombie)
Where is the action unfolding?
The seventh world boxing championships are taking place until 20 May at the Beijing Olympic Stadium in Qinhuangdao, China. The region in China is seven hours ahead of Irish time.
Can I watch the action live?
RTÉ will feature the latter stages, featuring bouts involving Irish boxers, live on its website; reports will follow on the news at 6pm and 9pm. RTÉ sports reporter Paul O'Flynn will be in China for the national broadcaster and bouts will also be featured on Radio 1.
Remind us who Katie beat to win her three previous world titles.
The fun all started in New Dehli back in 2006 when Taylor defeated Tatiana Chalaya of Russia.
She beat Cheng Dong of China, in Ningbo, two years later and outclassed the Chinese boxer in 2010, in Barbados, to retain her belt.