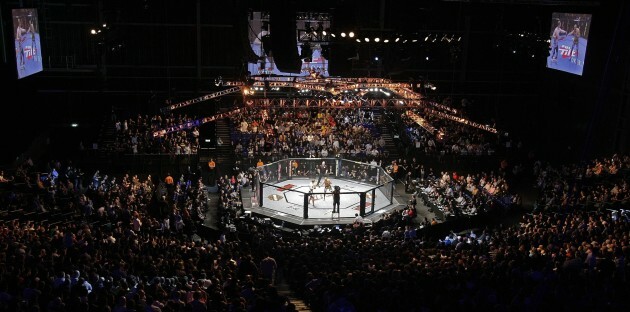 PA Archive / Press Association Images The UFC octagon. PA Archive / Press Association Images / Press Association Images
IRISH MMA STAR Conor McGregor will aim to become the undisputed best fighter in the Ultimate Fighting Championship's featherweight division tonight, when the interim title-holder faces reigning champion Jose Aldo in a title unification bout at UFC 194 at the MGM Grand Garden Arena in Las Vegas.
Most of those who'll be tuning in for the fight will already know their rear-naked chokes from their overhand rights, but for the benefit of the many others who don't, here's a brief breakdown.
What is mixed martial arts?
Mixed martial arts, or MMA, is a form of unarmed combat which combines all forms of martial arts, encompassing disciplines like grappling, submission holds, punching and kicking. The sport involves athletes from a variety of fighting backgrounds competing against each other. For example, Conor McGregor came to MMA via boxing, while Jose Aldo's foundation consists of Muay Thai and Brazilian jiu-jitsu.
The fights take place in an eight-sided fenced ring known as an octagon — or a cage — which has a padded canvas. The two fighters wear shorts, four-ounce fingerless gloves, a gumshield and — for the lads — a groin protector.
Are there any rules?
Contrary to popular belief, MMA does have rules. Lots of them. The Ultimate Fighting Championship, like the majority of reputable MMA organisations, follows the Unified Rules of Mixed Martial Arts.
John Locher Conor McGregor being taken down by Chad Mendes at UFC 189. John Locher
Offences which are considered to be fouls include head-butting, eye-gouging, biting, spitting, hair-pulling, groin attacks, downward strikes (in a 12-to-6 motion) with the elbow, striking the spine or the back of the head, holding the fence, kicking or kneeing a grounded opponent and holding the shorts or gloves of an opponent.
In the event of a foul being committed, the referee may decide to deduct a point from the offending fighter. Click here for a comprehensive list of rules and regulations.
The fight
Fights consist of three five-minute rounds, with the exception of championship bouts and main events — like Aldo versus McGregor. In that instance, five five-minute rounds are contested, with a one-minute break between each round.
The objective for each fighter is to finish their opponent — either via submission (forcing him/her to tap out) or knockout (where the referee stops the fight or a fighter is rendered unconscious due to strikes).
If the fight goes the distance, three ringside judges will determine the winner using the 10-point-must system. Ten points are awarded to the winner of each round, nine or less to the loser. In rare cases where a round is absolutely even, both fighters can be awarded 10 points.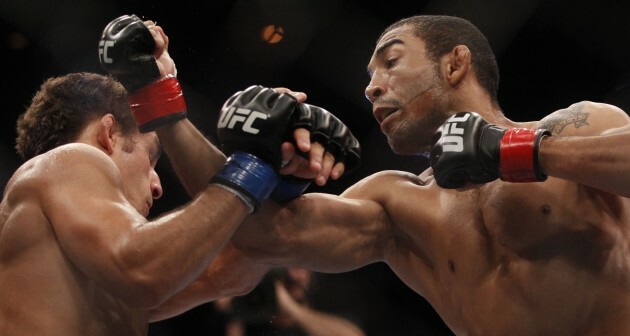 AP / Press Association Images Jose Aldo throws an uppercut against Chad Mendes. AP / Press Association Images / Press Association Images
If you haven't been confused by that crash course and still fancy staying up for the fights tonight, click here for the information you need to watch the action.