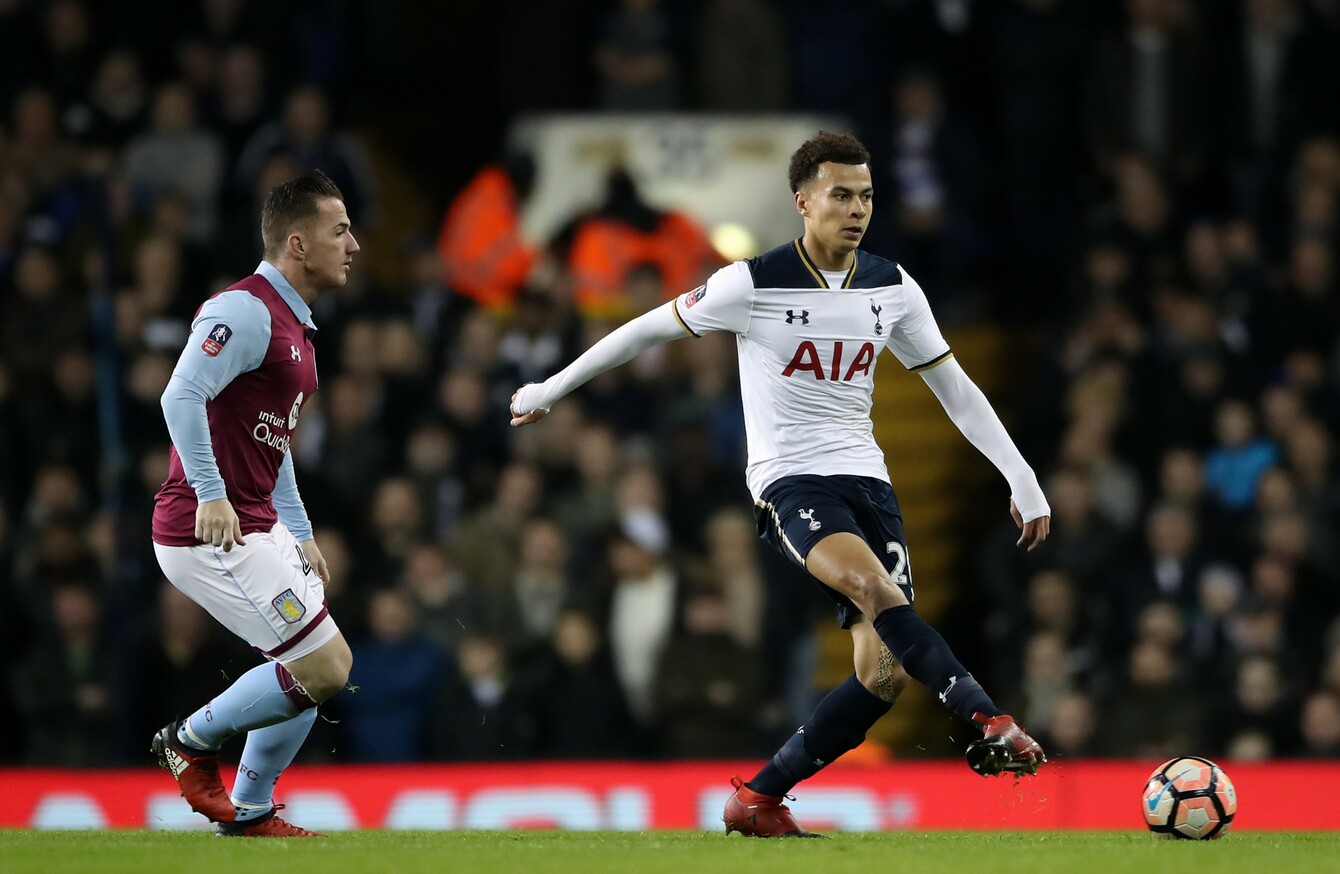 Tottenham Hotspur's Dele Alli (right) and Aston Villa's Ross McCromack battle for the ball during the Emirates FA Cup, Third Round match at White Hart Lane.
Tottenham Hotspur's Dele Alli (right) and Aston Villa's Ross McCromack battle for the ball during the Emirates FA Cup, Third Round match at White Hart Lane.
1. Is Dele Alli really a midfielder?
AFTER A SLOW start to the season, Tottenham's Dele Alli is beginning to reclaim his status as one of the Premier League's top players.
Prior to the game with Villa today, the England international had registered braces in his last three consecutive matches.
At 20 years of age, it's scary to think just how good the former MK Dons starlet could become, and it's no surprise to hear talk of a potential battle between Barcelona and Real Madrid for the €81 million-rated player's signature.
However, one interesting comment has been made in recent days and was reiterated after he came on against Aston Villa in the FA Cup this afternoon.
Commentators frequently make reference to the amount of goals he scores, adding that it's impressive 'for a midfielder'.
Yet is Alli really a midfielder? He certainly isn't one in the traditional sense. He does not control the play á la Xabi Alonso or Santi Cazorla.
In truth, he is more of a second striker. Indeed, against Chelsea during the week, Alli was often Spurs' most advanced player ahead of Harry Kane, so to call him a 'midfielder' isn't really accurate.
Yet whatever position people consider him to play, there is no denying that Alli is an exceptional talent who looks destined for a great career at the top.
2. Plymouth deserve more credit
Plymouth's performance against Liverpool at Anfield today was quite negative, to say the least.
One stat sums up just how defensive and disinterested in playing the League Two side were. After 37 first-half minutes, they had completed only 21 passes.
Yet the end undoubtedly justified the means, as Plymouth became just the third team to keep Liverpool from scoring at Anfield in the past 12 months.
However, BT Sport's pundits, and co-commentator Steve McManaman in particular, were incredibly reluctant to praise the performance.
Instead of marvelling at the defensive organisation of the visitors, they strangely lamented their unwillingness to attack the Reds and show more ambition.
Yes, it was a second-string Liverpool team, but it was still a group of lower-league journeymen against some of the most highly-rated youngsters in Britain, along with a couple of established Premier League players including Emre Can, Divock Origi and Joe Gomez.
So the visitors' combined wages would have barely amounted to a fraction of what the Liverpool team on the day get paid.
Moreover, when Jose Mourinho's Man United came to Anfield in October and performed similarly, the display was largely hailed as a 'defensive masterclass,' so why can't the same standards at the very least be applied to Derek Adams' overachievers?
3. Was the John Terry sending off harsh?
Source: WRC10/YouTube
The red card issued to John Terry was the one disappointing aspect of an otherwise routine 4-1 win for Chelsea over Peterborough in the FA Cup today.
Inspired by Spanish international Pedro, the Blues outclassed their League One opponents, who were captained by former St Patrick's Athletic player Chris Forrester.
The Terry incident occurred when the game was all but over anyway — Chelsea were 3-0 up at the time. Nonetheless, it was still a blow for the 36-year-old centre-back, who was starting his first match since the EFL clash with West Ham on 26 October, while he hasn't made the starting XI for a Premier League game since the the 2-2 draw against Swansea on 11 September.
While the tackle on Lee Angol was rash and cynical, whether it deserved a red card in accordance with the letter of the law seems doubtful.
Angol was going away from goal and there is a strong case to be made that Branislav Ivanovic could have recovered in time to prevent the attacker from getting a clear goalscoring opportunity.
Either way though, it is unlikely Terry will be back in the Chelsea starting XI anytime soon, and the veteran defender's absence probably won't be too keenly felt by the Premier League leaders.
4. Rooney right to feel aggrieved
On a day when Wayne Rooney equalled Bobby Charlton's Man United goalscoring record, it was unfortunate that the moment was undermined to a degree by a minor post-match incident.
A number of media outlets chose to declare or at least suggest that Rooney had been 'snubbed' after offering his jersey to ex-Man City youngster George Evans following United's comprehensive 4-0 win over Reading.
The story gained enough traction for Evans to have to issue a clarification from his official Twitter account, explaining that he did not unequivocally reject Rooney's offer, but simply felt the need to accept the jersey away from the public eye.
For so many media outlets to report on the incident without knowing the full facts or bothering to ask pertinent questions is unfair to both Rooney and Evans.
It was no surprise that the England international later expressed frustration with the media coverage of this innocuous moment and it's hard to blame him for doing so.
The42 is on Instagram! Tap the button below on your phone to follow us!