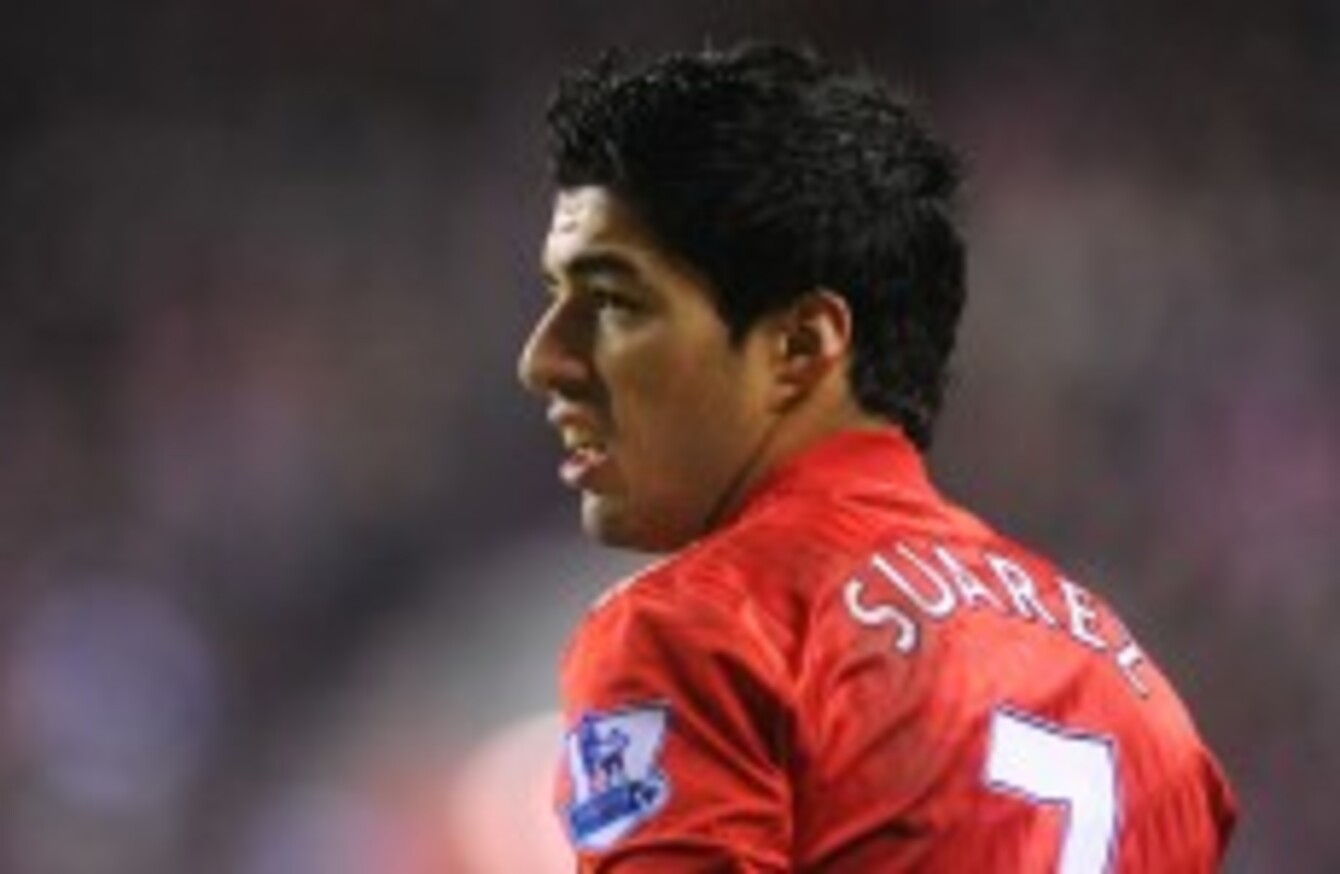 Image: Joe Giddens/EMPICS Sport
Image: Joe Giddens/EMPICS Sport
Updated 19.05
LIVERPOOL AND ENGLAND'S Football Association have been given until January 13th to appeal Luis Suarez's eight-match ban and £40,000 fine for racially abusing Manchester United's Patrice Evra.
Both the FA and the Merseyside club were served the full and detailed reasons that led to the suspension on Friday (December 30th), according to a statement from the Independent Regulatory Commissision, and now have just under two weeks to decide whether or not to take further action.
The 115-page report is available to read here.
The Commission heard from Spanish language experts during its deliberations and concluded that: "Mr. Evra was a credible witness. He gave his evidence in a calm, composed and clear way. It was, for the most part, consistent, although both he and Mr. Suarez were understandably unable to remember every detail of the exchanges between them."
The report states that when Evra asked Suarez why he had been kicked during the October clash, the striker replied in Spanish: "Porque tu eres negro," which was translated as "because you are black." Evra then said he would punch Suarez if he repeated the comment, to which Suarez replied: "No hablo con los negros" or "I don't speak to blacks." The word 'negro' was used seven times during the confrontation.
The report's summary continued: "Mr. Suarez's evidence was unreliable in relation to matters of critical importance. It was, in part, inconsistent with the contemporaneous evidence, especially the video footage. For example, Mr Suarez said that he pinched Mr Evra's skin in an attempt to defuse the situation. He also said that his use of the word 'negro' to address Mr Evra was conciliatory and friendly. We rejected that evidence.
"To describe his own behaviour in that way was unsustainable and simply incredible given that the players were engaged in an acrimonious argument. That this was put forward by Mr. Suarez was surprising and seriously undermined the reliability of his evidence on other matters. There were also inconsistencies between his accounts given at different times as to what happened."
"The Charge against Mr. Suarez was that he used insulting words which included a reference to Mr Evra's colour," the Commission added. "We have found that charge proved on the evidence and arguments put before us.
"The FA made clear that it did not contend that Mr. Suarez acted as he did because he is a racist. Mr. Evra said in his evidence that he did not think Mr. Suarez is a racist. Mr Suarez said in evidence that he will not use the word "negro" on a football pitch in England in the future, and we believe that is his genuine and firm intention."
In a short statement, Liverpool confirmed that they would take some time "to read, digest and properly consider" the judgement and would make no further comment.
Meanwhile, PFAI solicitor Stuart Gilhooly tweeted:
"Having skimmed FA report, it's clear it's classic conflict of evidence. FA chose to believe Evra but big prob is length of ban unsustainable. Four match ban is entry point but aggravating factors are number of times Evra says he said word, PE says 7 (down from 10) LS says once. As no objective evidence to prove either way, LS should be given benefit of doubt & 4 match ban should apply. Appeal reduce but not overturn."