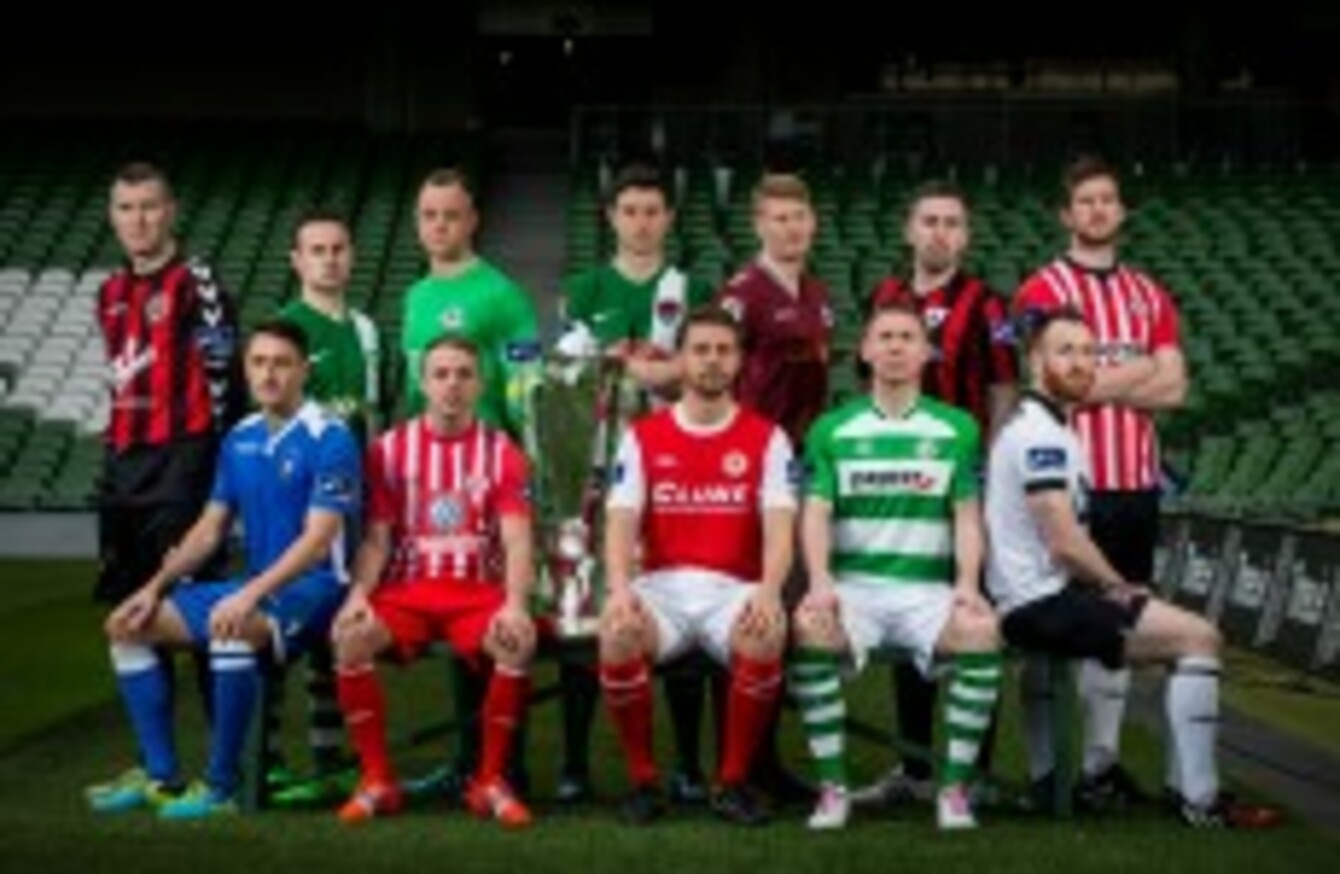 Players from the SSE Airtricity League Premier Division at Friday's league launch.
Image: Cathal Noonan/INPHO
Players from the SSE Airtricity League Premier Division at Friday's league launch.
Image: Cathal Noonan/INPHO
THE FAI IS to begin a consultation process this week with the aim of finding out how it can entice more fans into supporting the SSE Airtricity League.
The initiative will involve discussions with all the clubs in the league as well as supporters and also people who don't follow the country's top two divisions and is to be led by Declan Conroy — who has vast experience in the game at international and domestic level.
A consultant who has worked for Fifa, Uefa and the FAI, he played and integral part in bringing the Euro 2020 finals to Ireland as project director of the Dublin bid and also helped bring the Europa League final to the capital in 2011.
"The idea is that we talk to and listen to as many people as possible who are involved in the SSE Airtricity League and those who aren't," Conroy told The42 last week.
"This is a particular focus as it would be great to talk to people who were involved in the league — former supporters or people who were once involved in the league — and find out why they are not currently.
"The key focus for me is to understand how we can get more people in. That's obviously around community relationships but it's more than that.
"We want to talk to everybody and get their views on two things. Firstly, how the club and the league is operating and, secondly, how can we bring it forward in a positive way.
"We love our sport but sometimes there is a mismatch between being at the event and the perception of being at the event. There is no question that if you go to an SSE Airtricity League game on a Friday night and there is a bit of edge to it and there is something at stake, it is a great occasion.
"Yes ,there are certainly issues around facilities but we have got to find ways to overcome those issues. There are challenges but there is no doubt that you can't beat being at a decent occasion.
When we have great occasions like the FAI Cup final last year, people really want it as we are passionate about our sport.
"In this consultation process, my main aim is to listen to what the views of people are and how that can be improved. Maybe take lessons from one club and share them with other clubs.
"I'm not predicting the outcome of this by any means. It's a big listening process for the first couple of months."
As one of 13 cities hosting the European Championships in seven years' time, Dublin will stage three group matches and one round of 16 game. Conroy praised the ability of several bodies to pull together to secure the bid
"It was a great team effort," he added. "John Delaney did an unbelievable job in the politics with Uefa, which is absolutely essential. What I helped with was the technical bid, which was just a combination of everybody's cooperation to get the gig.
"Dublin City Council played a huge part, Irish Rail, Dublin Bus, all the stakeholders. In a sense, it's a great example of how when we work together and put on the one jersey how you can achieve success.
"That was the secret with the 2020 bid. The Department of Sport and all those agencies played a huge role in bringing this gig to Ireland.
"Sport is about relationships and if we can bring that sense of team-work to the SSE Airtricity League, we will bring it forward."