THERE WAS A telling moment ahead of Ireland's recent World Cup qualifiers against Georgia and Serbia.
In the press conference before the games, O'Neill was asked whether it would be a "disaster" if Ireland fail to get six points from the matches in question.
"Wow! A disaster if we don't get six points?" O'Neill asked in audible disbelief, before joking: "I better not get out of bed in the morning if that's the case."
As statements went, it was not a million miles away from Giovanni Trapattoni's infamous "we are Ireland" retort, after an underwhelming performance against Kazakhstan.
For a while, O'Neill has been perplexed at what he sees as the negativity and unrealistic expectations surrounding the Irish team. In fact, going back to his very first competitive post-match interview with Tony O'Donoghue away in Georgia, there has been somewhat of a chasm between the expectations of the Irish manager and some critics.
After Ireland's return to Tbilisi last month, an uninspired 1-1 draw in which the Boys in Green were fortunate to escape with a point against the lowest-seeded team in the group left the public perception of O'Neill's management arguably at an all-time low.
The subsequent 1-0 loss to Serbia — Ireland's first competitive defeat under the experienced coach at the Aviva — exacerbated the sense of doom and gloom. Many people, as James McClean pointed out in Cardiff, had consequently written Ireland's hopes of qualification off, particularly as the team needed results elsewhere to go their way as well as to become the first side to beat Wales in a competitive home game for four years.
What complicated matters further was the announcement, on the eve of the Georgia clash, that O'Neill had agreed a new deal with the Football Association of Ireland, which would take him to the end of Euro 2020 qualifiers at least.
With Ireland's hopes of qualification looking slim at the time, the reaction to the news was divided at best. After a superb 1-0 win away to Austria had left the side in an extremely promising position, in the eyes of many people, they had ultimately blown it. They struggled to recapture their Vienna form, dropping points at home to Wales and a depleted Austrian side, as well as the aforementioned disappointing results against Georgia and Serbia. Prior to the Moldova victory, O'Neill's side had not won a competitive game in 2017, so many felt the decision to award him a new contract at the time was far from justified.
However, two wins and a play-off place has lifted the Irish footballing public's mood considerably, and suddenly, the contract decision is looking not so unwise after all.
Yet some detractors remain vociferous and the debate is likely to rage on, particularly if Ireland fail to make it through the play-offs.
With that in mind, we've decided to weigh up O'Neill's reign under three headings below…
The good
Nigel French James McClean celebrates during the match against Wales. Nigel French
As assistant boss Roy Keane put it in a rather straightforward manner after himself and O'Neill were appointed, "we want to win football matches".
And Ireland have most certainly done that. One of the team's big problems prior to O'Neill's reign was their inability to beat sides ranked higher than them.
Between the famous 1-0 win over Holland in '01 and the 65-year-old coach taking over, Ireland had won just one match against higher-ranked opposition — the less-than-memorable 1-0 defeat of Slovakia during Steve Staunton's tenure.
Yet under O'Neill, a greater level of self-belief has been instilled in the squad. Ireland have picked up a number of wins against higher-ranked teams, beating Germany, Bosnia, Italy, Austria and Wales in recent times.
The latter two triumphs on their travels are of particular significance, given that Ireland's last significant away victory against a team they were not expected to beat came under Jack Charlton against Scotland in 1987.
Moreover, while the likes of Giovanni Trapattoni, Brian Kerr, Mick McCarthy and Eoin Hand endured bad fortune during their respective reigns with costly last-minute goals being a recurrent theme, the same cannot be said of O'Neill.
On the contrary, the Irish side have benefitted from some good luck in recent times. They were reliant on Slovenia's draw with Scotland to reach the upcoming play-offs, while they also only qualified for the Euros on account of the decision to adjust the format of the competition from 16 to 24 teams, meaning Ireland's third-place finish in an admittedly difficult group that also included Poland and Germany was enough to keep them in contention.
Nevertheless, throughout his career, O'Neill has made a habit of getting limited players to overachieve – he won the League Cup with Leicester twice (in 1997 and 2000) and took Celtic all the way to the Uefa Cup final (in 2003), only losing the climactic game after extra time to a Jose Mourinho-managed Porto side that would win the Champions League the following season.
Aston Villa, meanwhile, was arguably O'Neill's most impressive job of all, in the context of how badly the club fell apart without him. O'Neill guided the Villains to three consecutive sixth-place finishes and a League Cup final spot in 2010. With Ireland, he has performed similar miracles with a technically inept group of players, and those calling for his resignation might consider the plight of the now-Championship club post-O'Neill before continuing their protestations.
Another stark contrast with Trap is O'Neill's willingness to take risks on occasion. Whereas the Italian's starting XIs were invariably predictable, the former Nottingham Forest player has been known to spring a surprise — putting Robbie Brady at left-back against Poland and Shane Duffy getting a competitive debut against Italy at the Euros are two examples, with both players progressing immeasurably over the course of the manager's reign.
The bad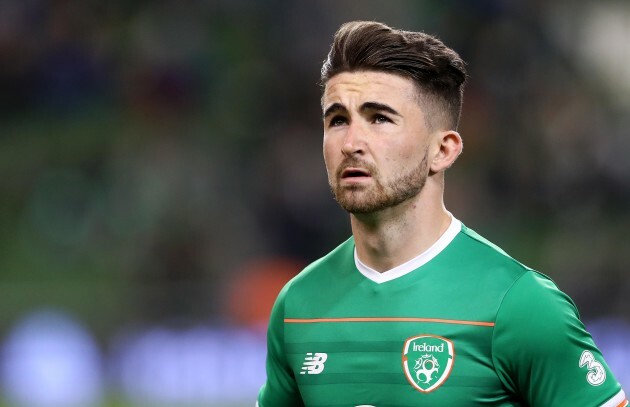 Tommy Dickson / INPHO Some critics felt Sean Maguire's call up was long overdue. Tommy Dickson / INPHO / INPHO
The chief complaints regarding O'Neill seem to be his style of play and at times, a tendency to employ what some perceive as old-fashioned and overly conservative tactics.
Wales introducing teenage Liverpool starlet Ben Woodburn off the bench last month against Moldova was cited as a daring move that O'Neill would supposedly never try, while his ostensible reluctance to embrace certain players has also left some critics and fans frustrated.
The absence of back-up full-backs has been another source of slight frustration, with consistently excellent Championship performers in Greg Cunningham (who is currently injured admittedly) and Matt Doherty overlooked.
In the eyes of some, O'Neill has also been slow also to reward players with a recent League of Ireland background – a number of interested observers felt the call-ups for Andy Boyle, Daryl Horgan and more recently, Sean Maguire, were long overdue.
Many people have compared O'Neill's conservatism to Trapattoni, but that analogy is too simplistic. Trap was far more stubborn than his successor, given the Italian's stark refusal to ever deviate from the long-ball tactics the team employed.
O'Neill has at least partially accommodated Wes Hoolahan. In fact, with 34 appearances under his belt, only Shane Long (36) and James McClean (39) have featured more during the Martin O'Neill era than the former Shelbourne player. That said, of those 34 caps, 13 have come from the bench.
The Derry native has cited Hoolahan's inability to play two games in quick succession as the reason for his absence against Wales. O'Neill could, of course, have kept Hoolahan for the 'big game, rather than playing him at home to Moldova, although he seemingly tried that for Ireland's last international week (when he was left out against Georgia and put in the team to play Serbia), but that move evidently failed to pay dividends.
The RTÉ panel, in particular, have vehemently argued for Hoolahan to be involved more regularly. And it's hard to argue with Damien Duff's recent assertion that Ireland are essentially a long-ball team without the Norwich man, who seems to free others to play.
O'Neill's approach to the games is also somewhat unconventional in comparison to other coaches in the modern era. Unlike say, his namesake and current Northern Ireland boss Michael O'Neill, he is not an obsessive planner who issues meticulous instructions prior to the games.
Instead, O'Neill has more of a hands off approach. He often has been said to keep his distance and let his coaches do most of the work with the players during gameweeks. Match days, it has been regularly said, is when he really 'comes alive'.
As former players including Neil Lennon and John Hartson have attested, O'Neill values simplicity in his pre-match message, while his motivational skills have also been well documented.
When O'Neill is on a bad run, this approach is seen as a negative. The fact that O'Neill tends to not reveal his starting line-up until a few hours before the game has been questioned, though he persists with this tactic — Harry Arter, who was uncertain of his place in Cardiff, said in an interview on Off the Ball during the week that he only discovered he was playing in the match around lunchtime the day of the game.
Aiden McGeady has also spoken in the past about confusion as to what position he was meant to be playing in a crucial away match against Germany. Robbie Keane, similarly, was left fuming after only discovering very late on that he had been dropped for a Euro 2016 qualifier away to Scotland.
On the other hand, O'Neill will argue that this approach keeps players on their toes and does not allow the more inexperienced individuals too much time to think ahead of big games.
There is a hesitance and lack of cohesion to Ireland's play in some big games (home matches against Wales and Austria spring to mind) that suggests they are under-prepared, though the more inspiring results tend to undermine or at least override this theory.
Exclusive Six
Nations Analysis
Get Murray Kinsella's exclusive analysis of Ireland's Six Nations campaign this spring
Become a Member
The ugly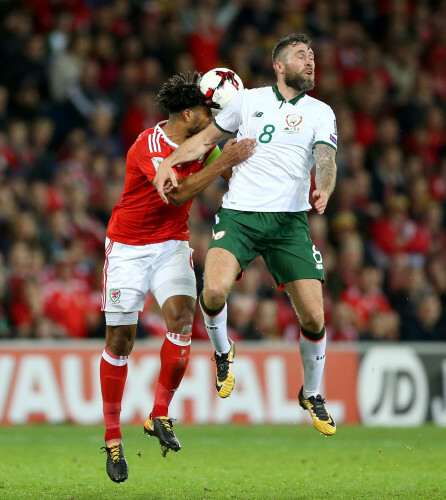 Nigel French Wales' Ashley Williams and Republic of Ireland's Daryl Murphy battle for the ball. Nigel French
The fact that Ireland have got to the point where they are reliant on a 35-year-old in Hoolahan to essentially enable them to play good football highlights a wider issue and one O'Neill can do little about.
In recent years, there has been a worrying lack of young players coming through. Ireland had the oldest squad at the Euros, and since then, despite the progress of the likes of Callum O'Dowda and Cyrus Christie, there has not been an overwhelming change in this regard.
There has been some encouraging successes at underage level recently, with both the U21s and others enjoying encouraging wins during the week.
But the best prospect to emerge at senior level of late, O'Dowda, is from Oxford, while just two members of the U21 side that started during the week in the win over Israel were Irish-born (Danny Kane and Ryan Manning).
You cannot really blame O'Neill or Noel King for this situation — their job is to pick the best players available to them, and equally, there is no suggestion that the talented likes of Ryan Sweeney, Reece Grego-Cox or Josh Cullen would play with any less pride or determination than someone from these shores.
However, the lack of Irish-born players would indicate a problem with the way players are being developed in this country, given the overwhelming reliance on footballers who came through the British system.
That said, the situation is looking more promising in that regard at U19 level. Of the players who started the recent win over Israel and secured a place in the Elite Round, all the individuals in question were Irish-born, suggesting that Ruud Dokter's player development plan and the introduction of U17 and U19 leagues at League of Ireland level may be starting to pay dividends.
Moreover, youngsters such as Jayson Molumby have been progressing well at club level, with the teenage midfielder recently making his senior debut for Brighton in the League Cup. Tyreke Wilson has also been doing well and was recently invited to train with the Man City senior side.
What is also pleasing are signs that soccer is continuing to expand beyond its traditional Dublin stronghold. Important players in that U19 side include Jayson Molumby and Lee O'Connor (both Waterford), as well as Thomas O'Connor (Wexford) and John Martin (Kilkenny).
Consequently, while the dearth of young players immediately coming through at the very top-level is somewhat worrying, there are also signs that the situation could be gradually improving.
Conclusion
O'Neill still has his skeptics who would undoubtedly make their voices heard, particularly if Ireland fail in next month's play-offs.
There is no doubt that the team is flawed, with a lack of young players a concern, while the style of football is seldom pleasing on the eye. As ESPN's John Brewin put it during the week: "There is a terrible beauty about Martin O'Neill's Ireland team. Though frequently terrible to watch, they have proved capable of pulling off beautiful results."
That last part is key. O'Neill has picked up a habit of winning when it matters most, and so long as that continues, his detractors will remain in the minority.
Should Ireland emerge victorious from next month's play-offs, the team will have reached consecutive major tournaments. There are caveats, of course, such as the aforementioned renewed qualifying formats, but the fact remains that no Irish manager before or since Jack Charlton has emulated that achievement. For O'Neill to follow suit, keeping in mind the inferior set of players at his disposal, would be quite a feat.
Subscribe to The42 podcasts here: