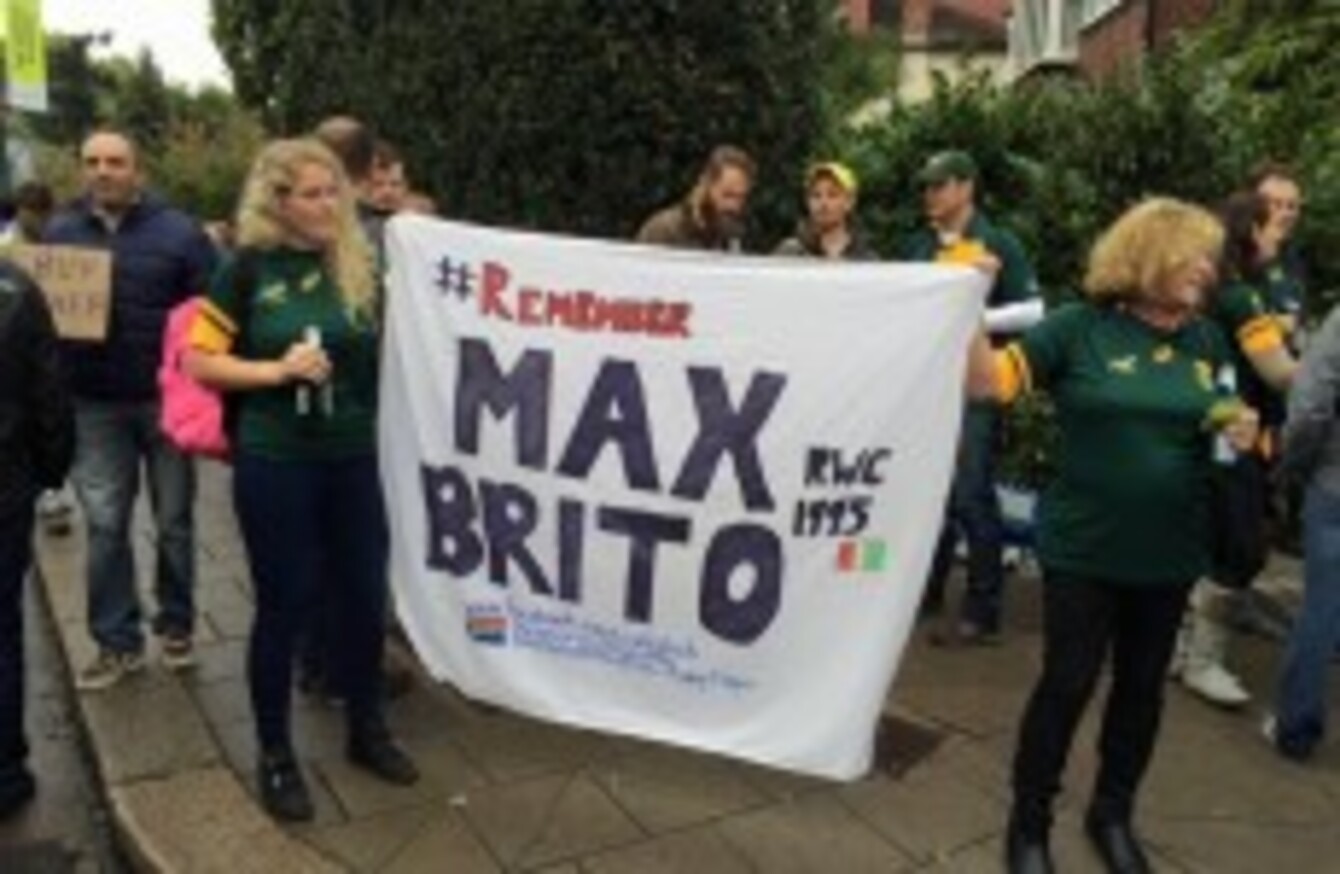 Amanda Williams (right) and her daughter Leigh-Ann show their support for the Max Brito campaign at the recent South Africa-New Zealand Rugby World Cup semi-final.
Image: Amanda Williams
Amanda Williams (right) and her daughter Leigh-Ann show their support for the Max Brito campaign at the recent South Africa-New Zealand Rugby World Cup semi-final.
Image: Amanda Williams
WHILE FANS OFTEN fondly recall the 1995 Rugby World Cup, too many people have allowed the worst moment of that tournament to be forgotten.
In an otherwise insignificant match between Ivory Coast and Tonga, an unfortunate accident just three minutes into the game, in which a ruck collapsed on him, left Max Brito paralysed for life.
Reports on the player's status since the incident have varied. A 2007 interview with Le Monde indicated he was living in a state of chronic depression, with the player quoted as saying: "I have come to the end of my tether… If one day I fall seriously ill, and if I have the strength and courage to take my own life, then I will do it."
However, a more recent piece in The Times suggested Brito had learned to live with his disability and was now at peace with his demons. A benefit game was understood to have been arranged for Brito back in May in the Ivory Coast, with the former player, who is based in Bordeaux, travelling to the country for the first time in almost two decades to attend the event.
Source: Ruddy Darter/YouTube
While Brito is understood to retain some income from Rugby World Cup insurance, he reportedly gets most of his earnings from the French social welfare system nowadays.
Though a couple of past fundraising events have been arranged for Brito mainly owing to the goodwill of ex-players, some people feel rugby's authorities should be doing much more to help him.
"There was very little support for him from Rugby World Cup," said ex-England sevens captain Damien Hopley, who was also forced to retire early due to injury, in a 2003 interview.
However, one fan is determined that Brito ultimately receives the compensation he deserves, 20 years on from the accident
As someone who was born in South Africa, Christopher Ackermann remembers many moments from the 1995 competition vividly. However, he had not heard of Brito until this year, when an article on the ex-player's misfortune prompted him to set up a GoFundMe page to provide financial assistance for him.
"In the comments section of the article, people were saying no one's doing anything, no one's taking action on it,"  Ackermann tells The42.
"In the beginning, there was quite a big spike in people donating money towards it. It seems to have slowed down in the last 10 days — I'm not sure why, but we seem to have hit a bit of a brick wall as far as funding goes."
Amanda Williams, a reader who got in touch with The42 via email, raised awareness of the fundraising campaign during the recent Rugby World Cup semi-final between New Zealand and South Africa.
She even persuaded some of the players from the 1995 Springboks-winning team (Mark Andrews, Johan Roux and James Dalton) to march a few yards in support of the campaign.
"The thing I've learned so far is that not a lot of people are aware of what happened to Max in 1995,"  Ackermann continues. "So the more people realise what happened there, the more they would be interested to actually help him.
"I just think there hasn't been enough exposure about the whole situation and what's been going on with it."
Ackermann ambitiously aims to raise £30,000 for Brito, and has managed £600 so far.
"With this campaign, the reason I've set the bar so high with funding is that I don't want it to be over in one or two weeks," he explains. "I want it to run for at least three months so we can get a decent amount of exposure. So hopefully, at least 80% of rugby supporters will know exactly what's going on with Max.
"On GoFundMe, I've set the target for £30,000. How I came to that figure is that from myself working, I can live okay-ish on £20,000 a year. But considering Max's disability, I've added another £10,000.
"Ultimately, it's not just about the money, it's about trying to get the attention of the Rugby World Cup to actually step in and take responsibility and say from now on, we'll make sure you've got everything you need and give him everything he needs basically.
"At the moment, we're on £600, which is not a lot of money. It's better than nothing, but I don't want to go Max and say, 'here, I've raised £600 for you.' I'm trying to give him a decent amount of money that will actually make a difference in his life."
Ackermann has never met Brito, though he says he has a contact who knows the former player. He agrees with Hopley that rugby's authorities have not done enough to assist Brito.
What are they
really like?
Rare insights on sport's biggest names from the writers who know them best. Listen to Behind the Lines podcast.
Become a Member
"I think that is most definitely the case. We're not talking about 10,000 people who are in his situation. It's only a couple of lads with really bad injuries.
"The rugby world needs to look after them. Most workplaces always have something in place (to help employees who have suffered misfortune). In Max's case, they didn't.
"From the rugby world's perspective, they need to do a lot more for people who lose their normal life, so to speak."
However, he also feels the average rugby supporter can make a difference in Brito's life.
"There can be 70,000 people in a stadium (for a rugby match)," he adds. "If each person gives £1, that would be £70,000 for Max."
An associate of Ackermann's has even been in contact with people working within the game at a high level, however little has been done to address the problem thus far.
"I can't name them, but I've been in touch with someone else who has actually spoken to the CEO in the Rugby World Cup. His point of view was that they've done enough for Max and they have actually supported Max.
"But we've asked them to give us proof — show us what they've done, but as of yet, we haven't received anything. It might look bad if it comes to light now that it's been 20 years and he hasn't had much help. People are going to ask: 'Why have you ignored him for (so long)?' So it would definitely cast a bad light on the World Cup as a whole (for them to highlight the situation)."
To donate to the Max Brito campaign, click here. You can also visit Ackermann's Facebook page here.