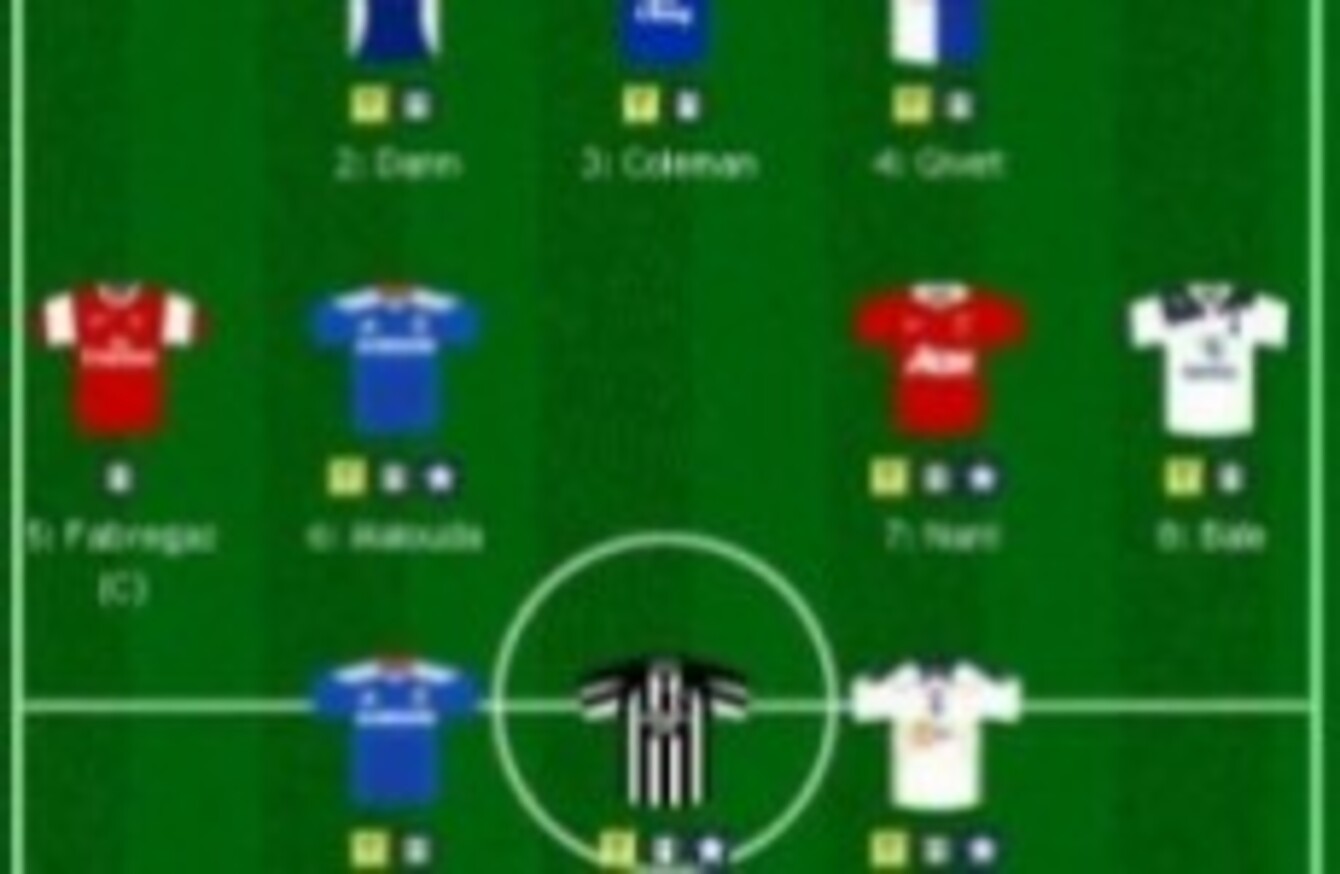 LET THE MEDIOCRITY continue.  That's what I took away from today's twin announcements that Darren Fletcher and Michael Carrick have signed new long term contracts with Manchester United.
I'm sure some of you who have been following this space for a while will write these comments off to the sour grapes of a Gooner still stinging from the Carling Cup fiasco but I assure you, there is more thought behind what I say/type than that.
First, let me assure you, my primary intention isn't to take cheap shots at Fletcher and Carrick.  I'm sure I could overstate the case and get the United supporters in the crowd riled up enough to fill the comments thread to overflowing with insults to my intelligence and/or the legitimacy of my position as a commentator on things Premier League-related.  Most of the time, however, I try to refrain from that sort of sensationalism in favor of trying to look a little deeper and interpret what I see going on in the league.
In this case, the negative signs that I see in the re-signings of these two players who I think we'll all admit are limited on their best days is that the financial issues at Old Trafford are set to continue.  United certainly don't lack for bodies that are best suited for playing in midfield.  They have Scholes, Giggs, Nani, Valencia, Park, Anderson, Gibson, Welbeck, Cleverley, and theoretically Hargreaves in addition to Fletcher and Carrick.  That's a lot of bodies.
Kids are alright?
The problem is that, Nani aside, there isn't a lot of quality.  Assuming that SAF isn't ready to give up on the kids – Anderson, Gibson, Welbeck, and Cleverley – we can be fairly assured that nearly the entire group above will be back next season.  That is important because it implies that SAF is going to try to make due with quantity over quality again.
Those of you who support United – as well as those who like to pick a good verbal fight – may point out that the quantity over quality thing has been working out fairly well for United this season so far.  They do still sit in first despite the loss to Chelsea last Sunday don't they?  I can't argue that.  What I can suggest is that this is an unusual year in that the points haul necessary to win the championship is likely to be about 10 points lower than it usually is.  If either United or Arsenal make it to 80 points, it will represent a reasonable stretch run.  Compare that to years past when the winner walked away with a point total in the high 80s or low 90s.
If you believe that there is a "new normal" with more parity in the league and lower point totals are going to do the job for the foreseeable future then maybe United's strategy can still keep them serious contenders.  If, on the other hand, you suspect like I do that one or more of the other contenders – most likely Chelsea or City on the backs of their wealth – will keep spending until they get their mix of high-priced players right then you have to suspect that United's strategy isn't going to get it done in the seasons to come.  They NEED another exceptional midfielder – preferably of the holding variety – in much the same way that Arsenal have obviously need an exceptional CB/Keeper over the last few summers.
If these signings are a hint that United – due to stubbornness or lack of ability to spend – are going to "pull a Wenger" and try to substitute numbers and youth for difference-makers then I suspect that we're going to be seeing a lot more of those green and yellow scarves in the stands in the upcoming seasons.
On to the upcoming week in fantasy:
SEE SPORT
DIFFERENTLY
Get closer to the stories that matter with exclusive analysis, insight and debate in The42 Membership.
Become a Member
Schedule
Birmingham – with two matches including a home match against struggling WBA and an away match with fellow strugglers Everton, the newly-crowned Carling Cup champs are the toast of the fantasy world this week.
Everton – slightly less attractive given their unpredictable recent form, injuries, and more difficult schedule @NUFC and BRM but two matches is certainly still better than one for select Everton players.
Chelsea – Chelsea will be riding high and Blackpool will be without Charlie Adam and DJ Campbell – hardly seems fair to make Blackpool's supporters watch this one.
Forwards
Zigic – He's been coming on strong in the second half of the season.  Throw in a cheap price (5.3) and modest opposition and you have an attractive proposition.
Saha – Beckford has scored more recently but if you're choosing between the two and Saha hasn't fallen apart between now and the weekend then you'd have to bet on Saha if you're only choosing one.
Torres – He has to score one of these weekends doesn't he? This would seem like an obvious time to break the ice.
Sturridge – More a "keep" than a buy since he only has one match but worth noting that in the January Transfer Window Goal Derby the tally is Sturridge 4; Suarez 1; Luiz 1; Torres 0; and Carroll 0 but at least Carroll has the excuse that he's been crocked.
Ba – I liked him last week and he rewarded me and I'm sticking with him – especially at 5.0
Balotelli – He seems to be coming around and Wigan seem like the kind of weakling that he'd enjoy torturing.
Midfielders
Bentley – He hasn't been as good as I expected but I still like him more than any of the other Birmingham midfielders if that's what you're going for.  I could be talked into Larsson or Gardner but if you're asking me – and you are in essence by reading this column – then Bentley is my guy.
Arteta – With Cahill out of action for the double week, Arteta becomes the next most attractive midfielder from Everton.  He's a bit overpriced but since he gets you two matches, it isn't that bad a deal.
Lampard – He isn't the Lamps of old but he's still taking PKs for Chelsea and that seems like a good thing to have going for you against Blackpool this weekend.
Nani – He's been good enough that you really don't need to know too much about the match-up to make this decision.
Dempsey – Quietly the fourth most productive midfielder in the Premier League game and he's home against Rovers.  Not a bad deal for 7.3.
Defenders
Johnson/Jiranek – Johnson has been very good all season and the price is pretty good but if you need to really economize I'd take Jiranek over Carr who has a tendency to pick up yellow cards like they're free cash lying on the ground.  Watch both for injuries though as neither looked fully healthy coming off of the Cup win on Sunday.
Baines – Fourth most productive defender in the game and he has two matches – pretty easy choice.
Coleman – The 10th most productive defender in the game and he didn't become a regular starter until December.  Those are great numbers for someone playing twice at a cost of only 5.2.
ACole – Great match-up if you've already gone through your allotment of Birmingham and Everton players and he's been incredible productive – remember, this is a fantasy team and you don't actually have to spend any time with him.
Kolarov – I'm still a bit disappointed by his production in the Premier League game (he's much better in the Yahoo! format) but I still like his chances for points at home against Wigan.
Keepers
Foster – Two matches with a reasonable chance of two clean sheets although they are by no means guaranteed – that said, Foster also tends to get a lot of saves so even if he only gets one clean sheet, his week will look pretty solid.  The big caveat here is if Johnson and Jiranek join Dann in being injured.  Missing both would mean buying Foster would require a lot of faith in young replacements.
Cech – Great match-up but you'll pay for it with Cech.  Still, you need players from other teams so this might be where you diversify since Chelsea seem almost guaranteed a clean sheet with Blackpool's attacking injuries.
Hart – The match-up is just slightly less attractive than Cech's and the price just slightly higher which puts Hart third on this list.
Howard – Despite the two matches, I've been suspect of Howard and the Everton defense all season.  Baines and Coleman were strong recommendations because they get lots of points going forward but Howard has to be seen as a risk in net even with two matches.
Captains
Saha – I'm a high risk sort of guy and Saha seems more likely than Zigic to have a huge two-match stretch and that wins him the top spot here.
Zigic – If you don't want to live in fear of your captain limping off after 10 minutes of the first match of the double week, then Zigic is a steadier bet to pay off as your captain.
Balotelli – Same theory as Saha – he seems one of the more likely of the one-gamers to have a hat trick – the downside is that he could just as easily kick a defender in the head and be sent off early.
Neal Thurman and Jeremy Spitzberg  write what they believe to be the oldest-runningblog focused on English Premier League. They also believe they were the first two people ever paid real money to blog exclusively about the same. They may be entirely wrong on both counts but that doesn't stop them from writing or telling people that they were first