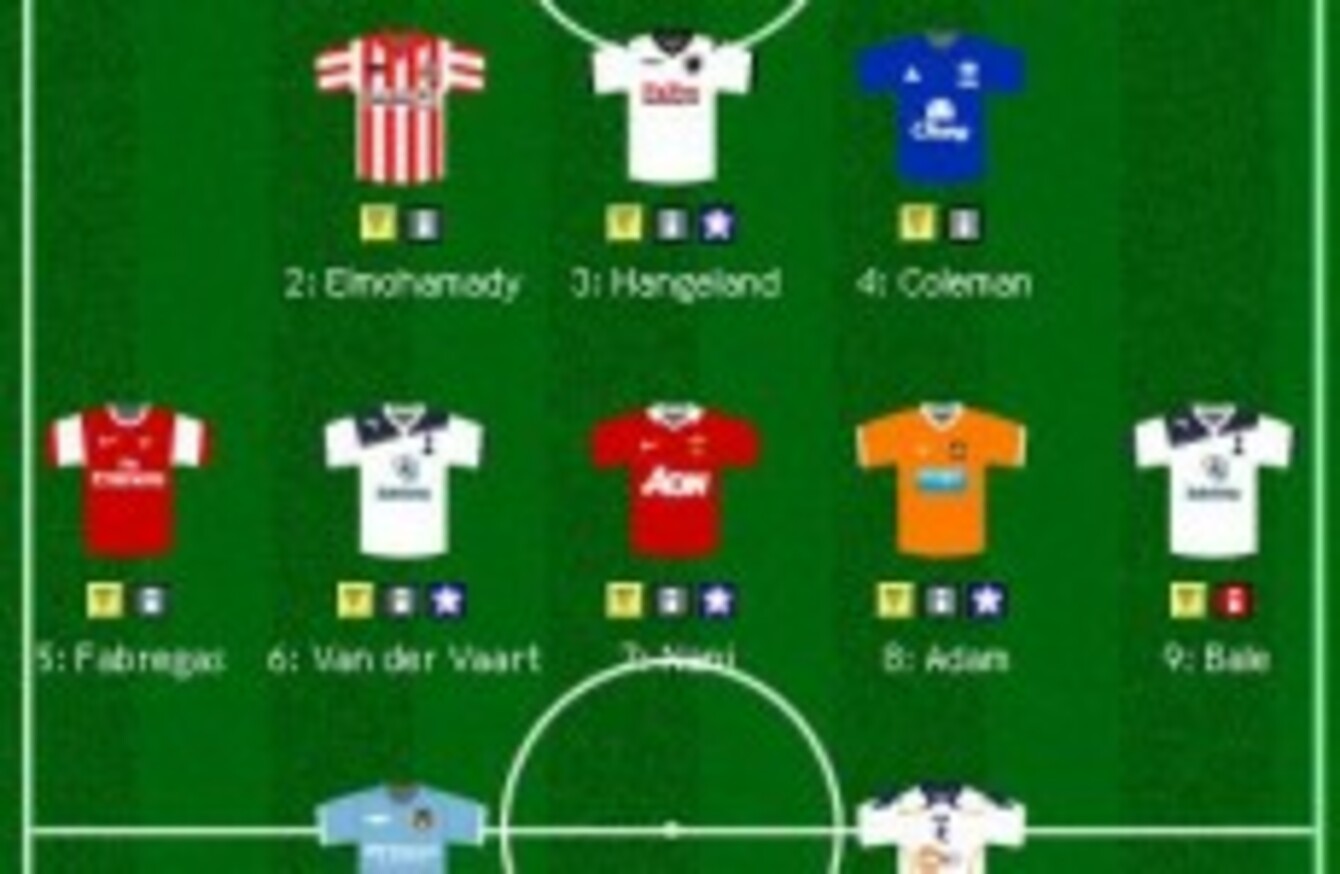 WITH JUST ABOUT every media outlet here in the States focused entirely on the biggest sporting event of the year (that's the Super Bowl in our version of football for the uninitiated), I have to say I'm really enjoying the fact that I have something else to focus on.
The midweek matches were interesting.  My fantasy team did reasonably well.  And most importantly, I'm not suffering the same fate as NFL-only types who will wait two weeks between games with nothing but fluff and over-analysis to fill the time.
Speaking of over analysis, Jeremy and I got off on an IM tangent yesterday about the relegation race.  It got me thinking that outside of the title race, we hadn't checked in on the real standings in a while. So, before we get to the usual fantasy analysis, we'll spend a little time on the fourth Champions League spot and the relegation battle.
The Fourth Champions League Spot
Early in the window, specifically right after Citeh got Dzeko and then Bale got injured, it was easy to get sucked into the notion that Chelsea and Spurs would be fighting it out for the final spot.  So, what's happened since then? Citeh has continued to show that they are less than the sum of their very expensive parts.  It isn't hard to see them slipping.
They currently occupy the third spot but they have played one more match than any of the teams around them in the standings.  If they don't figure out how to maximize their talent, they could be on the outside looking in.
Chelsea are going in exactly the opposite direction.  After weeks of malaise, they seem to be regaining the momentum they had early in the season.  They aren't exactly the dominating force that was winning 6-0 regularly but they're getting closer.  The momentum gained with the purchase of Torres and Luiz seems likely to keep things going in the right direction.  The bigger question is whether they are too far out for an assault on the top.  Hard to imagine them not making the top four at this point.
Finally, what to make of Spurs.  Their manager seems resigned to the fifth spot.  Or at least he's managing expectations against the fact that there's a very good chance that they will end up fifth.
That said, if they win the match they have in hand then they're only two points shy of Citeh with plenty of time left to make up that difference.  With their ignominious exit from the FA Cup behind them, they only have two fronts to fight on which should help while Citeh still have the league, Europa Cup, and FA Cup (assuming they win their replay) to contend with.
There's no reason to think Spurs are out of the race for fourth, especially if Bale returns to fitness in short order.  If they can't make up the two points in the standings to a team that has shown that they will drop points to bad teams, then they don't deserve to be in the Champions League.
All that said, I favor Spurs slightly over Citeh to sneak into the fourth spot. There's just something about the Citeh team that leaves me flat.  Outside of Tevez, they just don't seem to have much passion for the game.  They're just showing up and playing which given their talent may be enough most of the time but they just don't show up frequently enough for me.  Spurs are guilty of boneheaded errors that cost them points but they generally seem like they want it.  I'll take pretty talented and wanting it over very talented and not caring that much every time.
Relegation
Since my fourth-place section ran a bit longer than I thought it would (shocking, I know), I'll try to keep this one brief so we're going Twitter-style – 140 characters or less on each team that I consider to still be in the relegation battle. (Incidentally, I think Fulham secured staying up with their win on Wednesday – not guaranteed safety mind you but it's starting to feel pretty safe at the Cottage).
Blackpool – They have one more run of surprising results and they're safe – Reid and Beattie will be important here.  #PrettySafe
Villa – DBent will more than repay his price.  Lots of options in midfield now with Makoun and Bradley joining.  #GoodMomentum
Everton – In more danger than they should be.  Hard to see them going down but the remaining schedule is tough.  #WillBeClose
West Brom - Definitely on the wane but they have one important thing that will separate them – a strong goal scorer.  #OdemToTheRescue
Birmingham – As much as I love Bentley and Martins, I don't think they did enough.  I see bad things ahead. #Drop
SEE SPORT
DIFFERENTLY
Get closer to the stories that matter with exclusive analysis, insight and debate in The42 Membership.
Become a Member
WHU – Of their 24 points, half have come since December 18.  Seems like things are going in the right direction. #Survival
Wigan – I can't think of any reason that things would get any better for the Latics.  #Drop
Wolves – Things just aren't falling in their favor this season on the field.  I've liked the moves they've made but they just don't seem to have any luck.  #Drop
So there you have it, I'm guessing the bottom five (in order) will be WHU, EVE, BRM, WOL, WIG.  Not a single newly promoted side "yoyo-ing" back down. Now, on to the fantasy analysis…
Schedule
Where we separate the matches that will provide real value from the matches that just LOOK that way (from the matches that won't have a useful impact on fantasy value at all).
Real Value
ManYoo @ Wolves – ManYoo haven't been great on their travels (don't let the undefeated thing fool you) but Wolves have found ways to give points away and United seem to be hitting their stride.
Citeh vs. WBA – Citeh need to respond after their mid-week draw while Albion's defense will have trouble with Citeh's numerous attacking options.
False Hope
ARS @ NUFC – Newcastle may be in a bit of disarray after the Carroll sale but this has all the makings of the Everton match for ARS.  Song's likely absence will expose the defense even further.  I think ARS will win but I don't think there will be a ton of fantasy value in it.
CHE vs. LIV – The momentum seems to be rolling Chelsea's way but I have a hard time believing that the Liverpool players won't be flying around looking to prove their old teammate made the wrong choice.  Seems like a 1-1 draw to me with less fantasy value than most would guess for Chelsea after their four goal match in midweek.
Honestly, the rest of the match-ups look to be relatively close so your thinking should revert to the likely value of the players without adjusting them for a favorable match-up.
Forwards
Torres – Hard to imagine him not coming out firing.  We've heard enough about debut goals this month and this one has the added value of being against his old team.
Chicharito – Just a hunch here but seems like a reasonable time for him to get a start after Rooney/Berbs started in mid-week.
Roque Santa Cruz – if RSC is healthy, then I like the match-up and price combination. Health is always a big question though.
Tevez – Worth it for the match-up alone.
Midfielders
Meireles – He just can't seem to stop producing, and his price has stayed fairly reasonable
Nani – I'd take him over the forwards listed in the last bullet point above if you're spending big – he's a better bet to do well for you even if he doesn't score.
BFDB – He's back! Get him while he's cheap (and playing against WHU).  For those relatively new to the blog BFDB stands for Blog Favorite David Bentley (he lost that title while riding the bench at Spurs but we loved him in his Rovers days)
Henderson – This one is for Jeremy who has a huge soccer crush on Henderson, his price has dropped and it's about time for him to have another big match.
Hoilett – Speaking of Jeremy's soccer crushes, here's another one.  His price is creeping up but he's been very good over the last five match-weeks.
O'Hara – A bit of a risk since he didn't start in mid-week but we've always liked him and he could be the spark Wolves need.  The price is pretty reasonable as well.
Dempsey – He's been absolutely on fire.
Defenders
Luiz – I assume he'll start and the price is right even if the match-up isn't ideal.  Seems like one you should find a place for and just leave him for the rest of the season.
Toure (Kolo) – His price has dropped a bit and they seem well positioned for a clean sheet this weekend.  Just a shot in the dark.
Coleman – His price is higher than ideal but he's been consistently playing in midfield and making things happen.  He had the decisive pass for Everton's goal against Arsenal in midweek despite the fact that the deflection lost him the assist.
Rafael – Assuming he's back in the line-up, I'm guessing he'll be the best value from among the United defenders.
Walker – Back from his injury and a nice "attacking" defender.  He isn't playing midfield like Coleman but should get more than his share of points going forward.
Goalkeepers
Hart – If you're spending big at this spot
Szczesny – If you're investing for the (relatively) long term
Howard – If you're looking for a risk/reward bargain
Green – If you believe in the WHU revival (see above) and don't trust Howard/EVE (which isn't unreasonable at this point.
Captains
Torres – Too much mojo going for him not to be your choice
Nani – More consistent and likely to be selected than any United forward
Tevez - His time to shine with this great match-up
Neal Thurman and Jeremy Spitzberg  write what they believe to be the oldest-runningblog focused on English Premier League. They also believe they were the first two people ever paid real money to blog exclusively about the same. They may be entirely wrong on both counts but that doesn't stop them from writing or telling people that they were first.