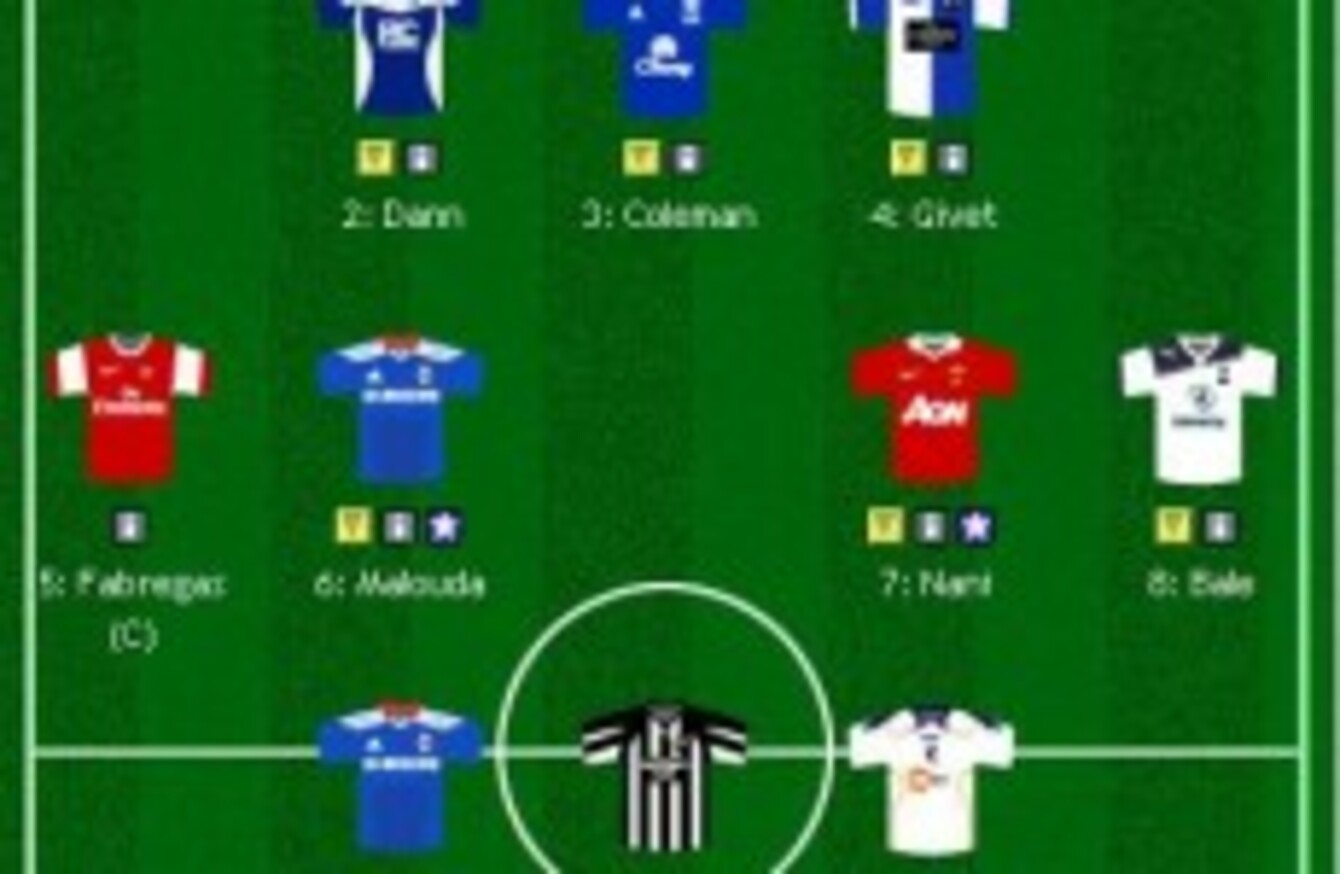 SO MANY THINGS to think about as we get ready to launch into yet another weekend of Premier League action that features a marquee match with title implications.
Here's a brief run-down of the things that will be running through my head this weekend:
What should we make of the Tevez saga? It is being reported on heavily because there is so much drama associated but for me, the bigger question revolves around the implications on the title race.
Citeh are playing well but their attack against teams other than West Ham seems to be just barely enough even WITH Tevez.
If Tevez's heart isn't really in it, you can see those 1-0 and 2-1 wins becoming draws pretty quickly. I say this even more so of Tevez than I would of most strikers because so much of his game is passion and effort as opposed to Henry or CRon-like wild displays of skill.
If his passion is slightly reduced he could quickly go from exceptional to mediocre pretty quickly and drag the entire Citeh team with him.
How will the returning Lamps do? Lest we all forget, Big Frank wasn't doing too much early in the season BEFORE he went under the knife.
He only managed one goal and no assists in Chelsea's first two matches of the season.  That doesn't sound bad on the surface but remember that Chelsea scored 12 goals in those two matches and Lamps was on the field for 10 of them.
Not exactly the type of return you'd hope for from a premium player.  Was he already carrying the injury? Who knows.
I guess my point is that we'd all be wise to take a cautious approach with a 32-year-old midfielder coming back from a serious injury and facing questions about his role in what is still a fairly new system for him.
To complicate matters further Chelsea's schedule reads MAN, ARS, BOL over the next three matches.
In other words, tread carefully.
How "for real" are Bolton? Every year we get a team that makes it to the New Year punching significantly above their reputation if not their weight.
In different years it happens at different parts of the table.  Whether it is a newly-promoted team hanging in the top half or a perpetual mid-table team butting up against a Champions League spot, this is hardly a new script.
The usual suspects are Spurs, Everton, and Villa. This year with Spurs having made "the leap" last season to replace Liverpool that leaves Bolton as this season's candidate for pretender/contender.
The question is are Bolton a real contender or just the product of a pretty good team that has gone on an exceptional early run of surprise results?
SEE SPORT
DIFFERENTLY
Get closer to the stories that matter with exclusive analysis, insight and debate in The42 Membership.
Become a Member
My answer is as follows – Bolton are "for real" to the extent that the league-wide parity continues into the second half.  If you look at their results, they've taken exactly one point (the draw with ManYoo) that you wouldn't bet on them to get again in the second half of the season.  Furthermore, they actually dropped some points you'd expect even a mid-table team to pick up.
For example, their home matches with Fulham, Blackpool, and Birmingham should have led to five or six points instead of the three they did yield.  It is very reasonable to expect that they will duplicate their points haul from the first half of the season into the second half.
The big question is whether some of the other teams around them in the standings will pick up the pace a bit – Bolton are a bit behind the pace of last season's sixth place team as of right now.
With those random thoughts out of the way, on to the Week Ahead starting with our analysis of the schedule and what it holds for fantasy managers:
Schedule
Wherein we discuss those match-ups that DO hold significant value for fantasy managers and those that just LOOK like they hold value but that will bite you if you invest too heavily:
Real Value
Citeh vs Everton – I know Everton (and Howard) were at least OK last weekend but I have to say I'm still not convinced.  Eveton's reputation and those of some of the players are much more impressive than the reality this season.  Even with Tevez a question, I see this as a strong match-up for Citeh.
WBA vs Wolves – Wolves just aren't good on the road and WBA has continued to defy expectations even with Odemwingie injured for much of the last two months.  I'd guess something on the order of 3-1 to Albion. Did I mention that Wolves have one point and only five goals from their eight road matches?
Blackburn vs WHU -West Ham have managed three points from their four road goals which is actually pretty impressive.  That said, Rovers are excellent at home with only six conceded at Ewood Park all season and WHU's efficiency seems unlikely to get them another road point this weekend.
Liverpool vs FUL - The third of 3 road teams without a road win that will have fantasy managers licking their chops at the possibilities.  Fulham have gone WHU a bit better and collected five points from only six road goals while Liverpool have been strong at Anfield losing only once and conceding only six all season.  Between Wolves, WHU, and FUL all traveling, there could be a lot of CS points out there this weekend.
False Hope
Arsenal vs Stoke – I'm not saying that Arsenal aren't going to win but between Arsenal's mediocre home form and their traditional difficulty with physical teams, this has the look of 2-1 card-fest rather than 4-0 drubbing.
NUFC @ Birmingham – Eighth traveling to 16th can LOOK appetizing but don't be fooled by this one. Birmingham are an entirely different team, especially at the back, when they are at home.  Newcastle aren't a bad road team but they definitely score less and BRM concedes less at home.  Upside seems to be a 1-1 draw for NUFC with nil-nil a very likely outcome.  Regardless, not that many points to be had.
Forwards
Tevez – Assuming, you know, he actually plays.  If he does, he is THE guy to have.
Torres – He's been disappointing away from Anfield but his home record is much more impressive and this weekend's opposition is anything but impressive so for this weekend, he's worth the money.
Diouf (Mame) – Cheap, good match-up and coming off of a scoring effort.  Not going to lead your line but certainly an Enabler Deluxe this weekend.
N'Gog – Speaking of Deluxe Enablers, N'Gog has looked far more competent recently and his price is right for what could be a big day for the Reds at Anfield.
Balotelli/Jo – Hard to know what to make of this duo or even if we'll know ahead of time which (if either) of them will partner Tevez. If we get a strong vibe then there's value to be had even in Balotelli who may be crazy but also very talented – think of him as Mido PLUS (anything could happen any given week).  For a low price, that's interesting.  If his price starts to edge up, he becomes MUCH less interesting.
Midfielders
Morton Gamst Pederson – He's been pretty solid for about six weeks and the match-up is a great one.  The price is a bit high so if you have him, keep him.  If you have the money, then buy him.  If not…
David Dunn – He's managed to stay healthy for a nice little run of matches.  The match-up is a great one HOWEVER this is usually when the other shoe drops for Mr Dunn and he limps off with a hamstring issue after about 15 minutes.  On paper, I love this pick.  History has taught me to temper my enthusiasm.  The upside is he's reasonably priced so I'll let you decide how you feel about the injury risk.  If he goes 90, I think it will work out well for you.
Brunt – His price keeps going up but he's a great bet even at the higher prices because of the match-up.
Tchoyi – A bit up and down from a fantasy standpoint but he's rumored to be playing at forward this weekend with Odemwingie injured and the price is right.
Silva – He was very good last weekend and the match-up is even better with Citeh at home.  Seems to be an automatic pick these days so should represent value. 
Defenders
Kolarov – He should be back in the line-up for Citeh and worth the money with a clean sheet a reasonable outcome at home against EVE.
JBoat – I could have just doubled up on the previous entry and promoted both Citeh wing defenders but my only misgiving about Boateng is that he seems more likely to be rotated with Richards a viable alternative – not so many alternatives on the left.
Skertl/Konch – Liverpool solid for a CS and they're the cheapest ways to get in on it.
Tamas – He was really solid early in the year from a fantasy standpoint and hasn't really had a complete clunker.  Given the match-up and his price, he's not a bad option if you're looking for a short term answer at a good price.
Jones – Very steady all year for Rovers and the match-up/price combination makes for good reading.  Of all of these recommendations, he seems the most likely to return his value – the only downside is that he seems unlikely to blow it away.
Keepers
Robbo – The price is low and the probability of a clean sheet is high.  Pretty easy choice if you're buying new this weekend.
Reina – His price has dropped heavily in many leagues after the loss to NUFC last weekend and with a great match-up you may find him on the bargain rack.  A nice alternative for people who still have Robbo scars from seasons past.
Hart – If you have the money, he's the guy but his cost drives him to third place on this list.
Szczesny – If Fab21 remains out, he's not a bad bet but I'd place him a distant fourth to the two above.
Captains
Tevez – Assuming there isn't any news that he won't be playing, he should be the best bet this weekend.
Torres – He's money at home and it helps that he's got a great match-up this time around at Anfield.
Tchoyi – If you're looking for something from left field, here's a great opportunity.  If you don't like that sort of risk then consider whichever of the top three keepers you end up with.
Neal Thurman and Jeremy Spitzberg  write what they believe to be the oldest-runningblog focused on English Premier League. They also believe they were the first two people ever paid real money to blog exclusively about the same.
They may be entirely wrong on both counts but that doesn't stop them from writing or telling people that they were first.