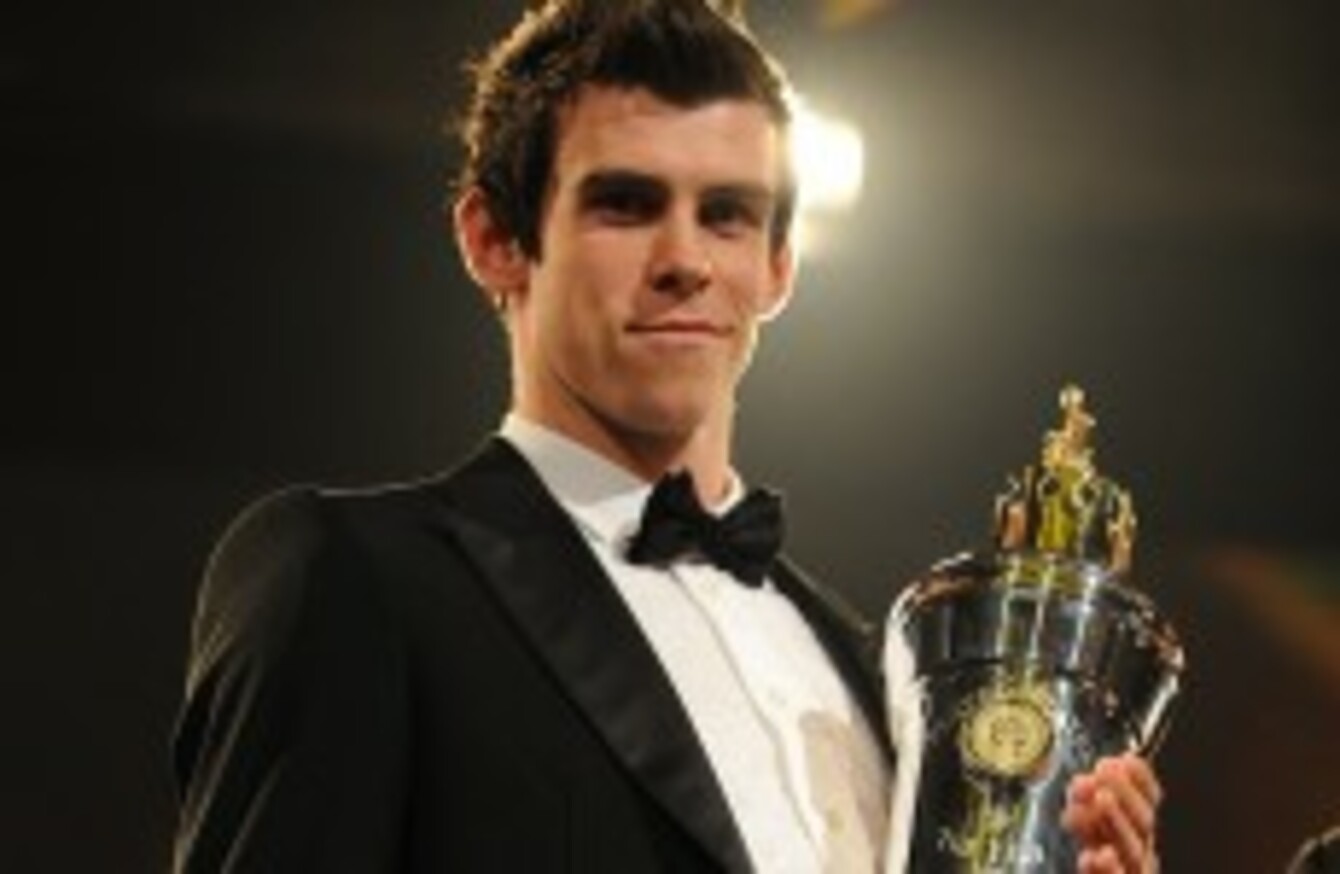 Tottenham's Gareth Bale won the PFA Player of the Year. But is he worth the money for fantasy managers?
Image: Tony Marshall/EMPICS Sport
Tottenham's Gareth Bale won the PFA Player of the Year. But is he worth the money for fantasy managers?
Image: Tony Marshall/EMPICS Sport
I'M SURE THE fact that a player who has contributed very little over the second half of the season has been named PFA Player of the Year has been covered elsewhere here but I'll try to bring my own take to the matter.
I won't drag down Bale – he didn't vote for himself and might have been a great choice if he'd been healthy all season.
I also won't make a particular case for other candidates although I think that Vidic should have won as the heart of the likely champions who based their success on stalwart defending at home.
I also won't make a case for Charlie Adam who, should Blackpool stay up, should be nominated for something more than player of the year because he is one of the few Premier League calibre players on that team.
No, I'm going to spend my time railing against the process of voting.
Now I understand that there was a time when this sort of process took a lot of time.  Nomination forms had to be mailed out, filled out, mailed back, tabulated and then published before anyone could even vote for the winner.
The same process would then have to be repeated to determine the winner.  I can see where that would all have to start early in the year to make sure it was completed before the end of the season.
Here are a few questions and observations now that we live in the age we live in:
Timing – With the goal of all professional leagues around the world being to stay in the headlines throughout the year, why are they forcing this award into mid-April when we should all be focusing on the end of the season? Shouldn't this be happening in June once we know how the season has actually turned out?  It would create a storyline for the papers, websites, and bloggers that doesn't involve transfer speculation over the summer.
Process – In an age that features email, secure portals, and the like there is no excuse for the process taking as long as it did when it all had to be done by mail.  Nominations could be done about now with reporters and columnists given a week or two to write their columns about the relative merits of the nominees.  The vote would happen in early-to-mid May and the announcement could be made on the last day of the season with a flurry of stories.
Participation -  I know the award is the PFA award but it seems like there should be some form of audience participation in at least the nomination process that would allow sponsor Barclay's to engage the audience which is after all why they are sponsoring the league and the awards in the first place.
I know this is a minor thing but if you're going to have awards, you might as well do it the right way.  One of the comments everyone seems to be making in relation to the Arsenal takeover and the proliferation of American ownership in the Premier League is that they bring better ways of running the business of sports.  This is just one minor example.
Please don't get me started on the fact that the only way I can get most Premier League matches online is via a pirated feed.
With that rant out of the way, I will move along to your regularly scheduled fantasy Premier League analysis.
The Schedule
All you really need to know about the schedule this week is that there are four teams with two matches: Bolton, Fulham, Stoke, and Wolves.  Now, these aren't exactly the powerhouses of the league so you may only want cherry pick a few players from each team rather than loading up like we (hopefully) all did with Chelsea this past week.
Here's a quick breakdown of the quality of the two matches for each:
Bolton (ARS, @FUL) – Tough home match and an away match against a team that doesn't give away many points in their home stadium.  Not a lot to love there but still two matches.
Fulham (@WOL, BOL) – Away match against a struggling opponent and a home match against an average opponent.  Fulham haven't had what you'd call a bad result (home loss or away loss to a bad team) since their Boxing Day capitulation to WHU at Craven Cottage.  I like the potential here.
Stoke (@AST, WOL) – Stoke has been the epitome of a mid-table team.  They have a middling match at Villa and what SHOULD be a win against Wolves at home.  The hard part with Stoke is knowing where the fantasy points might come from with so many erratic fantasy scorers like Kenwyne Jones and John Carew leading the line.
Wolves (FUL, @STO) – If this were a good or even mid-table team with this schedule, you'd be pretty interested but given that this is a team fighting to stay up, you'll probably want to be cautious.
Of the one-gamers, Chelsea are the obvious play with a home match against West Ham on the schedule.  Obviously there are cheaper options out there but since you probably have a lot of Chelsea in your line-up from this week, the default question you might want to be asking yourself is "what's the case for making a change?"
Forwards
Zamora – I like him as an option more than I like either of the Bolton forwards (Sturridge and Elmander) because the match-ups are just that much better for Fulham.
Sturridge – Unlike other formats, the Premier League game is such that his price hasn't skyrocketed since his loan to Wanderers and subsequent hot streak.  This makes him a great bargain at 5.3 even if the match-ups aren't spectacular.
SEB – With two matches and a price of 4.9, he's a great bargain.  If you compare him to say Elmander and Kenwyne Jones (combined 2 goals and 2 assists since New Years Day) I think you'll like him even more despite his match-ups and the team he plays for.
Drogba – He seems to be on the comeback trail after a long barren spell.  Not saying he'll completely explode but if you're going for a one-gamer at forward, he's the one to go for in my book.
Midfielders
Dempsey – Middling price (7.3) with star production and two matches.  Can't argue with that.
Walters – Etherington is the logical play and not a bad one but Walters is playing forward most of the time and listed as a midfielder in the Premier League game which makes him very attractive.  That he's also in form and inexpensive also help the case.
Jarvis – Far and away Wolves' best fantasy player to the extent that he's a legitimately strong fantasy midfielder whose scoring has been fairly consistent throughout the season.  Another inexpensive one.
One-gamers – Sticking with FloMal, Lamps, or Nani given their match-ups isn't a bad call at all.  Nani seems due for a big match.
Defenders
Hangeland/Fulham – Would it surprise you to realize that you see three Fulham defenders – Hangeland, Hughes, and Baird – on the scoring charts before you run into a single player from any of the other two-match candidates? I have two points.  First, if you're going to pick up a two-game defender he should be from Fulham with Hangeland significantly better than the alternatives.  Second, you probably shouldn't be counting on any of the other teams for defenders.
Smalling – Still great value with United returning home where they don't lose.
ACole – Given all of the relative bargains above, you should have money for a premium defender.
Vidic – See ACole.
Kolarov – A cheap way to bet on a City clean sheet against struggling Rovers.
Goalkeepers
Schwarzer – Best combination of match-ups and performance over the course of the season.
Jaaskelainen – Despite the fact that his defenders are fantasy laggards, Jussi has been pretty solid all season and combined with the two matches isn't a horrible bet if you want a two-gamer in net and have run out of spots eligible for Fulham players.
Hart – For those looking to "stand pat" and have Hart already, his match-up at Rovers seems like a solid bet for a clean sheet and strong fantasy points despite only one match.
Cech – Another potential holdover from your team last week that retains his value and helps you spend the money not spent on attackers this week.
Captains
Dempsey – Call me a homer if you'd like but I'll take 160+ minutes of Dempsey as my captain over more glamorous choices from bigger one-match teams.
Zamora – Can you tell I'm going "all in" on Fulham this week? What can I say, I like their match-ups a lot.
SEB/Sturridge – Call it a toss-up between someone of modest talents, decent match-ups, and a lot on the line (SEB) and someone with burgeoning talent, excellent form, tricky match-ups, and a team that has settled into the middle of the table.  If you're the sort who believes in talent over all then I'd say Sturridge is your man.  If you believe in desperation then SEB would be your choice.
Neal Thurman and Jeremy Spitzberg  write what they believe to be the oldest-runningblog focused on English Premier League. They also believe they were the first two people ever paid real money to blog exclusively about the same. They may be entirely wrong on both counts but that doesn't stop them from writing or telling people that they were first.