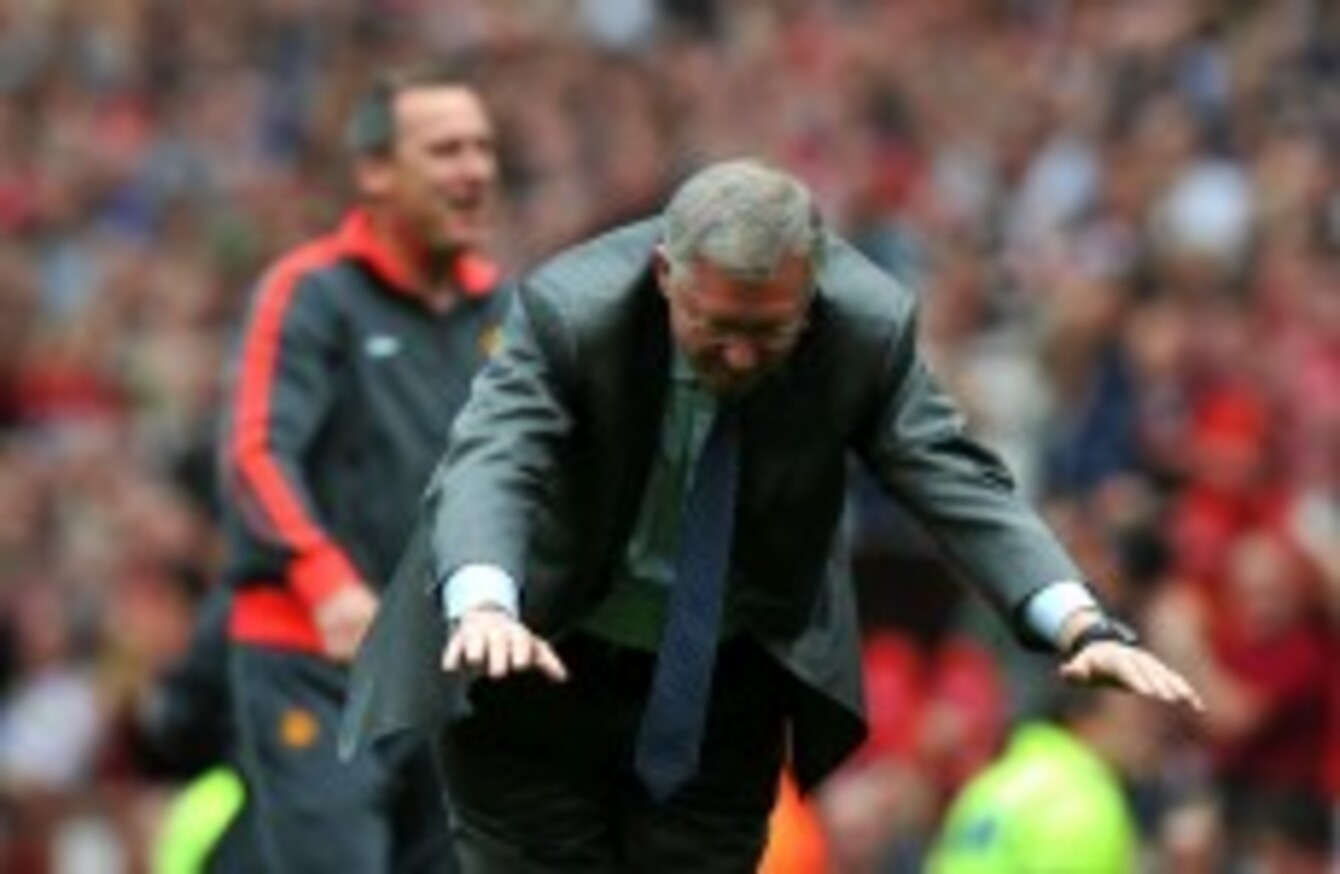 Image: Martin Rickett/PA Wire/Press Association Images
Image: Martin Rickett/PA Wire/Press Association Images
AS THIS IS the last match week of the season, I figured it would be a good idea to give you an idea of how your prognosticator did in his personal fantasy efforts in the official Premier League game.
For those who are interested, my history has largely been with the Yahoo! UK game.
I have been playing that game for many years and was their first official on-site blogger along with Jeremy Spitzberg for a few seasons.  This is important because the two games are significantly different – Yahoo! includes more statistics – eg shots on target, successful crosses, corners won, tackles won – that causes you to value players somewhat differently, especially midfielders.
In addition to the Yahoo Premier League game, I've been playing fantasy sports of various kinds – NFL, MLB, NBA, etc.  – very successfully for over 20 years.
This was the first year I really made a concerted effort to learn the ins and outs of the Premier League game.
There were certainly some ups and downs in my performance as I learned to cope with a different set of rules.  I thought the scoring differences would be the biggest adjustment but as it turns out, the biggest adjustment for me was the fact that the Premier League game restricts transfers while the Yahoo! game does not.
Figuring out the art of when to pay the points deduction for a transfer you think has an exceptional week in front of him versus sticking with a mediocre option was far and away the hardest part when you're used to being able to turn over your entire team week-to-week if that's what you think makes the most sense.
Over the course of the season I, predictably, started out slowly as I learned the ropes and showed improvement toward the end (at least until I went on vacation in the UK with my username and password behind in the States with my laptop).  I finished the season in the top 5% or so of overall entries.  Not terribly impressive since I'm used to finishing in the top one or two thousand overall in the Yahoo! game but not bad for the first time around.
As I head into the summer, my goal is to start tweaking both my approach to this game and the way I write the column.  The "one week at a time" perspective that works perfectly for the Yahoo! game will have to yield to something that spends more time contemplating the number of transfers that you have available as well as upcoming quality of schedule.  Your time horizon for this game is probably four or five weeks for any individual transfer rather than one week.  Hopefully this will improve the utility of the column and the performance boost you get from reading it and taking some of the advice.
Thank you for spending a little time with me each week here at TheScore, I hope to do it again next season.  With that, we return you to your regularly scheduled fantasy analysis.
Schedule
The interesting thing about the last day of the year this season is that there is no incredibly obvious team.  That is, there isn't a home team with a ton on the line playing against an opponent that doesn't have anything to play for.  Given that, here is a quick run-down of the next best things:
Wolves vs. Rovers – Both teams are fighting for their lives with Wolves being at home and riding some solid momentum I'm favouring their players more so than Rovers. Probably not a high scoring affair but I could see 2-0 or 2-1 for Wolves.
Blackpool @ United – Don't get me wrong, I'm not betting on Blackpool's defence regardless of whom Fergie rolls out to start.  I will, however, bet on Blackpool scoring some goals whether they win, lose or draw on Sunday.  If nothing else this will be the match to watch.
Wigan @ Stoke - Could Wigan come back from the dead? Seems unlikely but I'm betting they, like Blackpool, will score a few goals regardless of the outcome.  It will also help that Stoke have to be a bit demoralized after two straight losses to Citeh.
Citeh @ Bolton - I think Citeh would like to lock down automatic qualification and Bolton, other than doing what everyone other than United has been doing and beating Arsenal, have been pretty terrible over the last couple of months (where have you gone Stuart Holden?).
Arsenal/Liverpool/Spurs – Honestly, I'm not sure what to make of any of these three – Arsenal are just a disaster and neither Champions League aspirant seems too excited about the prospect of the Europa Cup.  My sense is that all three represent slight value but not a ton.
Forwards
Tevez – His motivation will be two-fold.  His team is competing for direct entry into the group stage of the Champions League and he has a personal battle with cross-town rival Berbatov for the Golden Boot.  Seems like motivation enough for me.
Ba – If he starts (which is in minor doubt due to the racism controversy) he seems like a player with plenty of motivation as he auditions for a new job.  West Ham as a group may not be terribly motivated but I like Ba's chances against an equally uninspired Sunderland team that is also missing almost a full squad.
DJ Campbell – Back in the goals with a brace last weekend for Blackpool and potentially going against a defense that will include Johnny Evans – seems like a solid recipe for scoring.
Fletcher – With rumors swirling that Doyle has had a recurrence of the injury that kept him out for the majority of the run-in, Fletcher will be back to leading the line against a poor Blackburn team.
Rodallega – Wigan will be desperate and he came up with a solid fantasy performance last weekend – seems likely that he'll do it again.
Berbs – This should really be held until Friday when we know whether he is likely to start or not but I felt like it would be irresponsible not to mention that there's a great chance that he'll play and score enough to win the most improbably Golden Boot in the history of the league.
Midfielders
Adam – He just keeps justifying his place as THE fantasy player of the season, especially in the PremerLeague.com format where his price still isn't crazy.  Throw in the motivation of captaining a team fighting to stay up (even if Adam is not likely to be around next year regardless) and you have the must-have player of the week.
Puncheon - Keeping with the Blackpool theme, I think of him as Adam-light (and a great bet to improve dramatically as a fantasy player next season if Adam moves on and BPL stay up).
N'Zogbia – His performance last season reminded me of long-time blog punchline Mark Viduka – his performances always improve when he feels like he is auditioning for his next job/contract.  Seems like something you might want to get in on.
Larsson – With Bentley out because he can't play against the team that owns his rights, you have to assume Larsson will be integral to whatever attacking Birmingham does – the only downside is that even with their survival in the Prem on the line you wonder how much attacking that might be.
Toure – Yaya is an odd player – I don't think there's any way he could have been viewed as an overwhelming success this season given his price in the transfer market (the real one) and the fact that his game isn't very flashy.  That said, he's quietly been one of the more effective fantasy midfielders around this season.
Zenden – We put a lot of stock on players who take free kicks for their teams, especially defenders and midfielders.  This gives them improved chances for assists and maybe even the occasional goal.  With all of the injuries at Sunderland, Zenden finds himself taking more and more and you get those opportunities for a bargain price.  If you've seen Sunderland play in the last couple weeks, you'll know he's been close… and that you should get a life because they've been unpleasant to watch.
Defenders
S Ward – Assuming Doyle is indeed hurt then Ward is a great option as an inexpensive defender playing as a withdrawn striker.  Great potential value as he is also at home and playing against Blackburn.
Smalling – I think Blackpool will score more than one goal but if you want to balance out your investment in their attack then Smalling (likely to play) is a relatively low-cost way to do so.
Elokobi – Not the most fashionable fantasy player ever but a reasonable bet for both a clean sheet and potential attacking points for a reasonable price.
Craddock - But likely only if you're a Wolves supporter and are looking to pay homage to his extremely well-struck goal that was instrumental in last weekend's huge win.  He is cheap if you don't have the above reasons.
Goalkeepers
Hard for me to guess where a clean sheet, or even a win, might come from this weekend which means that I'm unlikely to invest heavily in my goalkeeper or use a valuable transaction on one.  Joe Hart is the best bet and my guess is that a high percentage of players already have him which should work out fine.  Other inexpensive options if you need to make a change include Robbo, Hennessey, and Al-Habsi.
Captains
Tevez – You have to like his motivation combined with his skill and his form.
Berbs – The story of this odd Premier League season might not be complete without a Golden Boot for a player who hasn't started an important match down the stretch for his club.
Adam – Until proven otherwise, he's probably the safest bet to produce points that would then get doubled.