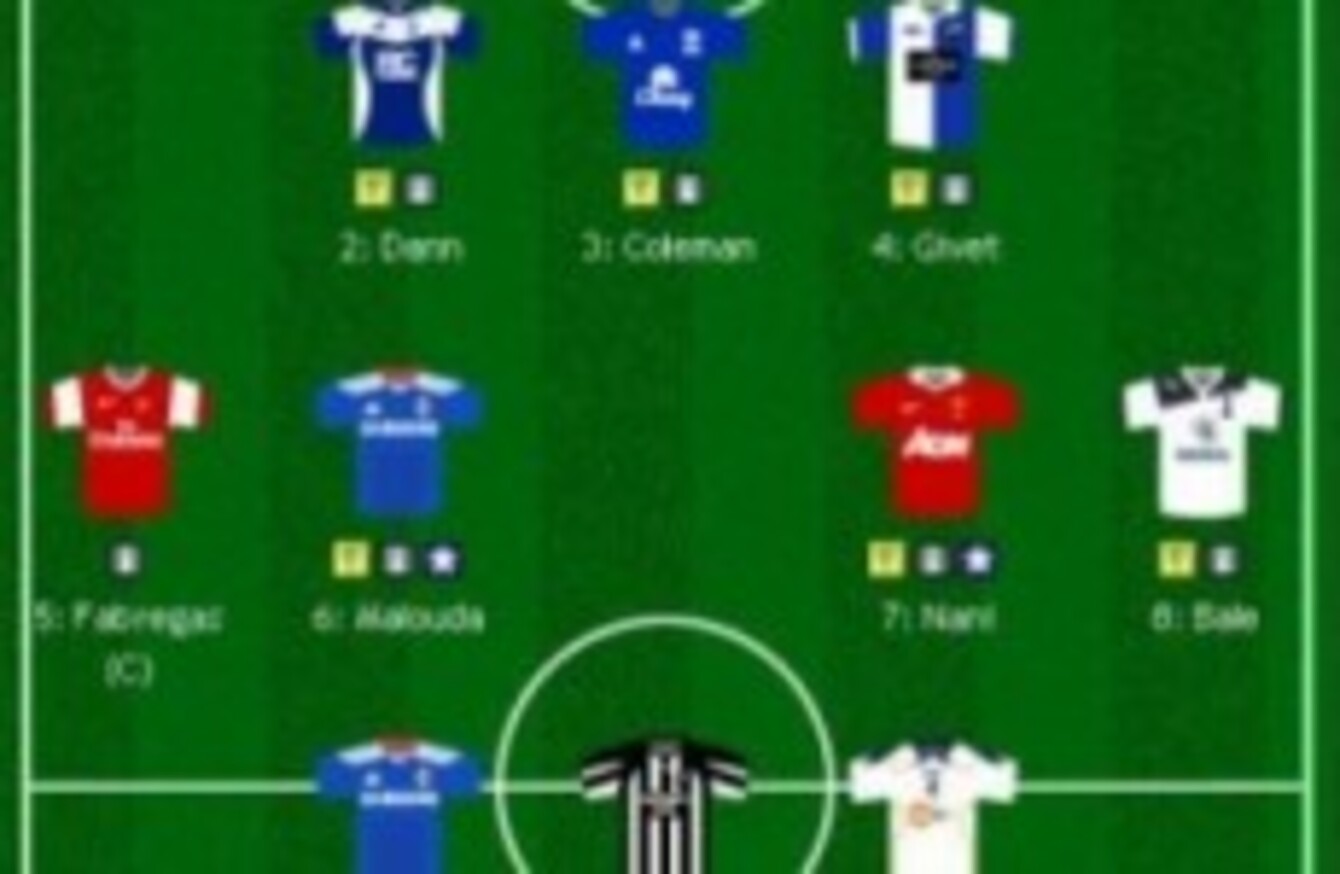 GIVEN THE LATENESS of this post within the week you'd expect me to have some sort of excuse like having a crazy travel schedule due to the holidays or something similar.
As it turns out, I just wasn't in a positive frame of mind yesterday.  I usually don't get THAT invested in sporting outcomes to the point where they really make much of an impact beyond a perhaps a few minutes.
Furthermore, I can almost always separate my preferences as a fan from my writing – sure, I'll make it clear to all that I'm an Arsenal supporter but I don't think I let that affiliation impact my fantasy recommendations.
That said, I just couldn't bring myself to write yesterday because I knew I'd be too bitter about the Arsenal/Wigan result to do a decent job of it (insert your own joke here about the quality of the job I do if you want to get one more joke in during 2010).
As I try to come down from that disappointment, here are a few brief observations about the weekend.
I am now taking some solace in the fact that despite my disappointment at Wigan being awarded a totally BS penalty early and Arsenal not getting a penalty awarded for the clear hand ball in the box on Nasri's free kick late in the match that Arsenal wouldn't have gained any ground if the officials were doing their job better all mid-week.
ManYoo were screwed over just as badly on Birmingham's late equalizer so it is impossible to be upset at Arsenal's fate without admitting that ManYoo didn't deserve their fate either.
My second note is related to the media reaction to the Arsenal draw.  The media can't seem to decide what storyline to go with.  The "Wenger dropped points after making a lot of changes" storyline was so obvious that they couldn't drop it despite their second storyline.
That one went something like "Arsenal were screwed by bad calls and deserved to win" and I can't understand how you can write both.  If you write the second storyline then you can't write the first one.  If Arsenal played well enough to win and only fell due to poor officiating then how do you write that it was a mistake to rotate? Not much more to this point but I thought it was interesting.
Finally, it was obviously a great Christmas week for Citeh and Spurs who gained ground on Arsenal and United.  Will we ever figure out this season? You get the feeling that March, April, and May might offer up a four- or five-way race for the title because no one seems to be able to sustain their form.
It is unclear from match-to-match which of the "big teams" will be the others and no one seems immune from dropping points to vastly inferior opposition.
Throw in the various financial situations of the big clubs come January – Arsenal can spend but are unlikely to, United are likely still cash-poor, Chelsea have the money but it is uncertain as to whether they will spend it, Citeh have money to burn, and Spurs seem to have at least some to spend and maybe more if they finally sell off some spare parts like Keane, Bentley, et al.  Should be a lot of fun.
Schedule
Where we discuss which match-ups offer real value to fantasy managers and separate them from the match-ups that offer only false hope:
Real Value
Chelsea vs. Villa – Chelsea still isn't really firing on all cylinders but Villa are just falling apart before our eyes.  They aren't quite as talented as last season but there's no excuse for the depths to which they've fallen (well, other than the manager).  James Milner isn't THAT good.  I'm going to find a way to get some Chelsea in my line-up.
Spurs vs. Fulham – Don't be fooled by the temporary bounce Fulham got in mid-week against Stoke, Spurs are another thing altogether and I expect them to win easily against the traveling Cottagers.
False Hope
Citeh vs. Blackpool – Call it a hunch but this season has been all about the big teams being unable to maintain form on a consistent basis.  The other theme has been newly promoted teams exceeding expectations.  In short, all the makings of an unexpected outcome here.
Sunderland vs. Blackburn – Sunderland have been flying high most of the season while Rovers have theoretically struggled and fired a manager.  You'd think this would be a no-brainer but this is the illusion of the bunching in the table.  After a slight dip by Sunderland and a nice little run by Rovers they are only separated by two points in the table.  Not a match-up I'd load up on.
Forwards
Drogba – It's been a while since he got the nod but he's been scoring better and the match-up is enough to justify the price if you can re-work your roster to bring him in.
Piquionne – He doesn't do much else but he scores goals and is generally inexpensive so given the match-up and the home match, I'd give him a look as you round out your squad.
RvP – Seems about time for him to round into form doesn't it? The price is certainly attractive in some formats.
Kalou – His price has dropped along with Chelsea's form but this seems like the sort of potential blowout where he might get back on the score sheet.
Midfielders
VDV – Just an incredible year when he is healthy enough to play.  He's healthy and should continue to impress given the match-up.
Lampard – He's looked poor along with his Chelsea teammates but I see a spotter and another assist for the returning midfielder.
Nasri – I'm not thrilled with Arsenal's match-up this weekend but Nasri is the one choice I'd be willing to make in midfield.
Cleverly – With N'Zogbia out I expect him to be a bigger part of the Wigan attack – his price is still a little high for my tastes but he's a very good player who should be featured this weekend.
Pennant – Price is still solid and they're playing at home against a mediocre Everton team.
Bale – Yes, he's expensive but he's been a stud all season and the match-up helps justify the price.
Dunn – With a general lack of inexpensive midfielders he's a decent option if you need an enabler – we haven't heard from him in a while and that seems likely to change in the near future.
Defenders
ACole – If you can afford him, he's the choice of the weekend at the back.
SeaBass – With Kaboul suspended Bassong should get a start which makes him potentially solid value.
Spector – If Illunga is still out, Spector might start in midfield again which would represent fantastic value for a defender starting in midfield at home against a bad team – even if he's playing for the bottom team.
Djourou – He's been better than Kos/Squillaci so he should start again after a mid-week rest and potentially return value.
Kompany – He's sort of my "blah" option this season – never spectacular but always seems to deliver decent points for the money. The definition of "solid" as a fantasy player this season.
Goalkeepers
Green – With the best bets – Cech and Gomes – expensive coming off clean sheets Green looks to have a very solid price/value profile going into this weekend.  Not for the faint of heart but probably the right answer.
Krul – If you don't have the stones to go with Green then maybe you can muster the fortitude to go with Krul on the road against a depleted Wigan squad.
Fabianski – Arsenal have been up and down but not bad at all on the road really.  Given the price, he could represent value.
Cech – If you're unwilling to go with one of the three admittedly flawed recommendations above then I'd recommend splashing the cash on Cech.
We've had a great year writing the blog in 2010 and we hope you've had a great time reading it as a companion to your fantasy Premier League game of choice.
We look forward to more and better things in 2011.  Have a great night celebrating and we'll see you in the New Year for a hungover live chat.
Neal Thurman and Jeremy Spitzberg  write what they believe to be the oldest-runningblog focused on English Premier League. They also believe they were the first two people ever paid real money to blog exclusively about the same.
They may be entirely wrong on both counts but that doesn't stop them from writing or telling people that they were first.