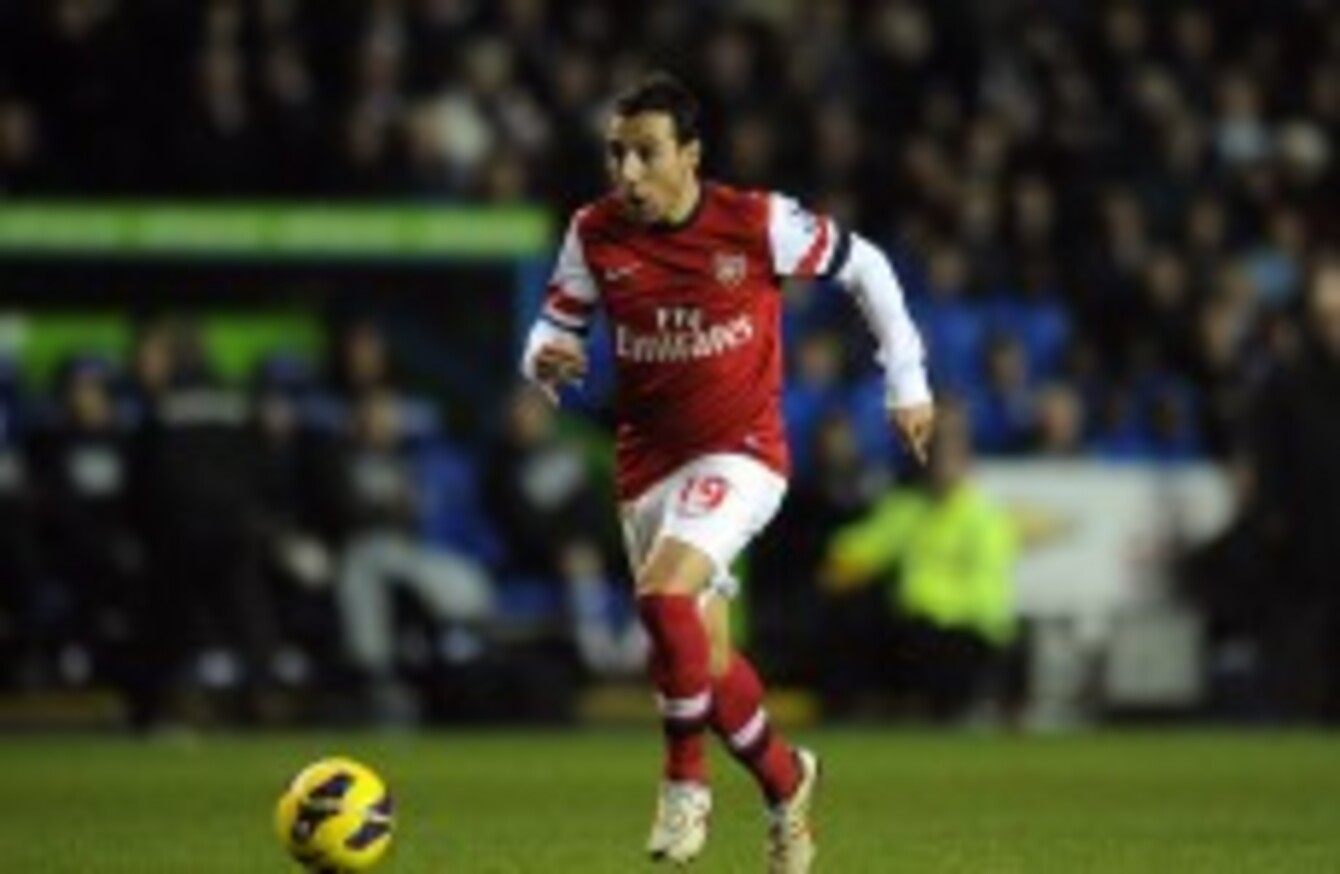 Santi Cazorla could be the ideal pick for those hoping to benefit from Arsenal's double gameweek.
Santi Cazorla could be the ideal pick for those hoping to benefit from Arsenal's double gameweek.
PICKING ARSENAL PLAYERS this week is a risky strategy that could go either way.
On the one hand, there is the fact that they play twice this gameweek, and as a result, there is potential for a player to earn more points than usual.
On the other hand, Arsene Wenger's side were fairly awful against Manchester City last week.
Moreover, they could realistically drop points against both Chelsea and West Ham (the Hammers also play twice this gameweek, by the way), and their dodgy defence hardly merits a leap of faith.
So by all means, pick loads of Arsenal players ahead of this week's fixtures, but if it all goes pear-shaped for the Gunners, don't say you weren't warned.
Two players to pick this week
Edin Dzeko (Man City): The Bosnian international was fantastic as City easily beat Arsenal last week, so he's surely done enough to start this weekend's game. Moreover, City host a Fulham side that have had several problems already this season, and it's hard to see anything other than a comfortable win with plenty of goals to boot for Mancini's men.
Santi Cazorla (Arsenal): Arsenal play twice in one week, so it's advisable to pick at least one of their players. They're likely to concede a few, given that their defence has looked poor recently, and they face tricky opposition in the form of Chelsea and West Ham. And of their more attacking players, Santi Cazorla has been the most consistent individual in their side (even if he's been slightly inconsistent at times himself), so he seemingly represents the most viable option.
Two players to avoid this week:
Jan Vertonghen (Tottenham): The Belgian international has continually been one of the best performing defenders statistically in the league, but Tottenham have traditionally fared badly against Manchester United in the past, and they play the Red Devils again this weekend. Vertonghen scored a rare goal in the reverse fixture this season, but it would be a major surprise if he could emulate the feat this time around.
Thomas Vermaelen (Arsenal): Another Belgian international (I've nothing against Belgian defenders personally by the way), Vermaelen has looked especially unconvincing of late, and produced a dire display in The Gunners' loss to Manchester City last Sunday. Therefore, don't expect him to benefit much from the side's two matches in one gameweek.
Predictions:
Liverpool 3-1 Norwich

Man City 3-0 Fulham

Newcastle 2-1 Reading

Swansea 2-1 Stoke City

West Ham 2-2 QPR

Wigan 1-1 Sunderland

West Brom 2-1 Aston Villa

Chelsea 3-2 Arsenal

Tottenham 1-1 Man United

Southampton 1-1 Everton

Arsenal 2-1 West Ham
How my team got on last week:
My obstinate refusal to put Robin van Persie on my team continues to haunt me. Hence, last week, I secured a disappointing 45 points.
Who's leading TheScore.ie Primera Division?
Mark Dinan's 'Sultans of Ping FC' have retained their lead at the top of the table. Luke Kitt's 'K I C K B A G S' are six points behind in second place.