Sean Farrell reports from UCD
AS THE SUN went down behind the dull clouds over UCD, it was the bright and buoyant energy in the stands that again demanded attention in the final match of the day.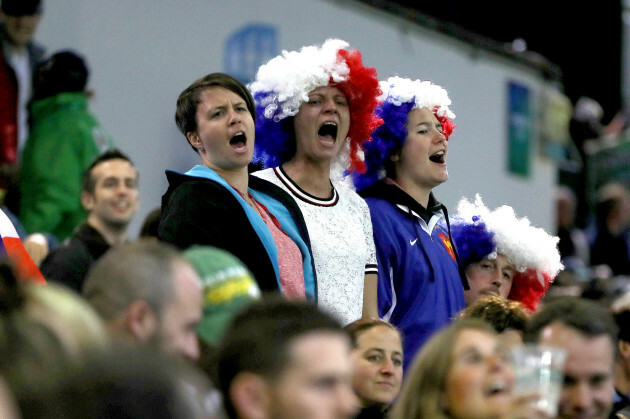 Bryan Keane / INPHO Bryan Keane / INPHO / INPHO
As the clock reached 80 with Australia long defeated, the French support was at its full-on bell-ringing, blood-thirsty best. A defiant Waltzing Matilda was volleyed back before a few voices added a mournful Fields of Athenry to the cacophony. The World Cup is well into its stride.
"I'm very, very proud," says the patient Sandrine Amadee before watching her daughter Montserrat run riot from fullback for France.
"It's better aujord hui. On Wednesday, it was en television."
Amadee, like most sauntering around UCD, is happy to be here. They've come from a variety of distances and have stopped off in Ireland for stints of differing lengths. But here they are, taking in Ireland not just for rugby, but for the chance to tick some tourist traps off the list too.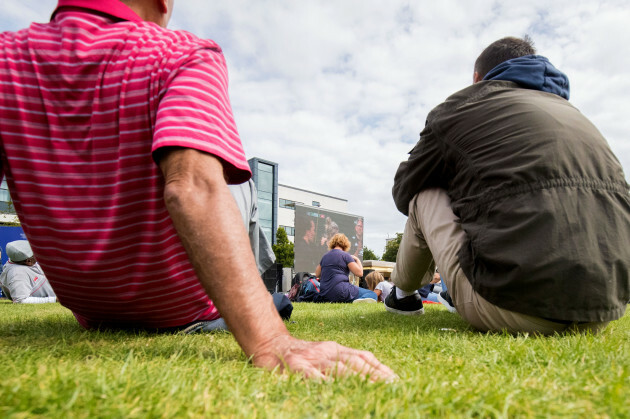 Oisin Keniry / INPHO Oisin Keniry / INPHO / INPHO
That's the thing about the Women's Rugby World Cup. It's an intimate setting for a show. You can walk through the fanzone in the middle of the day and almost trip over Black Ferns kicking back after running up a century against Hong Kong.
Without the premium seating of larger venues, you'll find the parents of players even more frequent. Bump into someone in rival colours, and you will likely see their flesh and blood on the field in the not too distant future.
Amble by a New Zealand warm-up and you won't be far from Eddie Faumausili, father of the relentless Kiwi hooker Fiao'o who is competing at her fifth World  Cup. England speedster Amy Wilson-Hardy's family are travelling back and forth across the Irish Sea for each match. The parents of Japan forwards Saki Minami and Maki Takano will head back home before the final pool match, but they've kept busy on the tourist trail with a visit to Newgrange between matchdays.
Hilton Sanders hasn't travelled quite so far. A Kiwi by birth and a Dubliner for five years, he has his son decked in a black jersey while watching the Ferns tear Hong Kong apart – but promises to get a green jumper on him for the evening.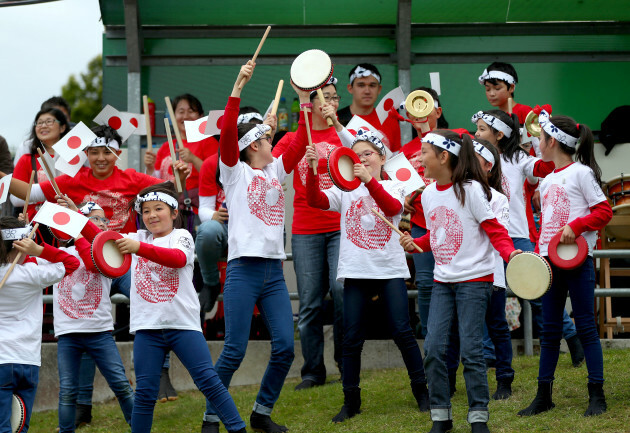 Bryan Keane / INPHO Bryan Keane / INPHO / INPHO
It's that sort of familial atmosphere around campus, but rugby family extends its arms beyond mere blood ties. The Wild Oats club from Saskatoon have sent a division including some team-mates of Kayla Mack, but mostly they are fans of the game.
Alison has travelled with the Wild Oats club from Saskatoon, home club of Canada's Kayla Mack. While most offer up friendly reports of how warmly they have been greeted in Ireland, Alison has a complaint, and it's in line with the feelings of many on these shores.
"This is pretty awesome, I like that there's free Wifi and the venue's pretty nice," says Alison, at her first women's World Cup after travelling to the men's in 2011 and 2015. And while many will happily fling reports of how warmly they've been received on these shores, she has a complaint that many Irish people have already touched on.
Maybe the seating could be a bit bigger, but I suppose that's what happens when you've women's sports. It's not as well broadcast."
Whatever the broadcast numbers, they weren't going to bother the touring members rugby club members from the town of Rugby itself. Easily mistaken for a hen party as they packed together in orange jumpsuits, their only goal – aside from seeing an England win – was some screen time on the game's live feed.
As France run towards the UCD Bowl's stand, arm-in-arm after a 48 – 0 win, to be greeted by bouncing red white and blue, Ireland's hopes of beating them and advancing to a semi-final on home turf sadly don't look quite as bright as the travelling support.
The 42 is on Instagram! Tap the button below on your phone to follow us!