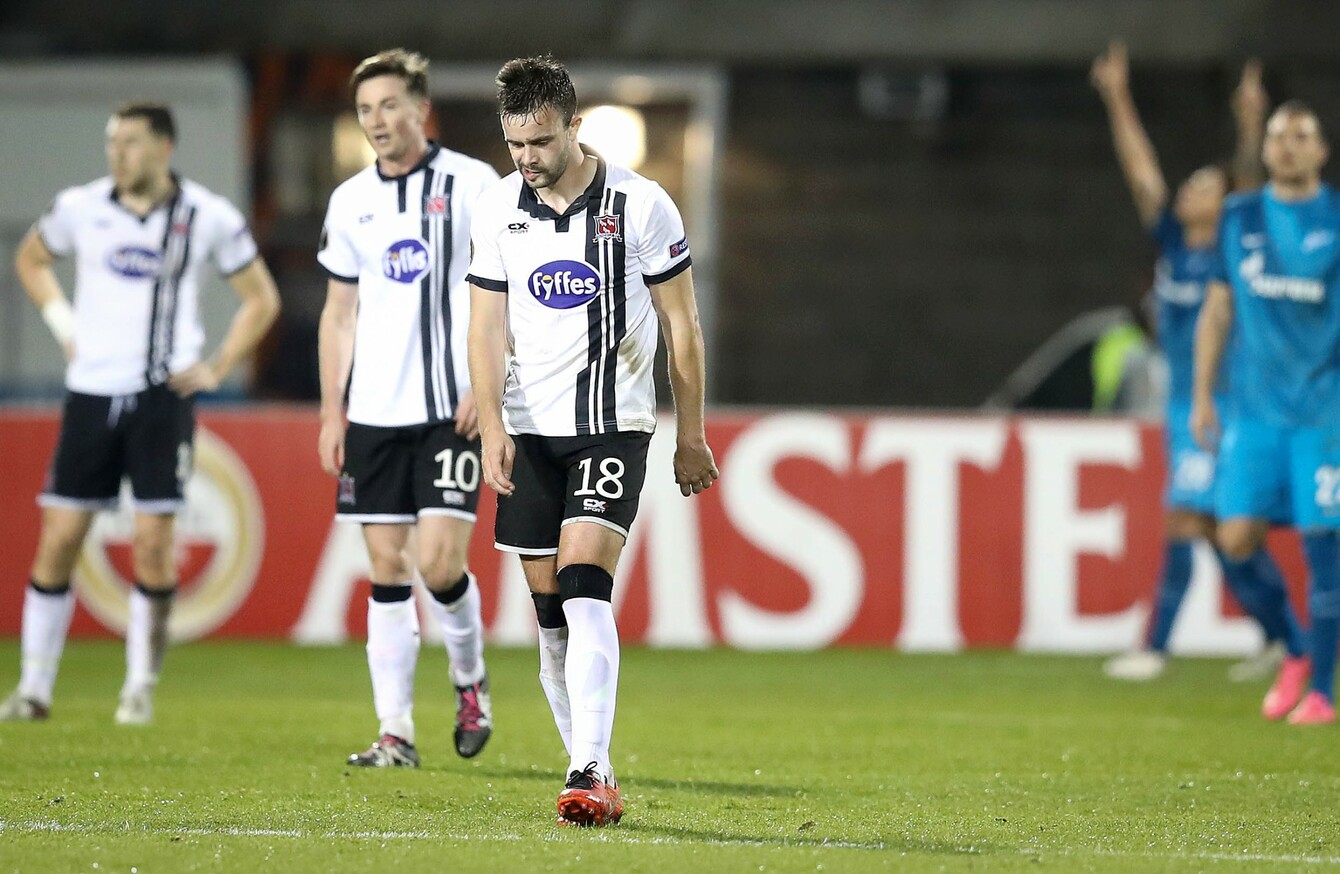 Dundalk's Robbie Benson dejected after conceeding a goal.
Image: Ryan Byrne/INPHO
Dundalk's Robbie Benson dejected after conceeding a goal.
Image: Ryan Byrne/INPHO
Originally published 00.05
1. Fatigue finally catches up on Dundalk
EVEN WORLD-CLASS football teams find it difficult to compete on three fronts, so the current Dundalk side are really up against it at the moment.
As Brian Kerr pointed out, they have been playing a game every three days at times during this intense period.
It's therefore a minor miracle that a side of Dundalk's limited resources have coped so well up to this point.
Despite a narrow loss to Zenit at Tallaght Stadium on Thursday evening, they still sit second in their group, while a second consecutive domestic league and cup double remains a distinct possibility.
Moreover, had they had better luck and avoided one or two costly individual errors, Stephen Kenny's side could easily have emerged with three points.
In the end though, it was clear that an intensive few weeks had taken their toll on Dundalk.
Many of the players looked heavy legged in the final few minutes and it also partially explains why they began to look increasingly vulnerable when tested by the visitors' attack.
2. Jeering of United players ridiculous
It epitomises the increasingly reactionary nature of modern football that so early in the season, there are already small signs of disharmony at Old Trafford.
Early on in last night's Europa League match with Fenerbahce, jeering could be heard as Wayne Rooney and others played backwards passes.
The Red Devils ultimately thrashed their opponents 4-1 to silence the boo boys, but there will undoubtedly be more premature protests if United fail to beat Chelsea this weekend.
Jose Mourinho's sarcastic post-match comments labelling Paul Pogba the "worst player of the Premier League" were supposedly aimed at media criticism of the player, but it was also presumably a commentary on the snap judgements of ludicrous Twitter reactions et cetera, which inspires the type of unwarranted vitriol demonstrated by a section of the support at Old Trafford last night.
3. Still all to play for in Group D
Despite their loss last night, Stephen Kenny will surely still be optimistic about Dundalk's chances of becoming the first-ever Irish team to progress from the Europa League group stages.
They sit second in Group D with three games played, and the League of Ireland team have more than held their own in the competition thus far.
Even against a side of Zenit's calibre, the encounter was far from the mismatch that some might have anticipated.
Watching the game, it was easy to forget that they were up against a team who last year reached the Champions League round of 16 and who had experienced internationals such as Belgian duo Axel Witsel and Nicolas Lombaerts in their side.
For 70 minutes at least, there was little between the teams, with Robbie Benson's strike putting the hosts in the driving seat.
At one point, it even seemed as if the dream scenario, which would have put Dundalk on the verge of the knockout stages, was set to materialise, with the home side leading and Maccabi and AZ drawing.
And even with their loss to Zenit, Dundalk will now know they have little to fear having faced all three teams in the group.
With AZ bottom on one point, it might well develop into a tight contest between the Lilywhites and Maccabi — the team who were just last season playing against the likes of Chelsea in the Champions League — for second place.