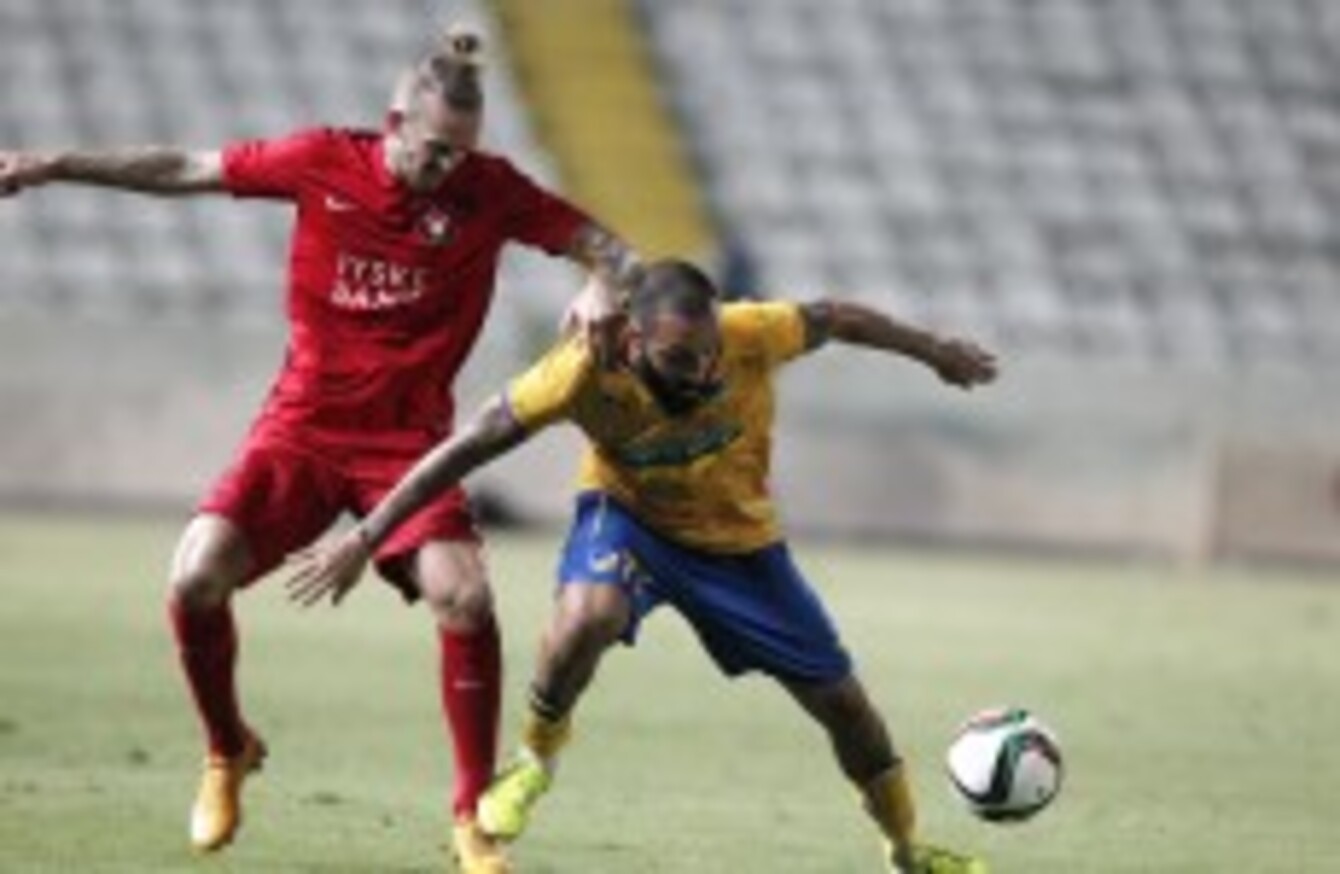 Kian Hansen of Midtjylland (red) during the Champions League third qualifying round.
Image: AP/Press Association Images
Kian Hansen of Midtjylland (red) during the Champions League third qualifying round.
Image: AP/Press Association Images
This is an updated version of an article that first appeared on The42 in August 2015 before FC Midtjylland played Southampton.
LATER THIS EVENING, Danish club FC Midtjylland will host Manchester United at the MCH Arena in the first leg of their Europa League Round-Of-32 clash.
Formed just 16 years ago, they were a club on the up since a 2010 promotion to the Danish Superliga but their fortunes were really transformed in 2014 when Matthew Benham took out a majority shareholding.
The 47-year‑old is also the owner of Brentford and made his millions — he's rich enough to own two football clubs — using mathematical models to predict football results. What has happened since he pumped nearly €7 million into the club in 2014, however, has been remarkable.
For a start, they won the first Superliga title in their short history, beating Copenhagen — winners of six of the last ten titles — by four points and scoring nearly twenty more goals than the next most prolific team.
This brought Champions League qualification where they were eventually beaten on away goals in the third qualifying round by the Cypriot side Apoel.
But what exactly makes the Red Wolves' approach to football unique?
1. Their 'set-piece lounge'
Source: Folactics/YouTube
Once a month, led by assistant manager Brian Priske — the former Portsmouth player — the team and coaches get together in the club's set-piece lounge where statistics, and videos clips are scrutinised to devise new routines.
It works too, as they average almost a goal per game from set-pieces with Atlético Madrid the only team in Europe with a better dead ball strike rate in 2015.
It's no fluke either as four different times during the last Danish Superliga season Midtjylland scored four goals from set-pieces in a single game.
2. A kicking coach
Source: Loughborough University/YouTube
No, it's not rugby. Midtjylland avail of the services of Bartek Sylwestrzak, a specialist kicking coach, who works with the best players at the club from the youth team right up to the senior players.
Sylwestrzak says that "players with a good hitting technique significantly influence the outcome of games through direct free kicks, open play shooting, indirect set piece delivery or crossing. They are often seen as the most valuable offensive assets."
Given the number of times you see a professional footballer failing to beat the first man from a corner, that makes a lot of sense.
3. Re-thinking scouting
There's something romantic about the concept of football scouts travelling to the ends of the earth in the hope of picking up an undiscovered talent. That's not just in football but in a lot of sports.
However, the Midtjylland philosophy is that this is largely a pointless exercise and much more information can be gleamed from watching video and studying analytics than going to see a couple of matches.
Instead, the club use their scouts to analyse if a player will fit into their squad from a personality or psychological point of view.
4. The club is as important as the player
Source: FCGroningenTV/YouTube
When looking for new talent, the club's approach is to ignore national boundaries and they have built an analytics model that ranks every club in Europe as if they competed in the same league.
So while your gut may tell you that there's a big gap between the Premier League and Championship, the reality is that the gap between the top six in England and the rest is much bigger than the gap between the bottom half of of the Premier League and the Championship.
It's the reason they signed Tim Sprav (formerly on Southampton's books) in September 2014 from German second division club Greuther Fürth with Chairman Ramus Ankerson telling De Correspondent:
"Our model says that last season, Greuther Fürth were good enough to play in the English Premier League."
5. Don't believe your eyes
The club has pioneered the approach of using mathematical models to improve and to learn that what you see is not always reflective of what's happening.
At half-time during games, their data analysts text the coaches statistics which works out what the score should be in relation to, not only the chances created, but the quality of those chances.
However, as sporting director Claus Steinlein told The Guardian, the coaches realise that football — being such a low-scoring game — is impacted more by luck, bad-refereeing, etc than other sports and so the team that should be winning often finds they're not.
This, in turn, has an impact on the message given to players at the break.
**********
Of course, this is not to say that Midtjylland's approach is perfect — if it was they'd be in the Champions League playoffs and not Europa League action — and last year they parted company with their coach Glen Riddersholm who had built up a strong relationship for his players.
But they do provide food for thought for managers and clubs who still work on the concept that you should trust your gut both in games and in the transfer market.
– First published 17.00, 19 Aug