THE GAME WAS long over as a contest, all five match points safely in Leinster's possession, but yet their ninth and final try of last weekend's demolition of a sorry Dragons outfit was the score that stood out.
Adam Byrne made the initial break down the right, combining with Tom Daly to move within striking distance. Andrew Porter earned a few more hard yards, before Patrick Patterson — only on for his senior debut — sprayed it left for Ciaran Frawley.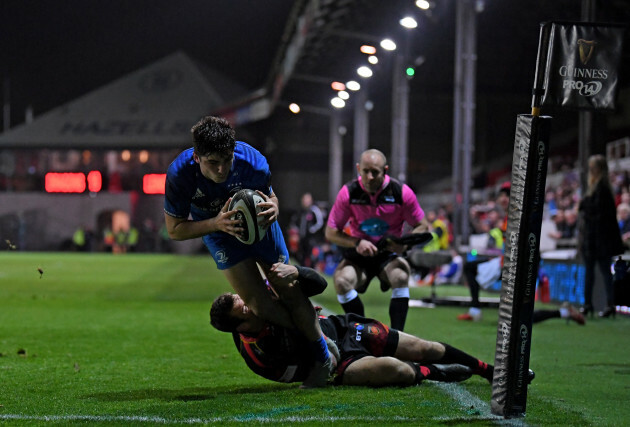 Alex Davidson / INPHO Jimmy O'Brien scores his second try against Dragons. Alex Davidson / INPHO / INPHO
With the Dragons well-beaten and scrambling in defence, the angle of running from the blue shirts stretched the home side further, as Frawley, Conor O'Brien and Max Deegan all executed three perfect passes to exploit the space for Jimmy O'Brien to dive over in the corner.
It was a perfect example of Leinster mastering the basics to superb effect, and another illustration of just how potent they have become, as a young team breached the 50-point mark for the second week in a row.
Not too dissimilar to Joe Schmidt's Ireland, the province have developed an ability to retain the ball through long phases of play, suffocating the opposition through possession and then showing a clinical edge to strike for points.
Leinster have averaged 41 points in their last seven outings in both the Pro14 and the Heineken Champions Cup, and it has become obvious in recent weeks just how comfortable the province's younger players are at seamlessly slotting in to the high-tempo, high-energy style of play.
A lot of that is down to the work done on the training paddock under Stuart Lancaster, when the emphasis is on being comfortable under pressure, building through long passages of play and managing to do so while fatigued.
It must be hugely satisfying for all the coaches when the players execute those skills in a match environment, getting through mountains of work during phase-after-phase to eventually wear opposition defences down. 
That high-possession strategy — employed in other sports by Barcelona, for example — is all well and good, but much of Leinster's success has been built on their defensive work — a point backs coach Felipe Contepomi was keen to make this week. 
Cullen's side have conceded less points than any other team in the Pro14, leaking just 148 points from their 10 matches, which is considerably better than the 199 conceded by Conference A leaders Glasgow.
"For me it's not about result after result, it's about performance and everyone speaks about Barcelona because of the amount of points that you score, I would put it the other way round, I would say that we're very good because we defend very well," Contepomi says.
We don't concede that many points so the day that we don't score 40 points, we'll probably be able to win a game because we don't concede that many. 
"While there are other teams that score a lot of points, but they concede 30 points and the day that you don't score 31 then you lose the game.
"We conceded seven, 10 points, and to me that's the key because opportunities will come and the way that rugby is played nowadays, it's quite quick.
Laszlo Geczo / INPHO Contepomi with Garry Ringrose earlier in the week. Laszlo Geczo / INPHO / INPHO
"The thing is that we have been good and the players, they perform, and they perform basically at their strength in defence. And that puts us in a good position."
The Argentinian, who joined Cullen's coaching ticket last summer, stressed Leinster do not hold onto possession for the sake of it, with their recent Pro14 win over Benetton seeing them hit a season-high of 73% possession and 77% territory.
"It's not just about holding the ball until an opportunity unfolds," he continued.
"We try to create and detect opportunities. We've seen if for the last game for us [against Dragons], we take the opportunities. It's the way it is and when you have a team that attacks and attacks, you will have a lot of bodies in the front line and maybe the opportunities in the back line.
It's not just holding onto the ball for the sake of holding it. It's about moving and putting yourself in good shape, the shape we want to play and when the opportunities appear, take it. That's the mentality, rather than just holding onto the ball as opportunities won't come. You have to create them.
Getting through those reps in training at UCD, he says, is key.
"All training is about that. Everyone needs to know their job and do their job.
"That's why we try and create opportunities by everybody putting themselves in position early and quickly to run a line, to hit a ruck, carry the ball, to pass.
"We try and train in that unstructured way, to be able to have that decision-making in training so then we can replicate them in games."
As for the Barcelona comparison when it's put to him during the press briefing, Contepomi isn't quite sure, instead insisting there are still areas Leinster need to improve on ahead of Saturday's Heineken Champions Cup visit to Bath [KO 3.15pm, BT Sport].
"Well we have Messi, no?" he laughed. "We have the best player in the world [referring to Sexton]. I don't like comparisons, we are a team that is trying to get better and is trying to do what we do well even better.
"Our mentality is we still know we have a lot to improve and a lot of areas to get better. That's where we are heading and trying to go to." 
Subscribe to our new podcast, Heineken Rugby Weekly on The42, here: