'FUNNY' DEFINITELY ISN'T the right word, but one of the odd things about sport is how injuries seem to follow a player around.
Even after a good solid spell being as injury free as possible, an injury struggle endured in formative years lives on. At least in the mind of people watching the athlete from a distance.
Felix Jones played rugby in 10 of the 12 months in 2014. His time out was the off and pre-season time in July and August. He played 22 times for Munster and four times for his country, yet on both occasions that The42 has been present for Jones' media duties over the past fortnight, he has been fielding questions about his experiences in the recovery room.
Jones tends to keep his cards close to his chest, but nobody could blame him if he got a little pissed off at the gathered press bringing him back to the subject in Carton House:
"I think that could be fair," Jones says of the assessment that he may have expected to have more than the nine international caps by the age of 27.
"Obviously, I want to accumulate as many caps as possible, but the reality is that if you take an injury and you're out for eight months here, five there or six months there, it
really stutters your career.
I'm not trying to make excuses or moan about it, it's just what's happened. I've to put those things behind me and as soon as I do I'm going to be back into it and back to that level as quick as possible. It's something I don't think about a huge amount; it's just the
reality of it."
Munster's Seapoint-reared fullback missed almost a year with a neck ligament injury sustained late in 2009. And in 2012, after six months sidelined nursing an ankle, a shoulder injury denied him touring New Zealand. However, if Jones isn't prepared to use any of this as an excuse, he's sure as hell not going to allow it be a reason for back-slapping.
"People might say that about anyone who comes back from injury," he responds when credited with a strong mentality for getting himself back in peak condition.
"But this is my job. What's my other option, pack it in? It doesn't become an option.
"So you just get on with it."
So… where were we then? Ah, you didn't make the trouncing of Sale Sharks at the weekend, Felix? Nothing too serious, a bruised knee picked up against Saracens.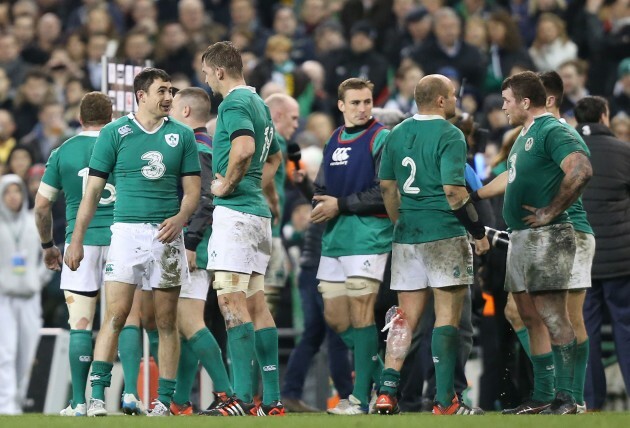 Colm O'Neill / INPHO Jones, left, chats with Dave Foley after beating Australia. Colm O'Neill / INPHO / INPHO
"I know it sounds a bit soft, saying that.
"I know my body well enough at this stage to know when it's not right, it's not right. We made the call early in the week – it's the type of thing that if you don't manage it, you set yourself back for a few weeks."
This is not the time of year to be risking a few weeks out for the sake of a wide open final quarter in a game that ultimately didn't matter a great deal to anyone. Jones is training this week, 'feeling good' and ready to challenge not only for Rob Kearney's fullback jersey, but any place in the back three.
"I think that's massively important to be able to fill more than one job.
"Apart from starter plays, you're actually moving around a lot and covering the same positions so you need to be able to do both."
Whether from the start or off the bench, at fullback or on a wing – Jones will soon win his 10th cap. It's been a long road to get there, but that's just his job.