THE TERRIFIC STILL photos that came through post-match merely filled in the detail.
You could see the reaction of Fergus McFadden clear enough from high in the West Stand. Scoring Leinster's fourth try, the decisive score in the 32 – 17 win over Wasps meant even more to him than securing a place in the European semi-final.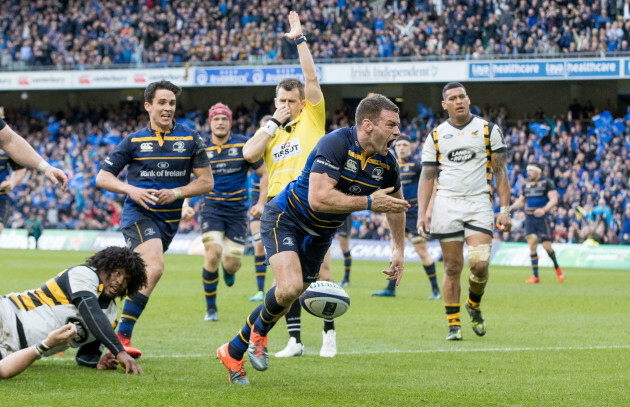 Morgan Treacy / INPHO Morgan Treacy / INPHO / INPHO
"I suppose four months out would do that to you. I'm not usually one for going too mad after scoring a try, but I've been dreaming about that one for a while," says the 30-year-old.
McFadden made his comeback from a severe thigh injury in February. Wasps was just his sixth appearance for his province in the space of 50 weeks. Last April, he played some part in bringing his own season to an early end with a thundering high tackle in the win over Edinburgh. He was handed a three-week ban, and was not called upon for the play-off rounds of the Pro12 after the suspension elapsed.
His injury after featuring in two games at the beginning of this season was just as ill-timed. In any walk of life, the impact of being unable to perform your job should never be underestimated. Players suffer longer lay-offs than four months, but McFadden's half-season four months out of the game this past winter,was a gruelling stint of "dark days" as his province went through an out-half crisis and his country enjoyed a historic November..
"(I'm) just delighted to be back on the team, the biggest thing for me was to feel like I'm contributing again.
When you're injured for a period like that, you can feel a bit lost within the squad… yeah, great to contribute and for it to have made a difference on the day, it gave us a bit of breathing space which was great."
Yeah, he was due a cathartic outburst like that.The 73rd minute score was McFadden's first try since a brace in the win over Edinburgh last season. They were his only tries of the 2015/16 campaign and, coming before the hit that earned him a ban and a HIA, he didn't exactly get much of a window to enjoy them.
Being back on the field of play not only gives him the chance to score and help his team into Europe's final four, but to remind everyone what he is capable of.
There was much bafflement, and a touch of outrage, when Joe Schmidt chose him to replace Tommy Bowe (ahead of the likes of Adam Byrne or Darren Sweetnam) as Ireland prepared for the Six Nations finale against England. McFadden understands the point of view, but he is proud of the call-up and the body of work that keeps him in Joe Schmidt's thoughts.
I'd be first to admit I hadn't that much rugby under my belt. For the rugby I played this year, did I deserve to get called ahead of others? Maybe not.
"But on the flip-side of that, I think I've built up enough credit under Joe. After being coached under him for six years now, for Ireland and Leinster, he knows what I bring. I'm getting sharper each week. Coming off the bench I felt sharper again against Wasps. I was delighted to be called into camp and be back in the setup.
"It was funny, I hadn't been in the setup through South Africa or November, so it was a bit like first day back at school. But it was terrific to see the lads go so well against England."
That sharpness is essential.
In McFadden's absence, Leinster's back three became an even more competitive area thanks to the emergence of Rory O'Loughlin – who, like McFadden can play in the centre as well as wing – and the rise of Byrne. It's not an easy time to be a wing in the eastern province, but competition for his places isn't something that gnaws at the Kilkenny man.
"Some people if they're competing with someone in their position, they never become  friendly or they always have a bit of 'a thing'. I've never been one of those people. I'm the most competitive person once we're training, or playing games, but off the pitch there's no point in me getting caught up or worried about what the likes of Adam or Rory are doing. I can only control myself.
"And those guys have done amazingly well this year. Rory's a great example of someone who didn't get a chance to contribute on the field on Saturday, but he's done so much to get us to that point, along with other guys."
Indeed, there are so many up-and-comers rising into the blue jersey and making their mark on the Pro12 and Champions Cup that you could be forgiven for forgetting what an injured 30-year-old brings to the table. Once McFadden was able to get back training alongside the young pretenders, whether it's down to teeth-gritting competitiveness or not, the challenge stirred him to pick up the pace.
Exclusive Six
Nations Analysis
Get Murray Kinsella's exclusive analysis of Ireland's Six Nations campaign this spring
Become a Member
He notices something different in the the current crop, compared to his own generation, sprouted as Leinster were on their way to the 2008 Magners League title and all the glittering European success that followed.
There were a few of us that only knew winning. So when a few losses (came), a couple of years with no trophies, you're looking around going: 'what's this about?'  Whereas the young guys coming up, they have a hunger for something they've never touched before. That's been great and very refreshing for the squad.
"I think this is more of a mass emergence than the one I was with. The one I was with, a few young lads got nibbles, but there were guys ahead of me that got more –  Sean O'Brien, Johnny and Cian Healy – I was in and out.
"Now there's a whole bunch of them behind and there's a few more behind them as well. It's great for the club, but for me after being injured, it's been a real re-energising to see those guys come in. It's been great because sometimes when you're with the same squad for a long period of time, things can become a tiny bit stale.
Morgan Treacy / INPHO Morgan Treacy / INPHO / INPHO
"As much as we all want to win trophies and every week, the young guys just add huge energy to the squad.
"I'm just happy to be part of it now."
The42 is on Instagram! Tap the button below on your phone to follow us!