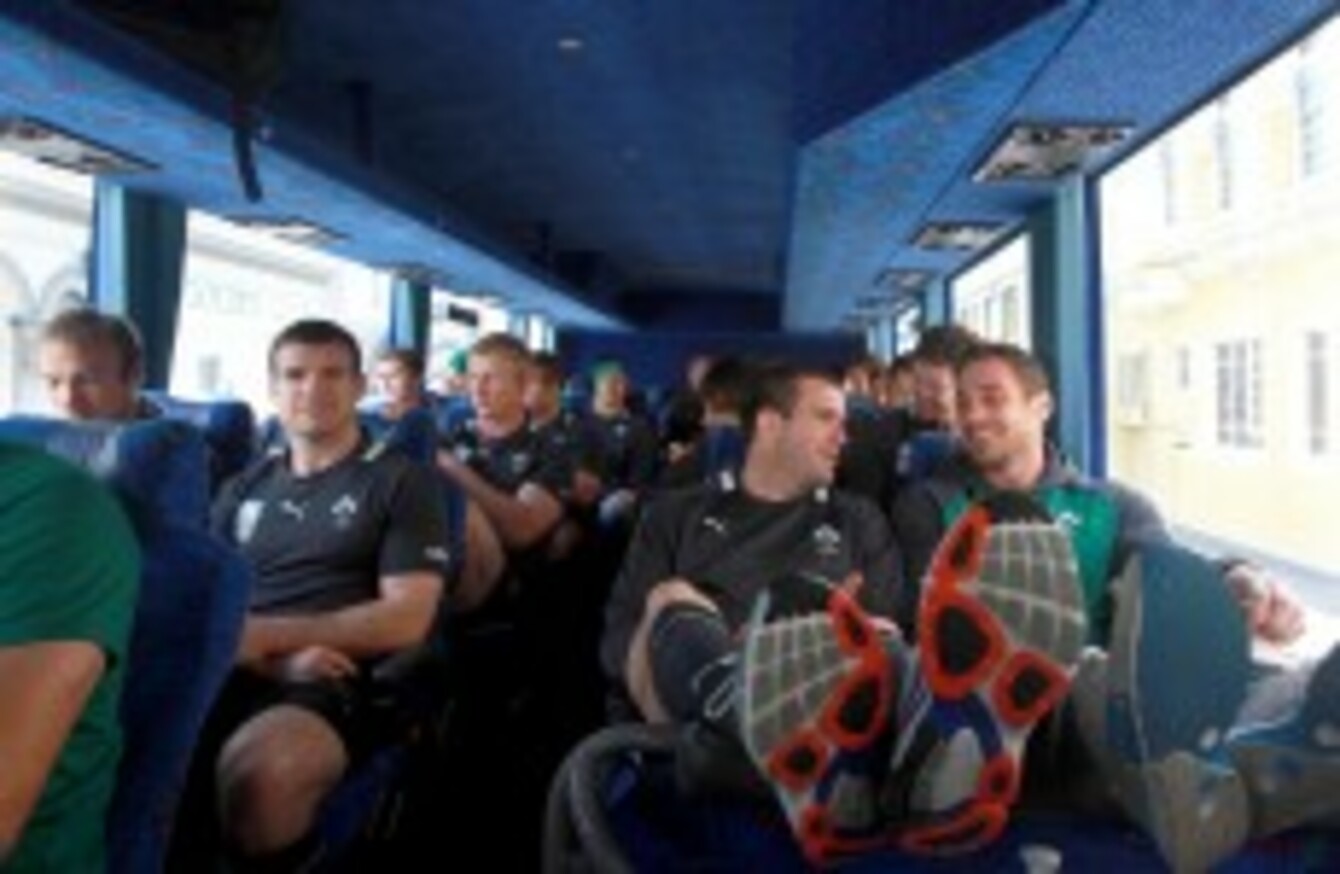 The team bus heads off to training in Dunedin's famous Carisbrook Stadium.
Image: INPHO/Dan Sheridan
The team bus heads off to training in Dunedin's famous Carisbrook Stadium.
Image: INPHO/Dan Sheridan
MAKING MY WORLD CUP debut against Russia last Sunday was a bit special for me.
Once I found out that I was going to be starting, the first thing that crossed my mind was how much of an honour it is to be able to represent your country at the World Cup.
I wasn't in the matchday 22 for the games against the USA and Australia, and you do start to feel a little bit out of the loop sometimes, so it was nice for me to get out there on Sunday and get some game time.
It was a big responsibility as well though, particularly coming off the back of our win against Australia. There were a good few changes made to the team, so it was really important that we built on that momentum and didn't let it drop.
Try time
On a personal level, I felt I played reasonably well, and it's always nice to get your name on the scoresheet.
A couple of minutes before I went over for the try, myself and ROG had a quick chat — just after he'd kicked the penalty to put us 3-0 up. I'd noticed that their winger was getting quite tight to me, so I told him to keep an eye out for any little bit of space in behind.
The chance came around pretty quickly as it happened because they were a man down after their number 10 was given a yellow card. ROG spotted that the kick-pass was on, but there was still quite a lot of work of to do, so it was nice to scoop it up and score.
After the match, we all headed back to the team room and spent a bit of time together, same as we've done after the other matches. It's great to get all of the lads together and everybody was in flying form after the win.
Picking up the bonus point gave us a bit of a boost as well. I think everybody recognises that Sunday's win was a real squad effort and you could definitely get that sense when we were chilling afterwards.
Folk songs and forfeits
The flight to Dunedin on Monday wasn't too bad. It only took about two or two-and-a-half hours, so it was grand really, especially with everyone still in good spirits after the win.
Before we got on the plane at Rotorua airport, there was a traditional Maori welcome — actually, this time it was more of a farewell. There was a Maori woman there and she sang a few songs and played the guitar.
We half-expected that this might happen, so it was teed up nicely for Damien Varley who borrowed her guitar and belted out a couple of Irish tunes. He's actually pretty good, so the joke wasn't really on him.
Speaking of Varley actually, he managed to pick up another fine the other day so he had to roll the dice. It landed on six — forfeit time. He got off lightly though, the forfeit he drew is that he can't shave for the rest of the tournament. I don't think he'll bother trying to buy his way out of it, he'll probably just stick it out and grow the beard.
©INPHO/Dan Sheridan
See Sport
Differently
Get closer to the stories that matter with exclusive analysis, insight and debate in The42 Membership
Become a Member
Once we arrived in Dunedin and got settled in the hotel, we had a free evening so I headed out for some food with Rob Kearney and Sean O'Brien. We found this nice little steak place where the three of us had a few drinks and a bit of craic. The grub was pretty tasty as well, I'll be doing my best to get back there at some stage.
At the end of the meal, myself and the two boys decided to have a game of credit card roulette to decide who had to pick up the bill. Of course, my card had to be the one which the waitress picked out so I took the hit for dinner. But sure what goes around comes around so I'd say they'll be getting me back soon enough.
It's all on the line
The mood in the camp is good ahead of Sunday's game against Italy. Everybody knows just how massive it is, all of our hard work is on the line.
We sat down on Tuesday night and watched Italy's game against America pretty closely. You could see how fired up for it they were. They got their bonus point, so it's all on the line for them on Sunday as well and they'll be looking to perform to a really high level.
They've got some great players like Parisse and the Bergamasco brothers — those lads have been around for a while so they'll know exactly what's expected of them.
We didn't actually hear Nick Mallett's post-match comments about our front row at the time, but I don't think our lads will be too worried about that. They did extremely well against Australia and I think if we can get to that level, we'll be in a very good place. The Italians have a few seasoned campaigners like Castrogiovanni up front so the lads know that they're going to be in a for a great battle.
All of us are going to be in for a great battle. But at the same time, we know exactly what we need to do on Sunday and we're certainly going to be fired up and ready to get the job done.